[>>]

[>>]

[>>]

[>>]

More>>

Search...

| | |
| --- | --- |
| Cases | |

... 8 news stories awaiting approval
Coolermaster HAF Stacker Series Cases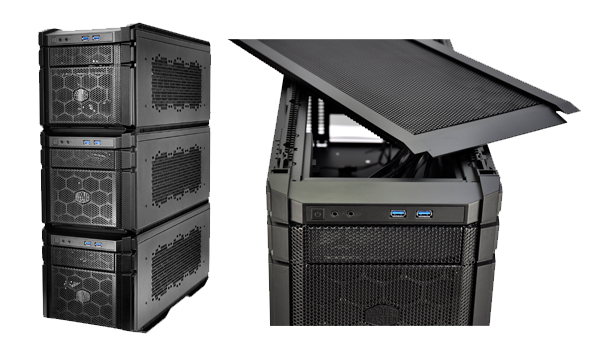 Cooler Master, a leading creator, innovator and manufacturer of desktop components and more, today officially makes available to the world the first stackable computer case series, the HAF Stacker Series. Launching with three connectable and stackable models, HAF 915F, HAF 915R, and HAF 935.
Joining together two titans among Cooler Master case series, HAF Stacker takes the essence of the widely popular High Air Flow and Stacker series and elevates them to new heights as a single, cohesive line. The large drive storage and interior space of the Stacker series meets the Water and Air cooling design of the HAF series. The result is the first modular and expandable full tower with smaller companion cases that all stack together seamlessly.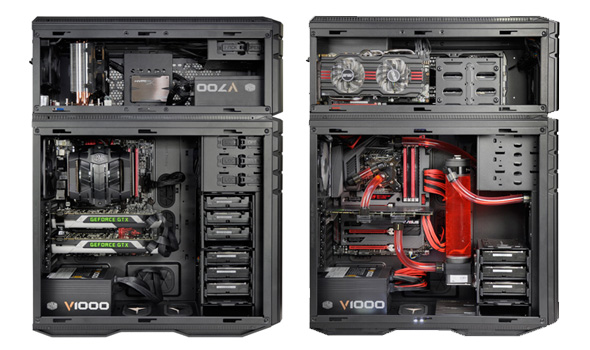 Available in three distinct models, the HAF Stacker series features a full tower HAF 935 configuration consisting of the HAF 915R and HAF 925, M-ITX HAF 915R, and M-ITX HAF 915F. Each base configuration offers unique features and benefits that stand out on their own merit while being stackable with other models in the series for expanded functionality. This is all made possible by a CM patent pending rail system that was inspired by a military picatinny rail to enable the attachment and removal of each stackable piece in 2 easy and secure steps.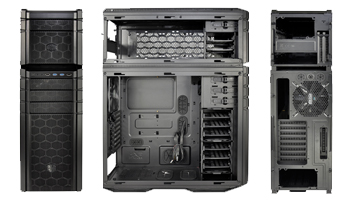 HAF 915F
MITX supporting long graphics card (310mm), standard PSU and water cooling
Front mounted power supply for better cable management
Supports larger CPU coolers including Hyper 212 plus
Supporting up to 360mm radiator in water cooling box mode
Supporting up to 6 hard drive bays with optional storage mode
HAF 915R
MITX supporting long graphics card (310mm), standard PSU and water cooling
Supporting up to 360mm radiator in water cooling box mode
Supporting up to 9 x 3.5" hard drive bays or 12 x 2.5" in optional storage mode
First expandable MITX chassis
Front 92mm fan offers direct storage cooling
HAF 935 (925 + 915R)
Stack extra 915A/B for dual system or unlimited water cooling space
Dust filtered intakes and sliding filter frames
Easy to use cable management
Flexible removable drive cages can be transferred to HAF 915


Cooler Master HAF Stacker 935

I think we have all thought at one time or another that if we could just build a case that we wanted it would bee so cool. Or not having to cram in all your hardware, water cooling setup, hard drives and all the wires and cables that go with it. Cooler Master must have been thinking the same thing and came up with a totally new idea for the computer case market. The Cooler Master HAF Stacker 935 is like nothing you have every seen before.

Cooler Master N-200 Mini Gaming Tower

"The Cooler Master N-200 is the latest addition to the brand new N Series compact ITX / Micro ATX mainstream cases. The N-200 comes with water cooling support and improved air cooling performance, wrapped in a subtle and simplistic design. It could be the case that may really meets your needs and leaves your wallet happier too. Read on as we take an up close and personal look at the Cooler Master N-200 Mini Tower to see if it is the affordable answer you are looking for."

Thermaltake Urban S31 Mid-Tower Case Review

Thermaltake sets its sights on a part of the market that is looking for an excellent enthusiast case with a look that is not over the top, but rather more refined and sleek. Along with that Thermaltake promises "extreme silent performance" and "advanced ventilation" along with a helping of space for those water cooling users.

Cooler Master CM 690 III review

The CM 690 III is one of the best at cooling components, while the price is excellent. At this price point, the CM 690 III is a uniquely complete chassis of outstanding quality. The improvements may be incremental over the previous version, but it's the perfect evolution and sets a new standard for mid-range desktop chassis.

top of the line Obsidian Series

The 750D is Corsair's latest addition to their top of the line Obsidian Series and is the third new Obsidian case for 2013. The new 750D is a full-tower enclosure that offers a little more room, enhanced cooling, with expanded drive mounting options, than Corsair's ever popular 650D mid-tower enclosure. The 750D is being introduced with an MSRP of $159.99 USD, which also makes it a little less expensive than the 650D. In addition to PC enclosures, Corsair continues to offer one of the largest selections of memory products, SSDs, power supplies, coolers, gaming peripherals, and PC accessories currently on the market.

Corsair Obsidian 750D Case

Over the past few years, Corsair has steadily ramped up the number and types of computer chassis it manufacturers. The high-end 700D and 800D have been followed by a number of midrange products and one uber-expensive deluxe model, the massive 900D. The case we're reviewing today, the 750D, is meant to drop into the $200 price bracket, where it faces competition from Corsair's own 650D mid-tower as well as a number of other chassis from manufacturers that offer products at similar or somewhat cheaper price points. Despite the name, the 750D is actually somewhat smaller than the original 700D/800D family. Those chassis were 24 inches long, 24 inches tall, and 9 inches wide, while the 750D is 21.5 inches long, 22.1 inches tall, and 9.3 inches wide...

Corsair Obsidian 750D Review @ Hardware Canucks

Corsair`s newest case, the Obsidian 750D, promises many things: it is large, feature rich and priced at a reasonable $160. It may be one of the best values currently available in the full tower market."

CM Storm Pulse-R Review @ Vortez

As eSports reach new heights in popularity, it becomes apparent why makers of gaming peripherals need to stand out and be noticed with unique yet distinguishable designs to help push their brand awareness and increase desirability. Instantly we can see that the CM Storm Pulse-R looks good, so let`s take a closer look and put it to the test."

Corsair Obsidian 350D review: 900D Mini

Earlier this year, Corsair released their flagship chassis, the Obsidian 900D. A bit later a mini version came out, the 350D. Almost like the mini versions from smartphone brands such as Samsung and HTC, there are many similarities with the bigger sibling, but the features are less extensive and less advanced. It's smaller, more affordable and it will only fit micro-ATX motherboards.

Cooler Master CM 690 III Mid Tower Chassis Review

Cooler Master have gone back to the drawing board, aiming to improve on one of their best ever and most popular chassis designs, adding a third part in the now Trilogy of CM 690 chassis. The 690 and of course the 690 II are fantastic cases, but they're getting a little old now. Cooler Master are on a bit of a winning streak at the moment, they have had several award-winning chassis hit the market recently such as the 352 and the N200. So I'm really looking forward to seeing if the 690 III is worthy of adding to that list. With a price tag of just under £100 it's not a cheap case, but the specification sheet does promise quite a few features. Today we'll be looking not only for improvements on the old 690 II chassis design, but also the premium quality and features that we have not only come to expect from Cooler Master, but also to justify the premium price tag.

Cooler Master Silencio Cases

We already reviewed several Cooler Master Silencio Cases here on Tweak.dk. In this review we look at the new and small Cooler Master Silencio 352 Case. It's packed with nice features and with room for a several fans and a 240 mm radiator for Water Cooling.


SilverStone Fortress FT04 Tower

SilverStone Fortress FT04 Tower The SilverStone FT04 merges innovative modular design with a with a newly designed Fortress shell. Much of the FT02's great performance remains but a host of nagging flaws prevent the FT04 from being a truly worthy successor.

SilverStone Raven RV04 Overview

SilverStone Raven RV04 Overview The SilverStone Raven RV04 shares the same internal layout as the Fortress FT04, with a plastic exterior, a slightly downgraded feature-set, and a more appetizing price.

Silverstone Fortress FT04 Review: Improving the Formula

Silverstone cases are often praised by enthusiasts and HTPC builders alike, and with good reason. We last checked the Fortress FT03 which deserved TechSpot's Outstanding award and now two years later, the much anticipated Fortress FT04 has made it to market. Upon first glance this latest version looks a lot like the FT01 that was released back in 2008. The FT04 shares similar dimensions to the FT01, with a slight increase in size that we assume simply means it can fit drives and longer graphics cards more comfortably.



The best Guides by the best writers on the internet; PCSTATS Beginners Guides explain computers, software, and all those other wonderful things that cause you frustration.

Learn how to use your computer better, master the internet while protecting yourself, and know what to do when your hard drive kicks the bucket.



"Get the 'Stats and Stay Informed!"