[>>]

[>>]

[>>]

[>>]

More>>

Search...

| | |
| --- | --- |
| Cases | |

... 9 news stories awaiting approval

BitFenix Ronin @ techPowerUp

The BitFenix Ronin is the company`s new mainstream chassis, offering a solid build quality with good looks and a few interesting features. We gear this warrior up with our weapons of choice to see if it can fight off the competition."

Fractal Design Arc Mini R2 Mid-Tower Case Review @HiTech Legion

The Arc Mini R2 is designed with all of your liquid cooling needs in mind and offers removable ODD and HDD bays. Along with being able to remove the drive bays, there is a location for 2.5 drives/SSDs to be mounted to the back of the motherboard tray."

Fractal Design DEFINE XL R2 Chassis Review @MissingRemote

When one is considering what chassis to use for their home theater or server build, a lot of factors come into play. In the past a traditional home theater PC build contained a small or desktop (horizontal) style chassis to help blend in with the AV stack, but that has evolved as the demands for storage and silence--as well as big screen PC gaming--has grown in importance. The Fractal Design Define XL R2 does not fit under the SFF category, as it is a full size ATX with tons of bells and whistles. The attraction for our needs is that the Define XL R2 does not sacrifice noise nor aesthetics to achieve its mission. Suitable for either the living room or closet (although what a shame that would be as it is quite attractive), we will be analyzing the merits of it to see if it is suitable of a person with more than your average HTPC needs. *"

Cooler Master HAF Stacker 935 Computer Case System Review

Cooler Master?s HAF Stacker 935 modular case system is an innovative new entry in the computer case market. Enthusiasts can configure the multiple, stackable ?modules? of this system to build the ideal enclosure for their system (or systems). Whether it?s providing storage for water cooling or extra drives, or just housing multiple systems in a compact space, the HAF Stacker system is versatile enough to handle pretty much anything you can throw at it. Cooler Master calls these new cases a mod tower expandable system and says they?re a better case ecosystem."


Cooler Master Cosmos SE review

1.html,We review the new Cooler Master Cosmos SE. Based on the popular Cosmos design the more compact chassis now is available as an all black full tower, this chassis is just gorgeous to look at and has space for full size ATX motherboards, it comes with dark side panels and a whole lot of new innovations. Wanna have a peek ?"


BitFenix Ronin Mid-Tower Case Review @ Legit Reviews

BitFenix is a fairly new name to the enthusiast case market, however their cases have been getting a lot of attention as providing great cases for budget builders. Their main focus is on building high quality enthusiast grade cases, offering a multitude of features while keeping the price down. The case that we are looking at today from BitFenix is called Ronin. Ronin features a dark, stealthy design with wide hardware compatibility to suit your ever changing gaming rig."

Project Build: Lunchbox v3 Part 2 @ LanOC Reviews

In my first article about our project build Lunchbox 3, I covered everything that controls how fast the build is. Today I will be following up with all of the parts that support. That includes the power supply, case, and cooling components. These are all critical parts to your PC, but things like the CPU, motherboard, and video card generally get all of the attention. Today we will find out all about why space was such a concern when picking our previous components. Let's dig in and see the rest of what Lunchbox 3 will consist of.

COUGAR Presents MX500 – A Midtower Case with Superior Capacity and Cooling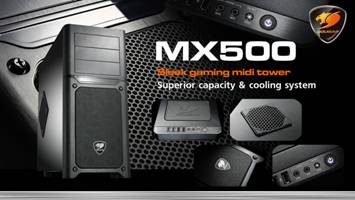 COUGAR, leading PC case and power supply maker has introduced a PC case with great cooling potential and superior capacity, the MX500. With a European style panel design, the MX500 exudes a classic and minimalistic presence. The sleek modernistic look with a hair-lined surfaced front panel design especially makes for a more detailed and delicate elegance. The MX500 mid-tower case is perfect for users demanding a large upgradeability capacity, with optimal airflow and ventilation characteristics.
The COUGAR MX500 offers ample space for powerful graphics cards of up to 410mm in length. This is achieved by a unique 3-Mode drive cage concept. In standard mode there is 300mm of space, by using a special HDD track mechanism you can relocate the drive cage to gain another 30mm for a space of 330mm, and when removing it entirely you get the maximum clearance of 410mm.
Innovative air filters on the bottom PSU cover and the side panel prevents dust from entering the inside and accumulating there. Additionally, these filters are now attached on the outside with a magnetic mechanism, allowing for easiest assembly and disassembly. It is very easy to take the dust filters off at any given time, without the need to open the case. A large 20 cm intake fan in the front (with LED lights), and a 12 cm rear Turbine exhaust fan, come pre-installed and therefore provide excellent ventilation characteristics, right out of the box.
To always have easy and clean access to the entire system, the COUGAR MX500 comes with a huge cutout on the motherboard backplate, allowing for spacious room to install or exchange CPU coolers. Additionally, the newly designed cable management system keeps cables away from the setup and tunnels them in a way so users can easily keep track of their hardware lifelines and change them conveniently. This is also a precondition for optimized ventilation characteristics of the overall setup.
The cooling fans of the MX 500 that come pre-installed are two 120mm COUGAR Ultra fans, one in the front and the other in the rear. Not only that, on the top cover, which is the most preferable cooling location that gamers choose, the MX 500 also have a maximum fan size of 200mm as an optional installation.


SilverStone Raven RV04 Case

"The SilverStone Raven RV04 Case is a full tower case that has a very unique design with distinctive styling and tons of features. There are plenty of drive bays, lots of room to work on the inside, cable management holes, support for large coolers and video cards, water cooling ready, removable motherboard tray and much more. There are many full tower cases on the market, but this one stands out." ~3dGameMan.com

Lian Li PC-10N Review @ Vortez

Lian Li`s PC-10N is an all-aluminium mid-tower which besides allowing for a 240mm radiator to be placed on a hinged bracket, relinquishes the traditional motherboard tray and instead makes use of a rail mount design. Will this alternate solution work in Lian Li`s favour? Read on to find out!"

Lian Li PC-10N @ LanOC Reviews

If people left things alone and didnt continue to innovate we would all still be driving around in Model As rather than the car options we have now. Lian Li has impressed me every time I have had a chance to check out their cases, but they havent been sitting on their hands. I recently had their new PC-10N come in. With their new rail design for motherboard installation and with its corners cut off the PC-10N does have a few new features while sticking with the all-aluminum design that Lian Li is known for. Of course I cant leave it at that, I had to dig into the case and see what it is all about."

NZXT H230 Silent Mid-Tower

"If you're not familiar with the NZXT H series line of cases, the NZXT H230 brings some of the same sound dampening abilities as its two predecessors, only this time it's in a more affordable package. The new NZXT H230, a Mid Tower Chassis fits right in alongside NZXT's award winning H2 and H630 silent series of cases. The NZXT H230 comes complete with a tool-free 5.25" latch design, removable HDD cage, seven expansion slots and USB 3.0 connectivity. Let's see if it brings all of the essentials together for a silent, cool, hassle-free computing experience."

Fractal Design Define R4 Case @ TechwareLabs.com

There are two main schools of thought when it comes to enthusiast case design. One can be thought of as attention-seeking: make it as flashy, splashy, and eye catching as possible. The other is most often described as minimalist: strip the design down to bare essentials, keep the design accents subtle. Fractal Design has an established reputation in the second school, and today were going to be taking a look at one of their latest efforts: the Define R4."



The best Guides by the best writers on the internet; PCSTATS Beginners Guides explain computers, software, and all those other wonderful things that cause you frustration.

Learn how to use your computer better, master the internet while protecting yourself, and know what to do when your hard drive kicks the bucket.



"Get the 'Stats and Stay Informed!"