[>>]

[>>]

[>>]

[>>]

More>>

Search...

| | |
| --- | --- |
| Cases | |

... 5 news stories awaiting approval
Cooler Master CM 690 III review

1.html,We review the Cooler Master CM 690 III chassis, a new upgrade over the popular CM 690 II mid-towers. The looks might be the same, but every little mishap of the previous series has been upgraded and fixed including the interior as the HDD/SSD combo cage can be switched between 3.5-inch or 2.5-inch drives by adjustable trays without any screw. There`s enough room for a 240mm liquid cooling radiator at the top or front, 120mm in the rear and supports up to 9 fans, including 3 large 200mm fans for extreme airflow. And cleaning is hassle free thanks to the multiple dust filters at the bottom, top, and front."


NZXT Phantom 530

The newest addition to the Phantom Series is a mid-tower with updated looks and quite the number of features from its bigger brethren. Available in red, black, or white, we wonder how much better the new model will be when compared to the likes of the Phantom 410, which costs just as much.


Nanoxia Deep Silence 1 Case Review

Today we are going to take a look at the Nanoxia Deep Silence 1 case which is the predecessor to the Deep Silence 2 which we looked at a few weeks back. This was only released around a year ago, though, so is still fairly current and is actually a more expensive product than the Deep Silence 2.

Enermax Fulmo GT Full Tower Case Review @ ThinkComputers.org

When it comes to cases there is only so much you can fit inside and that sort of limits what type of system you can build. Well Enermax wants to break that barrier with their Fulmo GT Full Tower case. This is not just any full tower case, this is one of the biggest cases Ive ever had in to review! The case not only supports ATX and XL-ATX motherboards, but even larger form factors like E-ATX and HPTX! On top of that there is room for 10 hard drives, 4 optical drives and 15 fans! (5 are pre-installed). Not only that there are 10 expansion slots so you could put together one beefy workstation or ultimate gaming machine. Having all of this space is great, but has Enermax put all of the other finishing touches on this case to make it a contender against the likes of NZXT, Cooler Master and Fractal Design? Read on as we take a look"

Corsair Carbide 330R Case

The Corsair Carbide 330R is the next PC-Case in the Technic3D Editorship. The 330R supports E-ATX, ATX, Mini-ITX and Micro-ATX motherboards and have place for 5x 120mm or 140mm Cooling-Fans. We will check this and many more in the following Review."

Anidees A14 Review @ Vortez

Today we are to look at Anidees first attempt at bringing to market a Micro ATX computer chassis. From the outside, A14 looks very similar to its bigger brother, the A16. A brushed aluminium external construction is appealing to the eye and noise damping material should help to keep those noise levels down to a minimum."


Cooler Master HAF Stacker 935

"Today we are reviewing the Cooler Master HAF Stacker 935; however, by adding an additional 915 to the bottom (or top) of the case it transforms the Stacker 935 into the Ultra Tower (945). This means we could potentially have our main gaming rig, our server and our dedicated folding rig all in one case! The 935 is actually the combination of the 925 and the 915 cases. Factor in support for a bunch of different water cooling configurations, and we've got a very interesting "modular" case. Let's take a closer look at the Cooler Master HAF Stacker 935."

Coolermaster HAF Stacker Series Cases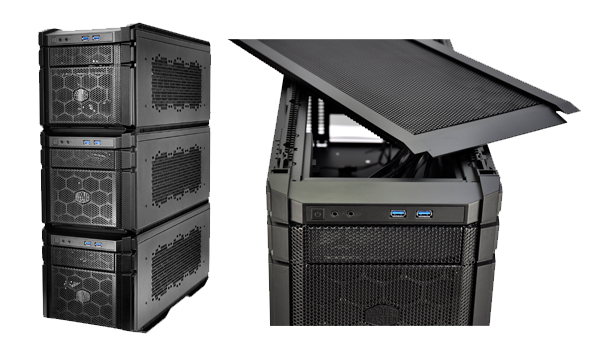 Cooler Master, a leading creator, innovator and manufacturer of desktop components and more, today officially makes available to the world the first stackable computer case series, the HAF Stacker Series. Launching with three connectable and stackable models, HAF 915F, HAF 915R, and HAF 935.
Joining together two titans among Cooler Master case series, HAF Stacker takes the essence of the widely popular High Air Flow and Stacker series and elevates them to new heights as a single, cohesive line. The large drive storage and interior space of the Stacker series meets the Water and Air cooling design of the HAF series. The result is the first modular and expandable full tower with smaller companion cases that all stack together seamlessly.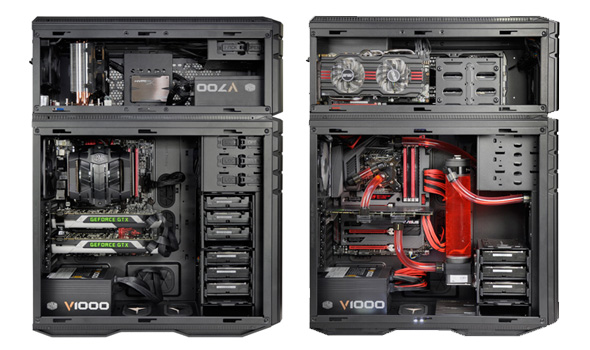 Available in three distinct models, the HAF Stacker series features a full tower HAF 935 configuration consisting of the HAF 915R and HAF 925, M-ITX HAF 915R, and M-ITX HAF 915F. Each base configuration offers unique features and benefits that stand out on their own merit while being stackable with other models in the series for expanded functionality. This is all made possible by a CM patent pending rail system that was inspired by a military picatinny rail to enable the attachment and removal of each stackable piece in 2 easy and secure steps.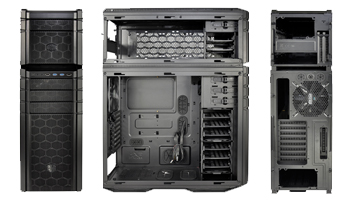 HAF 915F
MITX supporting long graphics card (310mm), standard PSU and water cooling
Front mounted power supply for better cable management
Supports larger CPU coolers including Hyper 212 plus
Supporting up to 360mm radiator in water cooling box mode
Supporting up to 6 hard drive bays with optional storage mode
HAF 915R
MITX supporting long graphics card (310mm), standard PSU and water cooling
Supporting up to 360mm radiator in water cooling box mode
Supporting up to 9 x 3.5" hard drive bays or 12 x 2.5" in optional storage mode
First expandable MITX chassis
Front 92mm fan offers direct storage cooling
HAF 935 (925 + 915R)
Stack extra 915A/B for dual system or unlimited water cooling space
Dust filtered intakes and sliding filter frames
Easy to use cable management
Flexible removable drive cages can be transferred to HAF 915


Cooler Master HAF Stacker 935

I think we have all thought at one time or another that if we could just build a case that we wanted it would bee so cool. Or not having to cram in all your hardware, water cooling setup, hard drives and all the wires and cables that go with it. Cooler Master must have been thinking the same thing and came up with a totally new idea for the computer case market. The Cooler Master HAF Stacker 935 is like nothing you have every seen before.

Cooler Master N-200 Mini Gaming Tower

"The Cooler Master N-200 is the latest addition to the brand new N Series compact ITX / Micro ATX mainstream cases. The N-200 comes with water cooling support and improved air cooling performance, wrapped in a subtle and simplistic design. It could be the case that may really meets your needs and leaves your wallet happier too. Read on as we take an up close and personal look at the Cooler Master N-200 Mini Tower to see if it is the affordable answer you are looking for."

Thermaltake Urban S31 Mid-Tower Case Review

Thermaltake sets its sights on a part of the market that is looking for an excellent enthusiast case with a look that is not over the top, but rather more refined and sleek. Along with that Thermaltake promises "extreme silent performance" and "advanced ventilation" along with a helping of space for those water cooling users.

Cooler Master CM 690 III review

The CM 690 III is one of the best at cooling components, while the price is excellent. At this price point, the CM 690 III is a uniquely complete chassis of outstanding quality. The improvements may be incremental over the previous version, but it's the perfect evolution and sets a new standard for mid-range desktop chassis.

top of the line Obsidian Series

The 750D is Corsair's latest addition to their top of the line Obsidian Series and is the third new Obsidian case for 2013. The new 750D is a full-tower enclosure that offers a little more room, enhanced cooling, with expanded drive mounting options, than Corsair's ever popular 650D mid-tower enclosure. The 750D is being introduced with an MSRP of $159.99 USD, which also makes it a little less expensive than the 650D. In addition to PC enclosures, Corsair continues to offer one of the largest selections of memory products, SSDs, power supplies, coolers, gaming peripherals, and PC accessories currently on the market.



The best Guides by the best writers on the internet; PCSTATS Beginners Guides explain computers, software, and all those other wonderful things that cause you frustration.

Learn how to use your computer better, master the internet while protecting yourself, and know what to do when your hard drive kicks the bucket.



"Get the 'Stats and Stay Informed!"