| | |
| --- | --- |
| Cases | |

... 5 news stories awaiting approval
Xigmatek Gigas PC case

The Xigmatek Gigas PC case does not look like a standard Midi-Tower, but rather like a subwoofer in a high-quality aluminium chassis. So the enthusiast can decide to use the Xigmatek Gigas case cube made of brushed aluminium as HTPC in the living room or as stylish gaming PC. Because the case is not only very attractive, but provides also great cooling for high-end PC hardware. We examined the Xigmatek Gigas enclosure and test the practicality on the following 5 pages. Additionally, you can win this nice Aluminium case in the Longest Topic battle at our Hardware Forum.

REVIEW: NZXT Phantom 630 @ PureOverclock

The NZXT Phantom 630 is a full tower chassis that fits between the smaller 410 and larger 820 model Phantom cases. This new 630 version sports many of the same features as the flagship model, but comes in a slightly smaller size. The same sleek white aesthetics are still there, but does the Phantom 630 compromise on key other characteristics in its drive to be more affordable? Let`s find out."

CM Storm Scout 2 Ghost White Mid-Tower - BCCHardware

The CM Storm Scout 2 Advanced Mid-Tower is constructed from high quality steel and plastic. The plastic parts of the chassis are very sturdy and do not flex. The side panels are the most rigid of any case that I have seen so far. It has a flawless finish inside and out and has all interior edges rounded. . ."

Lian Li PC-7HX @ LanOC Reviews

A number of Lian Li chassis have made their way through the offices of LanOC. Each time they manage to surprise and impress us with something new or innovative. Today we get to take a look at their new PC-7HX mid tower chassis and see how it compares, not only to their own cases, but also to those of competitors. We expect it to have the same Lian Li quality that we have come to expect, but will this be your next case? Lets find out."

Fractal Design R4 Black Pearl review

1.html,Fractal Design released the R4 Black Pearl, an all black, silent and stylish mid-tower chassis. This ATX, Micro-ATX, Mini-ITX ready tower chassis can house a quite a bit of storage, has plenty of space to work in and is stylish in all its ways. The Define R4 features a front interface with USB 3.0 and an integrated three-speed fan controller behind the front panel door."

Cougar Spike Micro-ATX PC Case Review @ Legit Reviews

At the end of the day the Cougar Spike micro-ATX gaming case is a great value for $24.99 shipped after a $5 mail-in rebate at Newegg. If Cougar can produce and sell the Spike for so little it makes you wonder what kind of markup is on the other gaming cases out there. The Cougar Spike has is all blacked out, has a USB 3.0 front panel port and room for four case fans. There really isn`t much not to like about this case and unless you have a ton of hard drives or solid-state drives, the Spike should do the trick..."

Fractal Design Define XL R2 Review @ Vortez

The new XL R2 is not that dissimilar to XL but in true Fractal Design fashion, little tweaks have been made here and there to build on the success of a firm favourite. Minimalism continues to feature highly with this new addition but there are some new features which include a fresh new layout which boasts oodles of space and silence as a forte."

NZXT Phantom 630 Ultra Tower - BCCHardware

All in all, I think this case is pretty decent. There has been a lot of thought put into the modular design that can be utilized by anyone. Whether you`re looking for an air cooled case, or you`re planning on running a wild, water cooling setup - this case can fit your needs. Novices and hardcore enthusiasts alike will find that the NZXT Phantom 630 case makes their build process smooth and easy. . ."

BitFenix Ghost Midi Tower Review

A few days ago while i was out with a some colleagues one of them pointed out to me that we haven`t really focused in PC case reviews, at least not as much as we should have based on the how many get released per year. Well i have to admit that i was left quite puzzled since in just 11 months of online presence we`ve reviewed a grand total of 16 PC cases which at least for me is not a very small number especially since it`s not our only focus group. Still just in case some of our readers feel the same we have put in several requests for some of the latest PC Cases to hit the market and hopefully we will deliver most of those reviews by the end of March (and just in time for our 1 year birthday). So today on the table we have the latest Ghost Midi Tower PC Case by BitFenix."

Case Mod Friday: Project Steampunkd TJ11 @ ThinkComputers.org

For this mod I used a Silverstone TJ11. To many, this is the most coveted full tower water cooling case to own and mod. I decided to do a Steampunk mod because there are not very many out there. Not saying I could out do any of them, I just thought it would be a really fun thing to try. Most of my ideas came from looking at photos online of clothing, jewelry and just old Steampunk style photos. I also did not play very much of this mod. I just played it by ear as I went. Overall I am very pleased with how it came out and I fully plan on doing another one in the future."

Thermaltake Chaser A31 Case

The Thermaltake Chaser A31 is the next PC-Case in the Technic3D Editorship. The Chaser A31 supports ATX and Micro-ATX motherboards and have place for six 120mm Cooling-Fans. We will check this and many more in the following Review."

Asrock debut's a nice chassis at CeBIT 2013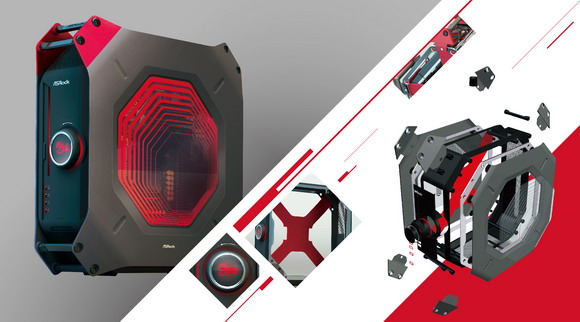 What do you get if you cross a creative consultancy with expertise in automotive and industrial design with the leaders of motherboard designing? Hint hint, it's covered elegantly in crimson and black, bearing muscular yet smooth angles. BMW Group DesignworksUSA and ASRock is here with a definitive answer – an icon like gaming PC. "You just wait. This collaboration between BMW Group DesignworksUSA and ASRock is totally going to knock your socks off and show up on your Dear Santa letters!" exclaimed James Lee, vice president of ASRock.
Sonja Schiefer, Director of Design, Munich Studio, BMW DesignworksUSA , stated, "Our goal was to create desirability and iconic differentiation in a mini PC. We reached this goal thanks to a design language focused on superlative and a solution that was very much an exaggerated mode of expression."

Nanoxia Deep Silence 2 Midi Tower PC Case Review

The introduction of high quality PC cases with lots of features, spacious interiors and designs to match the above from the top manufacturers such as Lian-Li, Corsair, Cooler Master, Thermaltake and Silverstone is something that all of us more or less expect from companies that have been around the block for many years and pretty much know what consumers want. However what is least expected by everyone is when a brand new manufacturer emerges and manages almost with no delay to design and manufacture a PC Case that can rival those manufactured by the leaders in the field. Nanoxia is not really new since they`ve been around for quite a few years manufacturing top notch fans and fan controllers but it wasn`t until a few months back that they started the design and manufacture of PC cases such as the Deep Silence 1 we reviewed a while back. Well it seems that they are here to stay so after the very successful test run of their Deep Silence 1 Midi Tower PC Case they released the Deep Silence 2."


Gateway SX2380-UR318 Review @ TechReviewSource.com

The Gateway SX2380-UR318 is a great choice for the price-conscious PC buyer. It has a lot of the features that were optional only a few years ago, like DX11-compatible graphics, 1TB hard drive, dual core AMD A6-5400K processor, 6GB of memory, and dual-band 802.11 a/b/g/n Wi-Fi."

Nanoxia Deep Silence 2 Chassis Review @ Pro-Clockers

But a company can`t survive on just one case; you have to give the people options. And that is just what Nanoxia has done. Enter the Deep Silence 2 aka DS2. The DS1 has much of the styling the DS1 has but Nanoxia has simplified some things to make the case meeker and a little more cost friendly. We will point out many of the differences as we walk through the DS2."