[>>]

[>>]

[>>]

[>>]

More>>

Search...

| | |
| --- | --- |
| Cases | |

... 7 news stories awaiting approval
IN WIN 805 Mid-tower Computer Case Review

In Win is one of those manufacturers which really dare to innovate within their growing lineup of computer cases. Last year they stole the show with their highly acclaimed S-Frame, an open air chassis made from a single sheet of aluminium. Of course these high tech cases come at a cost! This year at Computex they surprised friend and foe again with the H-frame case; compare it with a transformer case, that can open and close allowing to access the innards. It is quite expensive but nevertheless a stunning concept case that will be produced in limited numbers. Today however we are taking a look at one of their more affordable nevertheless breathtaking case solution, the IN WIN 805 Mid-tower case.

Case Mod Friday: Fallout Vault-Tec Build

"Welcome to another Case Mod Friday showcase! This week we have BS MODS' "Fallout Vault-Tec Build" build. Here is what they had to say about it, "We had to pick a game based theme and we wanted something with a well-established fan base. Fallout 4 is scheduled to come out soon and has great lore to work with. Our build is more Fallout in general, but most of the build inspiration came from the Fallout 4 trailer. We focused on just the Vault-Tec side of Fallout.""

In Win 805 design case

HardwareOverclock.com has just posted another review. Last week we have taken a look at the In Win 805 design case. 805 features a see through skeleton case structure design offering versatile HDD mounting positions creating excellent flexibility. 805 supports the all-new reversible USB 3.1 Type-C to which increases your high speed data transmissions. 805 is inherited the spirit of pursuing exquisite craftsmanship and innovative designing that brings not only the visual aesthetics but also gaming performance.

Phanteks Enthoo EVOLV ATX Chassis Review

It's not often we come across a piece of luxury in the tech industry. Actually much of the industry tries to sell you faux-luxury, or plastic components with a sleek and slick finish to make it appear like it's worth much more than you paid for it. This is not the case with the new Phanteks Enthoo EVOLV ATX Mid Tower Chassis!

Cooltek CT GT-04 Mid-Tower Chassis Review

The Cooltek CT GT-04 chassis is part of Cooltek's gaming tower series of chassis. It comes with some features that some will love, a HDD/SSD caddie and a card reader for Micro-SD and SD cards built in. It also has a fan controller and a smoked window giving the GT-04 some good options out of the box. Cooltek are marketing this as a price vs. performance chassis, meaning it's not going to break the bank, but it should satisfy people who require a little more from their system over the standard chassis you can pick up from most retailers.

Cooler Master Barebones Novatouch @ LanOC Reviews

Well over a year ago we first had the chance to check out a keyboard from Cooler Master that I had been excited about for a long time, their Novatouch TKL. This was their first Hybrid Capacitive keyboard, they worked closely with Topre to design it with a unique stem design that lets you run keycaps designed for Cherry MX switches on it. This is important because as we found out about a year ago in our Keyboard Customization article, you can do a LOT to set your keyboard apart. So over the past year Cooler Master has been working to show everyone why the Novatouch is different, but at least in my opinion the price has been a bit hard for some people to get over. Well over time the price has some down, but in addition to that they have recently been selling a special Barebones model that brings the price down even more. The barebones Novatouch TKL is specifically for people who already plan on replacing the keycaps with something else, cutting the costs down by selling it without keycaps. Well I got the Barebones Novatouch TKL in as well as a new set of custom keycaps, today I'm going to show you what you can do with the Novatouch and reflect on over a years' worth of use in the performance section.

Silverstone Milo SST-ML08B Mini-ITX Gaming Chassis Review

Are you ready to take your big screen gaming to the next level? The desktop gaming market may be booming, but there's a big demand for the something small, systems that is. Having a high-end gaming PC under your TV is very much a possibility, but few make compact cases as well as Silverstone and their new Milo ML08 looks set to dominate those smaller spaces. Under your TV, perhaps you're limited on desktop space, or you want something portable for LAN gaming, this chassis is just the right size for all of them, but more importantly, it doesn't compromise on the size of the GPU.

AZZA's Nova 8000

Today we take a look at AZZA's Nova 8000, a hefty full tower enclosure with a "dual chamber" interior that helps separate the drive bay section from the motherboard. The side panels are similarly a two-part design to leverage this; one half actually swings open to provide access to the removable hard drive bays, while the other slides off as usual to open up the motherboard side. See how this chambered design works out for the Nova 8000 in our review.

MAINGEAR RUSH, the Grown-Up Gaming Desktop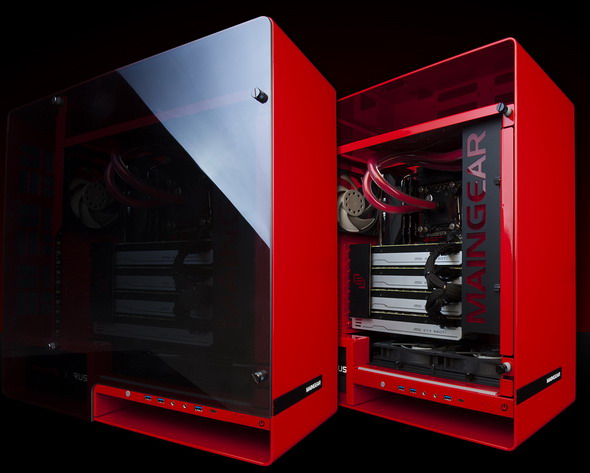 MAINGEAR, an award-winning PC system integrator of custom gaming solutions, announces the availability of the RUSH, an elegantly brutish gaming desktop featuring a tempered glass body, origami wiring, advanced cooling design, and state-of-the-art components.
Designed to demolish gaming benchmarks without the traditional fierce gaming desktop look, MAINGEAR's RUSH showcases the elegant side of gaming desktops through a tempered glass chassis highlighted by ultra-clean lines, expertly crafted wiring, advanced and customizable liquid cooling options, and artistically positioned components.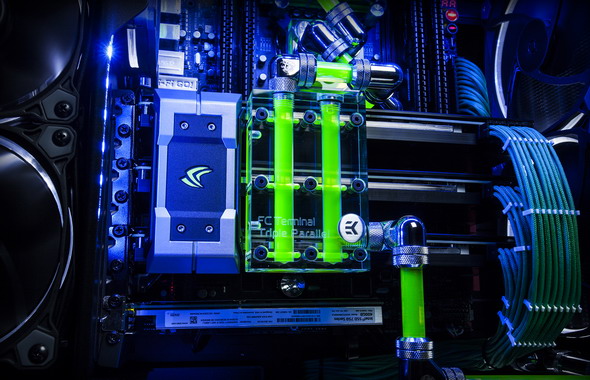 "The RUSH perfectly complements its gaming prowess with a stunning design guaranteed to turn heads," says Wallace Santos, CEO and Founder of MAINGEAR. "We pride in delivering the best designs and craftsmanship in the industry and the RUSH perfectly showcases it."
Individually hand-assembled, the RUSH delivers unmatched performance even under the most stress with EPIC SUPERSTOCK Liquid Cooling. MAINGEAR's signature cooling system features dual pumps for added reliability, easy to fill extra-large reservoir with a separate backup reservoir for headache-free maintenance and increase longevity, Rigid PETG Tubing, custom fittings, and premium copper core radiators. To complement the cooling system, the RUSH also features Intelligent Airflow Control, which automatically syncs the speed of the fan with the temperature of the motherboard.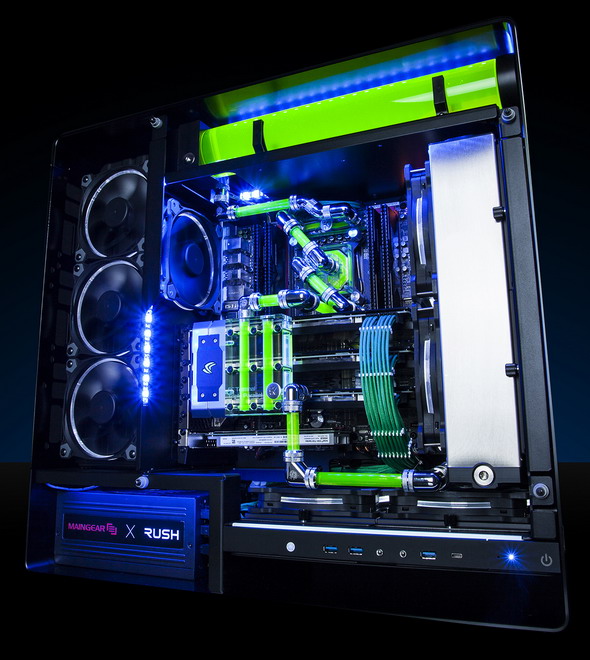 "The RUSH is the James Bond of gaming desktops," adds Santos. "It is lethal, resourceful and powerful, but elegant, cool and collected."
MAINGEAR's RUSH delivers blazing fast speeds with Intel's Extreme Edition Haswell-E or Skylake processors, pumps out spectacular graphics with up to 3 NVIDIA® GeForce™ GTX Titan X or AMD® Radeon™ R9 Fury X GPUs, and supercharges the gaming experience with up to 64GBs of memory, 6 hard drive bays, and NVMe SSDs. In addition, gamers craving more can get the most out of their system with MAINGEAR's REDLINE, a factory tested overclocking service that safely pushes the system to maximum potential.

In Win 805 Aluminium and Glass Mid-Tower Chassis Review

In Win, the modern masters of chassis design, are back once again. Today we'll be taking a look at the In Win 805, a slightly more accessible product for the masses that takes many of the style points of the premium ranges that In Win offer. We've been blown away by their more creative products such as the S-Frame, H-Frame, H-Tower, D-Frame, Tao and many more, but it is nice to see these wonder-chassis filtering down into a more consumer friendly package, both in terms of price and ergonomics.

In Win 805 Aluminium and Glass Mid-Tower Chassis Review

In Win, the modern masters of chassis design, are back once again. Today we'll be taking a look at the In Win 805, a slightly more accessible product for the masses that takes many of the style points of the premium ranges that In Win offer. We've been blown away by their more creative products such as the S-Frame, H-Frame, H-Tower, D-Frame, Tao and many more, but it is nice to see these wonder-chassis filtering down into a more consumer friendly package, both in terms of price and ergonomics.

Thermaltake Core P5 Review

If you love the idea of a wall-mountable PC but don't want to spend more on your case than any other part, perhaps Thermaltake's latest creation is for you. Priced at just $150, the Thermaltake Core P5 is comparable to the Lian Li PC-O7S in terms of size, but the Core P5 is twice as thick, and is intended to be used with custom liquid-cooling systems.

Raidmax Viper GX II

"So what makes this case stand out from all the others? One of the features that stands out is the handles on the side panels. That might not seem like much, but I think it is a nice touch that makes side panel removal easy and controllable, and the handles fold in to keep them out of the way. Then there is the modular hard drive cage that lets you go from the larger 3.5" drives to smaller 2.5" (SSD) drives quickly. There is also the ability to use long (415mm) graphics cards, and probably my favorite feature is the external SSD Connection Port, or as I like to call it, the external SSD drive bay. I am always moving data back and forth on my SSDs, so this feature makes that a smooth operation. Your cooling options are open too, since you can go with a larger air cooler, such as the Noctua D14, or you can go the liquid cooled route with a top-mounted radiator up to 240mm with dual 120mm fans. The two included case fans did a decent job of moving air through the case during the thermal testing and they were not loud."

Supermicro C7Z170-SQ Review

Supermicro is well-known in the server market. Meanwhile the manufacturer also has a focus on the gaming sector and approach is to bring server-grade quality to the table. Therefore the C7Z170-SQ could be an interesting product and we're certainly curious what it can do in our review.

Cooltek Jonsbo UMX2 Mini-ITX Case Review

With more and more people turning towards small PCs to cover their needs it's no wonder that the popularity of mini-ITX and mini-ATX compatible cases has been on the rise all over the world for quite some time now. What i never understood completely was the reason as to why PC case manufacturers didn't design small ATX compatible PC cases for people who want the extra features offered by such mainboards without having to worry about having a midi or full tower on their desks. HTPC cases have pretty much offered the solution to that for a long time now but judging by their current popularity it's safe to assume that the majority of consumers still prefers the "traditional" tower design when out to get a new case. Cooltek is one of the very few manufacturers out in the market currently who have managed to fit a full sized ATX mainboard inside small towers which up until today people thought were only compatible with mITX and mATX models. One such tower design PC case is the aluminum UMX2 by their Jonsbo brand which is here with us today.

Tt eSPORTS ISURUS PRO Review

The interesting design aesthetic was created by the Level 10 team, and the headset promises great bass from the 13.5mm neodymium drivers along with good noise reduction from the silicone ear grip, the in-line remote also has a microphone built in. Bundled in with the headset is a convenient carry case which can hold the headset while you move around. On paper the recipe looks perfect so we move on to the testing.



The best Guides by the best writers on the internet; PCSTATS Beginners Guides explain computers, software, and all those other wonderful things that cause you frustration.

Learn how to use your computer better, master the internet while protecting yourself, and know what to do when your hard drive kicks the bucket.



"Get the 'Stats and Stay Informed!"