| | |
| --- | --- |
| Cases | |

... 0 news stories awaiting approval
Phanteks Eclipse P300

The Phanteks Eclipse P300 aims to push the envelope of what is entry level by providing a high-quality build, the looks and an interesting feature set for those on a budget. With its mix of materials and RGB elements, it looks to bring everything important to the table, but only a closer look will tell!

Fractal Design Focus G Case Review

The Focus G offers a host of cooling options, 120mm and 140mm fans, as well as support for 240mm and 280mm radiators in the front or the top (240mm limitation on top) of the chassis. Fractal Design even has a slew of colors to choose from: white, black, mystic red, petrol blue, and the case I received, in gunmetal gray. Included with the case are two Fractal Design SIlent Series 120mm fans pre-installed in the front of the case, which also have white LED's.



Riotoro CR1080 Compact PC Case review

We review the Riotoro CR1080 Compact PC Case Mini Tower, a product series that is designed for compact builds with decent looks. This case can house a regular ATX motherboard, but also has a special feature, the motherboard is reversed, thus sitting up-side down at the right side of the chassis.

Cooler Master Cosmos C700P

The Cooler Master Cosmos C700P is, as the name implies the new vision for the Cosmos line. It is the first all-new high-end chassis from Cooler Master in quite a while and also represents a giant step towards bringing the features and engineering behind the MasterConcept to the consumer.

AZZA Storm 6000W Case Review

AZZA is no stranger here at ThinkComputers, and today we will be taking a look a their Storm 6000 ATX case. The Storm 6000 is part of their full tower case lineup, and comes in both black and white finishes, with our review sample being of the latter variety. Keeping the Storm 6000 up to speed with the latest in case trends is the inclusion of a full tempered glass side panel, and multiple RGB features throughout the case. Let's take a look and see if the Storm 6000 can live up to its $170 MSRP."

Cooler Master Cosmos C700P Super Tower Chassis review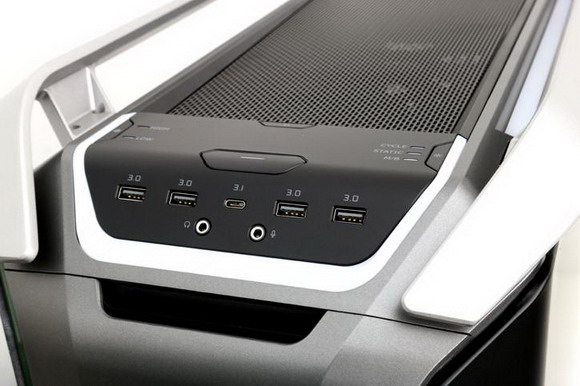 We review the Cooler Master Cosmos C700P which they released today. the legend is back in a new 2017 jacket! That means included RGB LED system, tempered glass side panel with not one but two bends, and an immensely intricate inside with covers and shields everywhere. Not only can you house the biggest liquid cooling solution, you can also swap around the motherboard tray for a revered or even chimney design. Modability in a maker style. Definitely check this review out.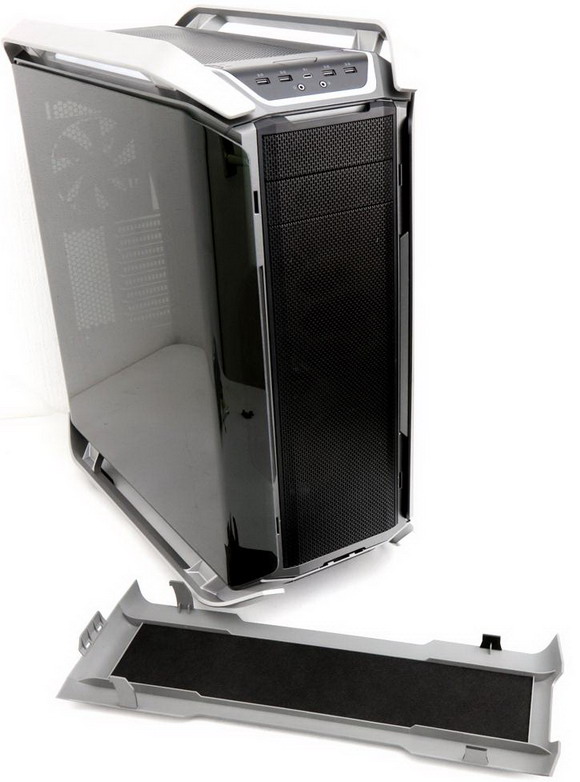 Phanteks Enthoo Evolv Shift Review

The Phanteks Enthoo Evolv Shift series bring performance, functionality, and innovative features to the table. At the time of this review, there are two variants: the Enthoo Evolv Shift X and the Enthoo Evolv Shift. They both come with anodized aluminum panels and two large tempered glass side panels. The case may stand vertically as a normal desktop PC, or horizontally as a living room PC. Phanteks has also designed the interior to house an ITX motherboard, dual 120mm AIO water cooled units, and a large graphics card. Benchmark Reviews will be taking a look at the Enthoo Evolv Shift for this article. Let's go over an overview of what this case has to offer.

AVA Direct Avant Mid-Size @ LanOC Reviews

Now I know most of you have no problem building and upgrading your PC, hell for me that is half of the fun. But for everyone I know that builds their own PC, there is another person asking me or friends to help put everything together. Not everyone has friends that can help and some people just don't have the time to do it as well. This is especially true with things like renovations around the house and working on or building cars but for some reason, there is a big stigma when people would rather buy a prebuilt PC. For me, it's not something I need to do but I completely get why some people would go that route and frankly I would rather people be going with boutique builders who use off the shelf parts that are easy to fix or upgrade later than proprietary PCs from other companies. Anyhow the Ohio bases AVA Direct sent over one of their Avant builds a while back and we have been playing with it. It's about time that I sit down and talk about the build, its performance, and the overall experience.

RAIJINTEK Asterion Classic Aluminum Chassis

Raijintek Asterion Classic Aluminum chassis is on the bench for review. This case can fit up to the E-ATX standard plus all kinds of of cooling options such as able to handle up to 7 fans and radiators from 240-360mm. That should satisfy the air cooling and water cooling groups for sure. For your reading pleasure we are going to break …

BitFenix Nova TG review

BitFenix released the Nova TG, that classic looking Nova now comes with a black design and red accent as well as a white edition with subtle black accents. It will house house ATX motherboards and even has improved looks with a nice tempered glass side-panel. It's a simply straight forward chassis that can be spotted in the value segment. Check the review here.

Riotoro Prism CR1280 Full Tower RGB review

We review the Riotoro Prism CR1280 Full Tower RGB, a product series that is designed for ease of use and decent looks as the side panel have been fitted with a see through windows. Armed with proper features and sure, a little RGB it does make this chassis little out of the ordinary. Wanna have a peek?

Thermaltake View 28 RGB Riing Edition Review

In the spotlight today we have the Thermaltake View 28 RGB Riing Edition. This mid-tower carries a Gull-Wing design which allows users to preview their system from more than just the side panel. Inside there is enough room to house high-performance kit and in this Riing Edition, we even benefit from one of Thermaltake's very own RGB cooling fans. Sound good? Let's check this out!

The $12 RGB Strip For Your Monitor

One of the easiest upgrades you can do for your PC Setup is adding an RGB LED Strip to the back of your display. This not only adds some really cool light to your setup, but it has also been proven to reduce eye strain and fatigue. If you are at your computer for any long period of time this is definitely an upgrade you are going to want to make and we are going to show you how to do it for only $12!"

Phanteks Enthoo Evolv ITX Tempered Glass Review

The Enthoo Evolv ITX Tempered Glass is the latest case from Phanteks, which features a compact form factor as well as space for high-end graphics card. Despite its small dimensions, there is actually enough space for a custom water cooling gear. There is also a separate compartment for the power supply allowing for very clean looking builds as well as a left side panel that's been made from tempered glass.