[>>]

[>>]

[>>]

[>>]

More>>

Search...

| | |
| --- | --- |
| Cases | |

... 3 news stories awaiting approval
Fractal Design Focus G Mini Review

With the Design Focus G Mini, Fractal Design has another mini tower in its portfolio, that offers space for mATX or mini-ITX motherboards. Apart from that this case features a competitive price, while there is still a resonable feature set. There is for example the possibility to equip this case with up to six fans, which adds quite some flexibility in terms of airflow.

Corsair Commander PRO review

You can spend a lot of money on fans and everything RGB these days, but the one thing missing is that each component is regulated by a different piece of hard and software. Say no more, as Corsair just launched its new Commander PRO, a digital fan and RGB lighting controller that centralizes your needs and requirements and allows you to configure it all though the Corsair LINK software suite. We test the Commander Pro with LINK compatible HD 140 (RGB Fans) and Lighting Node Pro (LED strip kit).


Fractal Design Focus G Case Review

Fractal Design Focus G is a new family of budget cases from the Swedish hardware company. This Focus G model is an ATX design while Focus G Mini is Micro-ATX and unusually both cases are priced at US$50/GBP£48.

Fractal Design Focus G review

Fractal Design released the Focus G series chassis. Armed with a budget price this is a silent, decent looking and compact PC chassis series. The predominantly black and chassis (optional colors) comes with enough cooling options, your average FD design and it will house up-to ATX motherboards. It has an plexi glass side panel and two LED lit fans at the front.

CRYORIG Releases the Taku Monitor Stand PC Case on Kickstarter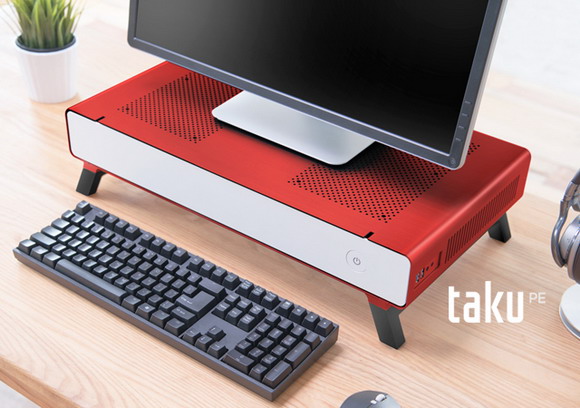 CRYORIG, the PC Cooling and peripherals innovator is releasing their first PC case project the Taku on crowdfunding website Kickstarter. The Taku, first announced and exhibited last summer, will also be shown during Computex 2017. The TAKU has been in development for over 2 Years in house, with over 6 months of co-development with manufacturing partner Lian Li. The Taku Kickstarter campaign begins on May 29th and ends on July 28th. Besides offering backers the chance to be the first people to receive the Taku, backers are also offered multiple customization options only available on Kickstarter.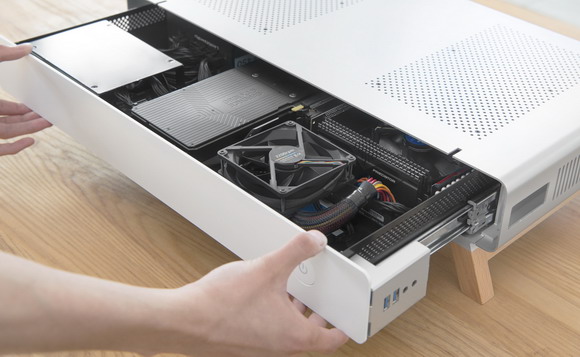 The TAKU is a hybrid between a PC Monitor Stand and a high-end ITX form factor PC case. With the TAKU, the PC footprint is minimized to free up desk space while at the same time fitting a high-performance PC system. The benefit of this state of the art design is that the monitor, keyboard and the full PC system is arranged vertically on top of each other. Meaning the total footprint is lowered, and valuable deskspace is freed. The Taku is compatible with GPU's up to 280 mm, ITX form factor mainboards, SFX or SFX-L power supplies, fully capable of housing a high-end Gaming PC. Taku's storage space is also well taken care of. The Taku can also fit 1x 3.5" HDD and two 2.5" SSD/HDD.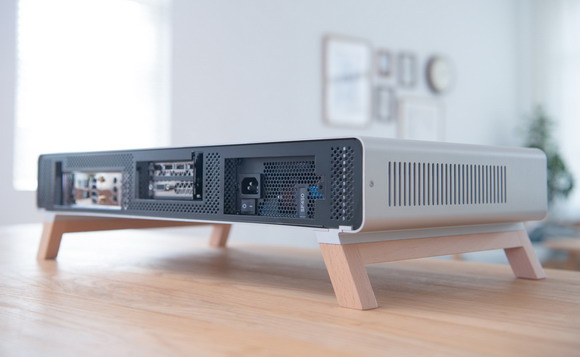 As a PC Monitor Stand the Taku can support monitors up to 15 kg and fit a full 104 key mechanical keyboard underneath the stand. The system tray can be fully slid out of the chassis for easy installation of PC components or upgrades. On the right side of the Taku you'll find dual USB 3.0 ports and audio in/out ports. An USB-Type C port will be made available in later revisions. The Taku will also include two cable management holes at the front. This allows for cables to be run through the system tray and connected to the back ports of the Taku. Providing easy and clean cable management of USB charging lines for your phone or peripheral.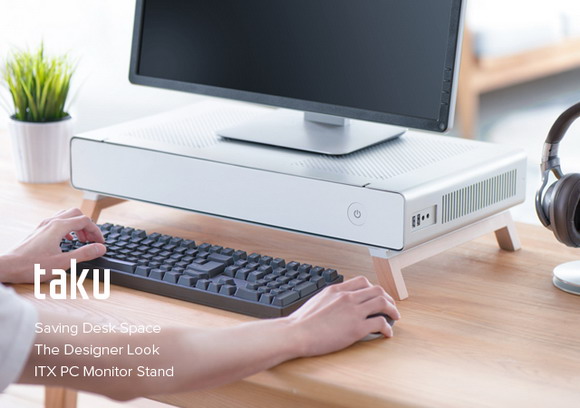 With the Taku, CRYORIG combines wood and aluminum to create an organic feeling piece of Technology that would fit perfectly into any home, or work environment. CRYORIG is going to add one C7 ITX Cooler free of charge, if the Taku project exceeds 1.000 units. The Taku campaign will begin on May 29th and offer multiple colors and material options for users to mix and match. Early bird backers will be able to get the Taku at USD$ 250 (-VAT,-shipping) with standard Taku Classics going up to USD$ 299(-VAT,-shipping), the custom TAKU PE's cost will depend on customization options. First shipments of the Taku will go out to backers beginning September 2017.

Bitfenix Shogun Case - good or junk?

The Bitfenix Shogun may not look the part when it comes to its naming, but it does offer a nice and mostly functional feature set coupled with great overall build quality. It also sets itself apart by allowing the user to expand the motherboard tray for an E-ATX board.

In Win 301 Review

In Win has quickly become the master of high-end design cases starting a couple of years ago. Despite the exclusive design, the biggest issue of these cases has always been the price. With the 301, In Win appears to be offering a mini-tower case compatible with microATX motherboards with a price close to 80 euro. Compared to the 303, the cable management of this 301 has been improved.

Cooler Master Cosmos II 25th Anniversary Edition Review

We review the Cooler Master Cosmos II 25th Anniversary Edition. The chassis with its familiar looks is an Ultra tower, yep 70 cm / 28" in height. It looks, feels and breathes the same stuff same as the 2012 model but now comes with a long requested feature as it is a tempered glass side panel version.

Raidmax Alpha RGB (White) Mid-Tower PC Case Review

Within the last year, any product that contains RGB lighting has come with an inflated price premium. Raidmax has taken notice by creating the Alpha RGB mid-tower PC case that infuses RGB lighting into a modern PC case, offers a remote control to cycle through the various RGB lighting modes, and hopes this will be the inexpensive solution for those on a budget. Raidmax may have created a niche with their $74.99 USD price point and we'll be testing the white exterior version of the Raidmax Alpha RGB to see if it's a worthy platform for your hard earned money."


Tesoro Excalibur SE Spectrum Review

The Excalibur SE Spectrum itself has some other tricks up its sleeve too, including RGB lighting and a driverless design, not to mention that the switches are hot-swappable, allowing you to easily remote the switches and replace them with other types depending on preference.

VIVO CASE-V07 Case

"I wasn't sure what to expect at first, since VIVO is known more for monitor mounts, TV mounts, and other non-computer case-related hardware. However, I am not disappointed. The CASE-V07 hits the sweet spot between afforability and features. Not long ago, case designers had to squeeze out as much space as possible for 3.5" hard drives. Now that solid state and M.2 drives have become mainstream, space has opened up for case designers. Plus, as optical drives are slowly being phased out and liquid cooling support gains popularity, case layouts have evolved to use this freed up space. The V07 seems to be sort of in that transitional phase. It still has a spot for an optical drive and a couple of the old 3.5" drives, but isn't full of the associated hard drive cages and support structures that really get in the way and take up valuable space."



DeepCool GENOME II Case Review

The Genome as defined by some sources as the complete set of genetic material that makes up an organism. Over the last few release cycles, DeepCool has been working at redefining their products and their Gamer Storm line is no different. The Gamer Storm series is DeepCool's higher end enthusiast products. The evolution of their cases over the last couple …



The best Guides by the best writers on the internet; PCSTATS Beginners Guides explain computers, software, and all those other wonderful things that cause you frustration.

Learn how to use your computer better, master the internet while protecting yourself, and know what to do when your hard drive kicks the bucket.



"Get the 'Stats and Stay Informed!"