[>>]

[>>]

[>>]

[>>]

More>>

Search...

| | |
| --- | --- |
| Cases | |

... 3 news stories awaiting approval
SilentiumPC Regnum RG1 TG Pure Black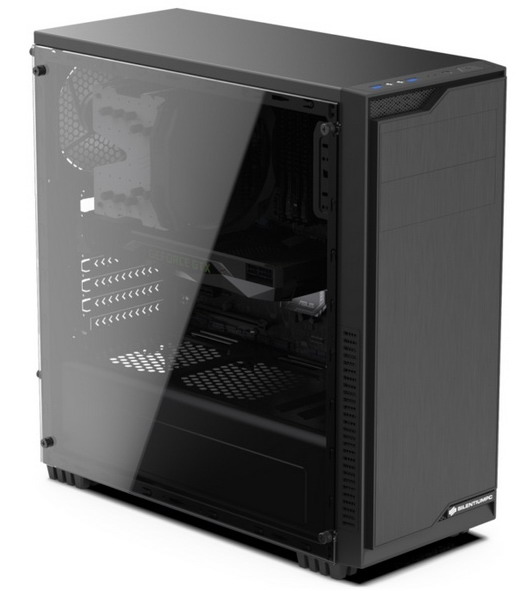 One of SilentiumPC all-time favorite cases is now available as a variant with tempered-glass. The Regnum RG1 TG offers a new side panel, that blends seamlessly with understated exterior design for an elegant yet modern gaming case. RG1 is a dream come true for value-oriented buyers as it combines praised features with high-quality at an entry-level price point.
Regnum RG1 TG surprisingly roomy interior features a modern dual-chamber internal layout, which dramatically improves both airflow and cable management. Being compatible with ATX motherboards, long power supplies, high-end graphics cards with up to 380 mm length and CPU coolers up to 160 mm, it allows for flexible choice of components. In addition to that, Regnum RG1 TG comes with two external 5,25" drive bays as well as two 3,5 and two 2,5" internal drive bays for desired HDD/SDD configurations.
The chassis is equipped with a single quiet 120 mm case fan and supports up to six 120 mm fans in total. All intake holes are covered with dust-filters. Regnum RG1 is also compatible with both single and dual radiator all-in-one water cooling solutions.
All ports are located in the I/O panel at the top of the panel, including power and reset buttons, mic and headphone jacks as well as two USB 3.1 ports.
The new Regnum RG1 TG is going to be available in the next days at 39,90 EUR (MSRP, incl. VAT) in Europe


The Best Computer Cases

When building a brand-new PC, how much do you prioritize a good case? Given that it's going to hold all your expensive hardware, help keep it cool, and add various features to your build, a quality chassis should be high on your shopping list. Here are our best computer cases of 2018.

Cooler Master MasterCase SL600M

Cooler Master enters a new era with a very stylishly new chassis, the MasterCase SL600M is more of a design PC chassis with lots of aluminum elements that oozes features and style. However, it also has been designed to mod a bit. The basics of the chassis are gorgeous to look at and have space for full-size ATX motherboards.

Sneak Energy Drink Review

"The gaming market is bigger than ever, especially with popular games like Fortnite really making it into the mainstream. Since gaming is so popular we've seen many products marketed directly at gamers. Today we are checking out one such product, Sneak. Sneak is a supplement style drink that claims to increase your energy, enhance your reaction times, sharpen your focus and provide a sustained release of energy, so you can game and grind longer. Each serving has only 12 calories, zero sugar, and comes in at a price of $0.87 per serving. Could this be a replacement for coffee? Typical energy drinks? Read on as we find out!"

Cooler Master Hyper 212 Black Edition Review

If you have ever been debating adding an aftermarket cooling solution to a new system build, you will likely have come across a number of forum posts or discussions where one particular cooler is mentioned much more than others, and the cooler in question tends to be the Hyper 212. Primarily this is due to great price to performance along with a high level of compatibility. Cooler Master has continued to release updated versions or the Hyper 212 cooler which also means there are a number of options to choose from based on your preferences.

Silverstone Lucid LD01

The Lucid LD01 from Silverstone tries to ditch the plastic and move to a mix relying heavily on steel and tempered glass for an understated high quality look and feel. It clearly caters to those who'd like to transcend the classic use of steel and plastic panels and want simple but effective, functional designs and features.

Phanteks Eclipse P300 Tempered Glass Midtower Case

Phanteks is one of those rare manufacturers whose products exude such a signature style that you can begin to recognize them from afar. Even when the company comes out with new cases, you can instantly recognize the DNA. It's not quite minimalist, but it's never over-the-top either. That's certainly true of the Phanteks Eclipse P300. This case, like any case …

Silverstone Lucid LD01

The Lucid LD01 from Silverstone tries to ditch the plastic and move to a mix relying heavily on steel and tempered glass for an understated high quality look and feel. It clearly caters to those who'd like to transcend the classic use of steel and plastic panels and want simple but effective, functional designs and features.

Antec Dark Fleet DF-500

The Antec Dark Fleet DF-500 revives the Dark Fleet family of cases, which saw its last chassis introduced around a decade ago. With a new, modern look, the DF-500 offers three fans, a tempered glass side and more to bring the Dark Fleet series into 2018.

Phanteks Enthoo EVOLV X

We're checking out the new Phanteks Enthoo Evolv X Glass mid-tower PC chassis, which is the successor to the Evolv ATX. The first important difference is the use of tempered glass panels instead of acrylic ones. The weight is now 15 kg instead of 10.2 kg, and that's a huge difference.

Cooler Master MasterCase SL600M

The Cooler Master MasterCase SL600M is a sleek, quiet chassis with an interesting and unusual layout within. On top of trying to cover both the low-noise and well cooling corners of the rink, it aims to be easy on the eyes as well. Throw in some cool features like lit up USB ports and a plenty of storage space, the SL600M may just be on to something.

Cougar Fortress Gaming Backpack

Cougar's Fortress backpack has a nice price tag and is quite large. It features three ergonomic, padded panels on its back, and the shoulder straps are padded as well. Since it can be held in four different ways, it will easily adapt to any occasion. The only downside seems to be that it is not water resistant, but you cannot be too picky at this price point.

EVGA DG-77 Alpine White Midtower Review

Up until just a few years ago, EVGA was best known for its graphics cards and motherboards, but the company has since built up a solid reputation for quality power supplies, AIO liquid coolers, cases, and peripherals. The DG-7, according to EVGA, is designed to look as expensive as the hardware you put in it. This gaming-focused case comes in …

GameMax Starlight PC Case – £51 for ALL this ?

Brand new for 2018 Game Max announced the Starlight RGB, an ATX Mid Tower gaming case. It features a full tempered glass side panel, Halo Rainbow RGB fan and a Rainbow RGB strip on the front. With a recommended price tag of £65 is it a budget case worth buying?

OCC Best Mid ATX Computer Cases 2018

"Every few months a new craze hits the computer enthusiast scene. We at OCC are always looking for the best products to review and recommend to others. So far this year, tempered glass and RGB lighting have been the bee's knees. Our top pick for a computer case is the NZXT H500i Compact ATX Mid-Tower. We spent countless hours looking into what would suit everyone's needs while keeping good performance (airflow) and still be at a reasonably priced case. The NZXT H500i is what we settled on, so let's break it down why this is the case everyone has been raving about and consistently a top seller!"



The best Guides by the best writers on the internet; PCSTATS Beginners Guides explain computers, software, and all those other wonderful things that cause you frustration.

Learn how to use your computer better, master the internet while protecting yourself, and know what to do when your hard drive kicks the bucket.



"Get the 'Stats and Stay Informed!"