[>>]

[>>]

[>>]

[>>]

More>>

Search...

| | |
| --- | --- |
| Cases | |

... 4 news stories awaiting approval
Raidmax Viper GX II

"So what makes this case stand out from all the others? One of the features that stands out is the handles on the side panels. That might not seem like much, but I think it is a nice touch that makes side panel removal easy and controllable, and the handles fold in to keep them out of the way. Then there is the modular hard drive cage that lets you go from the larger 3.5" drives to smaller 2.5" (SSD) drives quickly. There is also the ability to use long (415mm) graphics cards, and probably my favorite feature is the external SSD Connection Port, or as I like to call it, the external SSD drive bay. I am always moving data back and forth on my SSDs, so this feature makes that a smooth operation. Your cooling options are open too, since you can go with a larger air cooler, such as the Noctua D14, or you can go the liquid cooled route with a top-mounted radiator up to 240mm with dual 120mm fans. The two included case fans did a decent job of moving air through the case during the thermal testing and they were not loud."

Supermicro C7Z170-SQ Review

Supermicro is well-known in the server market. Meanwhile the manufacturer also has a focus on the gaming sector and approach is to bring server-grade quality to the table. Therefore the C7Z170-SQ could be an interesting product and we're certainly curious what it can do in our review.

Cooltek Jonsbo UMX2 Mini-ITX Case Review

With more and more people turning towards small PCs to cover their needs it's no wonder that the popularity of mini-ITX and mini-ATX compatible cases has been on the rise all over the world for quite some time now. What i never understood completely was the reason as to why PC case manufacturers didn't design small ATX compatible PC cases for people who want the extra features offered by such mainboards without having to worry about having a midi or full tower on their desks. HTPC cases have pretty much offered the solution to that for a long time now but judging by their current popularity it's safe to assume that the majority of consumers still prefers the "traditional" tower design when out to get a new case. Cooltek is one of the very few manufacturers out in the market currently who have managed to fit a full sized ATX mainboard inside small towers which up until today people thought were only compatible with mITX and mATX models. One such tower design PC case is the aluminum UMX2 by their Jonsbo brand which is here with us today.

Tt eSPORTS ISURUS PRO Review

The interesting design aesthetic was created by the Level 10 team, and the headset promises great bass from the 13.5mm neodymium drivers along with good noise reduction from the silicone ear grip, the in-line remote also has a microphone built in. Bundled in with the headset is a convenient carry case which can hold the headset while you move around. On paper the recipe looks perfect so we move on to the testing.

Case Mod Friday: Adrenal Express

Quote: "Welcome to another Case Mod Friday showcase! This week we have Boddaker's "Adrenal Express" build. Here is what he had to say about it, "The Core X9 will become the vessel that transports this highly exuberant chemical to its new owners, curing them of the common doldrums. Of course, there is only one company internationally certified to carry such a fragile, and extremely rare commodity...And that company is: Adrenal Express.""

Razer BlackWidow Ultimate 2016 Edition

The Razer BlackWidow Ultimate 2016 Edition is a mechanical keyboard featuring Razers proprietary award-winning mechanical keys. Razers put a lot of engineering into their key setup to have a tactile response on actuation and a short reset return. Normal keys take a 2.2mm ± 0.6mm stroke to actuate and a 0.7mm return to reset while Razers design is 1.9mm ± 0.4mm with a reset point at 0.4mm. Most mechanical keys are set for a 50g of actuating pressure and that's the same pressure Razer has chosen but with Razer gaming mechanical keys you get a tactile response from both the Green (Clicky) and Orange (Silent) style keys. The shorter stroke and reset on Razer keys helps ensure that when you need to rapidly tap the key you can do it faster on the down stroke and the reset is faster so you have a more responsive keyboard in the heat of battle. The only problem we can see is that during the heat of battle who stops to think about key accusation depth? Most of us here in the lab walk into an ambush we aren't thinking about lightly tapping a key, we are trying to push that key through the test table to get moving. We don't know of a way to measure the time it takes to actuate a shorter keystroke against a longer keystroke but the difference in keystroke depth and return is pretty minimal but any slight edge you can take in combat you should be taking it.

BitFenix Pandora Window Chassis Review

With our BitFenix Giveaway underway, let us take this opportunity to show you another one of their products, the BitFenix Pandora Window. Our first look from BitFenix provides an extremely exciting glimpse of this brushed aluminium chassis.

Case Mod Friday: Project SunkisTt

"Welcome to another Case Mod Friday showcase! This week we have ThermalMike's "Project SunkisTt" build. Here is what he had to say about it, "When I started my first modding project with Thermaltake, I was not really sure what I wanted to achieve with this build. How to make it a part of what I do, taking into account what I have done for several years with my car hobby and paint hobby and bring it into full throttle for a unique system, a Thermaltake system that I am proud to say is my own.""

Case Mod Friday: Project Alternate

"Welcome to another Case Mod Friday showcase! This week we have DeBlow's "Project Alternate" build. Here is what he had to say about it, "After what feels like a very long year I have decided to start work on my new desk build. The idea for this desk came to me when i was working on my last desk & at one point I almost started the project again, but I'm glad i didn't. Most people liked the desk & I learned a great deal during the build. The Project Alternate design slightly changed month by month & I will show some of the other plans & explain why the changes was made. This time I'm hoping to outdo my last desk & hopefully help others in the process. The desk work is about to start, using mostly MDF, Perspex, clay, metal & glass I plan to build the desk in 3 parts, starting from the bottom, then middle followed by the top section. The tricky parts will be the sharp corners & angles on the edges.""

SilverStone Kublai KL05-W Case Review

What is the first item you shop for when you're building your PC? Is it your motherboard, GPU, or is it the case? When I am looking at building a PC, I start at the case. It will be the foundation. The case dictates which hardware can be used in the build. The motherboard size, GPU size and water cooling

Suppressor F51 mid-tower case from Thermaltake

We review the Suppressor F51 mid-tower case from Thermaltake, which as the name implies features sound dampening panels to reduce noise during operation, as well as an interior that's designed to support a variety of drive and component configurations.

Fractal Design's Core 500

Fractal Design's Core 500 is the company's take on a Mini-ITX case that stays compact while making room for big radiators and graphics cards, along with plenty of storage. We poked around and put our Casewarmer test system inside to see how the Core 500 measures up.

DEEPCOOL Debuts TRISTELLAR S MOD Version ITX Chassis

GAMER STORM is a High-end brand of DEEPCOOL, serving gaming enthusiasts with products that have elegant design and great cooling performance. Since DEEPCOOL has launched the first trinity case, TRISTELLAR, that received consentaneous reputation. DEEPCOOL teamed up with Bill Owen, launches a new version of TRISTELLAR, named as TRISTELLAR S.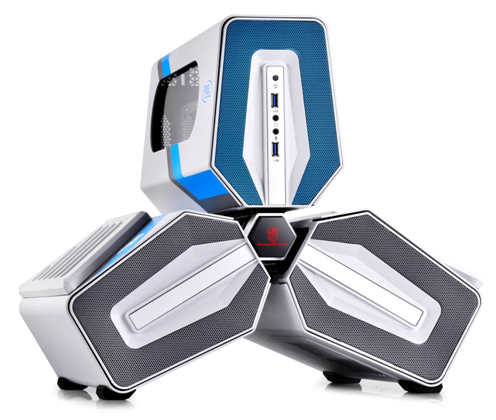 Deepcool x Bill Owen Mod case, inspired by 'Star Wars'& 'Spaceship', which is the first cases to take conventional chassis design and throw it out of the window, into the stratosphere, and on to the next galaxy. In fact, the only aspect of the TRISTELLAR S that might rival its stunning aesthetics is the sheer amount of hardware it can hold. From front to back, there are accommodations for a raft of enthusiast-caliber components.

Unveiled in June at Computex, Deepcool& Bill Owen's Tristellar Mod case is undeniably unique, which has a breathtaking appearance, striking paint job, custom air ducts, and the side windows make GPU and SSDs visible. Every 'mod job 'or 'build 'is rare and costly, we've practically had this belief hard-coded into our DNA. But today the TRISTELLAR S of Deepcool comes along and defies this notion. Globally limited 50 pcs will bring more opportunity and heartbeat.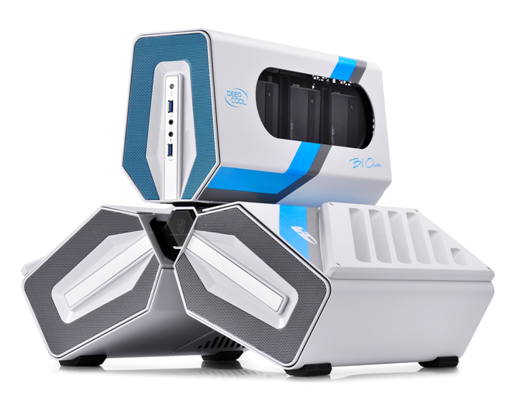 The ultramodern appearance of Tristellar S is based on 'Star Wars'& 'Spaceship', which must permanently etch itself into your memory. Moreover, it also can support the latest gaming configuration, the full-length (up to 320mm) graphic cards, and ultra wide (3 PCI Slots) VGA card.
Available in fall 2015 globally, MSRP: 599.99 USD.

Thermaltake Suppressor F51

"The Suppressor F51 is just a great case and I couldn't find anything that I did not like. Pricing currently comes in at $119 at Newegg for the side window version and about $20 less for the non-window version. You can certainly find less expensive cases, but try and find one that has all the sound deadening, all the fan and water cooling support, and all the style and quality, and you'll come up short. So yet again, Thermaltake delivers a knock-out punch."

BitFenix Nova Review

Earlier this month BitFenix announced Nova – a budget orientated computer case which seeks to bring style and finesse for those needing a cost-effective enclosure. Inside there is a selection of useful features and the space to accommodate various hardware. In this review we'll be exploring this new case to determine whether this is the best, inexpensive case that money can buy!

Akasa MAX MT Fanless NUC Chassis Review

Big chassis get all of the fame and glory, but there are a lot of cool things happening in the world of ultra-compact chassis. Akasa is one of the biggest names when it comes to the smallest products and their range of NUC chassis is virtually unmatched. With Intel offering up some truly incredibly NUC motherboards, packing many of the latest Intel Core products, M.2 memory support, USB 3.0 and so much more, there's now a huge range of applications for this type of system, at home in the workplace and beyond.



The best Guides by the best writers on the internet; PCSTATS Beginners Guides explain computers, software, and all those other wonderful things that cause you frustration.

Learn how to use your computer better, master the internet while protecting yourself, and know what to do when your hard drive kicks the bucket.



"Get the 'Stats and Stay Informed!"