[>>]

[>>]

[>>]

[>>]

More>>

Search...

| | |
| --- | --- |
| Cases | |

... 7 news stories awaiting approval
Bit Fenix Nova Chassis Review - Your Straight-Forward Chassis

With all the fancy expensive cases out there, we always have to look at the full spectrum of chassis'. Today we will dip into looking at the budget chassis brought to us by Bit Fenix, Nova. Coming in under $100 is quite a feat for a case. In doing so you're always going to be left wishing there was a little more effort or features put in.

Cooler Master Sentinel III Review

We first had a look at the CM Storm Sentinel way back in 2009, which impressed is with its forward thinking, performance and feature set. The Sentinel III is the latest incarnation where we see the ergonomic palm grip shape return with its adjustable weight system, LED headlights and customisable OLED display with various improvements.

Phanteks Eclipse P400 budget case

Phanteks is going to launch their new Eclipse P400 budget case and we have an exclusive in-depth preview. At just $69, this may be the S340 killer we've been waiting for.

Fractal Design Core 500 Review

There are two distinctly different ways to approach the Mini-ITX Fractal Design Core 500. The first is to pack out the drive bays with a ton of storage (optical drive, three hard drives and three SSD) to effectively convert your tiny PC into a server or NAS.

Corsair Carbide 400C Review

After the Carbide 600, Corsair is already back with yet more new Carbide Series cases. The 400C is a spacious mid-tower which allows the assembly of high-end and custom watercooling rigs. Like its big brother - the 600C - this case also features a mid-plate allowing for clean builds.

Thermaltake Core P5 Chassis Review

Looking for something a little different than usual? Have a system you kind of want to show off? Well the Core P5 is the chassis for you. An open concept that is easy to assemble and best of all you can wall mount it!

SilverStone Raven X RVX01 Review

So in essence the RVX01 still carries with it some key similarities that we've seen over the years but the significant difference is the size – this chassis is condensed and yet still allows for the ATX form factor and many other pieces of hardware – which we'll be exploring throughout this review.

Corsair Carbide 400Q Review

Corsair Carbide 400Q is the junior sibling of the Carbide 600C we saw quite recently. The Q suffix stands for Quiet and C for Clear (i.e. it has a windowed panel) and both Carbide 400 and 600 come in Q and C variants. Unboxing the 400Q reveals a case that looks understated. It lacks the visual wow factor of the enormous window we saw in the 600C and would presumably get with the 400C. It makes life easier if we put Carbide 600 to one side as that design uses an unconventional upside-down layout and is also very wide. By contrast the Carbide 400 is a slimline ATX tower that is only 215mm wide. Pulling off the side panels reveals the noise deadening material that has been added to qualify for the Quiet name tag and it should be a quick job to remove the power supply cover and front panel and lay the case bare.

ASUS Power Case (CB71) For ZenPad 7.0 Review

When we reviewed the ASUS ZenPad 7.0, one of our biggest gripe was its rather limited battery life. It can last up to 6 hours with light use, or 4.5 hours of heavy use (PCMark rated) and about 3.5 hours if you are playing games on it. But ASUS has just the solution for you – the ASUS Power Case (CB71) for the ZenPad 7.0!

Thermaltake Core X71 Case Review

"Thermaltake's Core series has been a huge success for Thermaltake since launching last year at CES. The whole motto of the Core X series is "Your Build. Our Core" which means that each of the cases in the Core X Series can be designed to fit your specific needs. The brand new Core X71 definitely fits that description as it has a internal modular design and it is one of the largest Thermaltake Cases that we've ever reviewed! Being a full tower it has room inside for multiple long graphics cards, two power supplies, over 5 hard drives, and lots, I mean lots of room for cooling! As far as water cooling support you have room for a 480 mm and two 360 mm radiators installed at the same time. This case also has room for a total of 11 140 mm fans too! As you can imagine you can put together a pretty extreme system with this case so let's take a look!"

Thermaltake Core X71 Full-Tower Chassis Review

Today we're going to take a look at a brand new case that Thermaltake is announcing at CES 2016 in Las Vegas, NV. Kicking off our review coverage today, we'll take a look at what this full-tower case all has to offer, and show you what makes it so special.The Core X71 is a massive full-tower chassis, featuring two chambers for advanced cable management and/or various liquid or air cooling opportunities....

Corsair Carbide Series 400Q Review

400Q is Corsair's new mid-tower chassis which is tailored to low-noise. Those who prefer an elegant enclosure which supresses noise will be attracted to this new case since Corsair has closed off all the panels and furnished them with noise-reduction material. Inside, 400Q is jam-packed with interesting and innovative features which we'll be exploring today in plenty of detail.

Corsair Carbide Quiet Series 400Q review

The latest in the Carbide series of PC cases from Corsair would be the 400Q and 400C. The C (Clear) model comes with a see through side panel while the Q model (Quiet) is aimed at silence. It is exactly that silent model we'll place under the microscope in this review. The new model is aimed at a more audiophile tense segment as it has sound dampening materials all over the place.

CES 2016 - Corsair Carbide 400Q and 400C PC Cases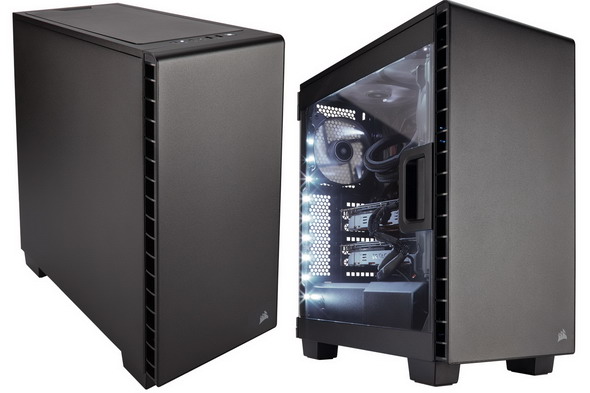 Corsair®, a world leader in enthusiast PC hardware and components, today announced the new Corsair Carbide 400Q and Carbide 400C high-performance PC cases. The Carbide 400Q and Carbide 400C are engineered to pack performance and expandability into beautifully compact mid-tower case designs. The 400C puts your PC's components on display through a stunning full size windowed side panel, while the 400Q features an interior lined with sound-damping material to minimize noise. In both the 400Q and 400C, Direct Airflow technology ensures unimpeded flow of cool air to your PC's hottest components.
The Carbide Quiet 400Q and Carbide Clear 400C are both easy to build in, easy to clean, and liquid cooling capable. Tool-free drive installation, easy-access side-panels and tons of cable routing options mean PC enthusiasts can spend less time building a PC and more time using it. Dust filters are easily accessible to cut cleaning time down to a minimum and two modular and refined PSU and 3.5" bay covers make it easy to conceal cables and drives. The 400Q and 400C both feature room for up to a 360mm radiator in front, a 240mm radiator on top, and a 120mm radiator in the rear, and Direct Airflow technology directs air to the hottest components from two included Corsair AF series fans (1 x AF140L intake, 1 x AF120L exhaust). Despite their compact mid-tower dimensions, the 400Q and 400C can house a full ATX motherboard and multiple GPUs if expansion is desired, making them as capable as they are beautiful.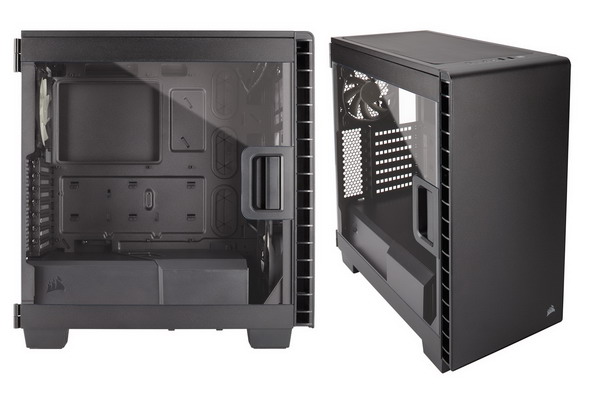 Carbide Quiet 400Q
With its multi-layer, sound-damping panels and streamlined interior, the Carbide 400Q is a compact and quiet ATX case. Sound-damping material placed on the front panel, side panels and top panel quietens even the noisiest internal components.
Carbide Clear 400C
The Carbide 400C packs high performance into a clear and compact case design. A gorgeous full size side panel window provides an unobstructed view into the case that's ideal to show off your PC's components. The all-steel exterior front and top panels complement the design with clean, modern lines.
Available in early February 2016 for $99.99 MSRP from Corsair's worldwide network of retailers and distributors, the Carbide 400Q and Carbide 400C are backed by a comprehensive two-year warranty and Corsair's worldwide customer support network. P<>
Carbide 400C and Carbide 400Q
Clean, modern lines with an all-steel exterior: Get rid of those plastic cases – the 400C and 400Q have full steel front and top panels for extra durability and stunning looks.
Compact design, full size capabilities: Despite the 400C and 400Q's compact dimensions, they can house a full ATX motherboard and multiple GPUs.
Direct Airflow Path: One way to reduce noise is to make sure fans don't work harder than they have to. By removing the drive cages behind the intake fans, the 400C and 400Q provide a more efficient direct airflow path to the hottest components, the CPU and GPU.
Liquid cooling capable: With room for up to a 360mm radiator in front, a 240mm radiator on top, and a 120mm radiator in rear, the 400C and 400Q can mount a wide range of Corsair Hydro-series liquid coolers.
Two AF series fans: Corsair-exclusive AF120L and AF140L fans efficiently draw ample cool air directly to components without the turbulence that can cause fan hum.
Easy to Build: Tool-free drive installation, side panel access, and tons of cable routing options and tie downs means less time spent building a PC and more time using it.
PSU and 3.5" Bay Cover: It's easy to tidy the inside of the case by placing cables and drives behind two modular, clean, and refined PSU and 3.5" bay covers.
Easy to Clean: Easily access dust filters on front, top, and bottom mean it'll never take more than a minute getting dust out of the system.
Carbide 400Q Only
Silenced panels for quiet operation: Sound damping material placed on the front panel, side panels, and top panel reduces component noise.
Carbide 400C Only    
Hinged and latched full side-panel window: Components are easily accessible and when closed, every part of the build is visible through the full side-panel window. 

Fractal Design Core 500

The Fractal Design Core 500 is the company's first mainstream SFF chassis. Clocking in at around 60 USD, it aims to offer the perfect balance between size, price, and quality. We take the unit for a spin to see whether it holds up in these areas.

NZXT Hue+ Review

NZXT has updated its HUE lighting controller and while the HUE+ name may sound familiar the system has undergone a radical overhaul. Previously you had a control unit that sits in an optical drive bay with three rotary controls that adjust the behaviour of the LEDs. By contrast the HUE+ is a tiny controller that looks similar to an solid state drive and which connects to the NZXT CAM software with a USB cable. The result is is a series of LEDs that can be controlled in software to an astonishing degree.



The best Guides by the best writers on the internet; PCSTATS Beginners Guides explain computers, software, and all those other wonderful things that cause you frustration.

Learn how to use your computer better, master the internet while protecting yourself, and know what to do when your hard drive kicks the bucket.



"Get the 'Stats and Stay Informed!"