| | |
| --- | --- |
| Cases | |

... 9 news stories awaiting approval
AeroCool DS 230 tower

HardwareOverclock.com has just posted another review. Last week we have tested the AeroCool DS 230 tower. The Dead Silence tower has noise dampening material installed on front , top , side panels to ensure maximum reduction of noise induced by fans and other working components.

DeepCool GamerStorm Genome

Our latest case review covers the DeepCool GamerStorm Genome, a mid-tower enclosure that comes with an integrated AIO liquid cooling system complete with a 360mm radiator that uses three 120mm fans! You'll even be able to choose from three different coolant colors proudly displayed up front with the clear cylindrical "double helix" reservoir. Users simply provide the rest of the components to build their system, and that's what we're going to do in order test the Genome both as a case and cooling system.

Fractal Design Define Mini C Review

About one year ago the Swedish company Fractal Design presented the Define Nano S, which until to day, used to be their latest small tower case. Now they launched the Define Mini C which should be the next step in the evolution of their Define series cases. Like the previous model, the new Mini C is a case capable of housing custom watercooling builds and micro-ATX motherboard. There is a lot of space available for radiators and there are mounts for reservoir and pump.

Phanteks Enthoo Luxe Tempered Glass

With the Enthoo Luxe Tempered Glass, Phanteks has a case for ATX and E-ATX motherboards in its portfolio, which comes with a lot of features and at an an attractive price. Apart from that especially friends of custom watercooling loops will love this case, since it offers a lot of flexibility in that direction since you can install also a big 420 millimeters radiator. In addition this model support a RGB illumination and a fan controller for up to six fans. For now, we're really curious to find out how this case is going to do in our review

BitFenix Aurora Mid-Tower Tempered Glass Chassis Review

BitFenix has been on the market for years, offering many hugely successful chassis that are still just as popular today as they've ever been. Now they're back with their latest product, the Aurora, which comes decked out in glorious tempered glass on both the left and right side panels, giving you a great way to show off your build.


Lian Li PC-Q17 Mini-ITX Case Review

Mini-ITX as a form-factor is definitely a fast-growing trend. Technology has advanced to the point where you can build a system as a powerful as a regular mid-tower desktop, but in a case with a tiny footprint. The Lian Li PC-Q17 caters to that market – those looking for a premium-grade experience without the clutter and hassle of an ATX case.

Silverstone Primera PM01 Case Review

In this review I'll be looking at the Silverstone Primera Series PM01. This is a new series for Silverstone that is designed for exceptional style and functionality. Primera is a Spanish word for first and is an interesting choice considering that the overall design and style

Phanteks Enthoo Luxe Tempered Glass

Just over 2 years ago we took a look at the Phanteks Enthoo Luxe case. At the time we thought it was one of the best cases out there and gave it a 10 out of 10 score. Now Phanteks has given the case its tempered glass treatment, added a full tempered glass side panel. Other new features include SSD mounts in the main compartment to display your drives, the front 200 mm has been replaced by dual 140 mm fans, and there is a new color variation of grey, which we are taking a look at today. Besides that the case is the same as the one we reviewed two years ago so it is a full tower with support for large motherboards like E-ATX and SSI EEB, a good amount of room for watercooling, RGB lighting and much more. Let's take a look!"

In Win 303 ATX Mid-Tower Case Review

"For those that are not familiar with any of the In Win products, let us describe the Taiwan-based In Win company as a luxurious enclosure manufacturer, using high quality components, especially in their exclusive designs. If you want a case that stands out from the crowd their gamma will for sure have a model that will perfectly suit your needs. The In Win 805 we reviewed was a premium case with tempered glass all around; In Win even has more classy looking models in their lineup than the 909 full-tower model we also tested. Each year at Computex they have an absolute stunning case or prototype on display and they are accumulating the awards year after year. Normally an exclusive design goes hand in hand with a beefy price tag, however with the 303 In Win launches a high grade mid-tower enclosure that is sort of affordable. Time to open the box and see what this In Win 303 has got in store for us."

Case Mod Friday: Green Lantern

This week's build comes from Hanoicomputer out of Vietnam. It is done inside the Jonsbo Mod1 Green chassis, which is not that well known here in the states. The case is beautiful and the build Hanoicomputer has done inside is great. Taking a look at the build you can see where it gets it name from! Enjoy!"


AeroCool P7-C1 Tempered Glass Mid Tower Review

AeroCool just introduced one of the best looking mid-towers in the market to date called the Project 7 P7-C1, and yes it also features a tempered glass side panel among many other things.

Fractal Design Define C chassis review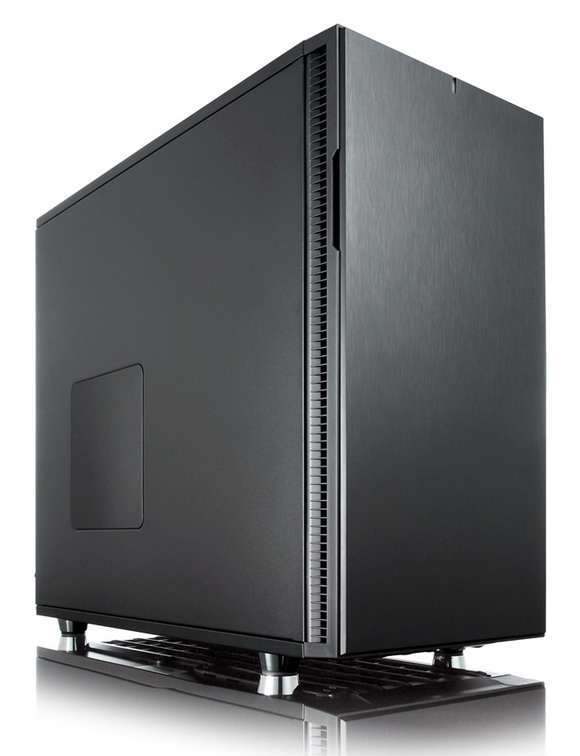 Today Fractal Design released the Define C, a silent, stylish and compact PC chassis. This all predominantly black and white chassis comes with plenty of cooling options, great design and it will house up-to ATX motherboards. Armed with a PSU compartment this product is made with airflow and liquid cooling in mind to serve the more performance oriented PCs. You'll love the storage options, style, USB 3.0 and low noise levels.

NZXT S340 Elite Case Review

XT S340 Elite is a modern twist on the S340 that launched in 2014. If you stand a short distance away from the Elite, the most obvious change is the tempered glass side panel which looks lovely and shows off the inside of your PC to full effect.

CR1080's dual compartment case interior

With a dual compartment design, the area normally used to mount the motherboard is instead occupied by drive bays - two 3.5" and one 2.5" (or three 2.5" drives) - and the power supply area, all mounted vertically with room to run cables and even space for a lower front mounted 80mm fan. Moving to the normal cable management side of the case, we find the motherboard mounting area with the I/O panel at the bottom and the PCI card slots at the top. What makes this setup intriguing are the two 120mm fan mounts at the front and an 80mm fan mount at the rear that should make for a direct air flow path across the motherboard."