[>>]

[>>]

[>>]

[>>]

More>>

Search...

| | |
| --- | --- |
| Cases | |

... 8 news stories awaiting approval
Thermaltake Core V71 Case Review

Today we are taking a look at one of Thermaltake's top of the line cases, the Core V71. This full-tower beast has a subtle curved mesh exterior, a fully modular internal design, a massive amount of built-in air cooling, and support for a monster water cooling setup. Read on to see how it performs.

Fractal Design Core 3300 Mid-Tower Chassis Review

Fractal Design have a long and trusted reputation for flawless build quality and sleek design, but their products are often priced a little too high for your average consumer. The phrase "you get what you pay for" holds true for the premium products Fractal Design produce and the extra investment for a Fractal case can certainly reap its own rewards, but some budgets only stretch so far. The new Core series from Fractal Design hopes to offer a "less is more" attitude, giving you the premium quality and design we've come to know and love, but matching it all with a more affordable price tag.

Fractal Design Define S Case Review

"The Fractal Design Define S Case arrived Technic3D. The "S" supports ATX, Mini-ITX and Micro-ATX motherboards and have place for 9x 120mm or 9x 140mm Cooling-Fans. We will check this and many more in the following Review."

Case Mod Friday: Green Carnage

"Welcome to another Case Mod Friday showcase! This week we have Snef's "Green Carnage" build. Here is what he had to say about it, "In a month, I will not have a gaming PC anymore. I need to build a new one, but I want it simple but VERY clean, will use it for my business. Theme will be white (for sure), lime green and just a touch of black and use Carnage as theme but instead of red, I will turn him green.""

Anidees AI-4 M-ATX Silenced Chassis Review

Small chassis are all the rage recently, with many system builders flexing their desire to build a compact gaming rig that still packs a might punch. With so many new cases on the market in the smaller leagues such as the BitFenix Prodigy series, Coolermaster Elite 130, Antec ISK-600 and almost countless other options, it can be hard to know which is the right chassis for your own build. Sure you may all think of the big names such as Corsair, NZXT, Antec, Thermaltake, etc. when you're picking your parts, but today we though we would bring you a chassis from a name that may not be so familiar, a break from the norm if you will. Anidees have been on the market for years now in Europe, but they've not had much attention here in the UK or even in the US yet. We've seen their products before and were thoroughly impressed with their build quality and sleek design, so hopefully we'll see something similar today in the compact design of the AI6BS Midi Tower. With support for large graphics cards, three pre-installed fans, plentiful sound dampening material on the interior, dust filters, USB 3.0 support, aluminium finishings and more, there is no doubt that this is targeted at the premium end of the market. The packed specification list is impressive for a chassis of this size, but at around £90 shipped, you get what you pay for.

SilverStone SG12

Here at Bjorn3D we are no strangers to the SilverStone brand. They have been creating awesome cases, power supplies, coolers and more since 2003, and we have been fortunate enough to take a look at many of their offerings over the years. Early on in their history, they created the Sugo series of cases, a line which caters to those that wish to build a small form factor PC. The latest case in the Sugo series is the SG12, a compact, yet roomy, SFF case. With room for large video cards, as well as ATX power supplies, the Silverstone SG12 looks to be a great contender in the growing SFF arena.

Corsair Bulldog Back in Black at PAX Prime

Last June Corsair unveiled a prototype of Bulldog, a powerful gaming platform that packs the sheer performance of a full-size desktop gaming PC into a gorgeous new all-black, whisper-quiet console chassis designed for the living room. Today at PAX Prime, Corsair is revealing the refined Bulldog production version that will ship in the 2015 holiday season.

Bulldog DIY kit harnesses exclusive small form factor Corsair components and cooling technology that form the core of a 4K ready gaming PC—a sleek, highly-vented console-sized chassis, an ultra-efficient SFX power supply, and twin compact liquid CPU and GPU coolers – all integrated with a mini-ITX motherboard. Simply add a 6th generation Intel® Core™ processor, memory, graphics card, storage and Windows or SteamOS for an incredible living room experience unmatched by any console or set top box.

Corsair's proprietary liquid cooling technology makes it possible to overclock both the CPU and graphics card, allowing Bulldog to render silky smooth 4K graphics faster and quieter than conventional PCs. An included Corsair Hydro Series H5 SF liquid cooling block and radiator cools the CPU. Liquid cooled GeForce® GTX 980 Ti graphics cards, developed by Corsair and MSI, will be available separately from Corsair.com in the US. In addition, Corsair will sell a liquid cooling kit for graphics cards, comprised of an HG10 cooling bracket and Hydro Series H55 liquid cooler, for users that want to upgrade their existing graphics card.

The initial release of Bulldog is designed with PC do-it-yourselfers in mind, with a builder-friendly layout and tool-free features, and uses standard mini-ITX motherboards and SFX12V PSUs for future-proof upgradeability enabling users to keep pace as games and hardware evolve. The Bulldog DIY kit includes the chassis, power supply, CPU cooler, and motherboard, will be available at year-end at a suggested price of $399 USD.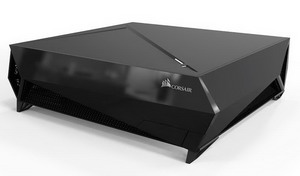 Fractal Design NODE 202

The Fractal Design NODE 202 can be purchased bare or with a 450W SFX PSU. Its aim is to deliver all the space you need for a compact but potent gaming rig, while also sporting the looks to go right next to your TV or even gaming console. We fill the chassis and fire it up to see if it can hold its ground in both usage scenarios.

Phanteks Enthoo Evolv ITX Special Edition

Recently Phanteks released the Special Edition of their Enthoo Evolv ITX case. The Special Edition's are actually different color variants than the original, which was only available in black. The two Special Editions are black with red interior and white with black interior. These two new color combinations should help builders match components better and hell they just look pretty cool! We actually reviewed the Enthoo Evolv ITX back in March and even did a full watercooling build inside. Derrick did a great job on both of those reviews so I decided I would take a look at the case and see what it is all about. This will give a different point of view from someone who has never reviewed a Phanteks case before. Read along to see what I think of the Phanteks Enthoo Evolv ITX Special Edition Case."

Case Mod Friday: I am Iron Man

"Welcome to another Case Mod Friday showcase! This week we have DiLuzio Customs "I am Iron Man" build. Here is what he had to say about it, "So It's time for my annual build. I actually got started a couple of weeks ago, but now that I have enough content it's time to post. The theme of this build is Iron man as you can guess. This build will be based on the Phanteks Enthoo Evolv MAtx build for 2 reasons. Reason one, the Full ATX version of the case is huge, and this case will have to come with me when I travel. Reason 2 is the Mini ITX version of the case is made out of Steel.""


Phanteks Enthoo EVOLV Case Review

"The Phanteks Enthoo EVOLV must be experienced up close and in person to be understood and to be fully appreciated. This case sets the bar high in the premiere level cases in the same company with well known excellence as Lian Li or Siverstone products and may even surpass those in unique features here and there. This all new design for the Phanteks m-itx or uATX case builders' features an all new tool-free release system for the front cover that is released the same as any high end HI FI speaker grills are and some high quality cases with mechanical spring loaded action quick release designs. Actually the Lian Li uses a system very close to this design for their tool less release panels. The Phanteks Enthoo EVOLV has it all, and maybe even more than you might expect for a high end case no matter what your skill level or your custom ideals, inspiration's or budgets. This is not a showy design but it could be. It has a true minimalistic quality that can only be appreciated up close and personally to see what it is really like. Like a fine wine or a beautiful woman it hides it's best qualities for only the special few that are able to get close enough to appreciate their true appeal."

Silverstone Fortress FT05 Case

Silverstone's "stacked" design might offer unbeatable cooling performance, but as we found out in our review of the Raven RV05, it also resulted in a lot of wasted space and a cramped area to work with. The company knows this and has come up with a calmer, classier version of its extreme gaming case with the new Fortress FT05.

Fractal Design Node 202 Enclosure Review

One of Fractal Design's highlights at Computex 2015 was for sure the enclosure we are taking a closer look at in this review: the Node 202, a small footprint chassis, combining sleek and the typical Fractal looks. Nevertheless the dimensions, this Node 202 provides the option to install a high end gaming graphics card, thus making it ideal to serve as a HTPC media PC and/or gaming rig, this while blending in perfectly with other multimedia peripherals in your living room. The Node 202 is available in two versions, one with and one without the Fractal Design Integra 450W power supply. Fractal Design was so kind to send us the high end model with the PSU. Time to open the box and explore what this Node 202 can mean for you.

Raidmax Hyperion Case Review on Technic3D

"The Raidmax Hyperion Case arrived Technic3D. The Hyperion supports Mini-ITX and Micro-ATX motherboards and have place for 9x 120mm, 3x 140mm or 2x 200mm Cooling-Fans. We will check this and many more in the following Review." .

Thermaltake Core X9 Case Review

The Core X9 is a behemoth, boasting a bar-fridge-like 122L capacity -- large enough that Thermaltake says dual systems are on the menu, not to mention the possibilities for liquid cooling and file servers. "Super Towers" or "Ultra Towers" such as the Lian Li D8000, Cooler Master Cosmos II and Corsair Obsidian 900D typically cost upwards of $300, so we're eager to see what Thermaltake's Core X9 delivers for almost 40% less.



The best Guides by the best writers on the internet; PCSTATS Beginners Guides explain computers, software, and all those other wonderful things that cause you frustration.

Learn how to use your computer better, master the internet while protecting yourself, and know what to do when your hard drive kicks the bucket.



"Get the 'Stats and Stay Informed!"