| | |
| --- | --- |
| Cases | |

... 5 news stories awaiting approval
SteelSeries Siberia V3 Review @ Vortez

The design is definitively `Siberia` and has been crafted with expert precision. They have improved the retractable microphone, upgraded the drivers to the latest generation of SteelSeries speaker drivers that have been refined to give a `tournament grade` soundscape tailored for gaming. Meaning better situational awareness and separation in sound effects in game. The most noticeable change is that the V3 features no inline remote and has moved the microphone mute switch on the left side earcup. This makes the setup process significantly simpler, and easier to use for the end user who are often faced with various stages of volume management with today`s devices."

SilverStone Raven RVZ01 @ techPowerUp

Silverstone aims to dominate the Steam-powered HTPC/Gaming arena with the Raven RVZ01 as it may hold a large GPU of up to 330 mm in size - all while aiming for the golden middle between performance, cooling, and expandability. With a sub-100 USD price tag, the chassis may just be what you need if you are out to build a cool-looking but small gaming power house."

Corsair Graphite Graphite 380T review

We review the new Graphite 380T from Corsair, based on the original ideas of Corsair's R&D the designers wanted to put a mini-ITX compatible chassis with awesome looks, functionality and ease of use. As such the Graphite Series has been updated with model 380T we review the yellow mini tower case. Albeit being mini, the 380T houses up to four 3.5in/2.5in drives and a full-length graphics card with ease.

Silverstone Raven RV05 Case Review

Now, SilverStone has just released the latest chassis in the Raven series, the RV05. Drawing it's design straight from the RV01, the Raven RV05 continues a trend started by the NZXT H440 with the removal of all 5.25? drive bays. Without the bays, the RV05 is smaller than many mid-towers while still retaining compatibility for a full range of standard features such as ATX motherboards and power supplies, bays for dual 3.5? drives and 2.5? drives, and even water cooling support.

Fractal Design Core 3300

"Designed as a low cost solution, the Core 3300 comes with a lot of advantages: a wide body design to allow for great cable management, multiple radiator support, room to install up to seven 140mm case fans (two are included), a vertical hard drive mounting system that supports 2.5/3.5" drives, a front panel textured finish, and much more."

The NZXT Sentry 3

When your motherboard runs out of headers for all those cool case fans you still need to install, you might want to consider a fan controller. The NZXT Sentry 3 features a 5.4-inch color touchscreen, the largest yet for any single bay fan controller, that allows you to control up to five fan channels each supplying a maximum 15W of power. There's more neat features packed into this $34.99 fan controller, and we'll see how well it fares in our review.

Scorpio case

Raidmax refreshes its long running Scorpio case series with the Scorpio V, an $80 mid-tower case that features a built-in fan controller, room for a radiator with two 240mm fans, and even integrated blue LED case lighting. We see how well it holds up (and our components) in our review.

Phanteks Enthoo Mini XL Review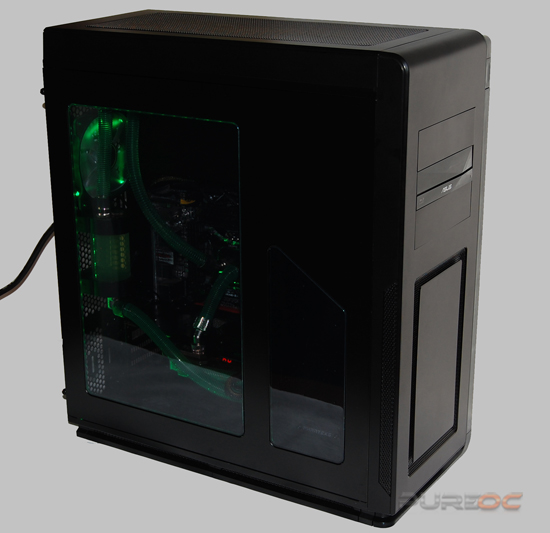 "We're starting the New Year with a review of the Phanteks Enthoo Mini XL, in what looks to be a scaled down and smaller version of the acclaimed Enthoo Primo. The Phanteks Enthoo Mini XL sports many of its distinct features and designs, which includes multiple radiator support, modular HD cages, separate PSU area, and all aluminum look. The Phanteks Enthoo Mini XL is available in a satin black windowed version, which is what we're looking at today."

Lian Li PC-O5S

The Lian Li PC-O5S is a beautiful computer case that isn't overstated. The design is functional and Lian Li has managed to achieve what we believe was the goal of this case. As good as the PC-O5S looks standing or even sitting on a desk we feel hanging it on the wall is where it belongs.

SilverStone Raven RV05

The 5th edition takes the Raven back to its roots by reviving the original floor-mounted fans. Though based primarily on the superb RV02/FT02 design, the RV05 is less bulky, slimming down its dimensions and shedding weight by reducing the number of 18cm fans and limiting the number of drives it will hold.

COUGAR MX500 Midi Tower Review

As far back as i can remember all my friends were always looking to find the weirdest looking PC case to house their brand new systems and although i once followed their lead by choosing the quite remarkable (for its time) Xaser III by Thermaltake I've always liked elegant models without many bells and whistles on the outside (interior space and build quality have always been the two most important things for me). For good or bad lately most manufacturers out there have been focusing mostly in the design and manufacture of strange looking towers (some for example base design on sports cars) to try and attract as many "young" people as possible and although that's understandable many times we see build quality and interior space placed last (an exception to that rule although it could have been even better is the Cosmos II). COUGAR may not be one of the oldest PC case manufacturers in the market but they have released quite a few interesting models and today on our test bench we have their brand new MX500 Midi Tower.

Streacom FC08 Evo Review

With the FC08 Evo, Streacom has a case in its portfolio which allows for completely passive cooled HTPCs or office PCs. Apart from that you can even assemble quite powerful rigs, since the cooling should be capable of removing up to 95 Watt of heat. At this point we're really curious to see what this case is like using.


SilverStone Fortress FT05 90 Degree ATX Full Tower Review

The SilverStone Fortress FT05 is a different take on it successful Raven RV05. SilverStone has gotten rid of the 5.25" drive bays and once again rotated the motherboard 90 degrees so that the IO panel points toward the sky. These two things done in tandem allow SilverStone to produce a much better engineered ATX case.

Deepcool Steam Castle Micro ATX Case Review

Deepcool more recently launched their first Micro ATX chassis with a bit of funky styling and absolutely eye-catching features. This Steampunk inspired chassis is called the Steam Castle, and while it may be an mATX chassis, it certainly has a lot to offer. You will find a multitude of items, such as support for a 280mm liquid cooler, tool-free drive bays, dual pre-installed fans, LEDs on each top punk that can change colors, a built-in LED brightness/color and fan speed controller, and much more.

DeepCool Steam Castle

The DeepCool Steam Castle aims to take steampunk to the main stream. Available in four different colors with elaborate looks, will it manage to deliver hip looks right out of the box while remaining functional at a competitive price point, or is it a hip shell with a boring interior?