[>>]

[>>]

[>>]

[>>]

More>>

Search...

| | |
| --- | --- |
| Cases | |

... 1 news stories awaiting approval
NZXT & ASUS Stand Together with Noctis 450 ROG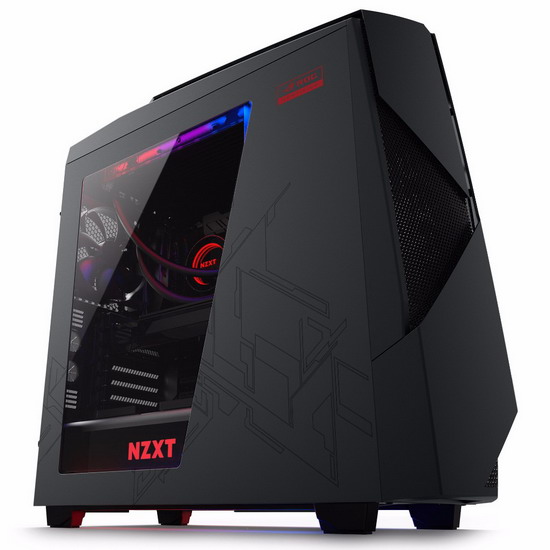 "NZXT announces today the Noctis 450 ROG, a Special Edition case aimed at dedicated PC Gamers. This ATX mid-tower case is ROG-certified, displays an exclusive Gun Gray finish and features Aura Sync RGB-lighting technology.
"The original Noctis 450 highlighted NZXT's return to bold and daring designs. As we joined forces with Republic of Gamers (ROG) to develop a dedicated case for high-end gaming systems, it felt like the perfect tailored fit to build a Special Edition case. With exclusive aesthetics, ROG certification and Aura sync compatibility leading to new features, Noctis 450 ROG focuses on users aiming at building powerful systems that leverages the Republic of Gamers ecosystem," says Johnny Hou, NZXT's founder and CEO.
"The Republic of Gamers (ROG) initiative guarantees that you have the best possible gaming experiences, always. So, we work closely with trusted partner companies to verify, test and certify products that fit perfectly with ROG motherboard. ROG certification is based on extensive testing and validation by ROG engineers, and only the very best succeed to become ROG Certified. We're happy to launch the Noctis 450 ROG together with NZXT, as both teams share the same ambition to make PC gaming the ultimate premium experience," says Kris Huang, Senior Director at ASUS.

SilverStone Kublai KL07 Silent Case Review

The SilverStone KL07 comes with some very notable features including a USB SuperSpeed Type-C connector, three 140mm cooling fans and acoustical treatments on all of the panels.

ROCCAT Cross Review @ Vortez

The ROCCAT Cross is lighter than many headsets in its class at just 186g, and it ships with two different cables to improve versatility. A shorter mobile cable (1.2m) with a 4pole jack and an in-line microphone, and a longer cable (2.35m) featuring separate headphone/microphone jacks and a boom microphone. Despite its lightweight stature and its sleek all black finish, ROCCAT have equipped the Cross with 'studio grade' 50mm neodymium drivers that promise to deliver superior audio quality in all media.

PowerColor Devil Box Redux

"My initial reactions to how the Devil Box improved gaming performance have not changed much after the change in baseline hardware. I found that even with a device such as Intel's high performance NUC as the backbone of your system, you still can really game at almost full speed just by using a device like PowerColor's Devil Box to fill your gaming needs. My results shown above are at 2560 x 1440 as a proof of concept that if you have the monitor real estate, you can indeed game at up to 1440p resolutions with the two cards tested. That being said, the sweet spot for resolutions will ultimately be limited by your choice of the video card that will populate the confines of the Devil Box. The only challenge I saw while testing was that the green card had a hiccup in a couple games and did not perform as expected. Driver changes usually fix small things like this in specific games. Smaller form factor PCs are becoming more common place each and every day. As integrated graphics solutions still struggle to deliver gaming performance, there is a solution: PowerColor's Devil Box!"

IN WIN 509 ROG Certified E-ATX Chassis Review

Excellent build quality, spacious interior and a good number of interesting features are just some of the things you can expect from the brand new 509 ROG Certified E-ATX Chassis by our friends over at IN WIN.

Cooler Master Mastercase Maker 5t Chassis Review

Cooler Master already impressed us with their stunning and surprisingly affordable Mastercase 5t chassis last week, but what if you've got a big pile of money to spend and you want the absolute best from the Cooler Master range? Enter the MasterCase Maker 5t! This ATX mid-tower comes packed full of all the latest features, innovations and more from Cooler Master, promising you all those enthusiast-grade thrills that you so desire.

Rosewill Gram

The Rosewill Gram aims to be a well-rounded mid tower with the ability to take a 240 mm long radiator, 360 mm long graphics card, and five cooling fans. With strong competition in the segment, it will be interesting to see whether the Gram will be able to strike them down to be the victor in winning the buyer's heart.

Cooler Master MasterCase Maker 5t Review

Cooler Master's MasterCase Maker 5t case is the latest flagship mid-tower addition to the company's MasterCase series. With a design that marries the original full-tower CM Storm Trooper/Stryker with the MasterCase 5, the new MasterCase Maker 5t is equipped with a top handle and is compatible with Cooler Master's FreeForm modular system. This means that like other cases in the …

I have been a huge fan of Cooler Master's MasterCase Series of cases since I fir

"Over the past few years, the cost of owning a 3D printer has come down sharply – we're now at a point where an entry level 3D printer like the Wanhao Duplicator i3 v2.1 costs less than £300/$400 (mostly assembled and ready to go). Not so long ago, this would have only managed to buy a DIY kit with less than spectacular results. We purchased this printer a couple of months ago and have thoroughly tested it with different filament types and weeks of printing time... the results have been surprising, especially after some extensive modifications. Read on to find out what we thought."

Cooler Master MasterCase Maker 5t Case

I have been a huge fan of Cooler Master's MasterCase Series of cases since I first reviewed the original MasterCase 5 almost a year ago. With the MasterCase Series Cooler Master really reinvented themselves brought their cases back into the minds of builders and enthusiasts. The MasterCase Series brought with it a sleek and stylish design, the FreeForm modular system, and a case that was very easy to build in. Today we have Cooler Master's latest entry in the MasterCase Series, the MasterCase Maker 5t. This case features a 2-tone design, dual tempered glass side panels, an included LED strip, a light & fan controller, and much more! This could be the best MasterCase Chassis yet! Read on as we take a look!"

Corsair's Carbide Series

In a world where the compact ATX mid-tower is gaining traction, Corsair's Carbide Series Air 740 is an unapologetic bruiser of a case that promises all the room one could want for a jam-packed high-end system. We took it for a test drive to see whether bigger can still be better.

AeroCool Project7 P7-C1 Tempered Glass Edition

Wir hatten dieses Jahr schon mehrere PC Gehäuse aus dem Hause Aerocool im Test. Dieser Hersteller ist derzeit sehr bemüht, einzigartige und schicke Gehäuse auf den Markt zu bringen. Einige davon konnten wir uns schon etwas näher ansehen, doch ein Modell fehlt uns noch in der Sammlung, das Mitte Oktober vorgestellte AeroCool Project7 P7-C1 Gehäuse in der Tempered Glass Edition weiß. Dies ist der beginn einer neuen Serie, die neben dem Gehäuse auch noch ein Netzteil und eine Wasserkühlung mit LED Steuerung haben werden. Das Projekt 7 Gehäuse gibt es in 4 verschiedenen Ausführungen, jeweils in Schwarz und Weiß mit Plexi oder Glas Sichtfenster. Kommen wir zu den Highlights des PC7-C1, und was man bei der Fertigung an oberste Stelle gereiht hat. Während des Entwicklungsprozesses, stellte Aerocools Design-Team sicher, dass das P7-C1 nicht nur technisch fortschrittlich, sondern auch optisch sehr ansprechend ist. Das P7-C1 bietet zahlreiche Besonderheiten, wie den einzigartigen PWM Hub, eine 8-farbige Beleuchtung, Unterstützung von Wasserkühlungen mit einer maximalen Radiatorgröße von 360 mm und ein intelligentes Kabelmanagement.

Cooler Master MasterBox 5T Review

The MasterBox 5T is a mid-tower chassis which delivers a two-tone design with support for the latest PC components. Inside, there is a spacious layout which lends itself to being able to host flagship air CPU coolers and high-performance graphics cards. Cooler Master also include two 120mm fans which utilise a two-speed fan controller.

Corsair Carbide SPEC-ALPHA Chassis Review

With its aggressive, angular fascia – and a name to match – the Corsair Carbide SPEC-ALPHA is certainly a case that grabs your attention. While the SPEC-ALPHA does have an emphasis on its 'modern' styling, Corsair are also keen to point out the range of features included with the case – including a 3-speed fan controller, 2x 120mm LED fans and support for up to four SSDs.

Aerocool Project 7 C1 Case Review

Aerocool Project 7 C1 is a mid-tower case with a windowed side panel, integrated lighting in the front panel and a PWM hub behind the motherboard tray. These are all useful features however none of them is unique so the simple fact is that Aerocool faces a stiff battle in this review as it is pitching itself against a bunch of other case manufacturers such as BitFenix and Phanteks.

Cooler Master Mastercase Maker 5t Review on Technic3D

The Cooler Master Mastercase Maker 5t arrived Technic3D. The MasterCase supports ATX, Mini-ITX and Micro-ATX motherboards and have place for 6x 120mm or 6x 140mm Cooling-Fans. We will check this and many more in the following Review."



The best Guides by the best writers on the internet; PCSTATS Beginners Guides explain computers, software, and all those other wonderful things that cause you frustration.

Learn how to use your computer better, master the internet while protecting yourself, and know what to do when your hard drive kicks the bucket.



"Get the 'Stats and Stay Informed!"