| | |
| --- | --- |
| Cases | |

... 0 news stories awaiting approval
Antec GX1200 Case Review

The Antec GX1200 PC-Case arrived Technic3D. The GX1200 supports E-ATX, ATX, Micro-ATX and Mini-ITX motherboards and have place for 6x 120mm Cooling-Fans. We will check this and many more in the following Review."

Phanteks Enthoo Primo

"True to its name, the Phanteks Enthoo Primo is a premium enclosure in every sense of the word. It houses just about any system, offers a ton of cooling support, has excellent storage support, and includes no less than five 140 mm case fans with a PWM-controlled header. The design is not exactly exciting, but it's not monolithic thanks to the (switchable) blue LED effects and large double-windowed side panel."

Thermaltake Core P3 Chassis Review

When Thermaltake introduced the Core P5 chassis last October it was pretty revolutionary. There really were not cases out there made specifically show off hardware, mount on your wall, act as a table, etc. The Core P5 was a great chassis no doubt, but there were a few issues that Thermaltake needed to address. Fast forward to today and we have the brand new Core P3 Chassis. Thermaltake has made the chassis smaller, added better SSD mounts, and now the chassis has no problem supporting all-in-one liquid cooling systems. Let's jump in and see what the Core P3 is all about!"

Aerocool X-Predator II Full Tower Chassis Review

We haven't reviewed an Aerocool chassis in some time and we had a favourable experience with their products in the past, so we were happy to receive the Aerocool X-Predator II full tower chassis for review. The Aerocool X-Predator II is a large chassis, it's also going to accommodate the E-ATX motherboards out there, such as the Asus Rampage Extreme V for example.

COUGAR Panzer Max Full Tower Review

Although aimed primarily at Gamers the latest Panzer Max Full Tower by COUGAR should also cater to the needs of overclockers, enthusiasts and even professionals thanks to its spacious interior, surprisingly good build quality and available features.


Guru3D Rig of the Month - August 2016

Have a browse in the August edition of the Guru3D Rig of the Month 2016. This months build is fabbed by Shahrukh, a.k.a. Droon. The man in reality is a Networking Engineer, but likes to build nice PCs. Or should we call it NOC Gaming room ?

Cooler Master MasterCase Pro 3 Review

Cooler Master has a long history of manufacturing high quality enthusiast level cases and CPU coolers. Last year, they introduced their MasterCase 5 line, which was a mid-tower designed to allow a wide range of customization and upgrades. After the success and recognition of the MasterCase 5 line, they introduced their MasterBox line, which was a lower cost alternative to the MasterCase, but still retained a high degree of customization options. Now, Cooler Master is further expanding the MasterCase line with the little brother to the MasterCase 5 line, the MasterCase Pro 3. The Cooler Master MasterCase Pro 3, will be available on September 6th from Amazon for $99.99 shipped.

Case Mod Friday: Corsair 600C MbK

Welcome to another Case Mod Friday showcase! This week we have Richard Keirsgieter's "Corsair 600C MbK" build. This is one of the best builds that we've seen in the Corsair Carbide Series 600C case. The case features an inverted motherboard design, which makes this build very unique! Kier makes use of EKWB and Bitspower water cooling parts, be sure to check the build out!"

Silverstone SX700-LPT @ LanOC Reviews

So over the past few years and especially in the past few months I've had the chance to take a look at a variety of SFX form factor power supplies from a few different manufacturers. So far all of them have fit the standard SFX form factor, but recently Silverstone introduced a few power supplies that are SFX-L. The SFX-L form factor is the same size as other SFX power supplies in most dimensions, but they are slightly longer. This extra length squares off the SFX form factor and allows for a much larger fan to fit inside. The extra space and cooling also allowed Silverstone to up the power a little up to 700 watts. This is exciting because it finally allows for proper SLI and Crossfire setups in the SFX form factor. So today I'm going to take a look at the SX700-LPT and see what is different than Silverstone's other SFX power supplies.

Cooler Master MasterCase Pro 3 Case Review

In this review I'll be looking at the MasterCase Pro 3 from Cooler Master. This is a downsized version of the popular MasterCase 5 and shares all of the same great features found in that series including overall appearance and the versatile FreeForm Modular System.

Silverstone Milo ML08

Silverstone has taken the RAVEN Z RVZ02 and toned it down a bit for the more traditional PC user. The result is a clean and slim chassis with mass-market appeal and that same great feature set gamers want. Add the handle and you are presented with the ability to build a compact, ultra portable, briefcase-like system that can deliver all the computing power - even for high-end scenarios.

Lian Li PC-09 Case Review

The Lian Li PC-09 Case arrived Technic3D. The PC-09 supports E-ATX, ATX, Mini-ITX and Micro-ATX motherboards and have place for 9x 120mm Cooling-Fans. We will check this and many more in the following Review."

Jonsbo UMX4 Review

The UMX4 is an elegant and classy case from Jonsbo. In order to also make ATX users happy, Jonsbo introduced yet another UMX series case, since the UMX3 and UMX1 are compatible with mATX and mini-ITX motherboards. The UMX4 is made from aluminum with two solid tempered glass side panels. Apart from that this case is available in black or silver and with or without the glass panels.

Phanteks Enthoo Mini XL DS Review

With the Enthoo Mini XL DS, Phanteks has a unique case for dual systems in its portfolio, which comes with a lot of features and at an attractive price. This model is compatible with mATX and mini-ITX motherboards, if you are looking for a case that can accomodate two different system then this Phanteks is made for you. Apart from that especially friends of custom water cooling loops will love this case, since it offers a lot of flexibility in that direction. In addition this model supports a multi color illumination and a fan controller for up to six fans. For now, we're really curious to find out how this case is going to do in our review.

Thermaltake Core P3 ATX Wall-Mount Chassis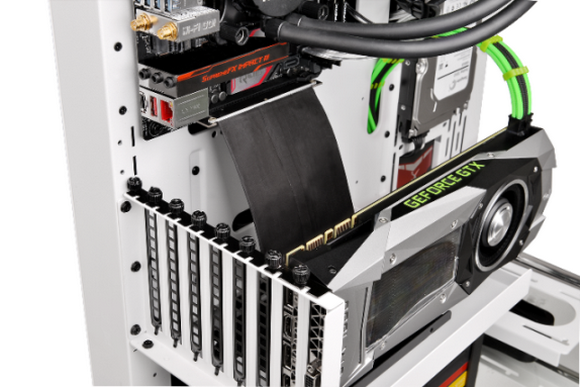 "Thermaltake today officially released the Core P3 Snow Edition ATX Wall-Mount Chassis and the Core P3 Black Edition ATX Wall-Mount Chassis . The Core P3 series retains the classic appearance of the Thermaltake open frame chassis series. To simultaneously protect and display the glory of the build, the Core P3 series is designed with 3-way placement layouts (Wall-mount, Horizontal and Vertical) as well as included a large acrylic window. The internal structure of the Core P3 series provides a versatile PSU and GPU orientation, and supports a vertical PSU layout. Furthermore, the dual GPU layout locations allow flexibility for placing the GPU either horizontally or vertically. Most importantly, the Core P3 series is AIO liquid cooler supported. The Core P3 series is not only made for modders, but also built for makers. Users can make their own Core P3 mods by downloading the 3D printable accessories available online."