[>>]

[>>]

[>>]

[>>]

More>>

Search...

| | |
| --- | --- |
| Cases | |

... 5 news stories awaiting approval
Cooler Master HAF Stacker @ LanOC Reviews

Not every case fits every persons needs, Cooler Master recognized that and set out to make a case that people can adjust to what they need. Say for example that you want to pack your PC full of water cooling gear or an absolute ton of hard drives. The HAF Stacker can handle that and nearly anything else you might want to do. For CES this year a case modder even turned multiple stackers into a life sized monster. Today Im going to take a look at the HAF Stacker 935 and 915F, the 935 comes with two models giving us a total of three pieces to try out different options."



Phanteks Enthoo Pro Review

Last summer Phanteks won our hearts with the Enthoo Primo aluminium case – which claimed a 'Must Have' award despite a price tag of £199.99. This success led to a huge amount of anticipation for the upcoming Phanteks Enthoo Pro as we were promised a case that carried over the core thinking behind the Primo, but at half the price.

BitFenix Colossus Micro-ATX Case Review @ HardwareHeaven.com

BitFenix Colossus Micro-ATX Case Review @ HardwareHeaven.com When BitFenix first entered the chassis market they did so with a case which was much more impressive than a debutant should be able to create. Clearly they had a lot of design expertise behind the scenes but even down to the finish on the case the original Colossus was a unit with buying. Since then they have vastly expanded their range and one of the more recent units is the Colossus Micro-ATX. Today we have one of those on our test bench to see how it handles an enthusiast compact build."

Bitfenix Colossus Micro Review @ ocaholic

Colossus M is one of the latest cases from BitFenix. This enclosure is compatible with mATX and mini-ITX motherboards, and offers a very sophisticated design. In addition to the classic lines, the Colossus features a SofTouch finish and aggressive multicolor LED strip, which the manufacturer calls LiteTrak."

New Thermaltake Level 10 Gaming Station - Titanium Limited Edition

Thermaltake is making a special edition of Level 10 in a Titanium finish (it's painted), restricted to 500 builds worldwide. The company will take orders in July and time to market in September. Designed in collaboration with BMW Group DesignWorksUSA since 2009, Thermaltake Level 10 Series are highly appreciated and gained numerous awards like Red Star, IDEA, Good Design, Golden Pin Design, iF, reddot, and d&i for its intelligent design in succession. From the very first launch of Level 10, Thermaltake has redefined the architectural aesthetics of chassis design, continuously driving toward the corporate mission of "delivering the perfect user experience".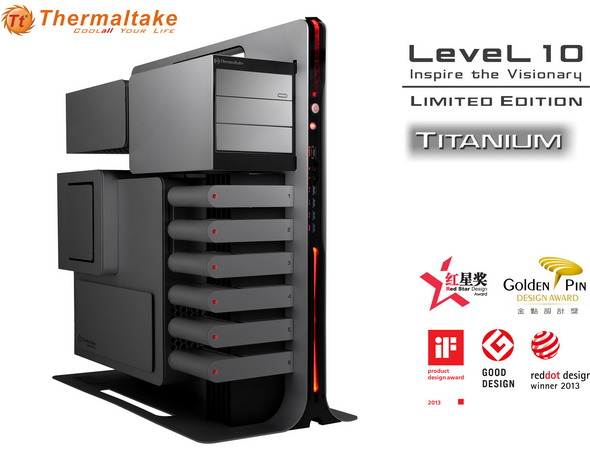 This Summer, the Thermaltake Level 10 "Titanium" version will convey a unique and unmatched massage to everyone with modern, innovative, futuristic and stunningly elegant style. See the Level 10 Gaming Station "Titanium" Limited Edition at COMPUTEX Taipei 2014 (Nangang Exhibition Hall, 4th floor, booth no. M620), from 3rd- 7th June, 2014.
Going through the era of black and silver, "Titanium" limited edition presents Thermaltake's self-breakthrough spirit and the boldness in making innovation. Titanium-paint not only expresses the quality of durability, light weight, it is also the prefect representation of being able to deliver the passion for visual aesthetics. Thermaltake believes that the new Level 10 "Titanium" Edition will take the series to a new peak.
The Level 10 "Titanium" Limited Edition Gaming Station is a significant leap forwards from the Level 10 that preceded it. Level 10 is upgraded to 6 EasySwap HDD bays to meet high-end enthusiasts' expectation. Designed with innovation, this limited gaming tower is equipped with 4 advanced USB 3.0 ports that accommodate all devices such as high speed hard drives, high performance gaming mice, headsets and any other peripherals that are in need of high speed transfer rates. The asymmetric arrangement of 7 robust vertical heatsinks and the horizontally located individual components creates a strong architectural statement, making it possible to take advantage of excellent airflow to vastly reduce temperatures on system components.
Thermaltake will celebrate its world premier at the upcoming "COMPUTEX Taipei 2014" on 3th June.  For more information or to purchase in advance please contact the local distributor or retail stores near you. It's a once every two year chance for you to get it on the trend, don't miss it!
 
http://www.thermaltake.com
  

NZXT Phantom 240 Mid-Tower Chassis Review

NZXT have become legends in the eyes of many PC gamers, their chassis designs are highly focused on gaming builds and often offer loads of innovative features, cool designs, great build quality and more, the only downside being that all this glorious quality comes at a price. With many of the best NZXT chassis costing in excess of £100, it can leave many of us feeling left out as not everyone is comfortable with spending that kind of cash on a PC case, which is why NZXT has created the Phantom 240. Based around the design of the rest of the Phantom range, the P240 has been cut down a little to offer the consumer a little extra value for money. Priced at just $69.99 / £55 it is taking on the very competitive mid-budget market, typically the price bracket most people aim for before you start getting into high-end and enthusiast level products. There are virtually countless great chassis in this price range and you often find each manufacturer offers something unique, most often in terms of design, to try to tempt you into a purchase, so it will be interesting to see what NZXT have to offer for this kind of money. Even more interesting is to find out if saving some money means loosing out on some of that legendary NZXT quality.

Corsair Obsidian 250D and SilverStone Sugo SG05-450 Cases

Today we take a look on two of mini-ITX cases which easily can be used to build performance gaming system. The first, Corsair Obsidian 250D has fully compatible with the usual "desktop" components and offers wide opportunities for expansion. The second, SilverStone Sugo SG05 has a smaller size but it still has sufficient functionality.

SilverStone Milo ML06

For those in need of an attractive yet modestly priced mini-ITX HTPC enclosure for a new AMD AM1 system or other mini-ITX Linux build, the Milo ML06 chassis from SilverStone is worth considering."



Silverstone Raven RVZ01 @ LanOC Reviews

Silverstone has been involved in the Mini-ITX gaming market for a long time now. Not only have they had a wide variety of case options, but they have also provided short cabled power supplies and more recently they have been the only manufacture with a good SFX power supply for small form factor gaming. On top of all of this, they have been known to really change things up with unique case designs. Their most recent Raven design would have to be considered unique as well. With a look that reminds me of modern day consoles, I suspect that the Raven RVZ01 could be the perfect case for a Steambox build. Lets see if that is the case."

Seidio Surface Reveal iPhone 5/5s Case Review @ ThinkComputers.org

As Ive always said and Im sure you know there are literally million of iPhone cases out there. It really is hard to know what is junk and what will actually protect your iPhone and be useful. Today we are checking out a case that not only will protect your iPhone but has a pretty cool kickstand that allows you to prop your iPhone up for easy viewing of media and even for gaming. The case I am talking about is the Surface from Seidio. Interested? Read on as we take a look"

Phanteks Enthoo Pro Tower Case Review

The Phanteks Enthoo Pro full-tower computer case boasts compatibility with EATX, ATX, and mATX motherboards, plenty of options for 3.5 and 2.5 inch drives, and a large tinted window combined with a PSU shroud for a clean, attractive build. Cooling wise, the Enthoo Pro features mounts for up to ten case fans ranging from 120mm to 200mm in size, four different locations for radiators, and and a mount for an internal reservoir."

In Win 901 Review @ ocaholic

Last January In Win presented the 901, a new case with mini-ITX form factor. Made of brushed aluminum and tempered glass, the case is able to accommodate all-in-one 120 mm watercooling solutions as well as one high-end graphics card. It is an elegant solution, with high-end materials and a unique design. If you are looking for a really clean and classy mini-ITX case, check this new review."



The best Guides by the best writers on the internet; PCstats Beginners Guides explain computers, software, and all those other wonderful things that cause you frustration.

Learn how to use your computer better, master the internet while protecting yourself, and know what to do when your hard drive kicks the bucket.



"Get the 'Stats and Stay Informed!"