[>>]

[>>]

[>>]

[>>]

More>>

Search...

| | |
| --- | --- |
| Cases | |

... 0 news stories awaiting approval
Cougar Challenger chassis review

1.html,In this review we have a peek at the Cougar Challenger, a mid-tower chassis that is loaded with options whilst remaining very affordable as it`s priced competitive. It`s different alright. The Challenger mid-tower case is particularly targeting gamers demanding for huge upgrade-ability capacity, nice airflow and optimized ventilation characteristics. Curious ? Well, let`s have a peek then shall we ?"

Thermaltake Urban S21 Review

Today we will be taking a look at the entry level offering within the Urban series, namely the S21. S21 is all about affordability and though it may have certain features absent, the price-tag could be the deciding factor regardless. Those who are on a tight budget could be in for a treat today.

Coolermaster HAF XB MiniCase

Cooler Master, an industry leading chassis, thermal solution, peripheral, and accessory manufacturer today unveils the LAN box that takes the form to a whole new height, HAF XB. Packing full ATX motherboard support, modular features, portability, and excellent cooling, HAF XB comes in as the LAN box to beat.
HAF XB takes an innovative diversion from the form factor of its High Air Flow (HAF) brethren. It comes in a LAN box form that pushes the boundaries of size for this category. Ensuring that it continues the tradition of its namesake, HAF XB supports up to two 120mm fans in the front, a large 200mm in the top, and a 120mm and two 80mm fans in the rear. Strategically placed cable tie areas occupy cable routing zones to assist in keeping cable clutter to a minimum and provide a clean look with minimal effort. Steel reinforced handles on the side panels make traveling between LANs and other gaming destinations a far less stressful venture.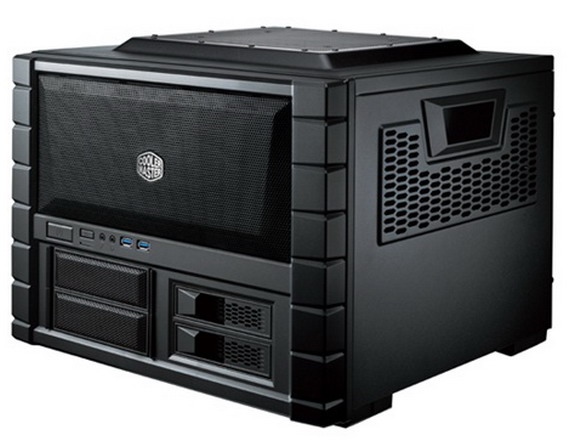 Built to be attuned with the needs of enthusiasts and extreme overclockers alike, HAF XB transforms effortlessly between LAN box and Test Bench. To accomplish this, a simple removable motherboard tray design is included to make swapping hardware a headache-free experience. Removing the outer shell completes the transformation into a formidable test bench for any cooling need.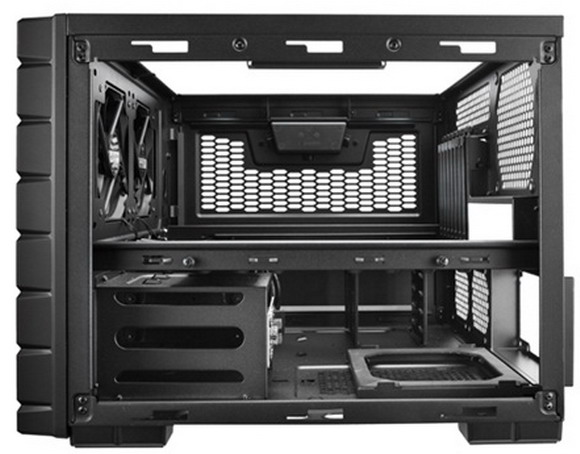 Users of all types will enjoy seven expansion slots that offer space for multiple graphics cards setups in NVIDIA SLI or AMD CrossFire to vastly expand the capabilities of a system. Those interested in loading up their mobile fortress can setup a large HDD or SSD array with support for up to six 2.5" drives. This includes dual X-Dock slots for mounting hot-swappable 3.5" or 2.5" drives. A rich front I/O panel offers access to two super speed USB 3.0 ports, 2 x USB 2.0, and audio in and out.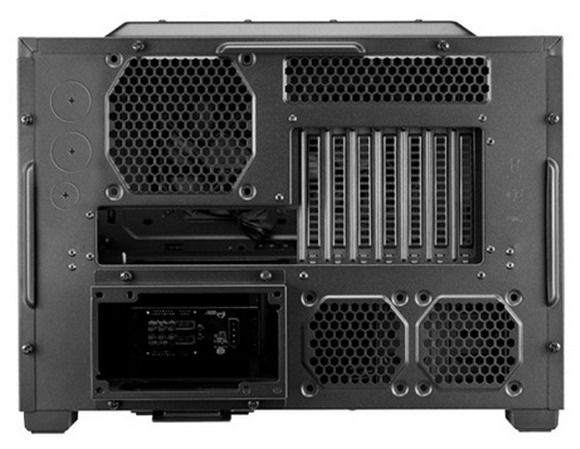 HAF XB, the ultimate combo LAN Box and Test Bench.
HAF XB will be available on November 12th, 2012 in the U.S. and November 26th, 2012 in the E.U. Price and availability may vary by region. Please direct all inquiries to your local Cooler Master Representative.

In Win D-Frame @ techPowerUp

In Win once more aims to create a unique chassis with an even more extraordinary approach than the H-Frame, as the D-Frame uses welded aluminum pipes and a die-cast metal core for an unbelievably cool and unique chassis of which only 1000 will ever be sold."

Nanoxia Deep Silence 2 DS2 Mid-Tower PC Case Review @ TestFreaks

So a little while ago I reviewed the Nanoxia Deep Silence 1 or DS1 mid tower case and it was made for silence as the name suggests. Nanoxia has since released another version of that that case called the Deep Silence 2 or DS2 for short which is very similar to the DS1 but theres just a few features missing like the air chimney and the pop up USB ports, but other than that the case is pretty much the same overall. Youll find sound dampening material all over the inside of the case making it very quiet, in fact I wasnt even sure the system was running when I hit the power button, yes its that quiet. The DS2 case comes with three fans pre-installed for you but theres room for five more in various locations in the case if you need the extra cooling. The DS2 has room for seven hard drives and three 5.25 devices, and its a case thats very well made and sturdy with a lot of attention paid to detail and the overall design and usability of the case. So read on to learn more "


REVIEW: Mionix Ensis 320 @ PureOverclock

?Today we?re looking at a new gaming surface / mousepad from Mionix, the Ensis 320. It sports a very interesting design, as it has characteristics of both a speed mat and a control mat, and comes in a sleek brushed aluminum finish. Normally we?ve seen hybrid gaming surfaces to be rather disappointing, so let?s take a closer look at the Ensis 320 and see if it can succeed where others have failed.?"

SilverStone Sugo SG09

When it comes to Small Form Factor (SFF) computer cases, one of my favorite for the better part of the past decade has been the SilverStone Sugo series. SilverStone generally is always right on with delivering incredible computer enclosures, but their Sugo line-up in particular have been innovative, feature rich, fun to work with, and all around great when it comes to SFF/HTPC builds. Their latest addition to the Sugo family is the SG09, which I`ve been testing at Phoronix."

Raidmax Cobra PC Case Review @ ThinkComputers.org

Raidmax has been around for quite a while, since 1988 in fact. I fell in love with their early designs and they were some of the first cases we reviewed when ThinkComputers started. Since then they have been going strong creating some very unique PC cases. Today we have one of their more budget-minded cases, the Cobra. Coming it at just over $70 this mid tower case offers a pretty cool design, support for 2.5-inch hard drives, two included 120mm cooling fans, USB 3.0 support and a nifty side panel window. Is this the next case for your build? Read on as we take a look"

Antec GX700 review: ready for battle

The GX700 has more than enough cooling capacity for even a heavily-overclocked six-core processor, and doesn't even create a lot of noise. And unlike other chassis in this segment, it has two USB 3.0 and two USB 2.0 ports in the front, and even a fan controller which is even more rare in this class. The chassis comes with three fans, two of which are 140 mm, and that's more than you often get with expensive chassis. The quality of these fans is also better than what you usually get in affordable chassis with lots of fans.

NZXT Phantom 630 Modular Full Tower Case

NZXT's new enthusiast computer case, the Phantom 630, looks to be truly designed for the computer hardware enthusiast and does not just carry the label like so many other products. NZXT has built the chassis with the end user in mind that wants to take things up a notch and not be annoyed when trying to accomplish his build goals.

Fractal Design Define R4 Arctic White Case @ Benchmark Reviews

In the PC hardware market you tend to get exactly what you pay for. It`s not always the case, but 9 times out of 10 you will find that if you pay less you get less. How else can we justify handing over $110 for 12kg of cleverly crafted sheet metal and vacuum formed plastic. We pay for the brand and we pay for the looks, and some of us also pay for build quality. In this article Benchmark Reviews aims to delve deep into the Fractal Design Define R4 Arctic White Case (Model: FD-CA-DEF-R4-WH), and see if it`s got what it takes to satiate the appetite of today`s enthusiast. The Fractal Design Define R4 features include: the use of sound reducing materials, a 3-speed fan controller supporting up to three fans, modular drive bays and support for very large hardware. Please read on to find out more..."

NZXT Phantom 630 Case Review @ ThinkComputers.org

Not that long ago we took a look at NZXTs Phantom 820 case. This case took the best parts of NZXTs original Phantom and combined them with the best parts of their own Switch 810 case. We loved the case and even gave it our Recommended Award. With a pricetag of $249.99 the Phantom 820 may be a little too expensive for some people. At CES we were shown the Phantom 630, which seemed to be like the little brother to the Phantom 820. While NZXT explained that this is a less expensive Phantom it has a lot of new features that are not in the 820. Some of these features include dual SSD mounts behind the motherboard tray, three included 200mm fans, three removable hard drive cages, and a new motherboard tray design. Can NZXT release a new Phantom this soon and still impress? Read on as we find out..."

Silverstone Raven 3 @ LanOC Reviews

We have taken a look at a whole collection of unique case designs in the past with two standing out more than the others. The Silverstone Fortress FT01 and the Silverstone Raven. Both stood out because of their 90 degree rotated motherboard design that works so well for cooling. Although no one else been making cases with the motherboard oriented that way, Silverstone is still working on perfecting the design now with their Raven 3. We loved the previous versions so I have high hopes for the Raven 3 . Lets take a look to see what is new and how it performs."

NZXT Phantom 630 Computer Case @ Benchmark Reviews

Some of the first reviews I wrote for Benchmark Reviews were for NZXT cases. Most of these were lower-end cases priced at $75 and under. Although the cases were inexpensive, I was impressed with both the quality of construction and the thought put into their design. Since then, NZXT has moved upmarket, starting with their original Phantom case, which has now become a series of its own. Just introduced is the new Phantom 630 case, the little brother of the Phantom 820 we`ve seen previously. At an MSRP of $179.99, this is a not an inexpensive case, so let`s see if it`s worth the money..."

Poetic Palette Nexus 4 @ LanOC Reviews

I finally got with the times and bought a smart phone, being that I wanted to go with straight talk; the Google Nexus 4 seemed like the logical choice. The next decision I needed to make was what case I wanted. I took a look at the recent reviews Wes had written for different Poetic to see if they might have a case I would want. I expressed interest in their cases to Wes and he said he had another one lying around the office that needed to be looked at. So lets take a look at the next case in the Poetic lineup, the Palette."



The best Guides by the best writers on the internet; PCstats Beginners Guides explain computers, software, and all those other wonderful things that cause you frustration.

Learn how to use your computer better, master the internet while protecting yourself, and know what to do when your hard drive kicks the bucket.



"Get the 'Stats and Stay Informed!"