| | |
| --- | --- |
| Cases | |

... 9 news stories awaiting approval
The Best Case Mods of 2016

"Case mods have been a staple in the PC industry for a very long time. They allow system builders, artists, gamers, and pretty much anyone to really make their PC build their own. Case modding has never been more popular and many companies actually commission modders to create one of a kind builds to show off their new hardware or case. Each week we feature a mod or build that has been completed in the community in our Case Mod Friday section. Going through all of the features of the past year we have picked out a few that really caught our eye! Without further ado here are our picks for the best case mods of 2016! In no particular order of course!"




Mod-One Case Feet Overview

Mod-One was started in 2016 by Kevin Keating, former VP of American case manufacturer, Case Labs. Originally, Mod-One only had products from MDPC-X, such as their famous MDPC-X sleeving and sleeving related tools. However in recent months, Kevin has brought on more modding related tools and introduced his own line of custom premium case feet. Kevin was nice enough to …

Phanteks Enthoo Luxe Tempered Glass Edition Review

The Enthoo Luxe Tempered Glass Edition by Phanteks is one of the very few feature-rich full towers in the market today that have a tempered glass side panel and if that's not enough for you the 4 pre-installed 140mm fans and the 4 RGB LED strips on both sides should do the trick.

Razer Deathadder Elite @ LanOC Reviews

It's hard to believe it, but Razer launched the original Deathadder just over 10 years ago. At that time if you built a new PC you might be sporting a newly launched Intel Core 2 Duo or an AMD Athlon 64 FX CPU with your new GTX 7900 GTX or Radeon X1900. It's crazy how much things have changed while at the same time the Deathadder in its different variations is still one of the go-to mice on the market. The newest Deathadder is the Deathadder Elite. It has the same shape that everyone loves but has a new 5g optical sensor and for the first time, Razers own mechanical mouse switches. Razer sent over the Elite for me to check out and slipped in the Firefly RGB mousepad. I've been testing them out and today I'm going to see what they are all about and how they perform.

Arozzi Arena Gaming Desk @ LanOC Reviews

It's funny how we spend sometimes thousands of dollars on our PCs and peripherals but at the end of the day don't give much thought to our actual desk setups. I bet a lot of you are using the same desk that you used years ago, I know I did. But a few years ago I started thinking about options for new desks and frankly there really aren't that many out there. Sure you can pick up the cheap desks at your local discount store, but is there anything out there that's better. Are there any options focused on gamers? Well if you search around you will find a few options that are "gamer" focused, but none were very good. So when I saw the Arozzi Arena Gaming Desk online it caught my eye. They didn't just add colors and call it a gaming product, it actually has a cloth mouse surface over the entire top of the desk. With all of the people buying large desk pads and putting them under their keyboard and mouse, the Arena seemed like an extension of that so I reached out to Arozzi to take a closer look.

Caselabs Bullet BH7 @ LanOC Reviews

Over the past four years, I have been running my main rig in the Magnum TH10 monster of a case. In that time I have abused the case almost every day and it has held up to that abuse without a ding, dent, or chip in the finish. So when I saw that Caselabs had introduced a new case and it was available in a bright orange I couldn't get in touch with Caselabs fast enough. The new Bullet line of cases are much smaller and incorporate a lot of new features from what Caselabs have learned in the last few years including a dual chamber design. Given that I've never actually built an orange themed build and I've always wanted to, I set out to build a monster PC in the Bullet BH7. You can expect a project build in the future, but for now, I did want to sit down and dive into the Caselabs Bullet BH7 and tell everyone what it's all about and if they should pick one up for their next build.

be quiet! Pure Base 600 Chassis review

The Germans have gone budget. be quiet! has launched its new Pure Base 600 case as an entry-level model that sits below the Silent Base and Dark Base cases we saw in 2016 and 2017. As you will see in our video, our initial impressions were a bit … glum. There are no windows and certainly no tempered glass, so basically you get a black box that looks a bit plasticky. Pull off the two side panels and the interior is an open design without a power supply cover where it appears that everything is on show and there are few features of interest. You can see the optical drive bay housing and the three separate hard drive bays but perhaps the most exciting thing is the inclusion of two Pure Wings 2 fans, 140mm at front and 120mm at the rear. At this stage in the game KitGuru was ready to throw in the towel and award the Pure Base 600 a 'Dull but Nice' award and move on to the next review.

Silverstone Mammoth MM01 Review

The Silverstone "Mammoth" MM01 is built for folks who want a robust case that can protect systems or servers in harsh conditions. It's completely dust and spill-proof with a HEPA air filter, front and back panels designed to deflect liquid and a sealed top panel, all while boasting the capacity of a bar fridge at an impressive 87.7L.

Rosewill Himars case

The Rosewill Himars is quite the unique beast. It tries to appeal to both the gamer and the professional user. It features support for thick radiators, a window, and a blue LED-equipped fan, The hot-swap bays in front may also make it interesting for the professional user.


Thermaltake Core P1 TG Mini ITX Chassis at CES2017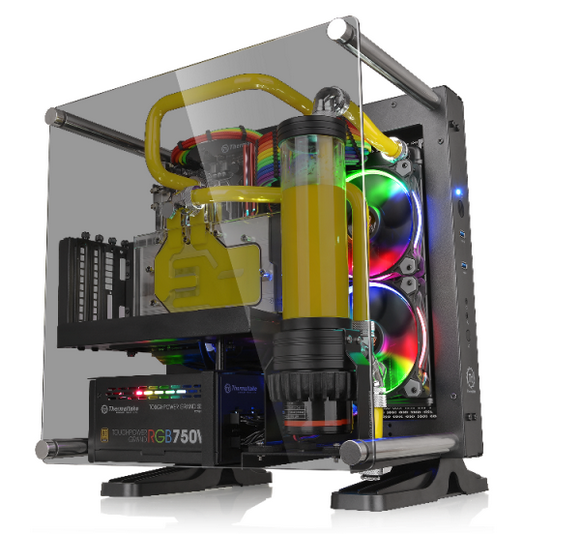 Thermaltake expands its Core P Series by adding the Core P1 TG Mini ITX wall-mount, tempered-glass chassis to the lineup. The Core P1 TG Mini ITX boasts open frame panel design with a tempered glass panel to protect the components and allows users to show off the hardware inside . It also supports the latest PC hardware, AIO and DIY liquid cooling solutions, and has the flexibility of building horizontal/vertical system by its multiple placement design. This wall-mountable case includes a riser cable for users to build the system the way they want, and other features such as the 5mm thick tempered glass panel, 1 + 3 drive bays with modular trays design and two USB 3.0 ports; plus it also accommodates two 120mm or 140mm fans on the left side and up to a single 280mm radiator. The Core P1 TG Mini ITX makes a stunning display for high-end enthusiast builds without sacrificing performance and taking up too much desk space. The new Thermaltake Core P1 TG Mini ITX Chassis is celebrating its launch at Thermaltake CES 2017.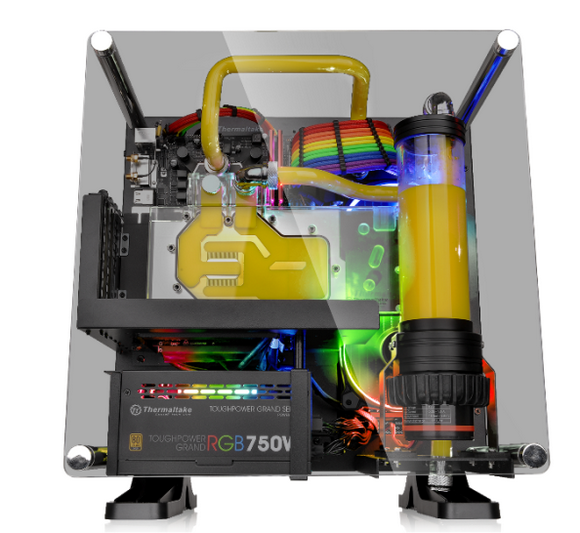 The Case Mods and Builds of CES 2017

CES is always a great place to find amazing PC Mods and Builds. CES is a place for many companies to showcase their new products and what better way to get attention to those products than to have them inside of a great mod or build. PC Modding has never been bigger and many companies actually commission modders to create builds for CES. It was awesome to see so many mods and incredible builds at CES this year. So without further ado here is our gallery for the mods and builds of CES 2017!"

Cooler Master MasterBox 5t Case Review

On the face of it, the new MasterBox 5t case from Cooler Master looks interesting because it is superficially similar to the much more expensive MasterCase Maker 5t with its nifty black and red colour scheme. The idea, clearly, is that enthusiasts who are in the market for a proper PC case can get a certain amount of style and sophistication without breaking the bank.