| | |
| --- | --- |
| Networking | |

... 4 news stories awaiting approval

Netgear Nighthawk Pro Gaming XR300 router

We review Nighthawk Pro Gaming XR300 router this gaming router is compatible with the new AC standard aka WIFI 5. Armed with the DUMAoS this can we considered a more budget XR500 at 199 USD. The performance is there alright. The Dual-band 5000 MHz and 2400 MHz router has been optimized for gaming.

NETGEAR Nighthawk WiFi 6 Mesh Extender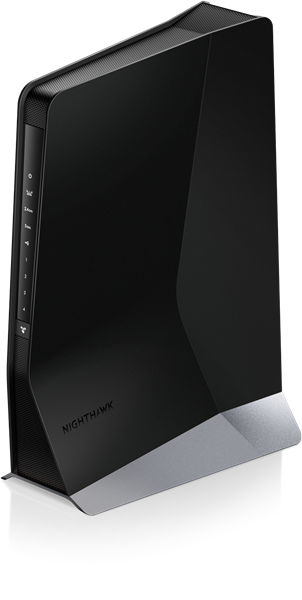 The new Nighthawk AX8 8-Stream WiFi 6 Mesh Extender (EAX80) addresses the needs of constrained or limited reach of an existing home WiFi network. Adding the Nighthawk WiFi 6 Mesh extender to a home network extends the range and capacity for more connected devices.

Today the world is a connected one, where much of what we do on a day to day basis depends on connectivity. The good majority of consumer electronic products now require a WIFI connection to deliver the features optimally, which is only made possible with a continuous and strong connection with the capacity to handle simultaneous connections.

Built for the wireless network challenges of today and the future, the Nighthawk WiFi 6 Extender delivers the maximum capacity, maximum speed and the greatest coverage. With WiFi 6 added to a wireless network, one can now experience broadband connectivity at the furthest corners of the home with blazing-fast performance up to 6 Gbps. The 8-stream WiFi delivers more spatial streams with more available bandwidth and thus less congestion for all the devices connected on the WiFi network.

Compatible with any WiFi Router, including internet service provider gateways, extending the network capabilities with the new Nighthawk AX8 WiFi 6 extender is seamless and uncomplicated. The existing WiFi network name (SSID) will remain, so that devices do not need to be manually connected to the extended WiFi 6 network. With the Nighthawk AX8, you will now be able to take advantage of all the benefits that WiFi 6 has to offer, such as faster speeds and increased capacity, a necessity for today's Smart Home.

The EAX80 also comes equipped with four gigabit LAN ports for those who prefer a wired connection to their devices, and includes a USB 3.0 port to add network accessible storage.

The Nighthawk EAX80 is ideally suited for larger homes with numerous WiFi connected mobile and smart home devices, where an existing router or cable gateway is already installed. Experience the ultimate in both gaming and streaming performance from the garage to your backyard. Gigabit download speeds will become a reality with 160MHz bandwidth support for mobile and laptops.

With the NETGEAR Nighthawk app for iOS and Android, the setup of a new WiFi 6 mesh extender is made easy. Within a few quick taps in the Nighthawk App from a tablet or smart phone, WiFi 6 can be extended as a mesh network throughout the home. For those who also own a Nighthawk router, it is a breeze to manage both router and extender from the app.

The Nighthawk AX8 8-Stream WiFi 6 Mesh Extender (EAX80) is now available for pre-order worldwide for a MSRP of $249.99 and is expected to ship in the fourth quarter of 2019.

Mesh Wi-Fi System Roundup 2019

Mesh Wi-Fi routers are a recent trend in the networking market and aim to bring some of the advanced features of enterprise networking systems to the consumer. How well do they work, and what performance benefit do you get by switching to one? We'll take a deep dive today into the top players on the market to find out.

ASUS ROG Rapture GT-AC2900 Wireless Router Review

Networking for games is about more than just raw throughput. You also want the lowest latency possible, as well as the ability to prioritise gaming traffic over other applications that make use of the network. As a result we have seen a number of gaming-focused broadband routers hit the market over the last few years. Latest to arrive on the testing bench is the ASUS ROG Rapture GT-AC2900. Alongside a raft of features, its gaming cred is ratified by being an 'NVIDIA GeForce Now Recommended Router'.


ASUS ROG Rapture GT-AX11000 Router Review: A WiFi 6 Monster

We are no longer on the cusp of Wi-Fi 6 (otherwise known as 802.11ax) connectivity -- it has arrived -- just not in earnest yet. It will take some time before the Wi-Fi 5 (802.11ac) standard is truly shoved aside in favor of the new kid on the block, the one that is faster and more adept at juggling multiple wireless devices simultaneously. Nevertheless, early adopters who want to live on the bleeding edge have options. One of them is the beastly ASUS ROG Rapture GT-AX11000 we will be showing you here...

Ubiquiti UniFi Review

If you are serious about networking then you should definitely check out the Ubiquiti UniFi, it has earned our Editors Choice award."

Corsair K57 RGB Wireless keyboard

Corsair has been going strong with their Slipstream based products, next to that another new technology they introduced was Capellix LED technology. Both now have been embedded in the new K57 RGB Wireless keyboard, and it is pretty darn nice folks.



Asus ROG Crosshair VIII Hero WiFi @ LanOC Reviews

With all of the launches stacked, when I covered the Ryzen launch of the 3000 series of CPUs I only really had the chance to touch on the X570 chipset that was launching with it for a little while. The motherboards that AMD sent with their launch kit were put to use immediately for testing and only over the last few days have I had to a chance to finally take a closer look at them and do motherboard specific testing. Today I want to check out the Asus ROG Crosshair VIII Hero WiFi that has been pulling double duty as our CPU test platform and our GPU test platform. The Hero isn't Asus's highest-end X570 board, but it is close so I'm excited to see what they have packed into it.

DLink DWL-7620AP AC2200 Wave 2 Tri-Band Poe Access Point

"We have used the DLink DWL-7620AP close to a month now as a daily work horse and it has never skipped a beat. Overall the DLink DWL-7620AP is certainly a very capable device which comes equipped with some truly amazing enterprise grade features."

DLINK DCS-4605EV – VIGILANCE 5MP MINI DOME POE NETWORK CAMERA

"The DLink DCS-4605EV does what it was designed for and does it well. If you're in the market for new surveillance cameras do give them a try as they certainly won't fail you and you have an industry leader backing the product with a lifetime warranty"