| | |
| --- | --- |
| Networking | |

... 0 news stories awaiting approval
Synology RT1900ac AC1900 Wireless Gigabit Router

The Synology RT1900ac AC1900 wireless Gigabit router is a great all in one networking device. The standard wireless router features are all there as you would expect, but the addition of the Synology SRM software is what make this an above average wireless router. I have enjoyed using Synology's embedded OS (DSM) on their NAS products for a few years now, and the SRM (Synology Router Manager) is fantastic as well.



Create Your Own Router and Firewall Solution With pfSense

Over-the-counter routers are fine and work as they should, but they simply aren't enough for some of us. Quite a few of the standard routers located around the homes of the world allow for an open source WRT-based firmware to be installed, but that might still not be enough. If that's the case, you might want to look into the idea of building your router. Today, I'm going to take you through the basics and show just how easily you can get a router and firewall with any feature you could want on more powerful hardware than pre-built routers offer.

Sangean WFT-3 Digital Receiver Review

s to its ability to receive Internet / DAB / DAB+ and FM-RDS radio and also function as a Network and USB audio media player the WFT-3 digital receiver by Sangean packs quite a punch especially when compared to similar products.

Fibaro Home Center Lite Z-Wave Smart Home Controller

The Fibaro Home Center Lite Z-Wave smart home controller is a powerful device able to manage up to 230 Z-Wave devices with impressively fast local processing. The setup is quick and easy, and within minutes the unit is ready for you to start adding devices and configuring scenes. It is a very feature packed controller, so you have more advanced control over how your devices are setup, used, and associated with other features of your smart home.

NETGEAR Nighthawk X10 R9000 AD7200 802.11ad Wireless Router

You can never have a fast enough network, especially where WiFi is concerned. NETGEAR's Nighthawk range already has a reputation for performance. With the X10 R9000 AD7200 Wireless Router, though, NETGEAR takes WiFi to the next level with our first look at 802.11ad.

mesh Wi-Fi systems

"The mesh access points for both eero and Google Wi-Fi are identical, which means you can select any unit as your main router. Each eero unit has two Gigabit Ethernet ports. When setting up your primary access point, you can plug your modem into either port and it will automatically detect the Internet connection and configure that port as your WAN connection. The other port can be used as a standard LAN port to connect wired devices or a network switch. You can also use the Ethernet ports on your wirelessly-connected mesh access points to connect an Ethernet-only device to your network. The connection between this device and your primary router will still be limited by that wireless hop between the access points, but it gives you a method of connecting older devices which lack Wi-Fi capability, such as A/V receivers or game consoles."


NikKTech & AVM Network Upgrade EU Giveaway

Our EU followers and readers have every right to be happy this May since up for grabs today we have 4 top of the line FRITZ! network devices by our good friends over at AVM.


ASUS Launches CM-32 AC2600 Cable Modem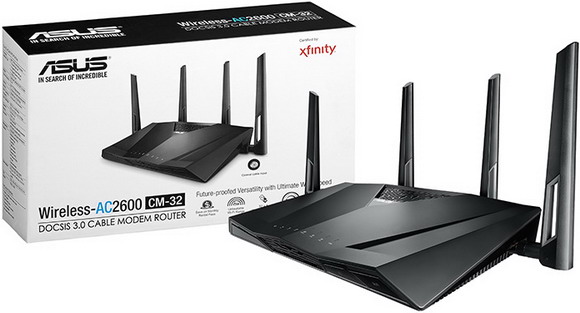 Ditch the monthly cable modem rental fees with the new ASUS CM-32, an all-in-one DOCSIS 3.0 compatible cable modem plus 802.11ac Wi-Fi router designed for today's gigabit cable speeds. With a best-in-class Wi-Fi design featuring MU-MIMO support, 4x4 antenna for extended range and 1734Mbps of bandwidth on the 5GHz band plus 796Mbps on the 2.4GHz band, the CM-32 is perfect for 4K streaming, online gaming, video conferencing, live broadcasting, and more. For additional information and details on the ASUS CM-32, please visit us at ASUS Edge Up.
Powered by an Intel® Puma™ processor with certification for Comcast XFINITY and Spectrum networks, the CM-32 ensures worry-free compatibility right out of the box. ASUS CM-32 is available now at Amazon and other leading resellers with a suggested MSRP of $249.99. Please contact your local ASUS representative for additional information or visit us at ASUS Edge Up.


TP-Link Archer C3150 Wireless MU-MIMO Gigabit Router

Not only is the TP-Link Archer C3150 an affordable 802.11ac router; boasting features like MU-MIMO and over 3100Mbps of wireless performance, it is the fastest router we've looked at - for any price. This is not a coincidence or something to overlook either. If you need a high-end router, you don't have to pick other brands that cost more. The TP-Link C3150 is solid and it performs like an absolute champ...


Amped Wireless ALLY Plus Whole Home Smart Wi-Fi System

The Amped Wireless ALLY Plus Whole Home Smart Wi-Fi System is an impressive approach to setting up a Wi-Fi network that makes it easy to cover your entire house in reliable, high speed access. Setup is easy, and even though my home is much smaller, I am prone to agree that it could cover up to 15,000 square feet. The coverage in the yard was strong and far reaching, which might not be a plus for those in densely packed neighborhoods, but for me it is ideal.