| | |
| --- | --- |
| Digital Cameras | |

... 1 news stories awaiting approval
Sony Cyber-shot RX100 VI Camera

Sony just launched a new Cyber-shot RX100 compact camera model – the Sony RX100 VI (DSC-RX100M6). The new RX100 Mark 6, as it is known, packs an impressive ZEISS 24-200mm lens within its compact body! Let's check it out, and see what else the Mark 6 brings to the table…


The Sony Cyber-shot RX100 VI Camera

Sony just launched a new Cyber-shot RX100 compact camera model – the Sony RX100 VI (DSC-RX100M6). The new RX100 Mark 6, as it is known, packs an impressive ZEISS 24-200mm lens within its compact body! Let's check it out, and see what else the Mark 6 brings to the table…

BlackVue DR900S-2CH Dashcam

A while back we were introduced to Pittasoft when we reviewed the BlackVue DR650S-2CH dashcam. Overall we were quite happy with the performance, but there were a few improvements we would have liked to see. When I recently heard the DR900S-2CH was coming out, I jumped on the chance to look at the new and improved device. The biggest improvement on paper is now the primary camera is capable of 4K resolution and the rear is 1080P.

MJX Bugs 2 WiFi FPV (B2W) GPS Brushless Camera Drone

MJX continues to develop and expand their Bugs lineup, and have sent us their latest and first ever GPS drone to test. ModSynergy is excited to share with you our findings on the MJX Bugs 2 WiFi FPV (B2W) GPS Brushless Camera Drone."

Sony a7 III Price, Features + Specifications

Sony just launched the new Sony a7 III (ILCE-7M3) full-frame mirrorless camera! Catch the official Sony presentation, and get the price and specifications of the Sony a7 III camera here!

P1 Power Sport Watch from iwown

The fact is that the P1 can hold its own in the market and do very well. It offers fantastic week-long battery life, a bright and clear display, touch interface, buttons as a backup, a comfortable band, enough sensors to keep most people happy and to top it off, it's water-resistant to 50M...

Huawei Mate 10 Pro Review: Impressive Camera, Battery Life And A Funky UI

In most major sports, there are a handful of teams that dominate the competition and garner the lion's share of attention from fans. The same is true in the smartphone market where there are relatively few established players at the top. Every so often, however, a contender comes along to potentially disrupt the hierarchy, and that is what Huawei hopes to accomplish with its newest flagship phone, the Mate 10 Pro...

Point Cloud Depth Camera Sneak Peek

honor just gave us a sneak peek of the Point Cloud Depth Camera technology they're developing. Here is EVERYTHING you need to know about it!

Altek to showcase 3D-depth sensing solution at CES 2018

Digitial camera ODM and digital imaging solution provider Altek will showcase AL6100, a 3D-depth sensing and algorithm chip solution, at the Consumer Electronics Show (CES) 2018 during January 9-12, according to the company.

Leica Camera Marks Canada's 150th Anniversary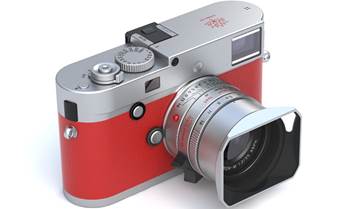 Leica Camera is proud to mark Canada's 150th anniversary with the Leica M-P (Typ 240) "Canada Edition" Set. With only 25 units available, the limited-edition set will include a special red cowhide leather Leica M-P (Typ 240), a Leica Summicron-M 35mm f/2.0 ASPH. lens and a red rope strap. Available exclusively in North America, the set features commemorative design details, including the iconic Canada 150 emblem which consists of 13 diamonds forming an eye-catching maple leaf.
"150 years is an important milestone for the confederation of Canada and we're honored to mark the momentous occasion with a special set perfect for capturing all the stunning landscapes, scenes and residents that this wonderful country is known for," said Jim Wagner, Vice President of the Photographic Division at Leica Camera.
The Leica M-P (Typ 240) "Canada Edition" body features a striking silver chrome finish on the top cover and bottom plate, with a rich red cowhide leather enveloping the middle chassis. The top plate is also engraved with the Canada 150 emblem. The four diamond shapes forming the base of the maple leaf on the emblem represent Canada's four original provinces in 1867 during the Confederation, while the remaining nine diamond formations represent the provinces and territories that have joined since.
The stylish set also includes a Leica Summicron-M 35mm f/2.0 ASPH lens that bears the commemorative Canada 150 emblem as well on the depth of field scale. To tie together the set, the camera and lens are accompanied by a red Leica rope strap.
The technical specifications of the Leica M-P (Typ 240) "Canada Edition" Set are identical to those of the classic Leica M-P (Typ 240) and Leica Summicron-M 35mm f/2.0 ASPH. lens. The Leica M-P (Typ 240) features breath-taking quality, unmatched handling and supreme resolution which, in conjunction with the Leica Maestro processor, enable the camera to produce exceptional imagery. Alongside high speed and impressive image quality, the accompanying Leica Summicron-M 35mm f/2.0 ASPH lens is compact, providing for a remarkable and elegant photographic experience. Perfect for capturing everything from the majestic Canadian Rockies to the bustling streets of Quebec City.
The Leica M-P (Typ 240) "Canada Edition" Set is limited to only 25 sets and will be available at Leica boutiques, stores, and dealers only in North America beginning in late December 2017.

Sony a7R III Full Frame Mirrorless Camera

The new Sony a7R III combines a high-resolution 42.4 MP Exmor R CMOS sensor with shooting speeds at up to 10 fps with full AF/AE tracking, wide 15-stop dynamic range, high sensitivity with noise reduction of almost a full stop and more!

SJCAM SJ6 Legend 4k Action Camera Review

The SJ6 Legend Action Camera by SJCAM with its 2 inch touch screen, sharp video quality and available features is proof that native 4k resolution alone is not enough to create a good product.



EKEN V8S Native 4k Action Camera Review

Featuring an native 4k Image Processor SoC by Ambarella the V8S Action Camera by EKEN may not be at the top of its class but it's certainly worth your attention especially if you're on a tight budget.