[>>]

[>>]

[>>]

[>>]

More>>

Search...

| | |
| --- | --- |
| Mouse Pads | |

... 4 news stories awaiting approval
Cooler Master MasterMouse S Review

Something we are rather fond of, and are pleased to see is the use of Cooler Masters' advanced textured surface that not only looks great, but also deters the build-up of finger-prints while providing a stable grip for extra control. Inside we find a 32bit ARM MCU, 512KB of onboard memory, and the new 7200DPI PWM3330 optical sensor from Pixart. The MasterMouse S is accompanied by similar software that was supplied with the MasterMouse PRO L, which means we can expect an advanced level of customisation and performance controls, including the Storm Tactix feature that will expand the number of programmable buttons from 6 to 9 + 1 switch.

tweaktown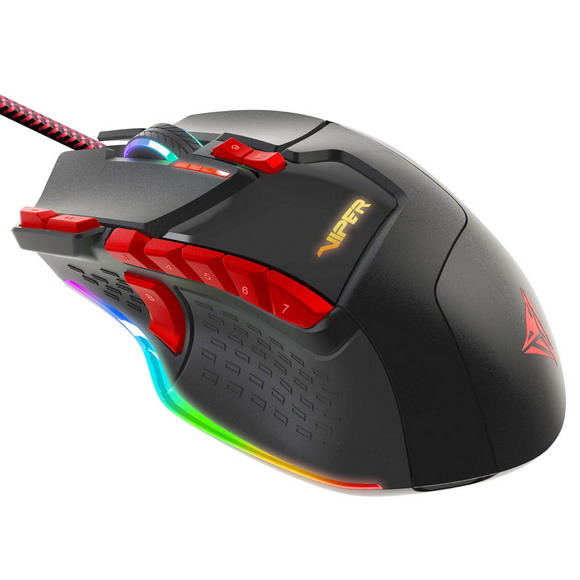 Patriot, a global leader in performance memory, SSDs, gaming peripherals and flash storage solutions, today announced the new Patriot Viper V570 RGB gaming mouse, designed for MMO and FPS games and the V530 LED gaming mouse.

"We are excited to announce the launch of the V570 RGB laser gaming mouse and the V530 optical gaming mouse," said Roger Shinmoto, Patriot's Vice President of Product Development. "The V570's innovative FPS+MMO hybrid design and its rich feature set offer high performance, versatility, and customization for the most serious gamer. The V530's aggressive lines and LED lighting options make it the perfect entry level choice for the casual gamer. These products demonstrate our commitment and passion for providing the gaming community with new and innovative gaming gear they can rely on."

V570- Equipped with an Avago 9800 laser sensor, the V570 offers gamers accuracy with every shot and up to 12000dpi that can quickly be adjusted with the press of a button. The Auto-Speed feature, available through the Viper V570 software, enables the mouse to automatically modify the dpi, in a range set by the user, in accordance with the movement of the mouse. A four level dpi indicator, located on the front left of the mouse, alerts the user to what speed the mouse is using.

A quick access sniper button, located on the left side of the V570, allows the user to slow the tracking to just 400dpi for more exact aim and a seamless return to the battle. With zero delay Omron switches and 13 programmable macro buttons the V570 allows users to experience faster response times and a more customizable game. The MMO-like, five programmable side buttons are quickly accessible and come with no default settings for a truly personal gaming experience.

Full RGB multi-zone LEDs, 16.8 million colors, illuminate the V570 and color settings can be adjusted through the software to distinguish between the five available on board profiles. Designed with ceramic foot pads for ice-like gliding on any surface, 35g of adjustable weight and rubber side grips, the V570 is ergonomically sound and has a comfortable, soft feel that also supports the palm.

The V530 LED gaming mouse offers users a simple, yet stylish design coupled with high performance features sought after by every gamer. With the Avago 3050 optical sensor and a maximum dpi setting of 4000, the V530 is the perfect entry level gaming mouse for anyone looking to game on a budget.

Equipped with seven programmable macro buttons and six onboard LED profile colors, the V530 can be managed and customized from the downloadable software available on the Patriot website. PTFE foot pads line the bottom for a smooth glide across most surfaces, while a soft rubber like coating blankets the V530 to ensure a solid grip and comfort during extended game time.

The V570 will be available at the end of Q1 2017 for starting MSRP of $59.99 USD. The V530 will be available at the end of January for a starting MSRP of $29.99 USD.

Corsair Scimitar PRO RGB Optical MOBA/MMO Gaming

"Corsair has recently upgraded the Scimitar series with the PRO RGB models, which feature a 16000 DPI PMW3367 optical sensor, onboard profile storage and comes in two different color schemes. The RGB lighting can be configured in four different areas, the twelve side button assembly can slide inside the chassis in order to be easy accessible, while the product is fully supported by the CUE 2 software, which allows powerful customization and integration with other RGB Corsair Gaming peripherals."

Corsair Harpoon RGB gaming mouse

Corsair produces excellent, high-end gaming peripherals but it knows not everyone will want to spend £70 on a mouse or £150 on a keyboard. Enter the Corsair Harpoon RGB- this mouse comes with the multi-coloured lighting of high-end gaming peripherals, without the monstrous price tag.

PNY Riot 01 gaming mouse review

PNY might be a new comer to the world of peripheral making, but it is gunning hard for the competitive market of gaming mice with its first effort: the Riot 01. It has an eye catching colour scheme, an ergonomic shape and some neat lighting options that are rather impressive for such a budget mouse. Priced under £30, the Riot 01 is looking to undercut a lot of the competition, but it will need to stand up to our vigorous gaming and general usage testing to get the thumbs up.

Corsair Gaming SCIMITAR PRO RGB game mouse review

This one is for the players, the PRO MMO gamers out there. Corsair releases the new PRO model Gaming SCIMITAR RGB game mouse with an improved optical sensor at 16,000 DPI. The looks remain the same, an aesthetically pleasing with configurable RGB LEDs and has a grip that is intensely impressive.

Logitech G900 Chaos Spectrum Mouse

e Logitech G900 Chaos Spectrum Mouse is $140, but Logitech claims that it can be used both wired and wirelessly without any loss of performance. At that price point, it would need to be a lot of mouse with a great sensor.


ROCCAT KIRO Modular Ambidextrous

ROCCAT's KIRO modular ambidextrous gaming mouse offers an incredible amount of class and features considering its impressive price."


picGear ZorA Optical Gaming Mouse Review

EpicGear is one of the cooler gaming peripherals manufacturers on the market, having a great range of products that have proven successful with gamers at home, as well as in the eSports scene. Their latest mouse, the ZorA, was developed with the help of pro gamers, who aided in everything from designing the symmetrical shape of the mouse, the weight tuning system and the choice of sensor.


Cooler Master MasterMouse Pro L RGB Gaming Mouse Review

Following in the footsteps of several extremely impressive peripheral launches, Cooler Master are back once again with their latest peripheral release, the MasterMouse Pro L. With the growing success of their Master series, such as their MasterPulse headsets, Masterkeys keyboards and much more, we're eager to see what their new MasterMouse Pro L has to offer.

Xtrfy XG-M2 Ninja Pyjamas Gaming Mouse Review

If you follow the competitive gaming/esports scene at all, then you may have heard of Xtrfy. They are a Swedish company specialising in designing peripherals for competitive players, with a little help from the team 'Ninjas in Pyjamas'. Today, we are looking at the Xtrfy XG-M2 Ninjas in Pyjamas edition, featuring an ambidextrous design and promising maximum control.

SteelSeries Arctis 5 @ LanOC Reviews

In the eight and a half years that I have been doing reviews here at LanOC, I've had the opportunity to work with SteelSeries on every one of their headset launches. But in that time none of the new headsets have been a completely new design. They have revamped the H and Siberia lines multiple times and even had a few variations that were close to an all new design like the Siberia Elite. But recently they actually introduced a completely new headset product line called the Arctis. Like their H series they have a couple of variations but for the launch they sent over the Arctis 5 and I've been testing it out and I finally have a little time to sit down and talk about it. So let's dive into the new features then see how they perform.

Razer DeathAdder Elite Gaming Mouse Review

DeathAdder Elite is one of the latest Razer mice which was built upon an already successful model and adds a few upgrades like two extra programmable buttons, a revised PTFE bottom layer size/placement but also an upgraded 5G sensor which can track up to 16000 DPI. The mouse is accompanied by the unified Synapse software which can load or save previously saved profiles from the cloud and also helps working with the Chroma LED lighting."



The best Guides by the best writers on the internet; PCSTATS Beginners Guides explain computers, software, and all those other wonderful things that cause you frustration.

Learn how to use your computer better, master the internet while protecting yourself, and know what to do when your hard drive kicks the bucket.



"Get the 'Stats and Stay Informed!"