| | |
| --- | --- |
| Hard Drives/SSD | |

... 4 news stories awaiting approval
Apacer AS2280 P2 SSD 480 GB

The Apacer AS2280P2 is a M.2 NVMe PCIe 3.0 x2 SSD, which is built using Toshiba 15 nm 3D TLC flash and a Phison PS5008-E8 controller. Priced at around $100 for the 480 GB version, this solid-state-drive is one of the more affordable ways to join the NVMe crowd.



WD Black NVMe SSD (2018) 500 GB

WD Black NVMe is Western Digital's premium M.2 SSD for demanding gamers and enthusiasts. It uses an 8-channel SSD controller paired with SanDisk 3D TLC flash. Priced at $105 for the reviewed 500 GB version it comes at reasonable pricing, and offers outstanding performance.



ADATA XPG SX8200 Pro Solid State Drive Review

"Last year we took a look at ADATA's XPG SX8200, which we really liked. So much so, we awarded it a 10 out of 10 and our Good Value Award. This year ADATA is back with the successor to the SX8200, the SX8200 Pro. This new drive features a new controller (SMI SM2262EN) matched with IMFT Intel/Micron 3D TLC NAND, and two DDR3 DRAM chips. This brings the speed of the drive up to 3500 MB/s read and 2300 MB/s write (512 MB version), which is a nice improvement over the original SX8200. Let's test this drive out and see what it can do!"

Intel Optane SSD 900P 480GB SSD Review

It's taken a while but at last we have been able to get hands on with Intel's Optane SSD 900P drive, another that uses Intel's 3D XPoint technology and is aimed at the high-performance desktop and workstations market segments, although these days the line between the two is a lot blurrier than it ever has been.

Addonics 1:7 M2 NVMe SSD Duplicator

Addonics Technologies (www.addonics.com) today announced a 1:7 USB NVMe/Flash/HDD Duplicator that copies up to as many as seven (7) M2 NVMe SSD at a time.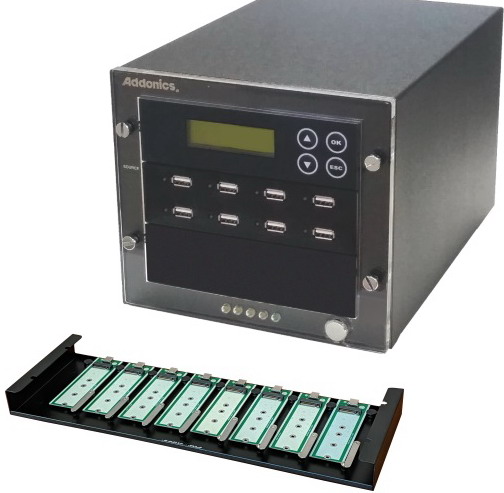 The duplicator includes a docking station that is equipped with eight (8) M2 NVMe - USB 3.1 adapters. The docking station connects the M2 NVMe SSD to the USB port on the duplicator. The M2 NVMe SSD can be easily mounted onto or removed from the docking station without using any special tools. There is no computer or software needed to run this USB NVMe/Flash/HDD duplicator. Simply attach the master drive to the source USB port and the slave drives into any target USB ports, press the "copy" button and the duplication process starts automatically.
Besides duplicating M2 NVMe SSD, this duplicator can be used for making copies of USB flash, USB SSD and USB HDD. Each USB port is designed to provide adequate power to operate the M2 NVMe SSD or self-powered USB storage device, including most 2.5" USB hard drives. This duplicator is also a handy piece of equipment for transferring content among M2 NVMe SSD, USB flash/SSD or USB hard drive.
The 1:7 USB NVMe/Flash/HDD Duplicator comes with a full suite of functions. Some of the functions include the option to copy just the files or the whole media; the drive sanitizing function; the option to copy from a larger drive to a smaller drive; and the option to copy HPA. The whole media setting copies the drive sector by sector and this setting can copy drives in any kind of file system or format, including an encrypted drive or even a blank drive. Drive sanitizing options include Quick ERASE, FULL ERASE or multiple ERASE with DoD standard.
Price for the 1:7 USB NVMe/Flash/HDD Duplicator is $1,199.

Western Digital Black SN750 Review

The launch of the WD BLACK SN750 is part Western Digital's effort to bolster WD's presence in the Gaming sector, a market which continues to exhibit strong growth. WD Gaming has recently been a presence at Esports tournaments and other industry events such as ChinaJoy, with the brand showcased to millions of viewers on worldwide streaming platforms.



Intel Optane DC P4800X 750GB SSD Review

Today we go hands on with Intel's Optane SSD DC P4800X enterprise-class NVMe drive that uses Intel's 3D XPoint memory technology designed for use in data centres. It's only available in two capacities, 350GB and 750GB, and two formats – a 2.5in 15mm U.2 drive, and a HHHL AIC. For this review we are looking at the 750GB U.2 version.


Samsung 970 EVO Plus NVMe SSD

Samsung is back with the 970 EVO NVMe SSD, this round they release the Plus edition which makes use of new vertically stacked NAND and a tweaked controller. The end result is a faster writing EVO series which becomes one of the fastest performing NAND product available on the globe.

iStorage diskAshur2 External Hard Drive Review

"When it comes to your data you want it to be safe and protected. There are quite a lot of external portable hard drives out there, but how many actually make sure your data is safe? The external hard drive we are taking a look at today does just that with its rugged design and real-time AES-XTS 256-bit hardware encryption. This is completely software-free data protection as there is a PIN pad on the top of the drive to input your PIN. Without a PIN you cannot get into the drive! Let's take a look and see what the diskAshur2 from iStorage is all about."