| | |
| --- | --- |
| Hard Drives/SSD | |

... 0 news stories awaiting approval
Asustor AS7004T

Asustor has shown a strong commitment to keeping their software up to date by adding new features and squashing any bugs. The new ADM 2.3 software is excellent and we really appreciated the revamped design. The fact that existing customers using products based on the more affordable 2 and 3 series can also enjoy the new ADM 2.3 software speaks volumes. Overall we have been blown away by what can be achieved with the AS7004T and are therefore giving it our must have award.

Silicon Power Marvel M70 USB 3.0 Flash Drive (128GB) Review

Rarely does one find them self searching through shelves at a store trying to find the best USB flash drive. You have one goal and your focused on that: capacity. Things like looks and speed are sure to follow. What would you say if we told you that you could have all of that and more? How about a USB flash drive with incredible capacity, quick speeds, gorgeous looks and has a decent price tag to boot? Nope, were not joking welcome the newest gadget to be added to your holiday wish list! Silicon Power Marvel M70 USB 3.0 Flash Drive, at a whopping 128 GB capacity!"



Crucial MX100 256Gb SSD Review

Crucial have been memory manufacturers for years now and they have a big product catalogue to browse. They are also a common name when considering components for any PC build, so many of you will be familiar with them, or will have owned one of their products. We are going to look at the Crucial MX100 256Gb Solid State Drive today and put it through a series of synthetic and real world tests. So with a popular and widely appreciated brand coupled with a decent sized 256Gb Solid State Drive, let's see what it can offer."

Inateck FE2005 USB 3.0 UASP External 2.5 SATA Enclosure Review

As far as external USB to SATA enclosures go, the Inateck FE2005 is about as simple as they come. It`s only plastic, but more than adequate for most applications. The performance was very good considering its simplicity, and the price is low enough to pick one of these up even if only for the occasional OS cloning / upgrade process. I`m personally eyeing one of their new 3.5 docks, as desktop HDD`s also see a benefit from queued commands, making those media copies and backups even faster than before."


Toshiba Announces 6TB Enterprise Capacity HDDs

Toshiba Electronics Europe (TEE) announces the addition of 6TB[1] SATA and SAS models to its MG04 series of 3.5-inch form factor enterprise capacity class of hard disk drives (HDD). The new SAS interface models provide the benefits of 12Gbit/s[2] SAS transfer rates and enhanced power management features for seamless integration with the latest generation of data center infrastructure. The MG04 series is specifically designed for midline and nearline business critical workloads.

The new MG04 series 6TB models offer a 50 per cent[3] increase in max capacity from prior MG03 generation 4TB models and a 30 per cent[4] increase in sustained data rate. These enterprise HDDs support both industry-standard 4K native and 512e Advanced Format sector technologies for optimum performance in the latest generation servers and storage systems. Emulated 512e Advanced Format sector technology performs best in legacy applications requiring 512 sector lengths using aligned-write environments.

Both the 6TB MG04ACA and MG04SCA models offer Toshiba persistent write cache technologies, designed to help protect against data loss in the event of sudden power loss, while also helping to improve performance and data reliability. Model options supporting SAS and SATA commands to enable sanitize "instant" cryptographic erase (SIE) are also available.

Spinning at 7,200 rotations per minute (RPM), the MG04SCA and MG04ACA deliver nearline-class seek performance to improve application response times. At 6TB, the higher capacity per spindle saves rack space and reduces the footprint and operational burden of business-critical servers and storage systems to help optimize total cost of ownership in high-density scale-out environments. The 6TB models provide 50 percent better power efficiency (watts per terabyte) than the previous 4TB drive generation.

"Our customers expect to benefit from the increased capacity, efficiency and performance made possible by the latest industry-standard interface and long sector technologies," said Martin Larsson, Vice President, Toshiba Electronics Europe, Storage Products Division. "These additions to the MG04 series deliver an impressive 6TB capacity and continue to provide the benefits of Toshiba's persistent write cache technology to enhance performance for business critical server and storage systems."

The 6TB MG04ACA 6Gbit/s SATA and MG04SCA 12Gbit/s SAS models will begin sampling to OEM customers in Q1 2015.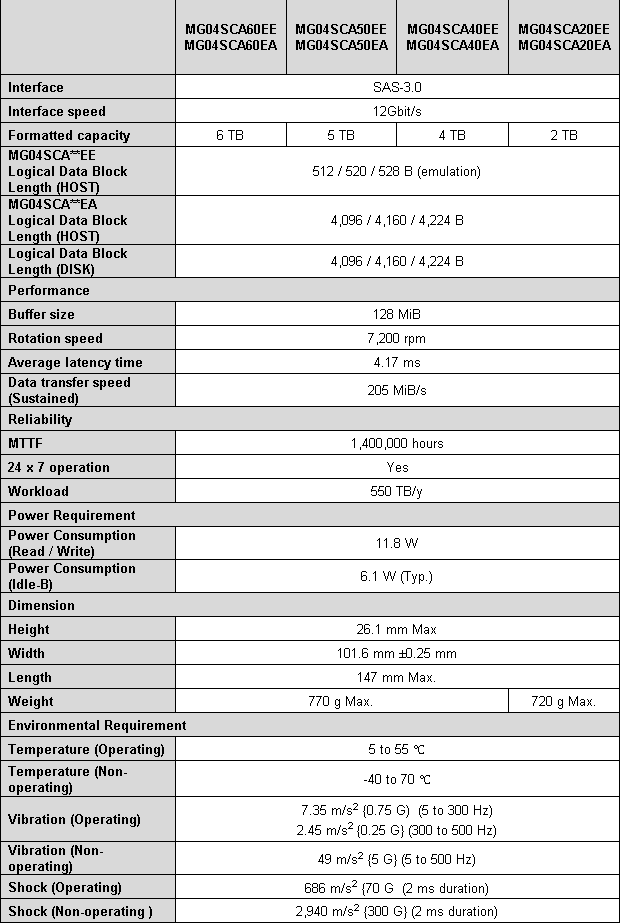 AMD Radeon R7 240GB SSD Review @ Madshrimps

The R7 240 AMD-Branded SSD succeeds to perform really well and positions itself along with the latest Vertex 460 and Vector 150 drives from OCZ; the product succeeds to render very "

Kingston Class 10 UHS-I SDXC 256GB and MicroSD 128GB Review @ Legit Reviews

Have you ever run out of memory on your camera, smartphone or tablet at a critical moment or had to delete something you didn?t want to in order to free up space? Running our of storage space is pretty common these days and with most cameras being able to capture full 1080P HD or video or possibly 4k UHD video it is becoming obvious that our need for larger Flash memory cards is only going to continue growing. Kingston Digital is a trusted name in the memory card business and just last month they announced that they were doubling the capacities on both their Class 10 UHS-I microSD and Class 10 UHS-I SDHC/SDXC cards. This means you can get a Kingston microSD card in capacities of up to 128GB and an SDXC card with  a capacity of up to 256GB! Legit Reviews got our hands on the Kingston 128GB Class 10 UHS-I microSD card along with the Kingston 256GB Class 10 UHS-I SDXC card and put them to the test!"

Crucial MX100 Review

At a low cost per GB, the Crucial MX100 Solid State Drive offers good value for money without compromising on speed or features. Time to retire your old mechanical drive?

WD My Cloud Personal Cloud Storage 2TB Drive Review

WD My Cloud personal drive comes with a pre-installed 2TB storage, a Gigabit Ethernet port and a USB 3.0 port. A complete and personal solution who wouldn't have the need to go anything more than a particular storage space. Depending on the solutions from the diskless NAS counterparts, drives like My Cloud could give a more overall value solution. Let's take a closer look and evaluate the performance.

G.SKILL Phoenix Blade 480GB PCIe SSD Review

Based out of Taiwan and founded in 1989, G.SKILL is best known for their memory products and over the years they've sprinkled in some other related products as well. Though they haven't been very prominent in the SSD market – especially as of late, G.SKILL has remained in the game with yet another Phoenix drive release. They've been using the 'Phoenix' appellation on their SSD product names for quite some time and to the best of my memory, the last one we tested was the Phoenix Pro way back in 2010. That particular drive featured the (pre-LSI owned) SandForce SF-1222 controller and operated on a SATA II interface. Now that newly minted SATA II SSDs are a thing of the past and SATA III drives are routinely hitting bandwidth thresholds, we're seeing more and more PCIe based drives emerge which have plenty of ceiling left to grow. G.SKILL has surprisingly joined the growing PCIe crowd with the Phoenix Blade. The name is likely a reference to the drive's shape, long and thin, and the fact that it carves up data with ease. This time around, they have a on board RAID 0 setup (à la OCZ RevoDrive 350) with four LSI SandForce SF-2281 controllers working in concert to pump out crazy performance like 2000MB/s reads/writes and IOPS of up to 90,000 reads and 245,000 writes.

Silicon Power Stream S06 4TB USB 3.0 3.5 External Hard Drive Review

You don`t really need me to tell you all that data capacity needs have increased exponentially over the last 5 years since nowadays most people need far more TB`s that they can possibly afford. Granted prices have dropped significantly so now you can even find 4TB drives in the market for much less than we could have possibly hoped for but still that`s not enough. Now the strange thing with HDDs is that although the market has internal HDD models up to 8-10TBs in capacity external models have yet to reach that point so the highest capacity model one can currently find is 6TB. However the fact that not every manufacturer out there has released 6TB desktop HDD models along with an extremely good price/capacity ratio has pretty much allowed 4TB models to take over the market. Today we have one such drive on our test bench and more specifically the latest Stream S06 4TB USB 3.0 3.5 External Hard Drive by Silicon Power."


Samsung SSD 850 EVO Solid State Drive Review

Powered by their own 32-layer 3D V-NAND technology, the Samsung SSD 850 EVO replaces the 840 EVO solid state drive and delivers up to twice the density and write speed of traditional 20nm planar NAND flash components. In this article, Benchmark Reviews tests the 500GB Samsung SSD 850 EVO against the fastest solid state drives available."