| | |
| --- | --- |
| Hard Drives | |

... 21 news stories awaiting approval
Seagate Barracuda 3TB 7200RPM HD Review

When it comes to adding a performance-enhancing upgrade to your system, a good SSD can't be beat, but storage capacity is an ever-growing need as well. There was a time when a 1TB drive seemed grossly (deliciously?) excessive for the average user, but these days anything less than 500GB seems woefully undersized. Even casual users who play a few games, shoot a little video here and there, and maintain a modest music library need lots of storage. HDDs continue to increase in capacity yet remain reasonably priced in light of solid state offerings, to the point that you can have yourself a multiple-terabyte drive for a couple hundred bucks or less. Today we're taking a look at one such HDD, the Seagate Barracuda 3TB...

SSD News: Understanding SSD Advertised Performance and Its Purchase Implications - An SSD Primer

Today`s SSD close up is going to teach us the most valuable thing we can ever learn about an SSD. This is the fourth paper in a series of articles that explain the benefits, types and components of a solid state drive and will go so far as to make up our SSD Beginner Guide. Each article is designed to be easily understood and will enable the reader to become proficient in every aspect of the SSD as it relates to their specific computing needs."

Verbatim SATA II 2.5 128gb SSD Upgrade Kit @ TestFreaks

Verbatim recently announced at this year?s CES the line of SSD products which include both SATA II and SATA III versions. Today we will be looking at the SATA II 2.5 inch SSD upgrade kit. It is designed to replace hard drives in it either notebook or desktop configurations. It includes preloaded cloning software making the transition from hard drive to SSD seamless. "

Intel SSD 520 Series 240 GB @ ocaholic

It`s been quite a suprise that Intel chose to release a Solid State Drive based on a SandForce SF-2281 controller. Meanwhile the chip giant has an entire line-up of SandForce based SSD. Today for review we have the 240 Gigabyte model that uses synchronous NAND flash an promises blistering fast performance."

LSI MegaRAID SAS 9265-8i RAID Controller Review

For years I`ve talked about RAID tuning and even gave some examples on a small scale. The LSI 9265-8i that we are looking at today takes the ability to optimize your RAID arrays to new levels and does so with a very easy to navigate user interface. The base controller with its dual-core ROC processor and 1GB DRAM cache has become the industry standard, but LSI didn`t stop there. Add on packages like LSI`s FastPath and CacheCade further enhance usability based on user need. When our 9265-8i sample first arrived we were in the process of building a super computer based on the EVGA SR-2 dual Xeon enthusiast`s board. At the time LSI was having issues with a handful of enthusiast class motherboards with the SR-2 being one of them. Since that time LSI and the motherboard makers have found and corrected several if not all of the issues. There was a time though when enthusiasts were pounding their heads against the wall trying to make everything mesh as it should."

News: OCZs Octane 128GB solid-state drive

We were impressed by OCZ`s Indilinx-powered Octane SSD when we reviewed the 512GB version last year. Now, we have the 128GB model in-house to see if the Octane`s appeal extends to the sweet spot."

500GB Seagate FreeAgent GoFlex Ultra-Portable Hard Drive Review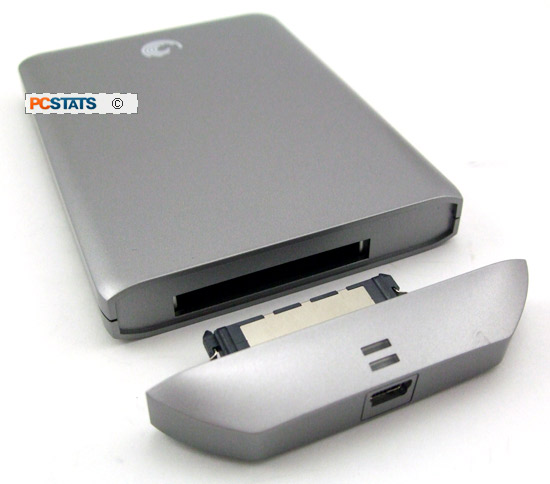 "The Seagate FreeAgent GoFlext Ultra-Portable hard drive is more than just a portable 2.5" SATA HDD. key to the system's brilliant usefulness is that Seagate designed this hard drive to interface with a series of modular cable interface adaptors, docks and a media player. It's what you'd call, really very flexible. But that's not all... Seagate made the core FreeAgent GoFlex hard drive so it will slot into the companies' TV HD Media Player product, interfacing via the drives native SATA port. Sliding a hard drive into the Media Player is a quick and simple way to open up access to hundreds of gigabytes of digital content on the spot.


SSD NEWS: Intel 520 SSD Review (Round Two) - RAID Testing at 1.5GB/s With Highpoint 2720SGL RAID Controller

Our release yesterday of our Intel 520 SSD Review (Round One) was probably one of the most anticipated events seen yet in the SSD arena and, if sales can be determined by the extreme numbers of readers who visited the site, Intel will do very well. In that review we made a promise, this being that we would follow up with the absolute best in RAID testing possible, displaying results only we could pull off. Welcome to Round Two folks and get ready for the knockout punch!"

CRU-DataPort ToughTech Duo Review @ ThinkComputers.org

If you are traveling and want reliable storage there are many options, but what if you want storage that is going to last and be able to take a beating. Many professional photographers need storage that is redundant and can withstand the elements that they are in. If they have that one perfect photo saved and the hard drive dies they could be in serious trouble. Today we are taking a look at the ToughTech Duo from CRU-DataPort. This hard drive enclosure can fit two 2.5-inch hard drives and has RAID support. Read on as we take a look."

Intel 520 Series 240GB Solid State Drive Review

On release, the SF-2281 controlled client drives leaped to the top of performance charts, but for some, reliability and odd BSOD issues plagued these products. In our testing only two drives experienced issues. The first drive made it through standard testing, but ran into problems when deployed in a daily use system. The second drive failed to complete our standard benchmark procedures, having BSOD issues out of the box. Both drives were later fixed with a firmware update, but for a company like Intel, issues like these are unacceptable. Intel has experienced their own issues with firmware in the past and they`ve learned quickly from their early mistakes. Intel was not going to release a new client SSD with known problems without addressing them thoroughly before a release. In the documentation provided to us Intel only included one line about firmware, but it said enough to make it clear that Intel was not just another copy and paste member of Team SandForce."

Kingston SSDNow V+200 90 Gigabyte @ ocaholic

Meanwhile Kingston, like many of their competitors, also have a SandForce SF-2281 based SSD with asynchronous NAND flash memory in their portfolio. In this review we got the chance to test their 90 Gigabyte drive, which is kind of an unusual size. But as always, were going to torture the drive and tell you what it`s capable of."

Intel 520 SSD Series 240 GB

The Intel 520 Series SSD 240GB arrived Technic3D. Available in 60GB, 120GB, 180GB, 240GB and 480GB configurations. Results in extreme performance with up to 550 MB/s sequential read and 520 MB/s sequential write speeds? We will check this and more against the SSDs from Corsair, OCZ, Western Digital and G.Skill."

Zalman ZM-VE300 2.5' USB 3.0 External HDD Enclosure Review

The ZM-VE300 from Zalman may look a lot like the previous VE200 version, but it brings a lot of new features like the USB 3.0 interface, a more intuitive and rich menu, a pre-applied tape for avoiding short-circuits inside its chassis and a backup software for added value.


Intel 520 Series 240GB Solid State Drives in RAID 0

I`m a bit surprised no one has asked why Intel sampled most media outlets with two and in some cases three identical 520 Series 240GB drives for review. As a consumer I`d rather have seen performance numbers from both 240GB (our single drive review is here) and 120GB drives since these are the capacity sizes that make the most sense for computer users today. As you can imagine, no one is going to complain about getting dual 240GB drives especially media folks who are generally power users with PCs on steroids. A few months back we looked at the OCZ RevoDrive 3 X2 and learned that OCZ figured out how to get TRIM working on the drive`s RAID controller. The hardware is ready, but Windows is now the roadblock we were told. Months later we started finding hints that Intel was getting ready to release software that allows TRIM to work in RAID as well."