| | |
| --- | --- |
| Hard Drives | |

... 4 news stories awaiting approval
Silicon Power Slim S70 120GB 7mm SSD Review @ ModSynergy.com

This review will mark our first foray into the 7mm SSD market. Sporting 120GB of capacity from an advertised Toggle MLC based memory, while making use of the SandForce SF-2281 controller, read on to know more about the Silicon Power brand, and what you can expect from their SSD products."

WD Black 4TB Hard Drive Review @ Techgage

WDs Black 4TB is the sort of product that doesnt need much of an introduction it speaks for itself. Were dealing with a standard-sized desktop hard drive that sports a market-leading 4TB of storage. Thats 4,000GB, for those not paying enough attention. Its impressive on paper, so lets see how it fares in our benchmarks."

Crucial M4 256GB SATA III SSD Review

Crucial's M4 solid state drive supports RAID, SMART, NCQ, TRIM, self monitoring and self analysis. Average access times are less than 0.1ms. Peak power consumption is 0.15W, idle is a scant 65mW so this puppy can certainly help extend the battery life of any notebook by replacing a spindle'd hard drive. The 1.2 million hours MTBF rating on Crucial's M4 SSD is slightly lower than other solid state drives PCSTATS recently tested, most of which have averaged 2M hours. It's backed by a 3 year limited warranty.
Crucial's 2.5" M4 256GB SSD (CT256M4SSD2) retails for around $210 USD/CDN at Crucial.com, or about $0.82/GB. The M4 SSD family includes models ranging from 120GB all the way up to 480GB capacity. The Crucial M4 is priced per gigabyte between the 240GB SanDisk Extreme which runs about $0.91/GB and the 240GB OCZ Vertex 3 which is pegged at $0.78/GB.

OCZ Vertex 3 240GB SSD VTX3-25SAT3-240G Review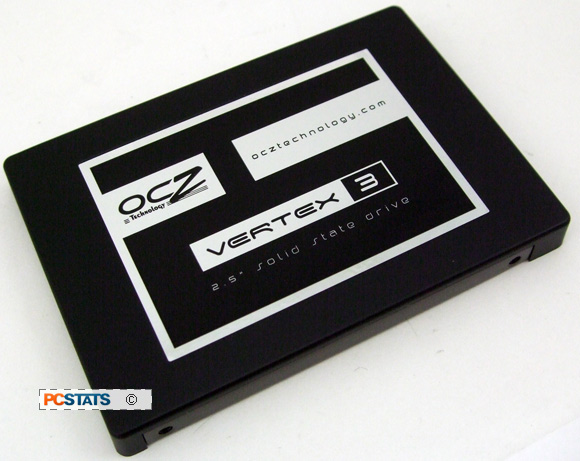 The OCZ Vertex 3 is a great little 240GB SSD and just the right capacity to install Windows 7 along with a bunch of programs onto, without worrying for drive space. Since this SSD is rated for 6Gb/s SATA III, you'll find it quicker than first generation SATA II drives and light years faster than a standard mechanical hard drive when it comes to booting up or launching programs. Hard drives are great for storing massive amounts of data, don't get me wrong there, it's just when it comes to your PCs operating system, a Solid State Drive increases responsiveness dramatically.

Sandisk Extreme SSD 120GB/240GB review

With these Extreme SSDs, SanDisk has proven it can make quality SSDs with reasonable performance. Unlike the SanDisk U100 SSDs from its OEM division that perform more like USB sticks in 2.5-inch format, the Extreme SSDs do perform well. And when an important party like SanDisk enters the consumer SSD market, that's only good news for both competition and innovation.

Samsung 840 Series TLC 250GB SSD Review

Samsung leads the way by introducing the world's first SSD equipped with TLC NAND into the market. The Samsung 250GB 840 Series SSD looks to shake up the market by providing an excellent dollar-to-performance ratio by leveraging low cost NAND and the high-powered MDX controller. Does its performance equal the value expectation?

Silicon Power Diamond D03 1TB USB 3.0 HDD

As far as value goes, the Diamond D03 is a winner. We were able to find this 1TB drive online for about $75 USD, which is a great price for a drive with that much capacity (and isn't some cheap no name brand). For the extra few dollars you have to spend to go from the 750GB Diamond D10 drive to the 1TB Diamond D03 drive you will get 25% more storage and faster performance which is really a double win. . .

Western Digital Red 4TB HDD @ TechwareLabs.com

With the growing popularity of home and small office NAS devices, demand has been growing for a new kind of drive: one that can stand being run all day, every day, but won't break the bank with excessive power draw. Western Digital has developed a new line to fill that role, and today we'll be taking a look at their latest and greatest, the Red 4TB.

SMART Optimus 400GB Enterprise SSD Review

The SMART Optimus heralds the beginning of a new era for the datacenter, the inclusion of MLC NAND SSDs into roles typically only served via SLC high-endurance SSDs. Providing SLC-like endurance from MLC NAND sounds like a magic trick or marketing hype at its finest."

SuperSSpeed Hyper Gold S301 128GB w/5.03 FW SSD Review

We`ve tested SuperSSpeed`s S301 SLC before, but a lot has changed since we said it was the fastest SSD in the world. The competition has caught up a bit, and SuperSSpeed now stocks the drive in the US, and we get a newer TRIM fixing firmware."

Product Review from RWLabs.com

It?s time for another look at Vector. A few days ago RWL presented you with the world?s first RAID 0 review featuring OCZ?s newest flagship SSD. Our Vector array proved to be the fastest 2 drive SATA III array we?ve ever tested or have ever seen. Vector is back again today and this time it?s for a Single drive review."

Review: ADATA XPG SX300 128 GByte mSATA SSD @ Ocaholic

Based on a SandForce SF-2281 controller and four synchronous 32 Gigabyte NAND flash chips, ADATA has quite a powerful mSATA SSD in its portfolio. This drive should be able to boost notebooks, which feature an mSATA slot or even desktop PC`s which come with the same feature."

Silicon Power S70 7mm SSD for Ultrabook

The Silicon Power Slim S70 (SP240GBSS3S70S25) paired the LSI SandForce SF-2281 controller with the 25nm Intel synchronous NAND in a slim package of 7mm. Available in capacity ranges from 60GB all the way to 480GB, it is one of the high-end SSDs designed for Ultrabooks."

KingFast F3 PLUS 120GB KF2510MCF SATA 3 MLC SSD Review @ ModSynergy.com

Sporting 120GB of Intel MLC NAND flash memory while making use of the SandForce SF-2281 controller, read on to know more about the KingFast brand, and what you can expect from their KF2510MCF. With a 3-year warranty, see why it became one of the fastest SSD`s we`ve ever reviewed with the latest fixed SandForce firmware version 5.0.4."

KingFast K Series K25 Ultra-Cache SSD Review @ Madshrimps

The KingFast Ultra-Cache solution is composed from a 32GB SATA2 SSD and special software which will boost our storage system performances after the caching procedure has been completed. What is nice about this solution is that we do not have to perform a Windows system reinstallation to make it work."