[>>]

[>>]

[>>]

[>>]

More>>

Search...

| | |
| --- | --- |
| Hard Drives/SSD | |

... 7 news stories awaiting approval
Icy Dock MB290SPB EZ-FIT Lite and MB343SP EZ-Fit Trio Hard drive & SSD Bracket Review @HiTech Legion

Icy Dock has delivered many products designed to make the most out of given storage space, and the new Flex-Fit Trio and EZ-Fit Lite do exactly that. Both the Flex-Fit Trio (MB343SP) and EZ-Fit Lite (MB290SP-B) are designed to mount multiple smaller drives in the space of one standard larger drive. In the case of the Flex-Fit Trio, one 3.5 and two 2.5 drives can be mounted into the space of a single 5.25 optical drive. In addition, the Flex-Fit Trio can use the aforementioned 3.5 drive space for internal drives or for 3.5 drives such as floppies or card readers with full access from the front. The EZ-Fit Lite has mounting for two 2.5 drives which can be mounted into a single 3.5 drive bay. In addition, using both together gives you the option of mounting a total of four 2.5 drives into a single 5.25 optical bay."

OCZ Vertex 460 240GB Solid State Drive Review

We had originally planned to start this review off with a brief discussion of OCZ's potential fate and what the company's recent bankruptcy and looming acquisition by Toshiba could mean for its future. But in the 11th hour yesterday, news came through that the acquisition was complete and OCZ would go on producing solid state storage products and that it was now a "wholly owned subsidiary and Toshiba Group Company". We've even got a fresh new logo to show you. Fittingly, the first product released after the announcement, and the drive we'll be showing you here, features all home-grown OCZ tech and bleeding edge 19nm Toshiba-built MLC NAND flash memory. The just announced OCZ Vertex 460 series drives will be available soon in 120GB - 480GB flavors and we've got the full scoop for you all here...

OCZ Vector 460 SSD review

Early November OCZ upgraded its Vector SSDs with a new generation firmware and 19nm Toshiba flash memory, releasing the Vector 150. Today OCZ's affordable series of SSDs received a similar upgrade. The new Vertex 460 is replacing the Vertex 450 with the same formula as the 150, it has new flash, is slightly faster and is more affordable.


Kingston SSDNow V300 120GB SATA 3.0 SSD

For those in the market for a solid-state drive, the Kingston SSDNow V300 series offers a 120GB Serial ATA 3.0 SSD for less than $90 USD. How well does this SSD work on Linux? We have benchmarks at Phoronix done under Ubuntu and compared to a range of HDD and SSDs."

Kingston HyperX 3K 240GB SSD Review @ TechwareLabs.com

The SSD market is literally saturated with competitors, and with SSDs being one of the must-have items these days, it`s easier to get overwhelmed with trying to decide which make/model of SSD to go with in your system. Many people initially approach this from a pure cost standpoint, which is has been a common approach when shopping for HDD`s in the past. Unfortunately, this approach can be dangerous when applied to shopping for your first/next SSD, as cheaper more than likely guarantees you end up with an inferior drive as it relates to performance, compatibility, and endurance. So what`s the safest general approach? Avoiding a lengthy write up, you`re safest approach is to look to companies that have been successful in the memory market. Since SSD`s leverage memory technology, over spinning platters, it stands to reason that memory companies have initially more experience. With that said, we will be taking a look at Kingston`s HyperX 3K 240GB SSD in this review."

Seagate U-Series 6 80GB

Seagate has been around for a long time as a maker of hard drives. They have had their ups and downs comparatively against other companies, but overall have made a quality product for those looking for either performance drives or a more budget oriented unit. Seagate makes both, but they have just recently released a new drive in their budget U-Series, and TweakTown has the privilege of being one of the first sites to take a look at this behemoth."

Seagate Backup Plus Slim: The World's Thinnest 2TB External Hard Drive

This new offering includes the backup software, Seagate Dashboard, which made the first generation of Seagate® Backup Plus drives so popular. The Seagate Dashboard software provides an easy one-click backup solution, but can also be set as a scheduled backup up as needed. Additionally, the Dashboard software will back up Facebook and Flickr albums to ensure that even video and photos shared through these networks are backed up and easy to find. Use the Save and Share features to download and upload content from these social media networks. Even all the photos you have been tagged in can be backed up from your social networks to the drive.
"Today, digital storage is important for everyone who uses a personal computer or a mobile device," said Scott Horn, vice president of global marketing for Seagate. "We are all creating content, whether that be photos from our last activity, video of a baby's first steps or a proposal for your next project. All of these files hold a special place of importance and Seagate is in the business of providing products that can store those valuable files."
"Seagate Backup Plus has been designed to make the chore of backing up as simple as possible. This compact, attractive external storage is hassle free and includes our Dashboard backup software for easy backup of social media albums, PC content and now even your mobile devices. Seagate is committed to continue our product innovation in order to provide our customers with the quality they expect and new benefits to address their current storage needs."
New for the Backup Plus family of external storage this year is the addition of a mobile backup application to provide protection for one's digital data on nearly every device. By simply installing the free Seagate Mobile Backup app on an iOS or Android mobile device, one can easily back up all of the pictures and videos from that device to the drive or a cloud service. While on a home network, content from mobile devices can be sent directly to the drive via a Wi-Fi connection. Cloud services such as Dropbox or Google Drive can be used for backup while on the road.
"Mobile devices account for the largest amount of captured video and photos today," said Chris Chute, research director for IDC's Worldwide Digital Imaging Practice. "Seven out of every ten pictures captured in 2013 were taken with a smartphone. As a greater portion of our memories are captured by the handheld devices, it becomes increasingly more important that these files be backed up either to a cloud service or locally."
Backup Plus external storage is available in a range of capacities to fit every size of job. The USB 3.0-powered, 2TB drive is the highest capacity drive fitting into a 12.1mm form factor. The metal-top case of these drives, available in red, blue, black and silver, is designed to resist scratches and fingerprints. :
Seagate Backup Plus storage is currently available from Amazon and Seagate.com by capacity: for Backup Plus Slim portable: 500GB Slim - $99.99, 1TB Slim - $119.99 MSRP, 2TB Slim - $179.99 and the 4TB Fast - $299.99.
The high-capacity Seagate Backup Plus desktop 3.5-inch is available in 2TB - $129.99, 3TB - $159.99, 4TB - $229.99. All prices are MSRP.

Western Digital Red (WD40EFRX) 4 TB NAS Hard Disk Drive

Quote : The popularity of Network-Attached Storage (NAS) devices is rapidly ramping up in both small businesses and homes, fueled by their usefulness and their increasing affordability. This surge in interest has led Western Digital to add a new family of hard disk drives - the WD Red family of NAS hard disk drives, even as Seagate drops production of 5,400 RPM desktop hard disk drives. Today, we are going to take a look at the latest addition to Western Digital's family of Red drives - the WD40EFRX with 4 TB of storage capacity. Here are its key features :

Western Digital Black Gen

Desktop power users on a budget will often pair an SSD boot drive with a cheap, spacious 5400+ RPM desktop drive like the 3 TB Western Digital Green (WD30EZRX). However, while the latest 5400+ RPM hard disk drives can deliver very good throughputs, they are still much slower in random accesses. So, those who can afford it will still go for high-performance 7,200 RPM hard disk drives, like the new-generation Western Digital Black hard disk drives. The new-generation Western Digital Black family differs from the previous generation by its use of Advanced Format Technology, which allows for greater capacity and throughput. The new Western Digital Black family now consists of five models, which differ only in their storage capacities.

Seagate Backup Plus Slim External USB 3.0 2TB Hard Drive Review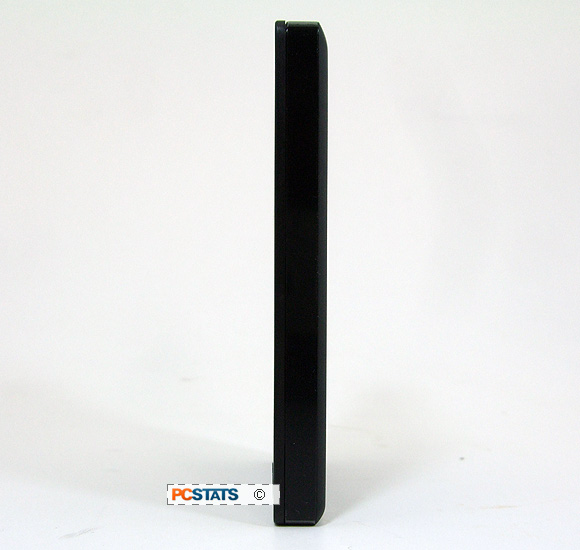 "The focus of this PCSTATS review is Seagate's 2TB Backup Plus Slim external USB 3.0 hard drive. The Backup Plus Slim is a self-contained 2.5" SATA-600 interface hard drive in a black aluminum and plastic enclosure which connects via USB 3.0 cable to any PC or Mac computer. The whole package weighs 150 grams and is just over 12mm thick - about the size of a smart phone. Power for the drive is supplied via the USB 2.0 or USB 3.0 port. The Backup Plus Slim looks every bit like the Monolith from Kubrick's 2001:A Space Odyssey, but inside is a not particularly remarkable 5400RPM, 3-platter hard disk with 32MB of cache."



Western Digital My Cloud 2TB NAS Review @ Legit Reviews

Ever since the emergence of Solid-State Drives, there?s been a conundrum facing laptop users in regards to storage options. Storage could be fast, large capacity, or low price ? pick two of the three. We?ve seen hybrid drives that mesh SSDs with HDDs using a caching method to boost performance but generally the SSD portion is less than ideal. Western Digital has a new spin on this concept with a hybrid drive of a different sort that they?ve aptly named Black². With it, they?ve actually combined a 120GB SSD and a 1TB HDD on a single drive, although separate save for the the SATA III interface they share. Before you go wetting yourself with anticipation, have a look at the performance numbers and our impressions to see if it truly delivers full SSD performance with HDD capacity..."





The best Guides by the best writers on the internet; PCSTATS Beginners Guides explain computers, software, and all those other wonderful things that cause you frustration.

Learn how to use your computer better, master the internet while protecting yourself, and know what to do when your hard drive kicks the bucket.



"Get the 'Stats and Stay Informed!"