| | |
| --- | --- |
| Hard Drives | |

... 14 news stories awaiting approval

RunCore Pro V Max 120GB SATA III SSD Review @ Legit Reviews

RunCore is not one of the companies that immediately comes to mind when thinking of SSD manufacturers but they have been churning out drives since 2007. We`ve even featured the SATA II version of the Pro V awhile back. The SF-1200 controlled, SATA II drive proved to be a good performer although at the time the pricing was a little above the competition. Back to present day, the Pro V line has been upgraded to the newest SandForce SF-2281 controller and along with that, the interface has been upped to 6Gbps SATA III. They sent us over the Pro V Max 120GB version for evaluation so we`ll get started by telling a little bit about it..."


Seagate 500GB Momentus XT Solid State Hybrid Hard Drive Review

Seagate's Momentus XT is a 2.5" notebook drive of a half-Terabyte in capacity that stands out from the crowd because it contains 4GB of SLC NAND flash. The NAND flash is used as sort of a 'fast access repository' to store commonly used data, though at 4GB, the SSD portion of this hybrid drive accounts for only 0.8% of its total storage capacity. The two platter, 7200RPM Seagate Momentus XT posts an average read latency of 11.0ms, write 13.0ms. Seagate's 3Gb/s SATA II ST95005620AS drive retails for round $156USD and requires no special drivers or software so it can be used in Intel and AMD systems, Mac and PC platforms. Additional Momentus XT drives are available in 250GB and 320GB capacities, all drives feature NCQ and low power requirements of 1.5W or less.

Seagate 2TB Barracuda XT 6Gb/s SATA III Hard Drive Review

PCSTATS will be testing out Seagate's 2TB, 6Gb/s SATA III Barracuda XT hard drive. This 3.5" desktop hard drive features an increased 64MB onboard cache where other 2TB drives only have 32MB and it supports Native Command Queing (NCQ). The Barracuda XT is the performance oriented drive in Seagate's stables, a spindle speed of 7200RPM gives it a healthy maximum sustained data rate of 138MB/s. The Seagate Barracuda XT being reviewed today uses Perpendicular Magnetic Recording technology and has a capacity of 2 TeraBytes (2,000 GB). Beneath its shiny metal exterior are four platters rotating at 7,200RPM.

IcyDock MB994SP-4S Four-bay 2.5-inch SATA/SAS Hard Drive Rack Review

The IcyDock MB994SP-4S is just such a unit - it packs four 2.5" HDD/SSD drives into the space of a single 5.25" DVD drive and provides unified power and supported SATA hook ups at the rear. On top of its high density convenience, all four SATA drive bays are hot swappable; without popping a side panel off , without unscrewing anything and without connecting any cables. A pair of 40mm fans built into the rack even ensures a modicum of airflow to keep drive temperatures in check.


Seagate Barracuda 3TB 7200RPM HD Review

When it comes to adding a performance-enhancing upgrade to your system, a good SSD can't be beat, but storage capacity is an ever-growing need as well. There was a time when a 1TB drive seemed grossly (deliciously?) excessive for the average user, but these days anything less than 500GB seems woefully undersized. Even casual users who play a few games, shoot a little video here and there, and maintain a modest music library need lots of storage. HDDs continue to increase in capacity yet remain reasonably priced in light of solid state offerings, to the point that you can have yourself a multiple-terabyte drive for a couple hundred bucks or less. Today we're taking a look at one such HDD, the Seagate Barracuda 3TB...

SSD News: Understanding SSD Advertised Performance and Its Purchase Implications - An SSD Primer

Today`s SSD close up is going to teach us the most valuable thing we can ever learn about an SSD. This is the fourth paper in a series of articles that explain the benefits, types and components of a solid state drive and will go so far as to make up our SSD Beginner Guide. Each article is designed to be easily understood and will enable the reader to become proficient in every aspect of the SSD as it relates to their specific computing needs."

Verbatim SATA II 2.5 128gb SSD Upgrade Kit @ TestFreaks

Verbatim recently announced at this year?s CES the line of SSD products which include both SATA II and SATA III versions. Today we will be looking at the SATA II 2.5 inch SSD upgrade kit. It is designed to replace hard drives in it either notebook or desktop configurations. It includes preloaded cloning software making the transition from hard drive to SSD seamless. "

Intel SSD 520 Series 240 GB @ ocaholic

It`s been quite a suprise that Intel chose to release a Solid State Drive based on a SandForce SF-2281 controller. Meanwhile the chip giant has an entire line-up of SandForce based SSD. Today for review we have the 240 Gigabyte model that uses synchronous NAND flash an promises blistering fast performance."

LSI MegaRAID SAS 9265-8i RAID Controller Review

For years I`ve talked about RAID tuning and even gave some examples on a small scale. The LSI 9265-8i that we are looking at today takes the ability to optimize your RAID arrays to new levels and does so with a very easy to navigate user interface. The base controller with its dual-core ROC processor and 1GB DRAM cache has become the industry standard, but LSI didn`t stop there. Add on packages like LSI`s FastPath and CacheCade further enhance usability based on user need. When our 9265-8i sample first arrived we were in the process of building a super computer based on the EVGA SR-2 dual Xeon enthusiast`s board. At the time LSI was having issues with a handful of enthusiast class motherboards with the SR-2 being one of them. Since that time LSI and the motherboard makers have found and corrected several if not all of the issues. There was a time though when enthusiasts were pounding their heads against the wall trying to make everything mesh as it should."

News: OCZs Octane 128GB solid-state drive

We were impressed by OCZ`s Indilinx-powered Octane SSD when we reviewed the 512GB version last year. Now, we have the 128GB model in-house to see if the Octane`s appeal extends to the sweet spot."

500GB Seagate FreeAgent GoFlex Ultra-Portable Hard Drive Review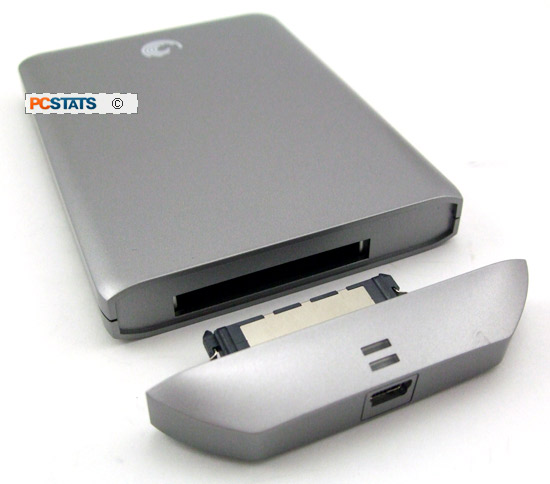 "The Seagate FreeAgent GoFlext Ultra-Portable hard drive is more than just a portable 2.5" SATA HDD. key to the system's brilliant usefulness is that Seagate designed this hard drive to interface with a series of modular cable interface adaptors, docks and a media player. It's what you'd call, really very flexible. But that's not all... Seagate made the core FreeAgent GoFlex hard drive so it will slot into the companies' TV HD Media Player product, interfacing via the drives native SATA port. Sliding a hard drive into the Media Player is a quick and simple way to open up access to hundreds of gigabytes of digital content on the spot.


SSD NEWS: Intel 520 SSD Review (Round Two) - RAID Testing at 1.5GB/s With Highpoint 2720SGL RAID Controller

Our release yesterday of our Intel 520 SSD Review (Round One) was probably one of the most anticipated events seen yet in the SSD arena and, if sales can be determined by the extreme numbers of readers who visited the site, Intel will do very well. In that review we made a promise, this being that we would follow up with the absolute best in RAID testing possible, displaying results only we could pull off. Welcome to Round Two folks and get ready for the knockout punch!"