[>>]

[>>]

[>>]

[>>]

More>>

Search...

| | |
| --- | --- |
| Hard Drives/SSD | |

... 7 news stories awaiting approval
Seagate Backup Plus Slim External USB 3.0 2TB Hard Drive Review

The focus of this PCSTATS review is Seagate's 2TB Backup Plus Slim external USB 3.0 hard drive. The Backup Plus Slim is a self-contained 2.5" SATA-600 interface hard drive in a black aluminum and plastic enclosure which connects via USB 3.0 cable to any PC or Mac computer. The whole package weighs 150 grams and is just over 12mm thick - about the size of a smart phone. Power for the drive is supplied via the USB 2.0 or USB 3.0 port.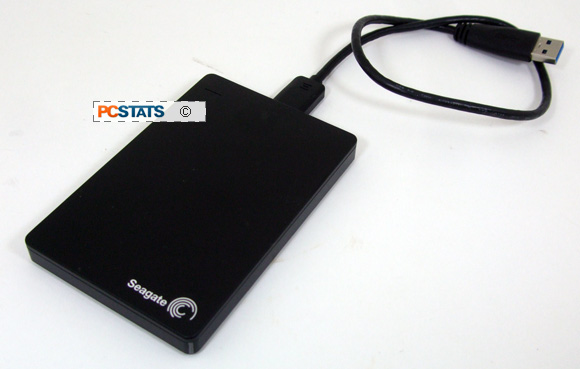 The Backup Plus Slim looks every bit like the Monolith from Kubrick's 2001:A Space Odyssey, but inside is a not particularly remarkable 5400RPM, 3-platter hard disk with 32MB of cache. The 5400RPM drive does the job, but certainly won't break any speed records. Seagate's Backup Plus Slim is covered by a 2 year warranty

Western Digital Black2 Dual Drive Review (1TB HDD/120GB SSD)

Recent designs in the laptop market are now seeing the availability of both an mSATA connector for SSDs, as well as the typical SATA connector for hard drives; the Lenovo Thinkpad is a great example of this. With the demand for additional capacity, we had also seen adapters which allowed for the swapping of optical drives for an additional hard drive. But what about newer models that have eliminated the optical drive altogether, or older models where you dont want to give up the optical drive?"

Intel NUC KIT D54250WYKH Review @ Legit Reviews

In our September 2013 review of the Intel NUC Kit D54250WYK we told you that Intel was coming up with a version that had an enclosure that was large enough to fit a 2.5-inch SATA HDD or SSD. In October 2013 we were able to get our hands on some early images of Intel NUC KIT D54250WYKH, which is the sku for the taller chassis that comes with the wiring to install a 2.5-inch notebook drive into the NUC for extra storage. Last week at the Consumer Electronics Show we were handed the Intel NUC KIT D54250WYKH, so after waiting patiently for five months we finally have a unit in our possession! Read on to see what the changes are! "

Samsung Announces 840 EVO 1TB mSATA SSD at 1GB/s Speeds

Higher performance and capacities in a smaller SSD form factor is something many of us dream of when considering the advance of this amazing technology and this morning Samsung has tackled just that. Building on their ever popular Samsung 840 EVO Series, Samsung has just announced a new 840 EVO mSATA, fully capable of their RAPID Technology, which means that it will be fully capable of reaching read and write performance up to 1GB/s with RAPID enabled."

WD Black Dual-Drive 120GB SSD + 1TB HDD Hybrid Review @ Legit Reviews

Ever since the emergence of Solid-State Drives, there?s been a conundrum facing laptop users in regards to storage options. Storage could be fast, large capacity, or low price ? pick two of the three. We?ve seen hybrid drives that mesh SSDs with HDDs using a caching method to boost performance but generally the SSD portion is less than ideal. Western Digital has a new spin on this concept with a hybrid drive of a different sort that they?ve aptly named Black². With it, they?ve actually combined a 120GB SSD and a 1TB HDD on a single drive, although separate save for the the SATA III interface they share. Before you go wetting yourself with anticipation, have a look at the performance numbers and our impressions to see if it truly delivers full SSD performance with HDD capacity..."

iStarUSA BPU-124DE-SS SATA/SAS 6Gb/s Hot-Swap Cage

So far at this years CES we`ve witnessed the unveiling of a lot more products than we did last year and that alone is enough for all of us here to be happy not only because that means we`ll have plenty of new things to play around inside 2014 (some may even take a year to become available however) but also because no matter how much innovative and advanced a product is next year we can always expect to see something even better. Of course we still have a long way before consumer oriented products can get closer to industrial/enterprise class ones both in terms of quality and performance but some manufacturers are always doing their best to narrow the gap. iStarUSA is one of those manufacturers and today we will be taking a look at their BPU-124DE-SS 1x5.25 to 4x2.5 SAS/SATA 6Gb/s Hot-Swap cage."

Samsung 840 Pro SSDs now RAPID Compatible and Benched at 1GB/s Speeds

On release of the Samsung 840 EVO SSD earlier this year, Samsung introduced a new caching technology called RAPID Mode, a technology that could increase Samsung EVO SSD transfer speeds up to 1.2GB/s with absolutely AMAZING low 4K random write speeds as well. RAPID Mode could be enabled through the free download of Samsungs SSD Magician and the initial release was disappointing to many 840 Pro SSD owners as RAPID was only compatible with the Samsung 840 EVO SSD. Our review of the 840 EVO was very impressive with RAPID Mode benchmark results as high as 1.1GB/s and transfer speed testing of ISO, program and game files in under 3 seconds."

VisionTek Go Drive SSD Review (240GB)

VisionTek is an American-based company that traditionally has been known for graphic cards, and started to get their feet wet in memory and flash storage back in 2011. This summer VisionTek released the Go Drive consumer SSD lineup, and here at Technology X we get the opportunity to test out the 240GB VisionTek Go Drive."

Western Digital VelociRaptor WD1500HLHX

Our Linux hardware review today is of the Western Digital VelociRaptor, an enterprise-grade HDD that Western Digital claims is the Fastest SATA Hard Drive On The Planet. The Serial ATA 3.0 disk drive spins at 10,000 RPM, but how`s its Linux performance?"


Vantec SATA/IDE to USB 3.0 Adapter Review @ Legit Reviews

The VANTEC USB 3.0 Multi-Memory Internal Card Reader is a 3.5? bay device, designed to fit internally in a standard hard drive location. The VANTEC Internal Card Reader, model # UGT-CR961 has USB 3.0, eSATA and audio ports. The UGT-CR961 is made of plastic and steel with dimensions measuring 135mm x 101mm x 25mm. VANTEC UGT-CR961 supports compact flash type 1, micro SD, SD, SDHC, SDXC, MMC, Microdrive, Memory Stick, PRO, DUO, PRO Duo, Micro, PRO-HG/XC, and xD. "

Western Digital 4TB Drive Roundup @ TechwareLabs.com

Are you in the market for some large storagedrives? The folks at Western Digital have sent us the latest batch of their 4TB drives, and we here at Techwarelabs thought it might be helpful to do a quick 4TB roundup of three of their top four drives to see how they stack up against each other. The three drives we will be looking at today are the Western Digital Red (WD40EFRX), Se (WD4000F9YZ), and Re (WD4000FYYZ). Although we have reviewed some of these drives individually, we thought it would be good to do a comparison review to see what real world difference is between them."


StarTech USB3SDOCKHDV

Today, we'll take a look at StarTech's USB3SDOCKHDV, more specifically labeled the Universal USB 3.0 Laptop Docking Station - Dual Video HDMI DVI VGA with Audio and Ethernet (whew). This docking station carries an MSRP of $155 (currently selling for $123 on Amazon.com) and is well above other StarTech options (such as the $100 USBVGADOCK2, which offers just one video output—VGA—10/100 Ethernet, and four USB 2.0 ports). In terms of street price, it is currently available at resellers such as Amazon for around $125.

RaidSonic ICY BOX IB-121CL-U3 HDD Docking

Desktop Hard Drives were initially designed for people who either always wanted to keep a valid backup of their sensitive data or people who just preferred to have extra space outside of their systems so they could transfer them onto other systems with ease. Of course this changed with the introduction of portable hard drives and although desktop ones still feature higher capacities and data transfer speeds most consumers tend to prefer size over capacity and performance. Professionals however who work with several internal drives most of the time always had need for something more versatile and this is where docking stations came in a while back. Today docking stations have advanced quite a bit and also offer cloning capabilities between two drives something which can be very useful to some people especially professionals. The ICY BOX IB-121CL-U3 HDD Docking & Clone Station by RaidSonic is one such device and today we have it on our test bench.

OCZ Vertex 450 @ LanOC Reviews

The last time we took a look at a full SSD I was extremely impressed. That drive was the new Vector drive from OCZ, at the time a departure from what they had been doing. Around the same time as our review, OCZ introduced their new Vertex 450 drive that shares a lot with the Vector that I was especially impressed with. The 450 is designed to give you the same Barefoot Indilinx Barefoot 3 controller in the same aluminum shell but with 20nm MLC NAND rather than the 25nm MLC NAND that the Vector has. Let's find out if the Vertex 450 is as impressive as the Vector.



The best Guides by the best writers on the internet; PCSTATS Beginners Guides explain computers, software, and all those other wonderful things that cause you frustration.

Learn how to use your computer better, master the internet while protecting yourself, and know what to do when your hard drive kicks the bucket.



"Get the 'Stats and Stay Informed!"