| | |
| --- | --- |
| Hard Drives/SSD | |

... 8 news stories awaiting approval
ToughArmor MB516SP-B 16x SSD Mobile Rack Review from PCPer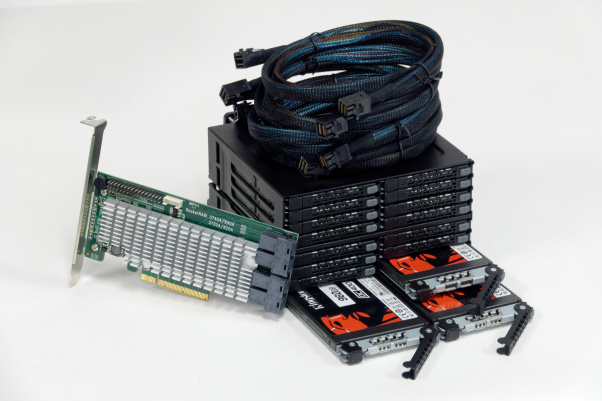 PCPer.com has released a review on the ToughArmor MB516SP-B. This brand-new model supports up to 16 2.5" HDD or SSDs, all in two 5.25" external drive bays. This detailed review covers package contents, detailed specifications, design, installation, and benchmark testing, aided by photos. He also discusses its applications in high-density computing and use with a RAID card to make connecting all 16 drives easy.

Patriot Scorch 256GB M.2 NVMe SSD Review

Are you looking for a low cost entry-level M.2 PCIe NVMe drive and don't need a ton of storage capacity? The Patriot Scorch Series of M.2 PCIe NVMe drives might be what you are looking for. Patriot Scorch drives are rather affordable as you can pick up the smallest 128GB model for $49.99 or for those that are needing a little more storage space the 256GB model can be purchased for $84.99 shipped. Not bad pricing considering they offer sequential performance of up to 1700 MB/s read and 780 MB/s write!

WD Black NVMe 1TB SSD Review

WD's first NVMe drive to carry the Black label – the Black PCIe – was something of a disappointment in terms of performance, to say the least. While it was true to say that it was, up till now, the fastest ever Black drive, it was no match for many of its direct competitors. Now we have the 2nd generation NVMe Black drive – the WD Black NVMe, and it's a whole different animal.

Samsung 970 EVO M.2 NVMe SSD Review (500GB/1TB)

For some time now, Samsung has used a marketing approach with respect to flash media that accommodates both business and the consumer. They produce the Pro M.2 NVMe SSD series for business and media needs and the EVO M.2 NVMe family for consumer use, and at a relatively modest price point. One has top performance and the other…is a bit more value conscious. The Pro line uses their 2-Bit V-NAND MLC memory while the EVO line combines 3-Bit V-NAND MLC (TLC really) with Samsung' TurboWrite technology. Both the Pro and EVO lines have seen a great deal of success and are easily recognized as a staple in the SSD community.


Samsung 970 Pro M.2 NVMe SSD Review (1TB)

Let's start this summary by putting into perspective just how well the Samsung 970 Pro 1TBV NVMe SSD performed in our rather lengthy test regimen. For a SSD to do well in testing, we might expect it to excel at most of these tests. For it to be looked at as one of the best, we might count on it being the best we have seen at one or two of the tests. In our testing over the past few days, The Samsung 970 Pro 1TB NVMe SSD has proven to be the best at every test we threw at it, most of these tests by a healthy margin.

Kingston A1000 480GB NVMe SSD Review

It's a sign of just how swiftly the NVMe SSD market is maturing that drive manufacturers are starting to turn their attention away from the mainstream/high-end market segments to battle it out at the other end of the market where the real money is made – the entry level/value market space. The latest company to join the fray is Kingston with its A1000, priced at £240.

Samsung SSD 970 Pro And 970 EVO Review

Samsung has been at the forefront of NVMe-based solid state storage essentially since the standard's inception. The Samsung SSD 960 Pro and 960 EVO that were released all the way back in 2016, have been among the best performing, most sought after M.2 NVMe-based gumsticks available ever since their initial debut. It's kind of hard to believe the 960 Pro and 960 EVO have been riding high for so long in such a rapidly advancing space, but it's true. Samsung, however, is finally ready to supplant its popular drives with the brand-new – you guessed it – SSD 970 Pro and 970 EVO series that we're going to be showing you here today...


Samsung SSD 970 EVO NVMe 1TB SSD Review

Samsung today introduced the Samsung 970 PRO and EVO, the third generation of their NVMe SSD lineup. We have two reviews today, but only wanted to spam you with one e-mail.

Intel Optane SSD 905P caught

"The Intel Optane SSD 905P caught us a bit by surprise, but it offers a welcome refresh to the Intel Optane lineup. The performance is only an incremental upgrade over the 900P, but the 905P offers a doubling of the available capacities of both the HHHL and U.2 form factors. The add-in card adds a sharp design complete with diffused blue lighting effects - something we thought would never make it past concept form. All of that said, the cost/GB does take a hit, which becomes more painful for those who were hoping to find a value-add Star Citizen license in the box. Despite the higher price, the Intel Optane SSD 905P offers performance matching Intel's Optane enterprise SSDs at a significantly reduced, more consumer-friendly cost."


WD Blue 2TB Hard Drive WD20EZRZ Review

Most review sites don't bother reviewing hard drives these days, but after reviewing 18 different Solid-State Drives in 2018 alone we needed a break. Old school hard drives are still the most cost effective way to store gobs of data and if you aren't accessing that data often, there is nothing wrong with having a hard drive in your PC. Read on to see how this 2TB 5400RPM hard drive performed on an Intel Z370 platform!

Best Storage Devices: SSD, HDD, External Drives & NAS

With solid state drives now fully mainstream and hard drives being more affordable than ever, there is a broad a mix of high-performance and high-capacity options to choose from in a range of form factors. Fortunately for you, we have spent dozens of hours testing storage devices, so we have a pretty clear idea about what devices are worth buying.

Toshiba X300 5TB SATA III HDD Review

Featuring an very high MTBF of 1.4 million hours, very good read/write performance and a very attractive price tag the X300 5TB SATA III Hard Disk Drive by Toshiba is certainly worth considering especially if you're on a tight budget.