| | |
| --- | --- |
| Hard Drives/SSD | |

... 3 news stories awaiting approval
LaCie D2 Thunderbolt 3 10TB Professional Storage Drive Review

Professionals and enterprise users looking to get their hands on the fastest and highest capacity single HDD external enclosure in the market today should really look no further than the D2 Thunderbolt 3 10TB Professional Storage Drive by LaCie.

LaCie d2 Thunderbolt 3 10TB external drive Review

LaCie's external storage drives have been around for quite some while – since the Speed 2 in the late nineties. Sitting under the company's professional banner, the d2 Thunderbolt 3 drive is the latest D2 family member of Neil Poulton designed external hard drives. The flagship of the range is the massive 10TB model we are looking at today.

Micron 5100 ECO and MAX SSD Review: High-Capacity

Today, we have two Micron 5100 series drives gracing our testbench, a 960GB 5100 MAX and a spacious 1920GB 5100 ECO. These can both be considered the economical cousins of Micron's 9100 MAX NVMe speed demon we reviewed last year. The 9100 MAX costs north of $1.00 per GB, however, while the 5100 ECO and MAX register at around $0.45 and $0.59 per GB, respectively. Unlike the 9100 Series, which is built on MLC NAND flash, the 5100 Series utilizes cheaper 3D TLC NAND controlled by a 4-channel Marvell controller. TLC NAND is not typical in enterprise grade drives due to its tendency to wear out more quickly than MLC or SLC NAND. On the other hand, TLC NAND does facilitate higher capacities. So, what has Micron done to make their TLC drives enterprise ready? The answer is abundant over-provisioning...

The Best Storage: SSD, HDD, NAS & More

With dozens of hours testing storage devices under our belt in the last year alone, we have a pretty clear idea of what are the top devices you should buy right now, divided into six categories: Best performance SSD, best value SSD, best hard drives, best portable storage, best external storage device and best home/SMB NAS.

Intel Optane technology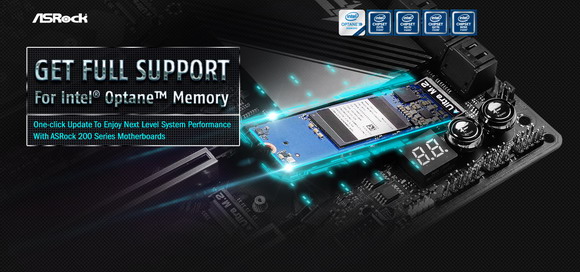 Intel® Optane™ technology is here! Get ready for this revolutionary technology with ASRock 200 Series motherboards! Intel® Optane™ technology accelerates attached SATA device to reduce boot and load times, giving a faster and more responsive system. With just a few steps, you can update BIOS and install needed driver via ASRock Appshop in seconds!
Installing Intel® Optane™ Memory is not hard but requires lot of steps, ASRock has simplified the process with an unique 1 click install software built in the ASRock APP Shop. Now you can update BIOS and install needed driver for Intel® Optane™ Memory within just a few clicks!


ICY DOCK ICYCube Quad Bay 2.5" & 3.5" SATA External

ICY DOCK has released yet another quality quad-bay external enclosure for 2.5"/3.5" drives but the ICYCube falls short in pretty much everything but performance compared to the far more affordable Black Vortex model.

Noontec-TerraMaster D2-310: Direct Attached Storage with a kick.

D2-310 is a direct attached storage device by Noontec-TerraMaster. Most of the market is moving away from DAS devices to network based devices however, there is still a need for simple and fast solutions to store data locally. D2-310 offers USB 3.1 connectivity and supports RAID redundancy in a two bay shell. Whether you are looking for a device to …

Team Group T-FORCE CARDEA M.2 480GB SSD review

We review the new Group T-FORCE CARDEA M.2 480GB NVMe SSD. This slice of M.2 NAND is fast and even has been fitted with a large heatsink. Will Team Group be able to deliver a unit that manages to impress?

BeyondRAID

"Drobo's 5N2 combines their long-standing tradition of dead simple setup and configuration with increased speed through a pair of bonded Gigabit Ethernet interfaces. Bonding takes the 5N2 from a device that can perform solidly on two separate networks to one that can offer almost twice the performance on a single subnet. While Drobo increased the processing capability to support the additional network throughput, we were beginning to encroach upon the seek performance of NAS-grade HDDs when attempting to serve two simultaneous Gigabit streams. DroboApps has grown to cover the majority of things you would possibly want to run on a home NAS, and DroboDR offers off-site backup (to another Drobo). Overall, the combination of Drobo's BeyondRAID, bonded Gigabit Ethernet, 5 drive bays, and a competitive price point, make for a compelling NAS package worthy of serious consideration for any home or small business network storage needs." Ryan Shrout

SanDisk Extreme Pro 240GB SSD Review

The product name 'Kingston HyperX Alloy FPS Mechanical Gaming Keyboard' is wider than the keyboard itself. As you can summarize from its name, it is aimed towards First Person Shooting? You would speculate that Kingston would eventually have MMORPG/MOBA keyboard with on-the-fly macro keys. Kingston isn't very shy to diversify, similar to Corsair. Once known for flash and memory products, Kingston has a good reputation for selling headphones and headsets of different make, features and pricing.

Crucial MX300 525 GB M.2 SSD Review with Thermal Video

After our test of Crucial MX300 2 TB SSD we take a look at the 2280 M.2 SSD from the MX300 series. We test the Crucial MX300 525GB M.2 SSD and compare the benchmarks with SSDs from Intel, Samsung and other SSDs. Another subject is particularly interesting at M.2 SSDs and that is the temperature of M.2 SSDs. For this reason we have taken pictures with a thermal imaging camera and even published a M.2 thermal video in our OCinside YouTube Channel, where the M.2 temperature is shown during a benchmark in 4x speed!

Drobo 5N2 NAS Review

We reviewed Drobo's 5N home/SOHO 5-bay tower NAS last year and now the next generation 5N, the 5N2 has arrived. Drobo claim it's their fastest 5-bay NAS to date with a more powerful processor than the original as well as an additional LAN port to offer improved network performance and failover protection.

Toshiba P300 3TB HDD Review

When thinking about the good fashioned rattly mechanical desktop hard drives, Toshiba isn't usually the first name that springs to mind but they offer three ranges of 3.5in drives from Low Energy models to high-performance ones. Today we look at their latest P300 series – in a 3TB capacity.