[>>]

[>>]

[>>]

[>>]

More>>

Search...

| | |
| --- | --- |
| Hard Drives/SSD | |

... 0 news stories awaiting approval
Crucial BX300 Review

The Crucial BX300 is available in capacities of 120GB, 240GB and 480GB – we've been supplied with the 480GB for testing. Typically, the SATA interface, regardless of the relatively poor performance when compared to PCI-E solutions, is more than enough for a typical user, offering up to 550MB/s transfer speeds; PCI-E SSDs are also more expensive, which adds to the appeal of a SATA SSD.

Crucial BX300 480GB SSD review

Crucial today unleashes their new BX300 SSD series SSDs, which we review. These units are all about value for money. But it does not stop there as these puppies remain fast and very effective for the dough you lay down at that counter. We review the new 480GB model, the most price-competitive mainstream SSD with up-to high-end class SATA3 performance.

HP S700 Pro 1 TB SSD review

We test a new HP S700 Pro SSD series, the rather properly volume sized 1024 GB (1 TB), model which we will review. The S700 Pro series offers a compete range of good performing storage products, yet price-competitive at mainstream to high-end class SATA3 performance.

Two PCIe NVMe SSDs Tested On Six Motherboards By Intel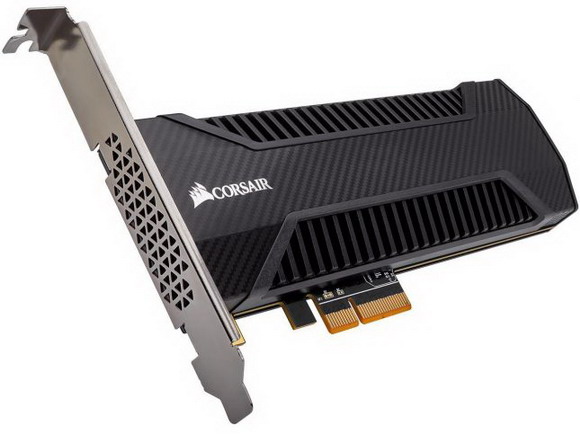 When Corsair sent us their new Neutron NX500 400GB NVMe PCIe AIC SSD to review we weren't impressed by what we were seeing from Corsair's new flagship storage drive. We tried the AIC in all available PCIe slots and saw no change. We 1024K aligned the drive per instructions from Corsair and saw no change. We tried different secure erase methods and again there was no change. So, we changed platforms and saw performance more than double in some areas... Read on to see what happens when we try this drive and another in six different motherboards from Intel and AMD.

ADATA Launches the IM2S3338 and IM2S3334Industrial-GradeM.2 Solid State Drives

ADATA Technology, a leading manufacturer of highperformance DRAM modules and NAND Flash products,today launched the industrial-grade IM2S3338 M.2 2280 and IM2S3334 M.2 2242 SATA 6Gbps solid state drives. Both utilize the compact M.2 form factor for an easy fit in various installations and transfer data at up to 560MB/s read and 525MB/s write. They use durable and long-lasting 3D NAND, MLC/TLC for the IM2S3334 and TLC on the IM2S3338. The two drives are carefully tested for survivability in extreme temperatures and humidity as well as resistance to shocks and vibration. ADATA integrates LDPC error correction to promote data integrity plus DRAM and SLC caching to help sustain peak performance on both model ranges.
Ever-expanding industrial storage portfolio ADATA continues to place an emphasis on serving industrial and commercial applications such as manufacturing, surveillance, retail, transportation, and medical care. The IM2S3338 and IM2S3334 provide additional options, this time in the M.2 form factor. The IM2S3338 uses 3D TLC in capacities from 128GB to 1TB. It delivers 560MB/s read and 520MB/s write. The IM2S3334 carries highly durable 3D MLC NAND in 120GB to 512GB, and 3D TLC in 128GB to 512GB, and runs at up to 560MB/s read and 525MB/s write. Users therefore get a comprehensive range of models to choose from based on required capacity and planned budget.
Built to work hard Like all ADATA industrial-grade SSDs, the new models are tested for wide temperature ranges. The IM2S3334 3D MLC is rated for an extreme -40 to 90 degrees Celsius, while the IM2S3338 can operate in 0 to 70 degrees. Both are certified for 5 to 95 percent relative humidity, 20G vibration resistance, and 1500G/0.5ms shock endurance.
Wealth of added features To boost SSD longevity and data integrity further, all models support S.M.A.R.T diagnostics, wear leveling, EMI protection, and low density parity check error correction. They also provide power fail protection and recovery through onboard capacitor reserves, secure erase for extra confidentiality, and TRIM command for smarter capacity utilization.


Toshiba N300 6TB High Reliability Hard Drive For NAS Review

Interested in a new NAS and you don't know which HDDs to pair with it? Toshiba might have the answer to that with their latest N300 High Reliability Hard Drive For NAS line since the 6TB variant has nothing to be jealous of other NAS oriented models like the IronWolf by Seagate.

HP SSD S700 PRO 1TB Solid State Drive Review

Relative to solid state storage, one terabyte is an enormous amount of near-instant drive space. Adding to its appeal is the cost of solid state technology, which has doubled its storage capacity per dollar from just one year ago. HP suggests top speeds up to 570 MB/s for reads and 525 MB/s writes from their 1TB SSD S700 PRO, which utilizes 3D NAND to deliver impressive storage density and reliability. In this article for Benchmark Reviews, we test the 1TB HP SSD S700 PRO (2.5? SATA model 2LU81AA#ABL) against other solid state drive competition.

Samsung 960 EVO 1TB M.2 NVMe SSD Review

With the quite impressive 960 EVO 1TB M.2 NVMe SSD (and their 960 PRO model obviously) Samsung has made it clear once again that they sit at the top of the high-performance solid state drive market.

ADATA Releases the SE730H 3D NAND USB-C External SSD

ADATA Technology, a leading manufacturer of highperformance DRAM modules, NAND Flash products, and mobile accessories today launched the SE730H external solid state drive, an update of the best-selling SE730. The SE730H performs at 500MB/s read and write, and moves to 3D TLC NAND for increased durability and longevity, while remaining one of the most compact external SSDs worldwide. It has a reversible USB-C connector for greater convenience, and a stylish metallic design. Data transfers use USB 3.1 Gen 2 (up to 10Gbps). Importantly, the SE730H meets IEC IP68 dust and water proof requirements, as well as military-grade shock mitigation standards. Available in 256GB and 512GB, the SE730H is Windows, Mac OS, and Android compatible for seamless cross-platform usage.
Super compact with the benefit of 3D NAND While previous generation SE730 drives were only available in 250GB, the shift to high quality 3D TLC NAND has allowed ADATA to offer the SE730H in up to 512GB. At the same time, the SE730H maintains is compact footprint as the smallest device in its class (external USB-C 3D NAND SSD). It weighs a mere 33g, and users can choose from gold or red metallic color schemes. With 3D TLC NAND, the SE730H delivers more than just bigger capacity: 3D NAND is also around 25% longer-lasting than 2D NAND, and more reliable for the life of the product while consuming less power, a plus for paired device batteries. In terms of performance, the SE730H reaches 500MB/s read and write, or about five times the speed of external mechanical drives.
With reversible USB-C, connecting devices no longer involves checking plug alignment, as there is no up or down. The SE730H connects to USB-C capable devices the first time, every time. It does so with support for USB 3.1 Gen 2, or real USB 3.1 – which allows for up to 10Gbps as opposed to 5Gbps on USB 3.0/USB 3.1 Gen 1. At those speeds, a 5GB file takes just 16 seconds to move, and a big AAA game requires less than a minute. ADATA includes a USB-C to USB-C cable in the box.
Small but mighty tough on multiple platforms The SE730H passes IEC IP68 tests, meaning complete dust-tight protection and water proofing to 60 minutes in 1.5 meters of water. It also meets MIL-STD-810 516.6 impact and shock resistance requirements, resulting in a product that can easily handle active lifestyles to keep stored data safe. The SE730H works in plug n play with no drivers needed on Windows, Mac OS, and Android, allowing for easy content sharing and portability across devices, from smartphones to desktops.

Corsair Neutron NX500 800GB SSD Review

Corsair might not be the first name that springs to mind when thinking about SSDs but the company has a portfolio of drives for the mainstream and high-performance ends of the drive market. The latest drive joining the latter market segment is the Neutron NX500.

Crucial Announces BX300 Solid State Drive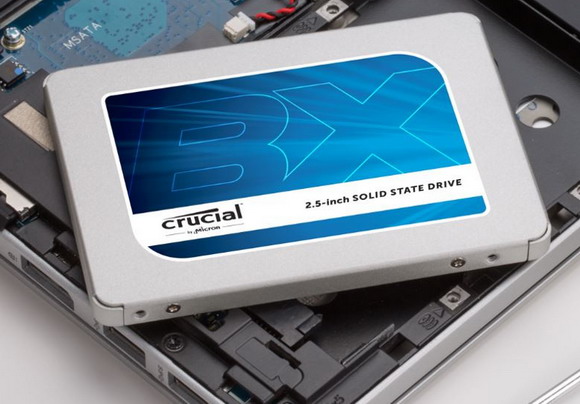 Crucial has released a new offering in its solid state drive product portfolio: the BX300 SSD. According to Crucial, the BX300 combines Micron 3D NAND in a value-conscious design to deliver the features DIY upgraders and builders are after. The new SSD includes 3D MLC NAND in a 2.5-inch form factor drive (covered by a 3yr warranty) and is available in 120GB, 240GB, and 480GB capacities. Perhaps just as importantly, the BX300 SSD comes with a copy of Acronis True Image HD software to make porting over your data from a tired old HDD to the fast new SSD as painless as possible.
"Upgrading from a traditional hard drive to a solid state drive has never been easier. The Crucial Advisor tool helps users determine a compatible upgrade based on their system's manufacturer, make, and model. Supporting the BX300 is Crucial's mobile-friendly install guide so users of all technical ability levels are armed with the straightforward, step-by-step information they need to successfully install an SSD. Data migration is also simplified with free access to Acronis True Image HD software."
Says Crucial - "The BX300 is a simple-to-use SSD for the everyday consumer and DIYer who's looking to easily boot up and load apps faster. With its speed, efficiency, and easy install process, the decision to replace an old hard drive has never been easier," said Jonathan Weech, Crucial worldwide product manager. "As a brand of Micron, one of the largest flash storage manufacturers in the world, the new Crucial BX300 SSDs will help consumers extend the life of their older computers with best-in-class quality and innovation."
"Silicon Motion is proud to extend our support to the popular Crucial BX line with the latest BX300 SSD" said Robert Fan, President of Silicon Motion U.S.A. "The combination of our leading-edge SM2258 controller with Micron 3D NAND enables high performance, reliability and excellent value for our customers."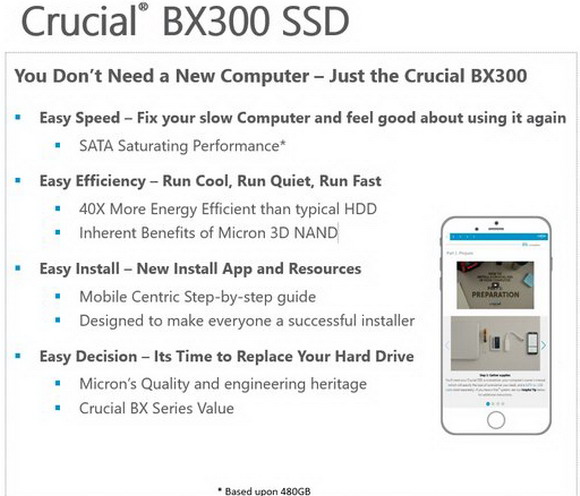 Crucial SSDs have been established, proven, and tested for over seven generations, and the BX300 is supported by the Crucial Storage Executive software tool for easy drive maintenance. Available exclusively for immediate purchase at Crucial.com or at Amazon.com, the BX300 is backed by a three-year limited warranty. For more information, visit the Crucial solid state drive product page.

ADATA Releases the XPG SX9000 PCIe Gen3x4 NVMe 1.2 SSD

ADATA Technology, a leading manufacturer of high performance DRAM modules and NAND Flash products, today launched the XPG SX9000, its fastest consumer SSD yet. The SX9000 caters to gamers and PC overclockers. It arrives in an M.2 2280 form factor and uses the PCIe3x4 interface to deliver up to 2800MB/s read and 1450MB/s write. ADATA has selected a new Marvell controller to ensure consistently optimized performance, while in-house ADATA manufacturing, assembly, and quality control result in up to a 1000TB terabytes/total bytes written (TBW) rating. The SX9000 uses MLC NAND Flash and ships in 256GB, 512GB, and 1TB capacities.

The SX9000 goes even beyond the XPG SX8000 thanks to balanced ADATA design and the integration of a new Marvell controller. It reaches 2800MB/s read and 1450MB/s write, leveraging the PCI Express Gen 3x4 interface and the NVMe 1.2 protocol. A compact M.2 2280 drive, the SX9000 also manages 310K/240K IOPS random 4K read/write. For fast boot, reduced cross-drive transfer times, shorter game loads, and quicker in-game asset delivery, the SX9000 offers an excellent foundation.

Long life through careful production ADATA quality assurance and in-house, outsource-free production lead to a long product lifespan. The SX9000 is rated for a TBW of up to 1000TB, at least 20% more than the longest-lasting 2.5" SATA consumer SSDs currently available. Similarly, it has a 2 million hour MTBF (mean time between failures) rating. On the data integrity side, the SX9000 supports low density parity check error correction and wear leveling, among other fidelity-enhancing features.

The high speed and tolerances of the SX9000 make it a great choice for speed-seeking gamers, overclockers, and professionals such as graphics/render artists and compositors. Customers can choose from 256GB, 512GB, and 1TB versions of the SX9000. Additionally, the retail package includes a stylish black heat spreader with the XPG logo that users can opt to DIY install on the SX9000 quickly and easily, as it has thermal compound pre-applied. This way, customers can use the SX9000 with or without a heat shield based on preference and specific system conditions. This is in keeping with the ADATA and XPG dedication to providing more flexibility.
The SX9000 offers the added benefit of an extended 5-year warranty as befits its premium quality.
MSRP XPG SX9000 PCIe Gen3x4 NVMe 1.2 SSD 256GB /USD159.99
512GB /USD289.99
1TB /USD589.99


Phison's new E7 controller

"As SSDs go, the Corsair NX500 is a thing of beauty. The Phison E7 controller offers good performance, and the industrial design is very well thought out, making the NX500 a likely default choice for those wanting to show off their SSD in a custom PC build. With great looks comes a greater price tag, so those who will only hide this SSD in a generic case hidden under a desk will likely be better off going with a lower cost solution, some of which offer even higher performance."

Corsair Neutron NX500 NVMe SSD Review (400GB)

This is the Corsair NX500. While it doesn't come in a compact M.2 form factor, the NX500 is a PCIe NVMe SSD that boasts similar, and in some cases better, performance than the MP500 as well as higher endurance. How is this you may ask? It's pretty simple actually. By over provisioning the SSD, or allocating less usable space to the end user, the SSD is able to have more scratch space, so to say, to utilize for background tasks such as garbage collection. With this added space for the controller to use, as well as a larger DRAM cache, heavy workload performance should improve and endurance should increase. Furthermore, the NX500 features a very large heat sink which, while could be over kill, adds a lot to its aesthetics and keeps the powerful Phison E7 controller cool. But with these refinements and enhancements, is it going to be a better buy for enthusiasts than everything else out there already? Do the improvements and aesthetics make it worth your while? Read on and find out!

iStorage diskAshur2 Review

The new iStorage diskAshur2 is a specialized, external hard drive geared toward security conscious consumers. The diskAshur2 is a little pricey, and although it's no slouch in the speed department (we'll get into that in a bit), it's certainly not going to compete with that shiny new internal SSD you've got your eye on in terms of transfer speeds. But here's the thing: It's plenty fast enough for just about anything you'd want to do, and just as importantly, it's both rugged and secure. So, despite a somewhat lofty asking price, the diskAshur2 is actually a pretty good deal. If you need its feature-set, you'll be happy to have made the investment for the added security layer...



The best Guides by the best writers on the internet; PCSTATS Beginners Guides explain computers, software, and all those other wonderful things that cause you frustration.

Learn how to use your computer better, master the internet while protecting yourself, and know what to do when your hard drive kicks the bucket.



"Get the 'Stats and Stay Informed!"