| | |
| --- | --- |
| Hard Drives/SSD | |

... 3 news stories awaiting approval
Intel's VROC (NVMe RAID) technology

We've been hearing about Intel's VROC (NVMe RAID) technology for a few months now. ASUS started slipping clues in with their X299 motherboard releases starting back in May. The idea was very exciting, as prior NVMe RAID implementations on Z170 and Z270 platforms were bottlenecked by the chipset's PCIe 3.0 x4 DMI link to the CPU, and they also had to trade away SATA ports for M.2 PCIe lanes in order to accomplish the feat. X99 motherboards supported SATA RAID and even sported four additional ports, but they were left out of NVMe bootable RAID altogether. It would be foolish of Intel to launch a successor to their higher end workstation-class platform without a feature available in two (soon to be three) generations of their consumer platform.

ADATA SD700 External SSD Wins Good Design Award2017

ADATA Technology, a leading manufacturer of highperformance DRAM modules, NAND Flash products, and mobile accessories is proud to announce that the SD700 external 3D NAND SSD has been bestowed with a Good Design Award 2017. Hosted by the Japan Institute of Design Promotion, Good Design Awards (or "G Marks") are considered among the most prestigious and respectable design accolades in the world.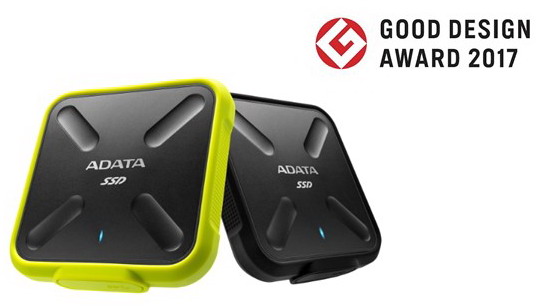 The SD700 was selected by the Good Design panel for its delivery of professional-grade durability in a highly compact, portable, and lively design package. The SD700 boasts IEC IP68-rated dust and waterproofing plus US Army MIL-STD-810G shock resistance, yet does not resort to a bulky or rough appearance. Instead, ADATA designers have achieved an appealing multi-element presentation, with a pliable wraparound material co-existing alongside a tough internal shell. The SD700 fits easily in the palm of a hand and weighs just 75g. It is offered in yellow/black and all-black color scheme options. ADATA is truly honored that the SD700 has secured a place among the select few chosen for a 2017 Good Design Award, showing it is indeed in esteemed company. The SD700 was selected from many hundreds of entries, indicating its dual successes as technological innovation and work of art.
Durability and technological innovation combined
The SD700 offers consumers a 3D NAND SSD capable of up to 440MB/s read and write, four times faster than ruggedized external HDDs. Its 3D NAND enables higher density, faster performance, and increased reliability compared to older 2D NAND. The SD700 is available in up to 1TB capacity, and provides near universal compatibility via USB with PC, Mac, and game consoles.
About the Good Design Award
Organized by the Japan Institute of Design Promotion (JDP), the Good Design Award is a comprehensive annual program dedicated to the evaluation and commendation of technology design. The award's origins stem from the "Good Design Selection System" award established in 1957 by Japan's Ministry of International Trade and Industry. Since then, the award has been bestowed upon approximately 40,000 outstanding designs for more than 55 years.

Western Digital Blue SSD Review

The WD Blue comes equipped with 64-layer 3D NAND paired to a Marvell 88SS1074 controller and is available in capacities of 250GB, 500GB, 1TB and 2TB. The drive also makes use of two distinctly different form factors, 2.5" (7mm) SATA 6GBPS or SATA M.2 2280.


Toshiba OCZ TR 200 960 Gigabyte Review

With their OCZ TR 200 series, Toshiba has a line of SSDs in their portfolio that comes with BiCS3 memory, which is based on 3D-NAND with 64 layers. This allows the vendors to crate high capacity drives at aggressive price points. Looking for the controller we find the proven TC58 from Toshiba and we're rather curious to find out how this drive does in our review.

Toshiba TR200 960GB SSD Review

As from this year all Toshiba's retail SSD's will carry the Toshiba brand name but will have OCZ performance "DNA" under the skin, with the OCZ name being used as a sub-series. The Toshiba TR200 series are the first Toshiba retail drives to ship with Toshiba's own 64-layer 3D TLC BiCS NAND.

Crucial BX300 3D MLC SSD Review: Affordable

Crucial recently launched a new series of solid state drives that somewhat defy convention. While a number of other recent releases feature various flavors of TLC NAND, the Crucial BX300 series we'll be showing you here actually features 3D MLC NAND flash memory. In the current SSD landscape, MLC NAND isn't typically used for consumer-class SSDs any longer, especially in lower-priced offerings, but Crucial is bucking the trend this time around...

Toshiba L200 1TB 2.5-inch Internal Hard Drive Review

It may not bring anything new on the table in terms of read and write performance but thanks to its low temperatures and electrical requirements and affordable price tag the 7mm thick L200 1TB 2.5-inch hard drive by Toshiba could be exactly what you've been looking for to expand the storage space of your laptop and/or game console.

Synology DS416 Review

The Synology DS416 is aimed at small businesses or home users seeking a fast, high capacity central data storage with cloud functionality. Armed with a 1.4GHz dual-core processor, 1GB of DDR3 memory and dual Gigabit LAN, the DiskStation claims speeds of 220MB/s read and 140MB/s write. 40TB of data can be stored securely within the DS416, with single or dual-disk redundancy possible.

Samsung T5 500 GB Portable USB 3.1 SSD Review

On OCinside.de we have an external Samsung T5 Portable 500GB USB 3.1 SSD in the test, today. The special feature of this external USB SSD is that it supports USB 3.1 Gen2 at up to Gb/s and can reach or even exceed speeds of an internal SATA3 SSD. The matching USB 3.1 Type-C cable and USB-C to USB 3.1 Type-A cable are included in the delivery. In the following Samsung Portable SSD T5 review we will clarify if the performance in practice succeeds and we also explain what you can do if the USB 3.1 port is too slow. Of course we compare the external USB 3.1 SSD with dozens of SSD benchmarks and show infrared thermal images of the new Samsung T5 SSD as well.

SanDisk SSDs With 64-Layer 3D NAND Revealed

These are the world's first consumer-grade solid state drives that use the 64-layer 3D NAND technology to deliver lower power consumption with higher performance, endurance and capacities.

WD My Passport SSD 256GB Review

WD has a number of drive ranges sitting under the My Passport banner including the WiFi equipped My Passport Wireless Pro, all based around standard hard drives. However the latest addition to the range, the diminutive My Passport SSD offers a different level of performance altogether to the rest of the family.

CORSAIR Neutron NX500 NVMe PCIe Gen.3 x4 Add-In Card SSD Review

The Neutron NX500 NVMe PCIe Gen.3 x4 Add-In Card SSD by CORSAIR is by far not only one of the most interesting solid state drives to get released in 2017 but also offers high sustained read & write performance levels making it the ideal solution for enthusiasts and professionals alike.


Crucial BX300 480 GB

Crucial's new BX300 SSD is not only affordable, but also impresses with excellent performance that's right up there with the best SATA drives in our test group. The secret sauce is clearly the use of MLC flash, which offers better write performance than TLC, lasts longer and is trusted by users.