[>>]

[>>]

[>>]

[>>]

More>>

Search...

| | |
| --- | --- |
| Hard Drives | |

... 3 news stories awaiting approval
3D V-NAND budget TLC drives

With 3D V-NAND and new budget TLC drives grabbing all the recent headlines, it's nice to kick back and enjoy some SSDs with tried-and-true planar MLC flash. We put Transcend's SSD370 solid-state drives through our testing gauntlet to see how they measure up.

OCZ Trion 150 480 Gigabyte Review

With their Trion 150 series, OCZ shows their second generation of drives with TLC NAND. Therefore it's rather obvious that OCZ is about to continue the price wars when it comes to budget SSDs. Looking for the controller we find a chip from Toshiba and we're rather curious to find out how this drive does in our review.

Samsung T3 Portable SSD Review (2TB)

We have in our hot little hands this morning the Samsung T3 2TB portable SSD and it is pretty amazing to think that this product contains storage space that most could never come close to filling. Mind you, if you had use for the storage of a half million songs, or a few million books, 170 million word documents, or even 1000 hours of movies, this would be the device for you. Still, just consider how amazing this is that we can now keep so much right in the palm of our hand.

Samsung T3 SSD Review: Fast, Portable Storage

Samsung leveraged its extensive NAND flash and storage IP and took aim at the high-performance portable storage market last year when it launched its impressive Portable SSD T1 external drive. There are countless portable flash drives and a multitude of external storage enclosures on the market that can house any standard 2.5" SSD. However, the Samsung Portable SSD T1 was something a little bit different. The T1 was somewhat of a "tweener" product that was significantly lighter and more compact than a typical external back-up drive, while offering performance closer to an internally-connected SSD.

Samsung Portable SSD T3 Review

Samsung's new Portable SSD T3 offers up to 2TB of amazingly fast external storage in a metal enclosure that's smaller than a business card, if somewhat thicker. Equipped with the latest USB Type C connector implementing USB 3.1 (Gen.1) protocols, the Portable SSD T3 is now compatible with Android mobile devices that have Type C connectors, as well as Windows and Mac OS. Sporting Samsung's VNAND flash memory architecture with Turbo Write technology, the drive also comes with easy-to-use security software for Windows, Mac, and Android. Is the Samsung Portable SSD T3 a compelling solution for fast external storage? Benchmark Reviews checks this new drive out to see what it's got.

OCZ Trion 150 SSD Review: Affordable, Fast

The last time we saw OCZ, there were tearing up CES with an upcoming NVMe solid state drive that could transfer data at upwards of 2.7GB/s that was featured alongside a few new SATA-based solutions, like the Trion 150 series we'll be showing you here today. The OCZ Trion 150 is an update to last summer's Trion 100, which was the first drive from OCZ to feature TLC NAND and all in-house, Toshiba-built technology. The Trion 100 series of drives proved to be good performers overall, especially considering their relatively affordable price points. As its branding suggests, the new Trion 150 kicks things up a few notches over the Trion 100, thanks to some cutting edge 15nm NAND flash memory and tweaked firmware, that combined, offer increased performance over its predecessor...

Mushkin Striker 480GB Solid State Drive Review

It has been a while since we had a closer look at Mushkin's lineup of solid state drives which makes today's review a little more interesting than just looking at a great perming drive. On the test bench today is the Mushkin Striker 480GB 7mm slim solid state drive and I'll put it through the usual tests to see how well it performs.

Synology DiskStation DS416 4-bay NAS Review

"By employing the low-power Annapurna Labs Alpine AL-212 32-bit CPU along with 1GB of DDR3 RAM memory, the DS416 was not designed to break any records, but supply enough performance and reliability for both home and SMB users. The product does feature dual LAN interfaces which support Link Aggregation (mostly used in larger enterprise environments), but the second link can be used for failover as well. DS416 is built on a proven chassis model but does not come with a HDMI interface too in order to use the NAS as a standalone Media Center while connected on our TV."

OCZ Trion 150 480GB SSD Review

Last year OCZ Storage Solutions released the Trion 100 SSD series with Toshiba's A19nm Triple-Level Cell (TLC) NAND Flash and aimed it at consumers looking for an affordable upgrade for their old school hard drive. Some of you might recall that we evaluated the OCZ Trion 100 480GB SSD and we weren't really that impressed. It's tough to get a product to stand out these days against the Samsung 850 EVO series, but none better than OCZ to pull an upset. Why is that? OCZ Storage Solutions is a wholly-owned subsidiary of Toshiba and the Trion 100 series used all Toshiba guts (NAND, Controller, Cache and even the firmware). It's been over half a year since the Trion 100 was released and it is being replaced by the new Trion 150 SSD product series. Read on to find out how the Trion 150 performs!

OCZ Trion 150 240GB and 480GB SSD Review

The OCZ Trion 150 SSD is meant to replace the floundering Trion 100 SSD as a slightly cheaper revision that should improve performance and hopefully reliability as well. By moving away from Toshiba's A19nm TLC NAND in favor of its newer 15nm TLC NAND, OCZ claims users will see up to a 50% increase in performance in many real world cases such as file transfers.

Samsung PM863 240 Gigabyte SSD Review

Next to the SM863 Samsung has also launched the PM863 series. This drive is equipped with TLC 3D-V-NAND flash memory chips and therefore it's suitable for read-intensive workloads, preserving precious write cycles. Nevertheless, compared to the predecessor endurance has been improved by factors. Furthermore TLC NAND allows for a highly competitive pricing, which you will get with this drive. Overall we're curious to see how this drive is going to perform.

Mushkin Striker 480GB Solid State Drive Review

It has been a while since we had a closer look at Mushkin's lineup of solid state drives which makes today's review a little more interesting than just looking at a great perming drive. On the test bench today is the Mushkin Striker 480GB 7mm slim solid state drive and I'll put it through the usual tests to see how well it performs.

Two And A Half Geeks 2/15/16: OCZ Trion 150 SSD

Join us today for another episode of HotHardware's Two And A Half Geeks in which Dave, Marco and Paul chat about the just-released OCZ Trion 150 SSD, Dell's Precision 15 mobile workstation with carbon fiber and Infinity Edge display, the ASUS ZenFone 2 Laser, an awesome mini-PC from Minix -- the NGC-1 -- and news of Microsoft's Cortana digital assistant, that won't tolerate sexual harassment! We also talk about an AMD 32-Core Zen-based processor that was recently outed at CERN and drop some hints about an upcoming gaming PC giveaway...

Toshiba Introduces the Next Generation OCZ Trion 150 Series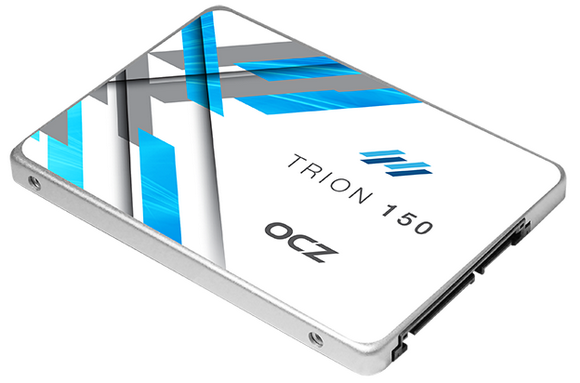 Toshiba America Electronic Components, Inc., a committed technology leader, announces the availability of the new Trion 150 SSD series, an affordable performance upgrade for mainstream notebooks and desktops. Built with the Toshiba's 15nm Triple-Level Cell (TLC) NAND flash technology from Toshiba, the Trion 150 series continues to deliver the superior balance of reliability, endurance and value of its predecessor, Trion 100, with increased real world performance.
Offering an easy and affordable way for entry-level users to enhance their mobile or desktop systems, Trion 150 SSDs provide a superior computing experience, enabling increased multitasking and productivity over traditional hard drives. Rated for sequential read speeds up to 550MB/s, sequential write speeds up to 530MB/s and random write I/O performance up to 91,000 IOPS, the Trion 150 series help improve boot time, system responsiveness and optimize storage operations.
Designed for value oriented mainstream consumers with varying storage needs, the Trion 150 will be available in capacities of 120GB, 240GB, 480GB, and 960GB. Additionally, Trion 150 SSDs provide ample endurance with up to 240TB total bytes written (TBW), providing peace of mind when using more write-intensive applications.
"Our Trion 100 series solid state drives quickly became a top seller for us and are popular among end users seeking a performance boost over hard drives at a very reasonable price," said Steve Fingerhut, Sr. Vice President and GM of SSD BU, at Toshiba America Electronics Corporation. "We are continually looking for ways to improve both SSD real world performance and value to end users and are pleased to introduce the new Trion 150 series which leverages the latest Toshiba 15nm Triple-Level Cell NAND flash to deliver an even better storage solution for value oriented mobile and desktop users."
Stringent reliability and quality procedures are incorporated into every OCZ series drive; however, in the unlikely event that a drive needs to be replaced, Trion 150 is protected by OCZ's ShieldPlus Warranty for 3 years. This industry-leading approach to service provides peace of mind with an elite, worry-free customer service experience which eliminates all the hassle and cost surrounding traditional support and warranty claims consumers often have to deal with.

HD650X external hard drive

ADATA® Technology, a leading manufacturer of high performance DRAM modules, NAND Flash products, and storage devices today launched the HD650X external hard drive for Xbox One and the HD710M camouflage-styled drive. Both are available in up to 2TB and connect via USB 3.0. The HD650X delivers high speed storage expansion for Xbox gamers that want more space for an ever-growing library of games and apps. The drive features a green color scheme that matches Xbox branding and style and is based on the ruggedized ADATA HD650 for enhanced durability and portability. The HD650X is compatible with Xbox One and Xbox 360 consoles. The HD710M provides high-grade water, dust, and shock proofing, clad in a special edition woodland camouflage design.

Keeping up with ever-larger games Xbox One consoles currently ship with 1TB drives, and gamers quickly find themselves wanting additional storage as major game releases regularly clock in at above 50GB per title with patches, updates, and downloadable content. This is where the HD650X comes in. Users can choose 2TB, doubling available storage on their Xbox and ensuring ample capacity for the remainder of the console generation. The HD650X helps gamers avoid having to choose between getting new content and deleting previously-installed games, apps, and media. The HD650X is an essential upgrade, particularly in light of the Xbox Games with Gold program, which offers customers multiple free games every month.

Durability with a helping of style The HD650X is based on the HD650 ruggedized external hard drive. It features a tough shell that protects it against shocks and drops and is ideal for gamers on the. To maintain a consistent look and feel with Xbox systems, the HD650X arrives in a lively green and black color scheme. The HD710M is based on the HD710 series of ruggedized external hard drives. It meets IEC IP68 standards, meaning submersion in 150cm of water for 60 minutes and completely tight protection against dust. It meets US Army MIL-STD-810G 516.6 drop test specifications for extreme shock-resistance. ADATA designers have created a woodland camouflage skin for the HD710M that echoes its tough build. For fans of military collectibles, it represents a sleek fusion of practicality and attractive design. The HD650X and HD710M utilize strong silicone coating, with multiple layers boosting protection from damage.

Instantly accessible and ready for action The HD650X and HD710M work in driverless plug and play with compatible operating systems, including Windows 10 and the New Xbox One Experience. Their USB 3.0 interface means up to 5Gbps data rates. With the HD650X, this means in many scenarios the external drive may actually prove faster for install and loading times than the internal Xbox One drive, providing a performance boost.

PNY CS1311 & XLR8 CS2211 SSDs

PNY, a relative lightweight in the SSD market now has two heavyweight SSDs: the CS1311 & XLR8 CS2211. Solid performance and good price have been paired up with an awesome 4 year warranty.



The best Guides by the best writers on the internet; PCSTATS Beginners Guides explain computers, software, and all those other wonderful things that cause you frustration.

Learn how to use your computer better, master the internet while protecting yourself, and know what to do when your hard drive kicks the bucket.



"Get the 'Stats and Stay Informed!"