[>>]

[>>]

[>>]

[>>]

More>>

Search...

| | |
| --- | --- |
| Hard Drives/SSD | |

... 5 news stories awaiting approval
Intel SSD DC P3520 Series NVMe PCIe Enterprise Solid State Drive Review

A few months back, Intel updated its enterprise-class solid state storage line-up with a new series of NVMe-based drives – the DC P3520 series -- featuring IMFT 3D MLC NAND flash memory. Like some of its other high-end offerings, the drives featured Intel's native NVMe PCI Express controller, but the use of more affordable 3D MLC NAND allowed Intel to reduce costs, while keeping endurance relatively high. Since some of the first consumer-class solid state drives hit the scene, Intel has been known to push the envelope in the space, and ultimately drive prices down. Intel did it somewhat recently with the SSD 750 series for desktops, which made high-speed NVMe PCIe storage much more attainable for the average enthusiast. And now with the Intel SSD DC P3520, the company is doing something similar in the enterprise storage space...

ADATA SD700 256GB External SSD

We have just posted up our review of ADATA SD700 External Solid State Drive. This drive is part of their tough drive series and it adds IP68 dust and water protection as well as shock-proof durability. While it's not the fastest SSD on the market, it does live up to its rated speed and offers a good chuck of storage for a nice value. Take a look at our review for all the details.


WD Blue SSD Review: Aggressively-Priced Solid State Storage

Western Digital is the king of the hard drive market but up to now has been a non-factor in SSDs. However, with its purchase of solid state storage giant, SanDisk, the company immediately leaped to the forefront of the market in one fell swoop. Now the company is entering the consumer/commercial SSD market with WD Green and WD Blue SSDs, using a naming scheme borrowed from its hard drive line and technology acquired from SanDisk. WD's Green lineup is for entry level PCs meant to have a low power draw, while the Blue SSD series is aimed at mainstream consumers. Both series are available in both 2.5? SATA III and M.2 SATA III form factors.

Toshiba CANVIO for Smartphone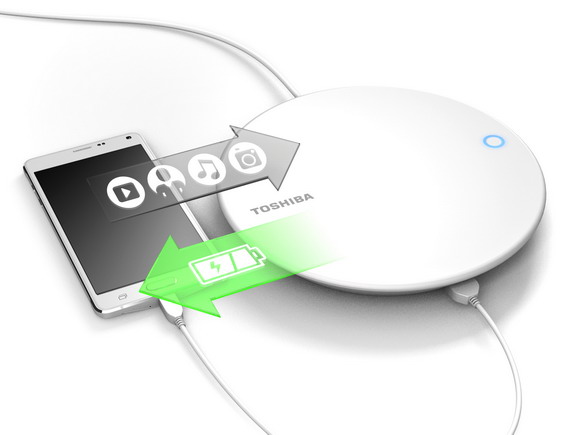 Toshiba Electronics Europe GmbH, Personal Storage Division has announced it is now shipping the 'CANVIO for Smartphone', an innovative portable storage device for backing up and charging[1] Android™[2] phones in a single operation.
It is estimated that a small minority of smartphone users have backups - and just 8% backup their phones regularly (survey conducted by AVAST)[3]. The CANVIO for Smartphone backs up and charges a connected phone in one single user operation, meaning that users will be able to feel peace of mind about saving important personal data such as photos, videos, music, documents, and contacts. Backups[4] are automatically created each time the smartphone connects without the need for user intervention and after activating this function in the intuitive Android app.
As well as smartphone charging and backup, the CANVIO for Smartphone allows users to manage data via their phones using the app. At the same time the device can simplify the set-up of new smartphones by providing an easy route to transfer data from an old phone with just a few taps. For PC users, the CANVIO for Smartphone can still be used as a conventional external hard drive, backing up data via USB Type-A and USB Type-C™[5] interfaces. Finally, it can be shared by several devices, enabling multiple users to benefit from data backup and data sharing.
"Thousands of mobile phones are lost, stolen, dropped and broken every day, yet most users backup the data on their phones infrequently, if ever at all," says Lorenzo Martinez-Palomo, General Manager of Toshiba Electronics Europe GmbH, Personal Storage Division. "Charging phones, however, is something that users have to do regularly. By providing charging and storage, the CANVIO for Smartphone provides an elegant 2-in-1 solution that gives users the peace of mind that their precious personal data will be backed up every time the phone is charged."
The CANVIO for Smartphone features a sleek, stylish, circular white casing and has a storage capacity of 500 GB[6]. The device is supplied with an AC adapter, a USB 2.0 Micro-B cable, a USB 2.0 Type-C cable and a USB Micro-B - Type-A adapter.

Corsair Force MP500 480GB M.2 NVMe SSD Review

Corsair hasn't been that aggressive in the SSD market recently, but all that changed earlier this month when their announced the Force MP500. This drive marks a number of firsts for Corsair as it is their first drive to ever use the M.2 2280 form factor, PCIe interface, and the NVMe protocol. Since this is Corsair's first PCIe Gen 3 x4 SSD it has blisteringly fast sequential speeds of up to 3,000 MB/s read and 2,400 MB/s write, which makes it roughly 5 times faster than the Corsair Nuetron Series XTi drives that used to be their flagship storage drive series. Read on to find out more!


NVMe SSD

Patriot joins the high-end storage fray with its first NVMe SSD, the Hellfire series. We run the 480GB version of this drive through our testing gauntlet to see whether it can keep up with the rest of the NVMe crowd.

Corsair Force MP500 480GB SSD Review

The storage arm of Corsair has been pretty quiet over the last few months; the last drive we looked at was the Neutron XTi high-end drive back in July 2016. But they are back with a bang at the sharp end with the Force MP500, the fastest SSD drive they have released to date.

XFX RX 480 8GB Hard Swap XXX @ LanOC Reviews

With product reviewing, we tend to cover a product and then move on, not really revisiting it unless a competing product comes out or the next generation comes out. Most of the time this is fine, things don't change that much. But in the world of video cards, drivers play a big role and over time performance can improve or get worse. XFX sent over their RX 480 8GB Hard Swap XXX Edition video card mostly to use it with their swappable LED fans that I will be covering soon. But while I had the card I thought it would be a good excuse to revisit the RX 480 and see how it's doing. Typically AMD drivers don't have the performance early on, but age well and give improvements later on and I've been hearing that it may have overtaken the GTX 1060 in some games. So today let's check out the card and see how it stands now.

QNAP TS-231P 2-Bay NAS Review

Designed as an affordable and powerful NAS, the 2-bay TS-231P is the mid-range model of QNAP's latest family of NAS drives aimed at SOHO/Home use, the TS-x31P series. It's sandwiched between the single bay TS-131P and the flagship 4-bay TS-431P.

QNAP TS-531X High-performance 5-bay NAS Review

The TS-531X NAS from QNAP was designed for low power consumption and can be successfully used in both home and SMB environments thanks to its multiple connectivity options (10 Gigabit SFP+ LAN ports for fast access in business environments, while the two RJ45 Gigabit LAN ports are ready to be used on a broad range of machines). The NAS does have an Alpine AL-314 Quad-core 1.4GHz ARM Cortex A-15 Processor at its heart and the pre-built models do arrive in 2GB and 8GB configurations; the system also does come with no less than three USB 3.0 ports for connecting external devices, has a free expansion slot and we can install up to 5 3.5'' or 2.5'' drives on it."

Samsung 960 PRO NVMe SSD Review

Samsung's 950 PRO m.2 PCIE SSD set new benchmark records when we tested it here a few months back at Benchmark Reviews. The performance picture got even better we configured a RAID-0 array with two of these drives. Now they've introduced the new Samsung 960 PRO NVMe SSD, with upgraded NAND and a new controller, promising even more spectacular performance.

Corsair Force MP500 480GB Review

A tough act to follow for the competition, even for the likes of Intel, Corsair announced the Force MP500 SSD shortly after the release of the dominating Samsung 960 Series. The Force MP500 is a high-speed NVMe SSD targeting power users available in a variety of capacities: 480GB, 240GB and even a piddly 120GBer.

MyDigitalSSD BOOST 1TB External SSD Review

Today Benchmark Reviews has their new entry in the growing field of external, USB-connected solid state drives, the MyDigitalSSD BOOST 1TB external drive. Comprising two TLC SATA III 512GB SSDs in a RAID 0 internal array, the BOOST 1TB drive promises performance that exceeds that of SSDs connected to a SATA port, with maximum read and write speeds of 830MB/s and 730MB/s, respectively…but these speeds are only achievable if your computer has a USB Type C SuperSpeed+ port.

Seagate Backup Plus 5TB USB 3.0 Portable Hard Drive Review

The brand new Backup Plus 5TB USB 3.0 Portable Hard Drive by Seagate doesn't only offer plenty of storage capacity and impressive performance for when on the go but it also comes bundled with a 2-year OneDrive 200GB subscription. Oh and did we mention that it's priced just right?



The best Guides by the best writers on the internet; PCSTATS Beginners Guides explain computers, software, and all those other wonderful things that cause you frustration.

Learn how to use your computer better, master the internet while protecting yourself, and know what to do when your hard drive kicks the bucket.



"Get the 'Stats and Stay Informed!"