[>>]

[>>]

[>>]

[>>]

More>>

Search...

| | |
| --- | --- |
| Hard Drives | |

... 2 news stories awaiting approval
AData XPG SX930 240GB SSD

AData's XPG SX930 SSD is supposed to offer buyers what used to be an impossible combination: affordability, excellent performance, a 5 year warranty and extreme longevity.

The SSD Optimization Guide Rev. 2.1.

Solid state drives are fast replacing hard disk drives as the storage medium of choice. However, they have issues that preclude their ascendency over the hard disk drives. Their flash memory cells have a limited lifespan, and they can perform badly under certain circumstances. Modern SSDs use a mix of techniques and technologies like overprovisioning of memory cells, wear levelling, a write combine buffer (or on-the-fly data compression), and the Trim command or automatic garbage collection to maintain performance and extend the lifespan of the flash memory cells. However, there's only so much they can do. This is where the Solid State Drive Optimization Guide comes in. In this guide, we will show you how to maintain the performance and longevity of your solid surface drive. Let's get right down to it.

Inateck FE2005 Review – 2.5-inch USB 3.0 External Drive Enclosure

Back in December 2014, we had a look at Inateck's FE2006 USB 3.0 drive enclosure and later tested the FD1006C SUB 3.0 enclosure. We found that each performed very well and priced very inexpensively for those looking to pop a 2.5? drive in and get some speedy external storage. Today we're looking at the FE2005 model...

HDD Self Diagnostic BIOS setting

"S.M.A.R.T. is supported by all current hard disk drives and it allows the early prediction and warning of impending hard disk drive disasters. You should enable it if you want to use S.M.A.R.T.-aware utilities to monitor the hard disk drive's condition. Enabling it also allows the monitoring of the hard disk drive's condition over a network..."

Seagate NAS Pro 6-Bay 24TB NAS Server Review

Many people used to ask us what we use in our lab to share files, download data, record through our IP cameras and stream media content and as answered numerous times in the past we use one (and even two sometimes) network attached storage devices/servers. Recently however some of you have asked us if it's really worth having a NAS online 24/7 and although electricity where we're located is not what we'd call "cheap" if you think about the pros the answer is crystal clear. It's true that you can't obviously perform the same tasks as you would with a desktop system or even a laptop (we're getting there however) but just the fact that the majority of NAS models use even less electricity than your average light bulb alone is enough to justify using one either as a media or a download server. Seagate may not be the very first brand name to come in mind when talking about NAS servers but they've actually been in that market for quite some time now (quite successfully) and since many of you asked today we'll be testing the NAS Pro 6-Bay model (DP6) with 24TB worth of storage preinstalled.

Intel SSD DC P3608 PCIe NVMe Solid State Drive Review

Today we're going to take a look at Intel's latest NVMe-based solid state storage device, the SSD DC P3608. As the DC in the product name suggests, this drive (or should we say drives?) is designed for the data center and enterprise markets, where huge capacities, maximum uptime, and top-end performance are paramount. The Intel SSD DC P3608 is somewhat different than the recent consumer-targeted NVMe-based PCI Express SSD from Intel we evaluated, the SSD 750 series, however. This drive essentially packs a pair of NVMe-based SSDs onto a single card, built for high endurance and high performance. Check it out...

PowerNAS CMA 8TB Review

PowerNAS has used a novel approach during the development of the CMA (it stands for Converged Media Appliance). To their way of thinking this Windows 8.1 PC can act as a replacement for three separate pieces of hardware and bring together the home PC, media centre PC and NAS Server in a single device.

Synology DS414j Review

Synology describes its new DS414j as the successor to the DS413. It's a 4-bay NAS device, aimed at home users and SOHO environments requiring up to 20TB of storage, and they put the emphasis on the 'retro looking black chassis, dual core CPU … and USB 3.0 which combine to make it 'the fastest and most powerful J series NAS from Synology to date.'

New Cable-Less SATA Power Technology for Disk-On-Module SSDs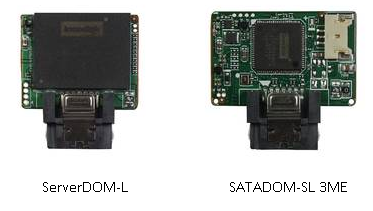 Innodisk, the service-driven flash provider, announces its latest series of SATADOM® disk-on-module SSDs featuring a new cable-less power technology. This latest series of SATADOM® and ServerDOMTM come in the same compact form factor but feature a new way of delivering power to the flash drive directly through the SATA connector itself for less clutter and superior reliability. The new patented Pin 8 technology powers a series of SATADOM® drives which will come in a variety of compact form factors and flash flavors including SLC, MLC and iSLC, as well as DRAM-less versions for 100% data integrity in the face of power loss. Besides SATADOM® with Pin 8 Technology, Innodisk is updating its full line of SATADOM® SSDs including SATADOM® powered by Pin 7 power and external power cables. The new SATADOM® SSDs will feature higher capacities and DRAM-Less SSD technology.
Patented by Innodisk, SATA Pin 8 Vcc uses the SATA connector itself as a power supply to drive the device without external cables. Extra pins on each side of the drive's connector mate with pins in the motherboard's SATA interface to provide a power source that eliminates the need for cables. Already available on motherboards from top manufacturers, Innodisk's Pin 8 Vcc technology joins Innodisk's SATA Pin 7 Vcc technology to enable compact, cableless SATA storage solutions.
SATA Pin 8 Vcc Technology makes SATADOM the ultimate plug and play storage with no extra connectors needed. It not only provides power but the SATA connector's power pins create a robust physical connection between the SSD and motherboard, increasing system reliability. The robust cableless design means less clutter and improves air flow, especially in rackmount server chassis and low profile system.
With its small form factor, industrial grade technologies and reliable power sourcing, SATADOM® provides the perfect compact flash storage for servers, and also comes in an even more compact ServerDOMTM version especially designed for server applications. For high storage reliability, ServerDOMTM is compatible with Intel RSTe technology and can be configured as a pair of SSD Boot drives for OS redundancy. With its cable-less design, SATADOM is easily hot swappable with no extra connections to deal with. Using ultra-compact Innodisk nanoSSD flash, ServerDOMTM has a slim form factor that fits into some of the most low-profile rackmount and blade chassis for compact, reliable storage that eliminates messy cabling.

Synology DS215+ 2-bay NAS

The Synology DS215+ is a business NAS for centralized backup and the protection of critical data. Our tests also show that it offers high performance while consuming very little power.

NVMe PCIe Datacenter SSD

"Intel's new P3608 is a successful combination of a pair of high end datacenter SSDs into a single HHHL package. The new unit accomplishes this feat by the use of a PLX chip and some clever PCB design and flash packaging, allowing datacenter builders the ability to fit twice the SSD DC P3600 performance and capacity into the same amount of space. With capacities ranging from 1.6TB to 4TB, this really pushes the data density of these parts to a new level. In fact, the capacity density and performance of the P3608 may be approaching the point where there is not enough IOPS capability to effectively saturate a chassis full of these units. A rollout of these new parts is going to require careful consideration of the other potential bottlenecks that can be created with so much raw performance available, but shifting the bottlenecks off of the storage subsystem is never a bad thing!"

Intel SSD DC P3608 Review (1.6TB) - Over 5GB/s and 850K IOPS!

A year ago Intel launched their first line up of NVMe SSDs. The DC P3700, DC P3600, and earlier this year they officially launched the DC P3500. As you might be lead to believe, the DC P3700 was their top tier product, which we were able to review, not only in the view of enterprise performance, but also from a storage enthusiast's perspective. The Intel DC P3700's performance at the time was very impressive and still is today, delivering up to 2.8GB/s read and 1.9GB/s write as well as being able to withstand 460K/180K IOPS. At $3/GB delivering such high performance and now, up to 17 DWPD endurance for data center use, it was a recipe for success from the start. The DC P3500, the runt of the litter, is meant for read-centric workloads with much lower random write performance and a 0.35 DWPD endurance rating. The DC P3600 on the other hand is in the middle of the trio, meant for more mixed workloads with great read and write performance, but a 3 DWPD endurance rating.

Intel SSD DC P3608 1.6TB PCIe SSD Review

The Intel SSD DC P3608 Series has a dual NVMe controller design with Intel 20nm HET (High Endurance Technology) MLC NAND Flash on a board that utilizes the PCIe Gen 3.0 x8 interface to get up to 5,000 MB/s read and up to 3,000 MB/s write speeds for sequential data operations. The Random 4K Read and Write performance isn't lacking either as you are talking about up to 850,000 IOPS Read and 150,000 IOPS Write. Like the product name states, the Intel SSD DC P3608 is designed for the Data Center (DC) and will be made available in a low profile (up to 40W) PCIe 3.0 x8 add-in-card at capacities of 1.6TB, 3.2TB and 4TB. Read on to see how the Intel SSD DC P3608 1.6TB PCIe SSD performs on our enthusiast Intel X99 platform!

QNAP SilentNAS HS-251 2-Bay NAS Review

This is not the typical every-day NAS we are testing today, it is a somewhat special device. When we usually think of NAS devices, it goes in the direction of tower and rack-systems; and that is not the thing you would like next to your well designed home-theatre system. Another thing that prevents most people from having their NAS in that particular location is the noise generated by fans to keep the device cooled; QNAP have tackled both these problems in the HS-251 silent and fanless NAS. QNAP is one of the leading brands within NAS and storage, along with Synology and Thecus. Asustor have also grown into a bigger competitor in this market, and it takes something special to stand out from the crowd. QNAP is no stranger to this scenario and with the many years of experience they have in the bag, they packed this tiny 2-bay device with all sorts of useful features; this is far from the every-day NAS device. This isn't just a stylish and silent NAS either, it is also a HTPC at the same time. You can connect it directly to your TV or monitor via the built-in HDMI port to browse the web, stream media or play what you already have stored on the same device. There are three ways to control the HTPC part of this device, you can either attach a mouse and keyboard or use your mobile-phone or tablet with QNAP's official control App. The third option is an extra remote control that can be bought separate.

Plextor M6e 256GB PCIe M.2 SSD Review

Who like to purchase a current Intel Z97, X99, etc. motherboard or get at least information about an update, certainly have discovered that some motherboards are coming with a so-called M.2 socket. But what exactly is M.2, which devices can you install and how fast is the transfer rate of this M.2 socket ? These and many other questions will we be explained in this very special review of the Plextor M6e 256GB PX-G256M6e PCIe M.2 2280 SSD and of course also the performance of the new M.2 SSD will be tested in practice.

Micron M600 SSD

Micron's new M600 SSD can flip its NAND cells between SLC and MLC modes on the fly, enabling a dynamic write cache that scales with the drive's unused capacity. We've outlined how this dynamic write acceleration is supposed to impact performance, power consumption, and endurance.



The best Guides by the best writers on the internet; PCSTATS Beginners Guides explain computers, software, and all those other wonderful things that cause you frustration.

Learn how to use your computer better, master the internet while protecting yourself, and know what to do when your hard drive kicks the bucket.



"Get the 'Stats and Stay Informed!"