[>>]

[>>]

[>>]

[>>]

More>>

Search...

| | |
| --- | --- |
| Notebooks | |

... 3 news stories awaiting approval
ASUS ROG Strix GL502VT-GS74 Gaming Laptop Review

ASUS takes gaming seriously. So seriously, in fact, that it has two sub-brands dedicated to hardware for gamers. One is the Republic of Gamers (ROG), a brand ASUS created in 2006 to designate products that deliver "innovative hardcore PC performance," and the other is Strix, a more recent creation that's taken from the ancient Roman and Greek word for owl. No, we're not kidding. "Strix means the keenest hearing and sharpest eyesight. Strix means feeling your environment so that you detect and react to the slightest movement. Strix means survival on the very edge of instinct. Strix is in your blood, as it is in ours," ASUS explains. Though the two brands exist separate from one another, ASUS has begun creating a line of ROG Strix products, including the ROG Strix GL502, a 15.6-inch gaming laptop that aims to strike a balance between gaming prowess and portability...

X1 Carbon notebook in 2012

Lenovo made quite a splash with the introduction of the original X1 Carbon notebook in 2012; with its ultra-thin, ultra-light, and carbon fiber-infused construction, it became the flagship ThinkPad notebook. Fast-forward to late 2013, and the introduction of the ThinkPad Yoga; the business version of the previous year's consumer Yoga 2-in-1. The 360-degree hinge was novel for a business machine at the time, and the ThinkPad Yoga had a lot of promise, though it was far from perfect. Now we fast-forward again, to the present day. It's 2016, and Lenovo has merged their ThinkPad X1 Carbon and ThinkPad Yoga together to create the X1 Yoga. This new notebook integrates the company's Yoga design (in appearance this is akin to the recent ThinkPad Yoga 260/460 revision) into the flagship ThinkPad X lineup, and provides what Lenovo is calling "the world's lightest 14-inch business 2-in-1".


Dell's Alienware 13 gaming notebook

Dell's Alienware 13 gaming notebook has been a favorite among gamers on the go and power users that want a little more horsepower in a light 13-inch machine. However, over the past couple of years, the Alienware team hasn't changed-up the design much, until today that is. The company is officially making the OLED display powered Alienware 13, that we saw back in January at CES, available today in conjunction with the E3 show out in LA. Our initial impressions in the short time we've had the system in-house are similar to our first impressions at CES; hell yes, that OLED display sure is gorgeous...

Acer Chromebook 14 Review

The Acer Chromebook 14 is a svelte machine that aims for a perfect blend of style, features and performance. It looks and feels 'premium' but unlike the Pixel, this laptop comes in at just $300, powered by a quad-core Intel Celeron N3160 processor and Intel HD Graphics 400 alongside 4GB of LPDDR3 RAM and 32GB of flash storage.

Gigabyte's P57W

17" laptops have long been maligned for their bulk, but the onward march of technology means one can now get a big machine like Gigabyte's P57W that's slim and trim. We put this large laptop to the test to see whether gamers on the go should go big.

Dell Latitude 13 7370 Ultrabook Review

Traditionally, Ultrabooks command a high premium. After all, you are getting a high-performance laptop, crammed with the latest features, with typically slim and lightweight bodies. Let's not forget, too, that Intel has to certify a laptop as an Ultrabook before it can be sold using the Ultrabook name – so you are paying for bragging rights, too. As such, it cannot be much of a surprise that pricing for the Dell Latitude 13 7370 starts at £1179.

Asus Chromebook Flip

Asus' Chromebook Flip is an all-aluminum convertible PC that runs Google's Chrome OS. Its $240-ish price tag puts it in contention with the budget Windows PCs we usually suggest in our mobile staff picks. We put the Flip to the test to see whether it's a worthy Windows alternative.

Lenovo ThinkPad X1 Tablet: A Modular 2-In-1 For Professionals

The market for dedicated tablets based on mobile operating systems such as Android and iOS is in decline, but the same can't be said for 2-in-1 detachable Windows PCs. These hybrid tablet/laptop systems offer an additional level of utility that standalone tablets don't provide, and best of all, they don't force consumers on a budget to choose one form factor over the other. Microsoft envisioned this very scenario playing out when it introduced Windows 8 and later its first Surface tablets. Now we have Windows 10 and newer generation Surface models that are much improved from the original, along with alternative options from Microsoft's hardware partners. One of the more interesting of those is Lenovo's ThinkPad X1 Tablet...

USB-IF promotes USB Type-C connectors

The USB Type-C specification was published by USB Implementers Forum (USB-IF) in August 2014, and less than 18 months later, sleek new products have arrived on the market including smartphones, slim notebook PCs, tablets and more. This new cable and connector scheme is generating significant buzz and excitement from the expansive, global consumer market and is expected to make its way into high-volume shipments of mobile devices, laptops, 2-in-1 notebooks and other multimedia devices.

"USB Type-C cables and connectors fulfill the strong demands to upgrade video, audio, data transfer and power charging features.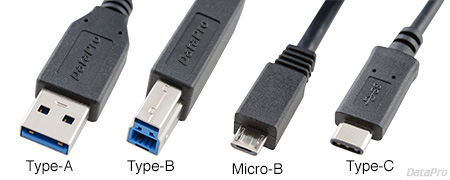 To address the demand of digital video, audio, data transfer and power charging requirements, USB-IF saw the need for a new, robust cable and connector. And so, this new specification was prepared by a panel of international experts and contributed on four main advantages:
First, there is the performance jump. The USB Type-C cable is capable of supplying fast data transfer speeds of up to 10 Gbps. There are two types of data transfer speeds: one up to 5 Gbps known as "SuperSpeed USB" and the other up to 10 Gbps called "SuperSpeed USB 10 Gbps." The performance level is designed to scale upwards of 20Gpbs or 40Gbps in the future, but as Mr. Ravencraft highlighted, the 5Gbps speed is already more than enough to fulfill consumer demands for current multimedia applications.
The second, is the single USB Type-C connector designed to connect all USB devices. The physical dimension of the USB-C connector is 8.4 mm x 2.6 mm, slightly bigger than the previous micro-USB connector. It is more robust and designed to handle at least 10,000 receptacle uses within its lifetime. Many of the newer platforms and devices are reaching a point where existing USB receptacles and plugs are inhibiting innovation, especially given the relatively large size and internal volume constraints of the USB Type-A and USB Type-B standard connectors. As a result, the USB Type-C slim and sleek connector was tailored to fit the thinner form factors and platforms used in mobile device product designs.
The USB Type-C cable and connector is also reversible in nature. The pins are arranged in a mirrored configuration, with six different pairs in a full-featured cable assembly. There are four extra pins that serve functions of new USB features. The two sets of USB 2.0 differential pairs in the connector only connect to a single differential pair in standard USB 2.0 or full featured USB Type-C cables.
The third advantage is the battery charging features. The USB Type-C connector introduces two new native charging options, but is also compatible with legacy charging options. USB Power Delivery (PD) is supported, but optional. With combined USB PD chipsets, it could supply up to 100W of continuous power flow, enough to power a refrigerator according to Mr. Ravencraft.
The forth benefit is USB Type-C Alternate Modes. USB Type-C Alt Modes enable the multi-purposing of designated pins in the connector for alternate protocols such as DisplayPort, MHL, Thunderbolt or SATA. The beauty of Alt Modes is that it enables a USB Type-C host or device to support optional display or power charging capabilities. This benefits consumers and systems designers, as it only requires a single connector, thereby reducing costs and increasing system functionality.
Ultra-high bandwidth video capabilities can be reached using USB Type-C Alt Modes. This is a great benefit for end users using a single USB Type-C to HDMI, DVI or VGA adapter or dock to connect their mobile devices to other displays."

Dell Inspiron 17 7000 – World's Largest 2-in-1 Laptop.

On the first day of Computex 2016, they demonstrated that by launching the new Dell Inspiron 17 7000 series of 2-in-1 laptops – the world's first 17? 2-in-1 laptop and the world's largest 2-in-1 laptop. Check it out!

Dell Latitude 13 7370 Review: A Sleek Business-Class Ultrabook

CES is a distant memory now, but we're still seeing new products arrive that were announced in Las Vegas at the beginning of the year. One of those is the Dell Latitude 13 7000 series, the latest in the company's line of business laptops. The 13-inch ultrabook landed several awards at CES for its sleek design and promised to add some spice to the staid business laptop market. At long last, the Latitude 13 7370 is here. Dell clearly pulled some key features from its popular XPS consumer series when designing its latest Latitude. Carbon fiber makes an appearance on certain models and all Latitude 13 7370s feature Dell's nearly-bezel-free InfinityEdge displays. But the new ultrabook has a style that is all its own and that will play well with professionals...

Lenovo YOGA 900s First Look

The Lenovo YOGA 900s is the world's thinnest convertible laptop at 12.8 mm thin. Thanks to its carbon fiber chassis, it is also very light at just under 1 kg / 2.2 lbs. Yet it sports a large 12.5? display, and a full-sized keyboard with a large trackpad. Its display uses a brilliant IPS panel with a resolution of up to 2560 x 1440.

Samsung Galaxy TabPro S Review

Over the past few weeks I've been using the Samsung Galaxy TabPro S. The name isn't catchy, but there's a lot to like about the hardware in this slim 12.0-inch Surface competitor, including the AMOLED display and fanless Core M CPU on the inside. Samsung also bundles a keyboard cover with this device, because these sorts of key accessories should be included in the purchase price.

Lenovo ThinkPad X1 Carbon First Look

At just 1.17 kg, the new Lenovo ThinkPad X1 Carbon is the world's lightest 14? business-class Ultrabook. It is amongst the thinnest Ultrabooks in the market with a thickness of just 16.5 mm. All this is thanks to its satellite-grade carbon fiber chassis.

Lenovo ThinkPad P70 Mobile Workstation Review

At a time when laptop makers are shunning big and bulky notebooks in favor of thin and light designs, Lenovo went a different direction with its ThinkPad P70, a mobile workstation brimming with high-end hardware for tackling rough and tumble tasks in the field. It's all about finding the right tool for the job, and just as a lumberjack wouldn't trade his gas-powered chainsaw for a Swiss Army knife just because he could fit in his pocket, there are certain computing tasks that require desktop-class performance. That's what the ThinkPad P70 aims to deliver. The ThinkPad P70 is one of the first mobile workstations to employ a mobile Xeon processor option based on Intel's Skylake architecture. This particular configuration features a Xeon E3-1505M v5 CPU, a brawny quad-core slice of silicon clocked at 2.8GHz to 3.7GHz. And for graphics, Lenovo crammed a discrete NVIDIA Quadro M4000M GPU with 4GB of GDDR5 memory inside.



The best Guides by the best writers on the internet; PCSTATS Beginners Guides explain computers, software, and all those other wonderful things that cause you frustration.

Learn how to use your computer better, master the internet while protecting yourself, and know what to do when your hard drive kicks the bucket.



"Get the 'Stats and Stay Informed!"