| | |
| --- | --- |
| Peripherals | |

... 4 news stories awaiting approval

CM Storm NovaTouch TKL is tenkeyless keyboard

The CM Storm NovaTouch TKL is tenkeyless keyboard that uses unique hybrid capacitive switches from Topre that are compatible with Cherry MX keycaps. These switches found beneath the keys you press make for what Cooler Master calls the "best feeling keyboard" available. Naturally, we intend to put that claim to the teat in our review.

COUGAR 500K Gaming Keyboard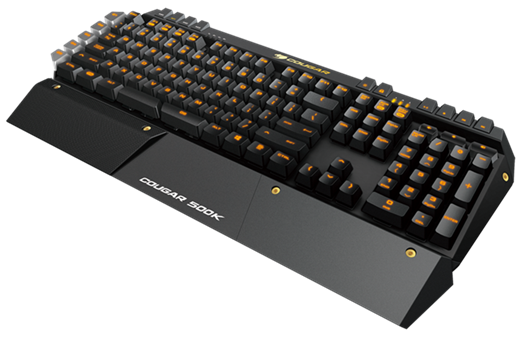 COUGAR, a leading player in the computer gaming hardware market announces today the release of a breakthrough product: the COUGAR 500K Gaming Keyboard. The 500K is the most recent addition to COUGAR's series of gaming peripherals. Its main target are gamers who either due to habit or due to a wish to minimize hardware cost prefer to use membrane keyboards and at the same time do not want to be in inferiority when playing against mechanical keyboard users. The 500K achieves this by being one of the extremely few real N-Key Rollover membrane keyboards on the market and by including all the pro gamer functions of the acclaimed COUGAR 700K.
When it comes to features and functionality, the 500K is the best membrane keyboard currently available. For a start, being an N-Key Rollover membrane keyboard it outclasses all the non-NKRO keyboards and competes directly with high end mechanical keyboards. Apart from doing away with the precision gap between membrane and mechanical keyboards, the 500K also includes a whole set of premium gaming-oriented features. It sports the same layout as the acclaimed 700K: Apart from the standard keyboard keys, it includes 6 fully customizable G-keys and dedicated keys for macro recording, configuration profile switching (both for itself and for COUGAR Fusion mice), backlight control, Windows key locking and multimedia functions. It also includes a palm rest with a detachable component to increase comfort when playing FPS.

Tesoro Tizona Mechanical Gaming Keyboard

"In the end, the Tesoro Tizona is a well made, good looking keyboard that has great physical flexibility. Unfortunately, there are only three extra keys and no software. While the main keyboard is at a competitive ~$70 dollars, the number pad is at a ~$40 premium (for $30 more you can have the main keyboard). This brings the total to ~$110 dollars, which is still surprisingly competitive (keeping in mind the quality and versatility). As one of the lower priced keyboards by Tesoro, it hold up well among its brethren and if the quality stands the test of time, it also compares to many really big name brand mechanical keyboards. As a fairly new company, I think Tesoro will be going far if this keeps up."

Guardian Angel Safety Outlet Review @ Legit Reviews

Children love to get into things and mess around with items that they are not supposed to. It?s human nature to explore everything we set our eyes on and this unfortunately includes electrical outlets. Ever year there are about 3,900 emergency room visits and around 100 deaths revolving around power outlets. This is where a new product called the Guardian Angel Safety Outlet comes in. The Guardian Angel Outlet is an electric outlet that provides what is said to be absolute safety along with the convenience one expects from a normal outlet"

COUGAR 700K Review @ Vortez

700K is COUGAR`s top of the line mechanical gaming keyboard which comes equipped with Cherry MX black, brown, blue or red switches. COUGAR has furnished this keyboard with a sturdy aluminium panel and armed it with a multitude of customisable features including additional keys, LED backlighting, and N-key rollover."

Code Keyboard 104 key and TKL models @ LanOC Reviews

So the story behind todays review is that Weyman Kwong of WASD Keyboards and Jeff Atwood got together because they couldnt find a simple and clean mechanical keyboard that they truly loved. I can see where they are coming from, as someone who has developed a love for Mechs over the years if you dont like the gaming styling you really are limited to just a few keyboard. It gets even worse if you are like me and still like having backlighting. After working with WASD Keyboards on our Keyboard Customization article they offered to send over a Code keyboard to check out. I only had one problem, I couldnt decide if I wanted to check out another TKL that I love for test bench and LAN use or if I would look at the Code as a potential replacement for my main keyboard where I need a full number pad. Lucky for me they completely understood and sent over one of each, giving me a chance to check out both and to check out both of the keyswitch options."



ROCCAT Apuri Active USB Hub Review

As if we did not already have enough to appreciate in terms of the number of quality gaming peripherals that ROCCAT has been making available to us recently, we can be thankful that this organization has also been placing focus on providing us with accessories to complement the aforementioned gaming peripherals. One of the more intriguing of these accessories, the ROCCAT Apuri Active USB Hub with Mouse Bungee, is in the Benchmark Reviews spotlight today. ROCCAT calls the Apuri the, ?first component of the ROCCAT Smart Desktop Management System (SDMS) offer[ing] you the perfect combination of style of functionality right there on your desktop.? That certainly sounds like a compelling piece of gaming equipment. I invite you to read on in order to get our thoughts on this device."

CM Storm Mizar

The CM Storm Mizar is a gaming mouse featuring a laser sensor and on-the-fly DPI adjustment, 7 programmable mouse buttons, LED illumination and "reinforced" rubber pads on both sides. It's priced in between value and high-end offerings, hit our review to see if the Mizar offers what you need for the price.

Rosewill RGB80 @ LanOC Reviews

With RGB mechanical keyboards being the latest bandwagon that most manufactures are jumping on I have been keeping an eye out for RGB keyboards that are a little different. One that stood out to me was the RGB80 from Rosewill. Rosewills history in the mechanical keyboard market is actually better than you might think. They have had good boards are great prices. The RGB80 is of course an RGB keyboard but unlike the others it is only available in a TKL (TenKeyLess) version. The LAN attendee in me is reminded each time I see or use a TKL keyboard that they help same room at and when packing for LANs. Will the RGB80 be the next big LAN keyboard? Lets find out."

Garmin Forerunner 220 and 620

The Garmin Forerunner 220 and 620 arrived Technic3D. Forerunner 620 can estimate your VO2 max, your bodys maximal oxygen consumption. Knowing your VO2 max is a great way to measure your physical fitness and improve your performance? We will check this and many more in the following Review."

Tesoro Durandal G1NL Mechanical Gaming Keyboard Review

Today we are going to look at a mechanical gaming keyboard from a company called Tesoro, the Durandal G1NL. Tesoro are looking to compete with the more established players in the market such as Corsair and Razer who are very popular among the gaming audience. We are excited to see what the Tesoro's Durandal G1 NL has to offer.

Logitech G910 'Orion Spark' Mechanical Keyboard Review

We have seen a sudden influx of RGB based products over the last few months. Corsair has launched a new line of peripherals, Razer swiftly followed suit with its Chroma lineup and now Logitech is jumping in with the Orion Spark G910 Mechanical Keyboard. Main features of this new keyboard include custom made mechanical switches, a second screen smartphone dock and of course – the fancy RGB lighting.

Tt eSport PoseidonZ Review @ ocaholic

The market for gaming peripherals never sleeps, and today we`re having a close look at a product from Tt eSports. This particular keyboard comes with Kailh switches, which are very similar to CherryMX brown and apart from that there basically no additional features. The only thing you get on top is a blue backlight. "