| | |
| --- | --- |
| Peripherals | |

... 6 news stories awaiting approval
Tesoro Tizona G2N Elite Keyboard Review

"A fully mechanical keyboard that sports a sleek design and caters to gamers who want something uncomplicated, the Tesoro Tizona G2N Elite has some unique features including a detachable and movable numpad, suitable for lefties or righties. That certainly got our attention, so we had to test drive it firsthand. Let's delve a bit deeper and see if the Tizona G2N Elite can stand out in a widening field of mechanical keyboards."


GAMDIAS HERMES Ultimate Black Mechanical Gaming Keyboard

Compared to previous years there's no denying that gaming peripherals of all sorts are currently dominating the market and since we hardly have any time left to spend with our favorite game titles this is actually very good news for us since testing such products obviously requires spending quite a bit of time with these games. Now as many of you are aware mechanical gaming keyboards are very popular amongst gamers currently so more and more of the new players in the market release their own solutions based on either the original and more widely used Cherry MX mechanical switches or the rather new ones made by Kailh (the clones as i like to call them). One of those manufacturers is GAMDIAS and for the past three days we've been using their latest HERMES Ultimate Black mechanical keyboard (Cherry MX Blue Switches) not only with games but also with our daily tasks.

Know Your Type: Five Mechanical Gaming Keyboards Compared

If you're in the market for a mechanical keyboard, we're here to help. We've gathered up five different gaming models from as many manufactures--Corsair, Roccat, Tt eSports, Razer, and Cooler Master, three of which are of the compact ten-keyless variety (fancy pants way of saying there's no dedicated number pad), the other two being full size planks. Granted, this is just a small sample of the numerous options available to you, though these are some of the more popular models by recognized brands in the gaming peripheral market...

Dell Venue 8 3000 Series Android Tablet

"After selling my 9.4-inch Sony Tablet S earlier this year, I've been on the hunt for a new tablet, preferably in the 8-inch range. I've thought about the Asus MeMo Pad 8, for instance, as well as the iPad mini 2 (with Retina). Last year's Dell Venue 8 would have also been in the running if it were not stuck at Android 4.2. Addressing that concern and more is an updated model that they're calling the new Dell Venue 8 3000 series. Depending on where you look the "3000 series" part might not even be mentioned, adding to some significant consumer confusion."

Samsung Magician 4.5 – RAPID Mode Benchmarked

Over the years, consumers have demanded and pushed manufacturers to develop SSD toolboxes to use when they install an SSD in their system. Offering a SSD toolbox has become almost a necessity in today's SSD market. These toolboxes offer features such as drive health monitoring, feature activation, manual secure erase and TRIM triggers, as well as firmware update abilities and drive benchmarking. One such company that recognized this trend early on and helped shape the way toolboxes are today is Samsung; their software utility being the Samsung Magician. Something that sets Samsung Magician software apart from other toolboxes is its RAPID mode (Real-time Accelerated Processing of I/O Data), this having been introduced with the release of the Samsung 840 EVO.

ASUS STRIX Tactic Pro gaming keyboard

Getting yourself the right gaming keyboard can be a very personal experience. Chances are you want mechanical, even if you have not used one before. Switch choice is important, backlighting too - and you might want some macro buttons for good measure. If you want all that and love the colour orange, then maybe the ASUS STRIX Tactic Pro is what you are looking for

QPAD MK-70 Mechanical Gaming Keyboard

QPAD keyboards have earned a good reputation over the past couple years, and today, we take a look at their brand-new MK-70 offering. The MK-70 fills the gap between the MK-50 and do-it-all MK-85. The MK-70 uses Cherry MX Red switches, which bodes well for its gaming performance.

Corsair Raptor K40 gaming keyboard

Mechanical keyboards have been popular with the gaming audience now for some time, but they can often be rather expensive. Corsair recently released their K40 gamer keyboard which uses more mainstream rubber domes but takes a leaf out of the 'mechanical playbook' by keeping the switches separate from one another. It also has macro keys and a fully fledged backlighting system. If your budget is limited to £50 is this the keyboard that you need to shortlist?


Keyed Up Labs KUL ES-87 Tenkeyless

"Our first mechanical keyboard offering Cherry MX clear switches comes from Keyed Up Labs. Join us for a look at the KUL ES-87 Tenkeyless in Chad's review."

Logitech G402 Hyperion Fury Review

Logitech's new G402 is billed as the fastest gaming mouse money can buy for high-speed FPS gameplay, with a track speed of over 500 inches per second using the company's Fusion Engine sensor technology which combines an accelerometer and gyroscope, as well as its Delta Zero sensor tech for extreme accuracy.

Nixeus MODA Mechanical Keyboard Review

Founded in California of 2009, Nixeus is still a bit of a newcomer to the PC hardware industry looking to build up a bigger name in the world of monitors and peripherals. Their aggressively priced 1440p monitors which carry the same LG panels found in the iMac displays have been their mainstay for much of that time, but recently Nixeus is expanding to the PC gaming market including the Moda mechanical keyboard being reviewed here on Legit Reviews. Read on to see how this keyboard performs!


CM Storm NovaTouch TKL is tenkeyless keyboard

The CM Storm NovaTouch TKL is tenkeyless keyboard that uses unique hybrid capacitive switches from Topre that are compatible with Cherry MX keycaps. These switches found beneath the keys you press make for what Cooler Master calls the "best feeling keyboard" available. Naturally, we intend to put that claim to the teat in our review.

COUGAR 500K Gaming Keyboard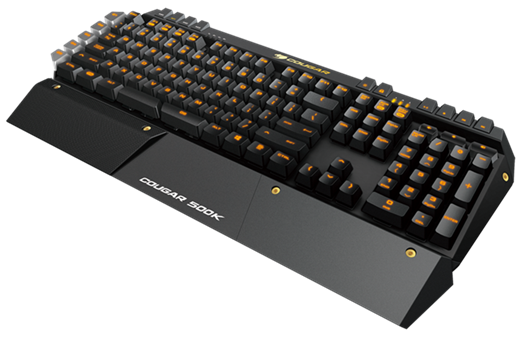 COUGAR, a leading player in the computer gaming hardware market announces today the release of a breakthrough product: the COUGAR 500K Gaming Keyboard. The 500K is the most recent addition to COUGAR's series of gaming peripherals. Its main target are gamers who either due to habit or due to a wish to minimize hardware cost prefer to use membrane keyboards and at the same time do not want to be in inferiority when playing against mechanical keyboard users. The 500K achieves this by being one of the extremely few real N-Key Rollover membrane keyboards on the market and by including all the pro gamer functions of the acclaimed COUGAR 700K.
When it comes to features and functionality, the 500K is the best membrane keyboard currently available. For a start, being an N-Key Rollover membrane keyboard it outclasses all the non-NKRO keyboards and competes directly with high end mechanical keyboards. Apart from doing away with the precision gap between membrane and mechanical keyboards, the 500K also includes a whole set of premium gaming-oriented features. It sports the same layout as the acclaimed 700K: Apart from the standard keyboard keys, it includes 6 fully customizable G-keys and dedicated keys for macro recording, configuration profile switching (both for itself and for COUGAR Fusion mice), backlight control, Windows key locking and multimedia functions. It also includes a palm rest with a detachable component to increase comfort when playing FPS.