[>>]

[>>]

[>>]

[>>]

More>>

Search...

| | |
| --- | --- |
| Peripherals | |

... 10 news stories awaiting approval
Roccat Suora FX Keyboard Review: Less Frame, More Color

Its multi-colored and borderless; no it is not Donald Trump's nightmare scenario but it is the premise behind Roccat's latest mechanical keyboard. The Suora FX is the RGB LED variant of the previously released frameless Suora, while retaining its slim space saving, 100% layout design. Available in either silent tactile brown or clicky tactile blue TTC switches, the Roccat Suora …

Cooler Master MasterKeys Pro M RGB Review

Cooler Master describes the MasterKeys Pro M as a 'hybrid TKL (ten-keyless)' board because it combines the numpad and the arrows keys to save space. This is certainly an interesting idea, and with per-key RGB backlighting as well as Cherry MX switches, it certainly appeals on paper. Does it do enough to justify the £139.99 MSRP?

SilverStone ES02-USB PC Remote Switch Kit Review

Back when I got my first car one of the things I always wanted was a remote starter. Nothing is better than getting into a warm car in the winter. I never ended up getting that remote starter, but SilverStone makes a remote switch kit that will allow you to wirelessly turn on, restart, and turn off your PC! They sent us one over to see if it can make our computing experience even better. Let's take a look!"

Rosewill RK-9300 Keyboard

The RK-9300 is Rosewill's latest keyboard built with function, form and pricing all kept in mind. It uses genuine Cherry MX mechanical switches mounted on an aluminum plate, and has a minimal bezel incorporating a clean look on to a sturdy peripheral. Add in dynamic backlighting, doubleshot ABS keycaps and a sub $100 price point, and the RK-9300 is an attractive package to consider.

Cooler Master MasterKeys Pro S White Review

There are some other keyboards that have adopted the snow-white LEDs previously but the MasterKeys Pro S White, like its siblings, features the extra-large, ultra-bright LEDs that will set it apart. The MasterKeys Pro S White still features some party pieces, including various lighting effect modes and per-key customisation, and like its bigger brothers the M and L.


Cherry MX Board 6.0 Keyboard Review

Cherry is a name by now you are probably very familiar with. They are the makers of the mechanical key switches that are in many of the best gaming keyboards out there. If you didn't know they also make their own keyboards. The MX Board 6.0 actually still remains their flagship gaming keyboard even though it has been out for a couple years now. Their mechanical switches are known for their amazing quality, so we are really excited to see what a 100% Cherry-made keyboard can do. Let's take a look at the MX Board 6.0 and see what it is all about!"

Cougar Attack X3 RGB Keyboard Review on Technic3D

The Cougar Attack X3 RGB arrived Technic3D. "Cherry MX Switches, fully configurable key functions (including macros), RGB backlight and a durable and visually stunning aluminum design?" Technic3D will see the complete functions in the following Review."

Adesso Launches AKB-636 – Mechanical Keyboard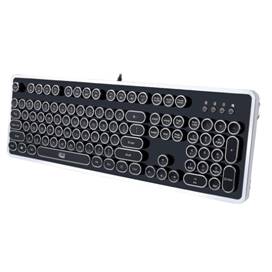 Adesso Inc., a leading manufacturer of computer input peripherals, announces the release of the AKB-636UB Mechanical® Keyboard which offers users a new style of advanced ergonomic input device with multifunctional browsing features.The MSRP for the 636 is $99.99 available for purchase at www.adesso.com.

The Adesso® AKB-636UB Desktop Mechanical Typewriter Keyboard is the perfect keyboard for users that love efficiency with a "retro" design. This sturdy keyboard features silver colored crisp mechanical keys for increased productivity, N-Key Rollover allowing up to 6 keys to be pressed at the same time, multi-functional hotkeys that give you quick access to your media player tools.

With the smooth action of the mechanical keys you can type faster than you imagined, handling up to 50 million keystrokes. The smooth and crisp tactile feedback allows you to have a faster, more accurate typing experience and contains 45-50g of actuation force. With the Adesso AKB-636UB Desktop Mechanical Typewriter Keyboard, you not only have a conversation piece with a look from yesteryear, but you also have the durability, and precision of the technology of today.

Founded in 1994, Adesso has since become a pioneer in manufacturing computer input peripherals, including Data Input Devices, Handwriting Input Devices, and iPad/PC Tablet Accessories. The company is headquartered in Walnut, California, USA, where we have become a leader in computer input device provider for industries such as Education, Government, Health Care, P.O.S., Banking, and PCs and Tablets Adesso is active in developing new and innovative products. Adesso looks towards tomorrow's pioneering designs to ensure they continue to be a leading provider in the Input Devices industry. As such, Adesso holds nine (9) Worldwide patents that include: Keyboard Integrated with Touchpad and Tablet, Keyboard Integrated with Handwriting Retrieval Function, Keyboard Integrated with USB Hub, Memory Card Reader & Fingerprint Encryption/ Decryption, Illuminated Keyboard LED Lighting Method, Wireless Keyboard Power-Saving LED Indicator, Keyboard with Audio/Video Capture, Waterproof Mouse Structure, Waterproof Keyboard Structure, Magnetic Detachable Keyboard with Case.

Corsair K95 RGB Platinum Keyboard Review

What is the main reason to spend money on a "gaming" mechanical keyboard vs a regular keyboard? With membrane based gaming keyboards, your purchase depends mainly on features that you can only utilize during gameplay. But with a gaming mechanical keyboard, your priorities in performance to value are more broad. You're looking for a long life keyswitch that offers tactile feel and a comfortable typing experience as well. This is what we should all look for in a gaming mechanical keyboard, does the K95 Platinum live up to these expectations? We'll find out in this article for Benchmark Reviews.


EpicGear DeFiant Mechanical Keyboard Set @ LanOC Reviews

Just about everyone has jumped into the mechanical keyboard market at this point but rarely do you see companies take their time in tweaking and tuning their products like I have seen with EpicGear. All the way back in 2015 I took a look at their Dezimator X, a pre-release keyboard that they were considering sending to the USB market. Well, my review wasn't the most promising. They took that information along with a lot of feedback from the mechanical communities and Massdrop and designed a new keyboard. Well the EpicGear DeFiant was released and it has a whole list of customization options, well they have been working on a new set based around the DeFiant with a carrying case and some of the customization options, today I'm going to check it out and see how things have changed.

ErgoDox EZ Shine Keyboard

Ergonomics, customization, open source, split keyboard. Those are probably the four terms I would use to introduce the ErgoDox EZ Shine: a pre-assembled split keyboard built on a proven concept but with added tweaks to make this your keyboard, not what someone else designed for you.

Gamdias Hermes E1 & Demeter E2 Review

We got our hands on the Hermes E1 mechanical gaming combo, which comes with the Hermes E1 mechanical keyboard, the Demeter E2 optical mouse, and a free NYX E1 mouse pad. The Hermes E1 features Gamdias certified blue mechanical switches, red illumination, and 21-key rollover. The Demeter E2 has an adjustable 3200 DPI optical sensor with lighting effects, and the cloth textured NYX E1 lets you game right out of the box. Benchmark Reviews will be reviewing the Hermes E1 combo, so let's go through a quick overview of this product.

Cooler Master MasterKeys Pro L RGB Review

Taking inspiration from their popular Quick Fire XTi mechanical keyboard, the MasterKeys Pro L RGB gets re-engineered to accommodate the largest and brightest LEDs available for a vibrant and colourful shine that is aided by the reflective metal backplate.

G.SKILL Ripjaws KM570 MX Keyboard

G.SKILL's KM570 MX keyboard is targeted at the more budget-conscious consumer. It features genuine Cherry MX switches (red, brown or blue), on-the-fly macro recording, full backlighting, lighting animations, all for well below $100.



The best Guides by the best writers on the internet; PCSTATS Beginners Guides explain computers, software, and all those other wonderful things that cause you frustration.

Learn how to use your computer better, master the internet while protecting yourself, and know what to do when your hard drive kicks the bucket.



"Get the 'Stats and Stay Informed!"