[>>]

[>>]

[>>]

[>>]

More>>

Search...

| | |
| --- | --- |
| Peripherals | |

... 1 news stories awaiting approval

Coolermaster Quickfire XT Mechanical Gaming Keyboard Review

Mechanical keyboards are more popular than ever with the gaming community, their high precision and high quality make them well suited to many things, but their prowess in gaming is where they really shine. Cooler Master have crafted many of the best mechanical gaming keyboards on the market and their latest effort, the Quick Fire XT looks set to expand on their already exciting range. Packed full of features that make it an ideal choice for gaming, as well as general day-to-day use, the Quite Fire XT looks like a great product, but the most exciting thing of all has to be the price tag. Available for just under £72 including shipping, which is obviously expensive, but still representative of cheap for a mechanical gaming keyboard, many of which cost in excess for £100. The cost is often a reflection of the switches used, Cherry MX are not cheap, but in terms of quality and performance, you get what you pay for. The Quick Fire XT comes in a choice of popular Cherry MX switches, Red, Green, Brown, or Blue. The model we have in the office today is the MX Blue variant, but keep in mind that availability of certain switches will vary depending on region. MX Blue are a pretty specialist choice for keyboards, they're often quite loud as they offer a strong tactile "click" when pressed, this gives a satisfying tactile sensation while typing, but is often regarded as noisy switch as the click is certainly audible as well as physical. The Quick Fire XT comes nicely packaged in the usual CM Storm colours and features a stylish picture of the keyboard on the front of the box as well as a small picture that details the switch type (MX Blue).

Thermaltake Tt eSPORTS Challenger Illuminated Gaming Keyboard

Today we are taking a look at Thermaltake's Tt eSPORTS Challenger Illuminated gaming keyboard, which we found right off the bat to be extremely easy to type on. Thermaltake Tt eSPORTS, the gaming division of Thermaltake, has really pulled out all of the stops with the Challenger Illuminated gaming keyboard.

Blackfire CLAMPLIGHT LED Flashlight Review @ TestFreaks

Up for review today I have something a bit different, a flashlight from a company called Blackfire. Normally we cover tech products, but we do cover everything really, but flashlights these days can be considered high tech when you really look at them with high intensity LEDs and futuristic designs. The flashlight I have today is called the Clamplight and it`s what I would call a utility light as as its name suggests, it has a clamp built-in so you can attach the light most anywhere to make sure you have light where you need it most. So read on to learn about a very versatile product..."



Rapoo E6300 Bluetooth Ultra-slim Keyboard for iPad Review @ TestFreaks

Rapoo have created a 5.6 mm ultra thin slim keyboard called the E6300 BT Ultra-slim Keyboard for iPad. Although it is labeled as for iPad it can work with any Bluetooth-enabled smartphones or tablets. It is composed of brushed metal and can run for one month off a two-hour charge."

ROCCAT Ryos MK Pro Gaming Keyboard Review

PC Gaming is not dead, it's just that there isn't as much innovation happening to steal the headlines. Tablets, Laptops and Consoles are taking the limelight. Sure they're great for intermittent gaming but can't really compete with the ultimate solution – The humble PC. ROCCAT is making its debut into the thriving mechanical keyboard market with three variants of its Ryos MK Mechanical Gaming Keyboard. In this review, Benchmark Reviews will be testing the top of the line ROCCAT Ryos MK Pro Mechanical Gaming Keyboard (model# ROC-12-851-BN – US Layout) with Cherry MX Brown switches and individual backlit keys.

Ozone Strike Pro Gaming Keyboard @ Rbmods

Today we are taking a look at another mechanical keyboard; Ozone sent us a sample of their latest Strike Pro keyboard. This seems to be able to compete with quite a few keyboards currently on the market with a price under 150$."


Cooler Master QuickFire Rapid-i keyboard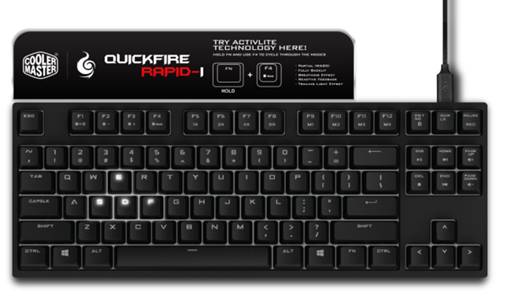 This is new. Cooler Master QuickFire Rapid-i keyboard. This puppy is fully back lit, uses mechanical switches and contains a 32-bit ARM processor which provides four individual key lighting profiles as well as quick response and trailing effects. Full PR below.
"Cooler Master has announced its showcase and lineup for PAX East 2014 in Boston, Massachusetts. Product highlights for the show include the HAF Stacker mod tower and the upcoming QuickFire Rapid-i and NovaTouch keyboards.
The Cooler Master booth (#216) is right near the entrance of the exhibition hall.
Feeling the Difference
Attendees will have an opportunity to get a look and feel of two upcoming ten-keyless keyboards from Cooler Master. The first is the newest contender from the popular QuickFire series, the QuickFire Rapid-i. The Rapid-i is a fully backlit evolution of the QuickFire Rapid keyboard that features sturdy and tactile mechanical switches. Equipped with a 32-bit ARM processor, the Rapid-i uses Cooler Master's new ActivLite technology, which provides four individual key lighting profiles as well as quick response and trailing effects.
Also, PAX Attendees will get an EXCLUSIVE pre-order of a limited quantity of Rapid-i keyboards.
Information and availability notification for the Quickfire Rapid-i keyboard is available at http://event.coolermaster.com/rapidi/
The second keyboard is the NovaTouch TKL, equipped with a brand-new hybrid capacitive switch design unseen in any other Cooler Master keyboard. The NovaTouch is designed for both comfort and performance, while still maintaining support for popular CHERRY MX keycaps for keyboard enthusiasts.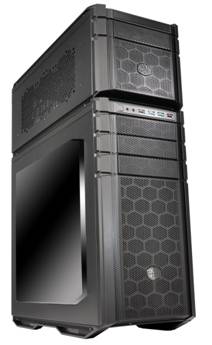 Form to Function
Attendees who visit the Cooler Master booth will have opportunities to win Cooler Master equipment, learn all about gaming and computing hardware, purchase gear with show specials, and play games on PCs built in the HAF Stacker mod tower computer case.
Cooler Master will be teaching attendees all about comfort, efficiency, and personalization via vapor chamber technologies, the versatility of the HAF Stacker mod tower system, and the importance of ergonomics and mobility. Learn about Cooler Master University and its goal of helping customers become educated about their equipment at www.cmuniversity.net.
Attendees will be able to challenge the Cooler Master gaming elite in order to put the gaming peripherals through their paces, to gain bragging rights, and more. Prizes include everything from t-shirts to mechanical keyboards.
For more information and updates about Cooler Master at PAX East 2014, please follow @CoolerMasterUSA on Twitter (twitter.com/CoolerMasterUSA), visit the Cooler Master Americas Facebook page (facebook.com/CoolerMasterNA), and look for updates on the Cooler Master subreddit (reddit.com/r/coolermaster)

Cherry MX Flavored Typing

As a species, we've come a long way from the days of carving notes into stone. While our ancestors used chisel and rock, we now use keyboards to hammer out our thoughts and anything that needs to be documented. Some of us spend hours a day sitting in front of a PC, a large portion of which is dedicated to punching keystrokes at a frenzied pace. There's a good chance that your keyboard is actively used more than any other peripheral or accessory, save for your monitor, yet some people give little thought to their plank, as if to suggest that all keyboards are essentially the same. Professional typists know better. So does Metadot, which started to build a better keyboard nearly a decade ago. You know it as the Das Keyboard and through several generations of refinements, it's evolved into what's now called the Das Keyboard 4 in both Professional (labeled key caps) and Ultimate (blank key caps) variants...

Gumstick Smartphone Stand Review @ Bjorn3d.com

Phones today do a lot more than just make phone calls. You can play games, listen to music, read books and watch videos on them. Some of these activities are best done without having to hold the phone all the time. If you are watching a movie or listening to music you might not want to have to hold it and instead want to prop it up somehow. There are a lot of stands available for the bigger tablets but not as much for phones. At least not many that are small and as portable as the phone itself. This is where the Gumstick Smartphone Stand comes in. It is a product that was started on Kickstarter and funded there and now is being shipped to backers and also sold on at least their website."

Corsair Raptor K40 review

We review the rather colorful Corsair Raptor K40 with dome based keys and a rather wide variety of colors for backlighting of this gaming keyboard. The K40 is the first in the Raptor series. It has a very recognizable look and concept, but it adds some more features, it has LED back-lit keys that you can customize colors wise. Let's have a peek shall we? Read the full review right here.

GAMDIAS HERMES Mechanical Gaming Keyboard Review

The HERMES Mechanical Gaming keyboard by GAMDIAS is a standard sized keyboard measuring 474.85x310.83x39mm (with wrist rest). The GAMDIAS HERMES mechanical gaming keyboard uses Cherry MX Blue mechanical switches. HERMES has built in memory of 512kb and a polling rate of 1000Hz. There are 13 macro keys and 6 multi-media keys."

Reeven Justice RC-1204

"My experience with Reeven certainly leaves me with a positive feeling. I was not familiar with Reeven products, but the Justice RC-1204 gets the job done and looks great while doing it. So what do I like about it? To start, I like the size. It is not so massive that it smothers you motherboard. Nevertheless, it is large enough to handle the heat of a mild overclock, which is nice. Next is the way the fan attaches to the fin stack - I like the four plastic clips. Sometimes the usual metal clips can be a pain, but this new refreshing style of plastic clip gets my attention."



The best Guides by the best writers on the internet; PCstats Beginners Guides explain computers, software, and all those other wonderful things that cause you frustration.

Learn how to use your computer better, master the internet while protecting yourself, and know what to do when your hard drive kicks the bucket.



"Get the 'Stats and Stay Informed!"