[>>]

[>>]

[>>]

[>>]

More>>

Search...

| | |
| --- | --- |
| Beginners Guides | |

... 1 news stories awaiting approval
Intel Core Processor Number Guide

The Intel Core processor number system changes with every generation, including the new 10th Gen Core processors. In this guide, we will share with you exactly what those letters and numbers mean!

How CPUs are Designed, Part 3: Building the Chip

In this third installment we explore how the physics of how transistors work, how their individual components are built in silicon, and how they are connected to create useful circuits and chips. How do you transform a pile of sand into an advanced processor? Let's find out.

TechTip: Dell Inspiron and the Incompatible SSD ?!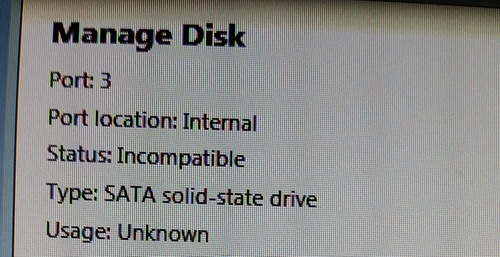 Just thought I'd share this TechTip with the PCSTATS readers and hopefully save someone else a little bit of time. While attempting to add a second SSD into a Dell Inspiron today (to act as a cache drive) Intel RST rejected the drive as "Incompatible" - the drive wouldn't even show up under Device Manager / Disk Management.... odd. I've never heard of a SATA SSD being incompatible, but Dell is nortoriously proprietary with devices. For example, I had to buy a special proprietary SATA power cable just to hook the drive up! Silly Dell.
Anyway tried the following steps unsuccessfully:
 - on another computer, deleted the partitions on the SSD and recreated one new partition in NTFS
 - on another computer, deleted the partition and left the drive unmounted.
 - in the Inspiron BIOS, changed it from Legacy Boot to UEFI... nope
 - in the Inspiron BIOS, attempted to change things from ACHI to RAID, but the Inspiron doesn't even support a RAID setting (this a common suggestion on Dell's user-driven support forums).
The SSD worked just fine in another computer, so this was all a bit perlexing.
It turns out the REAL problem was the format of the partition table: MBR vs. GPT! The SSD was previously set up as an MBR disk (Master Boot Record) and what Intel RST was complaining about when it said "Incompatible" was easily fixed by converting the SSD from MBR to GBT (GUID Partition Table) on another computer, using Disk Management.
After making the change to GPT, the SSD was installed into the Dell Inspiron, the drive was recognized, mounted and formatted for use. Problem solved!

How CPUs are Designed and Built

We all think of the CPU as the "brains" of a computer, but what does that actually mean? What is going on inside with the billions of transistors to make your computer work? In this new four-part mini series we'll be focusing on computer hardware design, covering the ins and outs of what makes a computer work.

Make a household fusion-powered

Our own Colton Westrate invested $65,000 to make his household fusion-powered. Join him as he tells the story from the beginning and shares every juicy detail he possibly can.

Computer Tips & Tricks Everyone Should Know

Many hardcore computer users might consider themselves above learning new tricks, but there are always new ways to sharpen your skills on the PC and we bet that you will find at least one useful thing here that you didn't know before.

Export Putty Session List

Export Putty Session List Export Putty Session List I don't know about you, but I tend to work from a number of different computers, most of them Windows. Well, when the time comes that I have to either migrate system settings or configure a new device, Putty settings is always something that seems to get lost in transition. With a little search and destroy, I found a way to easily migrate your Putty Session list for import on another device.

Guru3D Winter 2019 PC Buyers Guide

It's that time of year again, when I finally emerge from the maelstrom that was the end of 2018, CES 2019, and the release of Radeon VII. This article has been 'ready' for a fair while, but the rapidity of events in early 2019 has led to several not insignificant revisions over the course of the last six or so weeks.

Beginner's Guide To Twitch Streaming

"Do you want to be the next Ninja? How about the next Dr Disrespect? Maybe you want to try out your stand-up routine on random Internet strangers before hitting up the local comedy club. Whatever the case may be, streaming to Twitch, or another similar platform, can seem like a daunting task at first. Thankfully this doesn't have to be the case, and we are here with the first in a series of articles dedicated to getting you up and streaming. While this guide will focus on setting up your system to go live on Twitch, many of these steps can be repeated at other sites like YouTube and Mixer. This being part one, we will go over the very basics of streaming games, and if you follow this guide, you could be up and streaming in record time."

Building a Gaming PC Right Now is a Good Idea

What a difference a year makes. It was about this time last year that we discussed why building a gaming PC was a bad idea, but thankfully a lot has changed since. You may recall, DDR4 memory and graphics card prices were through the roof a year ago. GPU availability was quite poor and on top of all that, we were at the end of a few product cycles. Fast forward a year, what's changed?

How to Find Your Original Windows 10 Product Key

For a long time Windows PCs (OEMs) came with a product key sticker with your license info, but now manufacturers are storing this license within the machine's UEFI/BIOS, so the information is retrieved and applied automatically. Furthermore, your Windows license can now be tied to your Microsoft account. Let us explain.


Standing Desk Starter Guide: Some Dos and Don'ts

It can be easy to talk yourself out of standing at a computer desk. Besides parting with your favorite chair, the price of most adjustable models can discourage many. Read on for a practical outlook on what you can expect from your first standing desk, whether you're building something yourself or having one shipped to your door

Windows To Go: How to Install and Run Windows 10 from a USB

Did you know that a full copy of Windows can be installed and run from a USB drive? Microsoft introduced "Windows To Go" with Windows 8 Enterprise and has continued supporting the feature in Windows 10, which can be kept on a pen drive in your pocket as a portable operating system.

Improve Windows Start Menu's Search or Simply Install a Better Replacement

Although the Start menu is supposed to be the fastest way to find local files, software and settings, Windows 10's search indexing service is far from the best. It is not uncommon that a simple query won't return any valid results, no matter how simple or precise your query is. Here's how you can turn things around

A Compilation of Command Prompt Tips

We've compiled a list of things that you can do in the Windows Command Prompt, including some commands everyone should know for general usage, more advanced ones for tweaking or troubleshooting your PC, as well as lesser known Command Prompt features.




Technology Content






Seagate FreeAgent GoFlex TV HD Media Player Review
Nov 25 | Home Theatre
Rating:






Seagate's GoFlex TV HD is a media player with network connectivity and hard drive dock. The pint-sized black box fits unobtrusively in a living room environment - unlike a full sized Media PC - and the GoFlex TV HD's on screen controls are simple to navigate via the infrared remote control. Full size media PCs often need a keyboard and mouse to be useful, having cooling fans that make a lot of noise and take up too much space...


Beginners Guide: Install/Remove Intel Socket LGA1156 CPU and Heatsink
Nov 18 | Beginners Guides
Rating:






Installing a socket LGA1156 Intel Core i3/i5/i7 processor into a fresh motherboard as part of a new PC build can be intimidating step, particularly if you've never worked inside a computer before. PCSTATS received a few emails from novice readers on this subject, so we thought it worthwhile to lay out the steps for you in this Beginners Guide.



MORE » Complete PCSTATS Article and Review Listings...

The best Guides by the best writers on the internet; PCSTATS Beginners Guides explain computers, software, and all those other wonderful things that cause you frustration.

Learn how to use your computer better, master the internet while protecting yourself, and know what to do when your hard drive kicks the bucket.



"Get the 'Stats and Stay Informed!"