| | |
| --- | --- |
| Power Supply | |

... 2 news stories awaiting approval
Seasonic Prime Titanium Fanless 600W PSU Review

Over the years Seasonic have been behind some of the highest grade fanless power supplies on the market. The X-Series 460W and Platinum Fanless 520W bring back some great memories for me. It would be fair to say that Seasonic have taken their time in releasing a modern day successor. Enter their new Prime Titanium Fanless supply – offered in a staggering 600 watt capacity. Is this one of the finest power supplies of 2017? I would go as far to say that it is quite possibly one of the finest power supplies ever made.

Cooler Master recently updated the MasterWatt Series

Cooler Master recently updated the MasterWatt Series, which now includes four new MasterWatt power supplies ranging in output capacity from 450W up to 750W. All four power supplies feature semi-fanless operation, modular cables, 80 Plus Bronze level efficiency, and come backed with a 5-year warranty. Note: the two MasterWatt Maker 1200W PSUs are 80 Plus Titanium certified and come with a 7-year warranty while the two MasterWatt Lite PSUs are 80 Plus white, have fixed cables and come with a 3-year warranty. We will be taking a detailed look at the MasterWatt 550W PSU in this review.

Be Quiet! SFX L Power 600W Power Supply Unit Review

People looking to get a brand new feature-rich SFX-L form factor power supply unit that also offers very good performance without breaking the bank should look no further than the SFX L Power 600W model by be quiet!.

Riotoro Enigma 850W G2 Power Supply Review

You probably haven't heard of Riotoro however they are a relatively new start up founded by former employees of Nvidia and Corsair. They told us they believe that PC enthusiasts have been overcharged in order to have the best hardware so they set out to design and provide enthusiast grade products at more competitive price points. They have already been making an impact with the American audience, however their next stage is the European market.

Cougar GX 1050W V3 power supply

"This power supply is rated for efficiencies of up to 93%! The design is semi-modular with a 24-pin ATX, 8/4+4 CPU, and dual 6+2 PCI Express power cables hard-wired with eight auxiliary modular cable connections. This power supply uses dual 12V rails, the first one does double duty by supplying the peripheral devices."

Enermax RevoBron 600 Watt psu

"RevoBron is the successor of the well-known modular long-life series Triathlor. Durable quality components and a sophisticated technical design ensure stable and clean output voltages. RevoBron comes with a special accessory: COOLERGENIE is the intelligent 2-in-1 fan controller that enables semi-fanless and fan-delay function for external fans."

Bitfenix Formula Gold 750W PSU Review

A new power supply from Bitfenix recently graced our labs – the Formula Gold 750W. This is an 80 Plus Gold, non modular unit targeting the mass enthusiast audience. Bitfenix say they are using high grade components inside to deliver good electrical performance with low acoustic noise. They are releasing four models in this range – 450W, 550W, 650W and 750W. We look at the highest power model in the range today.

BitFenix Formula Gold 750 W

The BitFenix Formula Gold 750 W is one of the quietest PSUs in the sub-$100 category, and it performs very well in all other areas. Its fixed cables are the only compromise - you clearly cannot have it all at such an affordable price.

Enermax ETS-T50 AXE Review

ENermax presents its new tower cooler ETS-T50 AXE. What the cooler has to do with an axe or a deodorant, we can not say. But how good the cooler in our Intel test system works, we will show on the next pages in the detailed Enermax ETS-T50A-DFP test with D.F. Pressure fans.

Seasonic Platinum 760W Power Supply Review

Can it be a little more? With these words, a meeting at Seasonic could have started when it came to design a new high-performance power supply. We have the result in the test today. The Seasonic Platinum 760W XP2 power supply. What makes this power supply so special apart from the technical specifications is now published on OCinside.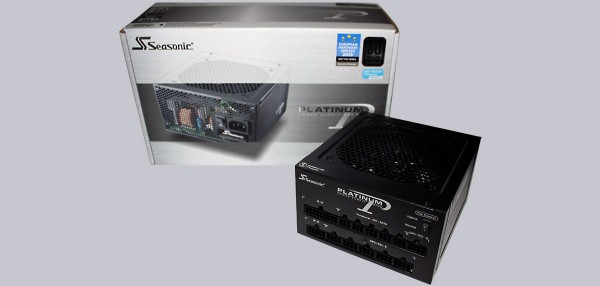 FSP's new Hydro PTM lineup

FSP's new Hydro PTM lineup is part of their top-tier Premium Series and currently includes three models: 750W, 650W, and 550W. We will be taking a detailed look at the 750W Platinum model in this review. FSP Group Inc. has been designing and building PC power supplies under their own brand since 2003. Not only do they market power supplies under their own FSP name but they are the OEM for many other big name brands. Now you might be thinking "Hydro" refers to water-cooling but like we saw last year with the Hydro G series power supplies, the Platinum Series all use conventional air cooling. The Hydro apparently refers to the "Hydro Dynamic Bearing" used in the cooling fan (more commonly referred to as a FDB – Fluid Dynamic Bearing).

Enermax Revolution Xt II 750W PSU Review

We continue with a new power supply review. This time Enermax is launching a small power plant that not only excels with its high power output of 750 watts, but also has a few more finesses. How well the Revolution X't II power supply performs in the test, and whether a metal bracket can really change our IT life, everything and much more can be found on OCinside.de!

Corsair HX1000 Platinum 2017 Review

This year Corsair has released a new version of their popular HX series and therefore also the 1000W model underwent an overhaul. There is now a 80 Plus Platinum rating, which is pretty much standard these days in the case of high-end units and apart from that the exterior looks sleeker now. Improving the internals, which are being assembled by CWT, included better cooling more high-end components from Nichicon and Nippon Chemi Con for instance. Overall this should make for a very solid unit.

Seasonic's new FOCUS Plus family of power supplies

Seasonic's new FOCUS Plus family of power supplies currently includes two different series ranging from 550W up to 850W output capacity with either Platinum or Gold efficiency certification. Earlier this year we looked at the FOCUS Plus Gold (FX) 650W power supply and found it to be an excellent new addition to Seasonic's lineup. In this review we will be taking a detailed look at the Seasonic FOCUS Plus Platinum (PX) 550W power supply. And to insure that reviewers are not being sent hand-picked golden samples, Seasonic once again arranged to have our sample delivered straight from Newegg.com inventory.