| | |
| --- | --- |
| Power Supply | |

... 2 news stories awaiting approval
Cooler Master MasterWatt Maker 1200 PSU review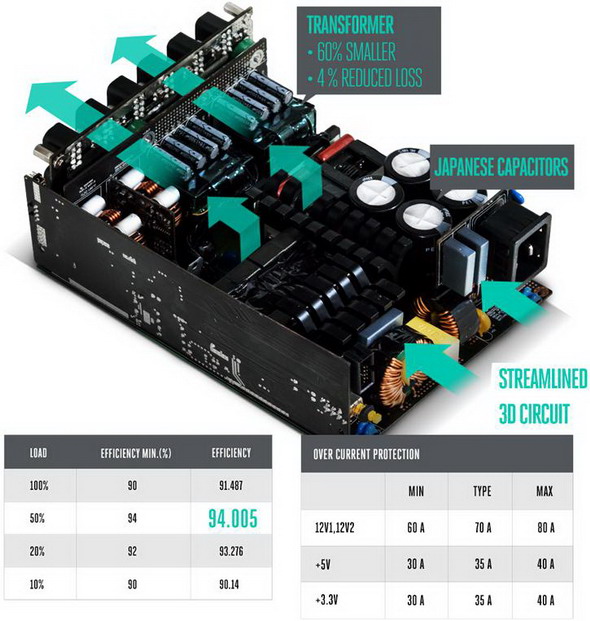 This summer Cooler Master launched the new MasterWatt Maker PSU series. These power supplies are not just intensely efficient with good build quality, Cooler Master wanted to take things a step further and made them completely digital with options to monitor and configure right from your PC or mobile phone through new proprietary Connect Software. The end result as such is impressive alright, a very nice power supply rates 80+ Titanium that comes with a modular design 12V rails and even configurable fan control.


Seasonic PRIME Series 750 W

We evaluate Seasonic's Prime 750 unit, which boasts amazing performance, including 80 PLUS Titanium efficiency, a set of interesting features, and a unique look. Seasonic has an impressive Titanium entry on their hands that will make other OEMs feel uncomfortable because it raises the performance bar incredibly high.


Supernova G2L Series

The EVGA 750W Supernova G2L power supply exhibited excellent voltage regulation on all of the DC outputs along with excellent AC ripple and noise suppression. The power supply features a good assortment of modular cables and delivers great efficiency, easily meeting the 80Plus Gold criteria."

InWin Classic Series C 900W Review

With the C 900W InWin has launched a high-end power supply, which belongs to their Classic Series. At a first glance we noticed an enclosure made entirely from aluminum. This makes us curious whether the internals of the 80+ Platinum certified PSU are built to meet the same quality standards.


GIGABYTE XP1200M 1200W Power Supply Review

You read that correctly, we are reviewing a computer PSU today that is being sold under the GIGABYTE banner. GIGABYTE is best known for its motherboards, but that should put it in a good position as to knowing what kind of power an enthusiast PC system needs. Add in that this PSU is a 1200 watt beast and that should make it interesting.

Enermax Platimax D.F. 500W psu

HardwareOverclock.com has just posted another review. Last week we have tested the Enermax Platimax D.F. 500W psu. Platimax D.F. comes with new SLEEMAX cables, stylish individual sleeved cables made with carefully selected fabric. Platimax D.F. is equipped with patented D.F.R. (Dust Free Rotation) function, which instantly blows away dust to enhance cooling performance and prolong the lifespan of both fan and PSU.

SilverStone Strider Platinum Series 850W

HardwareOverclock.com has just posted another review. Last week we have tested the SilverStone Strider Platinum Series 850 Watt. This PSU was created to be the smallest fully modular ATX power supplies with 80 PLUS Platinum efficiency, they are also incredibly quiet with the ability to run in fanless mode.

Xtorm AL450 Power Bank Essential 12.000mAh Review

It delivers up to 12.000mAh of batter juice to two portable devices simultaneously and does so by even using Qualcomm's quick-charge 2.0 technology. It's the latest AL435 Power Bank Essential by Xtorm.

Cougar GX-S 550 W

The Cougar GX-S550 is an affordable PSU with decent performance, ultra-compact dimensions, and a silent operation under normal ambient temperatures. The only compromise is the lack of modular cables.

new Strider Platinum Series 550W power supply

Back by popular demand – today we are taking a detailed look at SilverStone's new Strider Platinum Series 550W power supply. Not everyone needs or wants a high-capacity power supply and it is nice to see a medium range 550W unit with 80 Plus Platinum efficiency certification. Last month we looked at the Strider Platinum 850W unit and found it to be a very good power supply. In this review we are going to see if the 550W unit can live up to the expectations set by its big brother (tight voltage regulation, low AC ripple, high efficiency and quiet operation).

InWin Classic Series 750W Fully-Modular 80 Plus Platinum PSU Review

InWin has won many awards for their incredible chassis designs in recent years, and we should know, we've awarded many of them, as have many other publications around the world. However, their love for aluminium and flawless design doesn't stop at the chassis market, as we'll see today with their Classic Series 750W power supply.

Hydro G 850W PSU is very good

FSP Group Inc. has been designing and building PC power supplies under their own brand since 2003. Not only do they market power supplies under their own FSP name but they are the OEM for many other big name brands. FSP's Hydro G lineup is part of their top-tier Premium Series and currently includes three models: 850W, 750W, and 650W. Now you might be thinking "Hydro" refers to water-cooling but it does not – the Hydro G series power supplies all use conventional air cooling. The Hydro apparently refers to the Hydro Dynamic Bearing used in the cooling fan.

Gigabyte XTREME GAMING XP1200M PSU review

Gigabyte released the XTREME GAMING XP1200M Platinum power supply series. It's 1200W, Platinum certified, fairly silent, modular and can be spotted for just 225 EUR. Hell they even throw in a 5 year warranty. That just oozes value, features and lifespan for your enthusiast grade PC build.