| | |
| --- | --- |
| Power Supply | |

... 2 news stories awaiting approval
Raidmax RX-1000AE 1000W Power

"We mainly know Raidmax for their cases, but they also make power supplies. When talking about power supplies many people go for the highest wattage possible, but many people will never use that wattage in a 1200W+ unit. 1000W units are perfect for systems with multiple graphics cards and other demanding components. The RX-1000AE from Raidmax is a 1000W unit that is semi-modular, has an 80PLUS Gold certification, and a silent 135 mm cooling fan. What's even better is that this unit is currently selling for around $150. Not bad for a 1000W unit with these features, but will the RX-1000AE make it through our tests? Read on as we find out!"

Win a Raidmax Agusta Case & RX1000-AE Power Supply @ ThinkComputers.org

It is contest time here again at ThinkComputers! We have teamed up with our friends over at Raidmax to give away two of their products. First we have the Agusta case which just looks awesome. Secondly, is the RX-1000AE power supply which really is a 1000W 80PLUS Gold certified power supply with some great features. So how can you get your hands on these two awesome products?"

750-850 watt power supplies reviewed

Perhaps not the most exciting conclusion but we didn't encounter any really bad units in this test. It seems that as long as you buy a power supply from a well respected brand you'll be fine. Still this doesn't mean that there aren't any differences, especially when it comes to noise.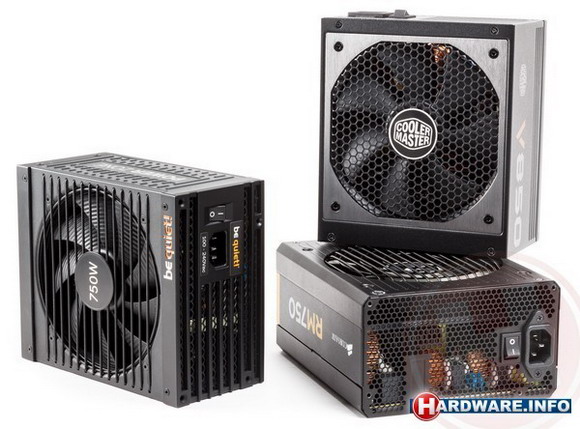 Xtorm LAVA CHARGER Universal Solar

Summer is almost here and so just like every other summer in the past we've all started to look around for gadgets that will make your life easier during your long awaited vacations by the beach. With the sun being the dominant feature of the summer period our eyes and minds are of course turned towards solar powered gadgets and although there aren't that many reputable manufacturers out there that offer such products still we did manage to find a few to test their products. Up until 2 years ago the popularity of portable battery packs was not really that great but with the continuous advancement of tablets and smartphones today pretty much every person i know of owns at least one. Xtorm may not be a name that many of us have heard in the past but they are a well-established manufacturer of power banks inside the EU and today we will be testing their latest offering called the LAVA CHARGER.

Raidmax Cobra Power 500W Power Supply Review

We tread off the beaten PSU path today with a power supply from Raidmax that is part of the Cobra series. The RX-500AF-B unit sports 500 watts of "Haswell Ready" power, a Bronze efficiency rating, advertised stable voltages, a "strong single +12V rail for high-end system heavy load configuration," plus a paint ball stained exterior.

EVGA SuperNOVA G2 750 W @ techPowerUp

EVGA is expanding their high-end SuperNOVA G2 series by releasing two mid-capacity units with 750 W and 850 W maximum output power. Today, we will evaluate the G2-750 with Gold efficiency, a fully modular cabling design, and selectable semi-passive operation, which renders it totally inaudible at lower loads."

Seasonic S12G 450 W @ techPowerUp

Seasonic is one of the best PSU OEMs and has lately been trying to improve its presence in the mainstream and lower-end segments by releasing affordable products. Today, we will evaluate the S12G 450 W which is essentially a G series PSU without modular cables."

Seasonic G-Series: G-450 Power Supply Review

Seasonic is continually short on marketing but long on performance, and we are good with that. Today's 450 watt G Series computer power supply makes more sense in this new world of lower power desktop CPUs and GPUs. Does the G-450 gives its users solid power in this lower end of the spectrum range at the right cost?

Enermax Revolution Xt 430 Watt Power Supply Review @HiTech Legion

The Revolution Xt from Enermax is a Haswell ready 80 Plus Gold rated PSU. This particular Revolution Xt will provide up to 430 Watts to your PC, and it`s also available in 530W, 630W and 730W capacities. This one comes with a 24-pin motherboard connector versus the more common 20+4 pin connector. It has a 4+4 pin connector for CPU power, and it has dual 6+2 pin connectors for video cards. "

Antec High Current Pro Platinum 1300W PSU Review

Antec's high end power supplies have earned a good reputation over the years and today we look at the latest addition to their High Current Pro Platinum range – a powerful 1,300 watt rated model. High capacity power supplies are currently selling out everywhere, due to the expanding user base who use their system for mining. The Pro Platinum 1300W is a pure modular design and Antec are claiming a 94 percent efficiency.

Super Flower Leadex Platinum 1200 W @ techPowerUp

The Leadex Platinum 1200 W will hit our test bench today. It features 80 Plus Platinum efficiency, a fully modular cabling design, and promises to perform wonderfully while producing hardly any noise by utilizing an excellent platform and a semi-passive operation user can swap to by flipping a switch."

EVGA SuperNova 850 G2 Power Supply Review @HiTech Legion

In that spirit, the EVGA SuperNOVA 850 G2 provides 850 watts of continuous power with 80PLUS Gold efficiency and less than 2% variance in voltage regulation. The EVGA SuperNOVA 850 G2 employs a single 849W/70.8A 12v rail with all 100% Japanese solid caps on the mainboard and DC/DC conversion for the secondary rail for outstanding efficiency and control."


Avantree Juno 6800mAh Portable Power Bank Review @ TestFreaks

Up for review today I have some power for you in the form of the Avantree Juno portable power bank which has a 6800mAh capacity battery inside of it and can charge not only phone but tablets as well since it can output 2.1 amps on the USB port. The Juno has a built-in USB cables with both microUSB and standard USB connections on it so you don`t have to carry a cable with you to charge the Juno, your devices or even for syncing. The Juno is small and portable and it seems nicely made and it has four LEDs on it to indicate battery capacity and charging. Read on to learn more.."

ADATA PV100 Power Bank Review

Power comes in all forms, and it`s all around us. Our entertainment streams are full of power struggles, and they continue to play out on the world stage - all day, every day. My own power struggle is much more mundane. I just need to keep my cell phone charged up all day long, and sometimes for more than a day. One way to do that is to carry an external battery pack, like the one in the picture below. Benchmark Reviews has been testing a brand new power pack from industry leader ADATA, on a daily basis for several weeks now. The ADATA PV100 Power Bank is small, slim, and relatively lightweight, courtesy of the advanced Lithium Polymer battery inside. It has a capacity of 4200mAh, which is close to a median value for this type of device."

Raidmax RX-1000AE Power Supply Review

"Power supplies in the 1000W still offer plenty of power to those who will predominantly run multiple graphics cards in their systems, but that doesn't mean these units need to cost a fortune. Indeed, there is a considerable market for those enthusiasts who are of more modest means, and still want plenty of power. This is where the Raidmax 1000AE 1000W might offer a solution. It's a kilowatt unit that's very reasonably priced at only $150. Frankly, that's a steal of a deal, and if you want a power supply that's partly modular, sleekly styled, and won't break the bank, you might want to have a closer look at this Raidmax unit."