[>>]

[>>]

[>>]

[>>]

More>>

Search...

| | |
| --- | --- |
| Power Supply | |

... 0 news stories awaiting approval
OMBAR Toucher3 11000mAh External Battery Power Bank Review

"Today I've got a quick review for you of another external battery pack from a company called Ombar called the Toucher3 which has an 1100mAh capacity battery inside of it. The name is the Toucher3 and it has a small metal touch sensitive square to activate the battery and check the capacity. The pack is simple, it's well made and it's easy to use. Read on to learn more… "

Corsair Vengeance 650W PSU Review

The Corsair Vengance 650W PSU arrived Technic3D. See you in the following Review from Technic3D the next PSU with four +12V rails (25 A), a 120mm Fan, up to 5x SATA hard disk connectors and 4x PCI-e 6+2-Pin."

XFX XTS 1000W Platinum PSU Review

If you are shopping for a new high grade power supply then there are many options available on the market this year. We were recently sent the XFX XTS 1000W to review – currently one of the least expensive Platinum grade power supplies available on the market today, available at only £150 inc vat.

Corsair Shrinks PSUs with New SFX SF600 and SF450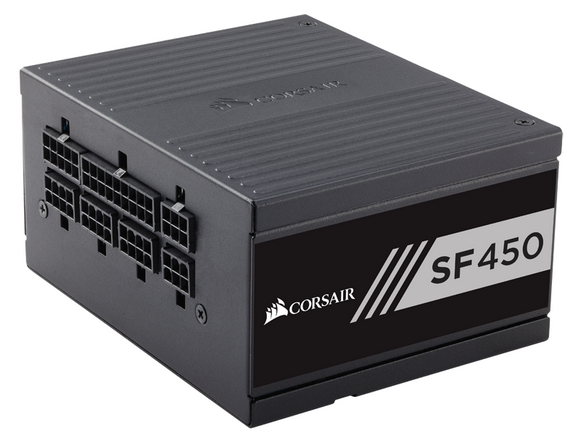 Corsair®, the most awarded and recommended PC power supply brand in the world1, today announced the release of its first ever SFX form factor PSUs, the new Corsair SF600 and SF450. Fully Modular, 80 Plus Gold Certified and built with 100 per cent Japanese capacitors, the SF series brings Corsair's legendary PSU reputation to a new form factor, producing the SFX PSU to match PC enthusiast's big ideas.
First unveiled as part of Corsair's upcoming Bulldog project, the new 600W SF600 and 450W SF450 are a no-compromise approach to SFX PSUs, bringing the high-end features of Corsair's award winning PSUs to a new compact form factor. 80 plus Gold-certified efficiency with tight voltage regulation delivers ATX performance in an SFX form factor, with 100% 105°C rated Japanese capacitors ensuring unwavering power and reliability.
Fully modular to make builds and upgrades in even the smallest ITX cases easier, the SF600 and SF450 use a full-size 90mm cooling fan, the only consumer SFX PSUs to do so. The result is a PSU optimised not just for efficiency, but low-noise too, with Corsair's Zero RPM Fan Mode only switching the fan on when the PSU is under load, providing virtually silent operation at low and medium loads, another first for SFX PSUs.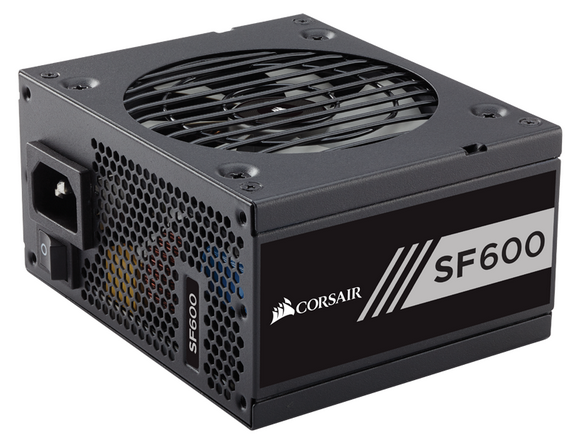 Backed by Corsair's comprehensive seven year warranty and world-wide customer support network, the SF600 and SF450 offer the peace of mind and reliability to last across multiple system builds or upgrades. If you have big ideas for your next small form factor system, the SF Series has the reliable power delivery and quiet, efficient operation you need.
SFX Form Factor: Designed for high performance small form factor systems.
80 PLUS Gold certified: High-efficiency operation for less excess heat and lower operating costs.
Fully modular cable set: Detachable DC cables make builds and upgrades easy, with clean, great-looking results.
100% All Japanese 105°C capacitors: Premium internal components ensure solid power delivery and long term reliability.
Zero RPM Fan Mode: Virtually silent operation at low and medium loads.
Seven year warranty: Your guarantee of reliable operation that will last across multiple system builds.
MSRP: SF600 $119.99 Exc. Tax - SF450 $89.99 Exc. Tax

SilverStone Strider Platinum ST55F-PT 550W Power Supply Review

Silverstone is one of the biggest PC component manufacturers in the world. Every year they launch a colossal amount of products that span a huge range of hardware and usage scenarios. They've got an ever-growing range of connectors, cables, fans, filters, I/O devices, chassis, coolers and more. Of course, the one that's most important to us today is that they also make some of the industries best PSU hardware. Their new Strider Platinum ST55F-PT 550W really caught our interest, as not only does it pack 550W of power, it also has 80 Plus Platinum efficiency, fully module cables, high-quality components, and a hybrid/passive cooling feature, but it's also incredibly compact for a PSU with these hardware specifications, making it a promising solution for compact system builds.

Corsair RM750x psu

HardwareOverclock.com has just posted another review. Last week we have taken a look at the Corsair RM750x psu.

be quiet! Dark Power Pro 11 1000W

The Dark Power Pro 11 line is be quiet!'s high-end PSU line with six Platinum-certified members that offer great, silent performance. Today we will test the second-strongest member of the line with a capacity of 1 kW.



EVGA SuperNOVA 1600 T2

We have on our test bench today EVGA's flagship PSU with an enormous capacity and Titanium efficiency. We expect it to preform incredibly well because it uses Super Flower's high-end Leadex platform and comes with some formidable specs.

FSP Hydro-G 750W Power Supply Unit Review

Excellent build quality, rock solid rail stability, 80 Plus Gold certified efficiency, relatively inaudible even at load and all that for a great price, what more can anyone ask from the Hydro-G 750W power supply unit by FSP?

be quiet! Dark Power Pro 11 850W Power Supply Review

We've been huge fans of be quiet's Dark Power Pro power supply series since we were first introduced to it a few years ago. It is no wonder that be quiet! is Germany's number 1 power supply manufacturer. The Dark Power Pro 11 takes the Dark Power Pro series to the next level by adding new power conversion topology that delivers 80PLUS Platinum performance, and an unparalleled array of enhancements that augment this unit's compatibility, convenience of use, reliability, and safety. Be quiet says that this unit is the most technologically-advanced power supply they've ever built! The unit also features a semi-modular design so you only use the cables you need, a 135 mm SilentWings 3 fan so you know it is going to be quiet, and an overclocking key which allows switchover between quadruple independent 12V-rail mode and high-performance single-rail operation. The unit comes in wattages 550W – 1200W and today we are taking a look at the 850W unit, let's see what it can do!"

Cooler Master V750 750W Power Supply

"Cooler Master first launched its V-Series power supplies with the semi-modular series that featured an 80 Plus Gold certification and a semi-modular cable design. Now we have the new V-Series that features an the same 80 Plus Gold certification, but now has a fully modular design. These power supplies feature 100% high quality Japanese capacitors, a 3D circuit design, Cooler Master's own Silencio FP fan, a flat cable design and come with a 5-year warranty. The V-Series comes in 550W, 650W, 750W, 850W, and 1000W units, today we will be taking a look at the 750W which sits right in the middle of the V-Series. Let's see what it can do!"

computer PSU's marketing

While this computer PSU's marketing skips right to the green-speak, it is feature packed in terms of hardware and software, but as always we want to know what it does when it is under load and serving up the over 1 kilowatt of power that it promises on its label also claiming exceptional efficiency while it is doing it.

Dark Power Pro 11 Series

As you might expect, be quiet! is focused on virtually silent power supplies and they continue to be one of the top selling brands in Europe. The Dark Power Pro 11 Series occupies the top tier in be quiets!'s PC power supply lineup. All of the Dark Power Pro 11 models are certified for high efficiency (80 Plus Platinum) and come with modular cables. In this review we will be taking a detailed look at the be quiet! Dark Power Pro 11 1,000W power supply with Cable Management. There are six power supplies in the Dark Power Pro 11 CM Series, which include 550W, 650W, 750W, 850W, 1000W and 1200W models.

22 power banks is quite a lot

The curse of modern smartphones is that battery development doesn't keep up with increases in pixel density and processing speed, a situation that doesn't look likely to change in the near future. Hence, for those of us who actually use our clever portable devices, relying on some kind of external battery at some point becomes a necessity. The market offers them in abundance, but which are any good? We acquired testing apparatus and put 22 models through their paces. It's possible you're missing some well-known names, but this is merely our first venture in this segment. Still, 22 power banks is quite a lot, I think you'll agree J



The best Guides by the best writers on the internet; PCSTATS Beginners Guides explain computers, software, and all those other wonderful things that cause you frustration.

Learn how to use your computer better, master the internet while protecting yourself, and know what to do when your hard drive kicks the bucket.



"Get the 'Stats and Stay Informed!"