| | |
| --- | --- |
| Power Supply | |

... 2 news stories awaiting approval

Enermax Revolution XT 630W 80+ Gold Modular PSU Review

"Enermax has seen fit to produce what they feel is a worthy solution to your small system building needs. The Revolution XT PSU lineup ranges from 430 to 730 watt capabilities; all carry the 80+ Gold certification for power efficiency, have flat cables and are semi-modular. Could this be the next PSU you select for your system builder needs? Let's delve deeper and find out as we review the Enermax Revolution XT 630W 80+ Gold Modular PSU."

Corsair AXi Series 1500 W

Corsair is first to release an 80 Plus Titanium-certified PSU, which is the flagship of their top-notch AXi line. The AX1500i is the best PSU we ever tested, and at 1.5 kW, it is strong enough for an incredibly powerful system with a four-way SLI or Crossfire configuration.

Cooler Master V850 850W Power Supply Review

Cooler Master has been off our radar for a few years now as its power supplies were simply not up to snuff. Cooler Master's focus is back on enthusiast PSUs now with a lineup of new power supplies. The first one we are reviewing powers in at 850 watts, is a fully modular unit and it touts a host of high quality components and features.



Cooler Master V Semi-Modular Series Power Supplies

Cooler Master has just released the V Semi-Modular (VSM) Series Power Supplies. This new series boasts 100% Japanese capacitors, semi-modular cables for easy maintenance and high 80 PLUS Gold efficiency -- all while being backed by a Gold Guarantee service plan for outstanding durability and total confidence in your next system build. The VSM series comes in 550W, 650W, and 750W ratings.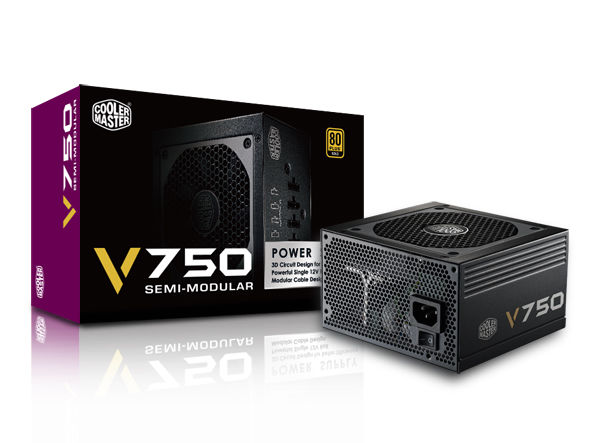 The Cooler Master Gold Guarantee standard means that, no matter what, we believe in our new line of 80 PLUS Gold power supplies to be the best choice for your next build. While we stand behind all of our products with warranty coverage, technical support, replacements, and parts services, the Gold Guarantee takes it to the next level with full support and replacement on our dime for 5 years -- giving you extreme confidence in quality and performance.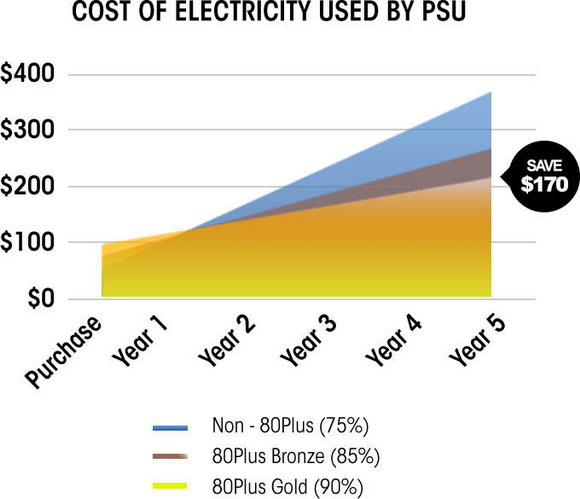 80 PLUS is a voluntary standard for power supply certification used to help with efficiency and innovation. The 80 PLUS Gold standard not only helps increase efficiency over 90%, but also saves you money!
Less Cables. Less Clutter.

Cooler Master builds for what you need. VSM power supplies feature a design that allows you to only connect cables that your system requires. Fewer cables mean less mess and better airflow inside your case. Nobody likes trying to figure out what to do with that bundle of extra cables and with a VSM power supply, you won't have to.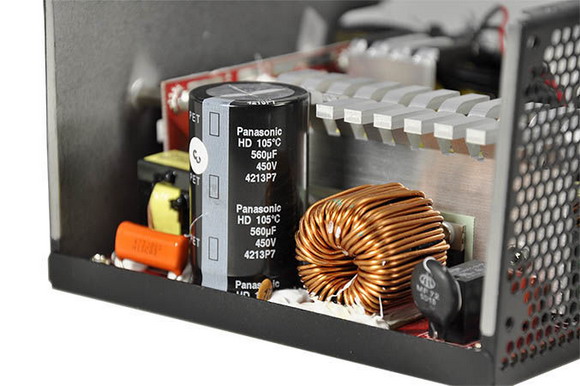 It's simple: use quality components to get quality results. Cooler Master VSM power supplies use high quality Japanese capacitors for increased longevity and better protection. The Cooler Master V Semi-Modular (VSM) series will be available across multiple channels in North America on 5/27/2014. Stay up to date on the VSM series at: http://us.coolermaster.com/vsm/

Seasonic G Series V2 550 W @ techPowerUp

Seasonic decided to silently update their G-550 model to add Haswell support. The company did not change the model number, but did add a Haswell-ready badge to the box. The G-550 is an affordable product for users on a tight budget who, want a reliable PSU with great performance for a mid-level system."

Lumsing 10400mah Portable Power Bank Review @ TestFreaks

More power is needed for our mobile devices and today I have another portable battery pack for review from our friends over at Lumsing. Today I have a 10400mAh portable battery pack or power bank that features two USB ports that can charge tablets or phones or both at the same time or virtually anything else that charges via USB. The 10400mAh capacity of the battery will allow you to charge you devices multiple times so its a great power pack for just a day or even a weekend on the go and it will make sure youve got power when you need it most. Read on to learn more."

Cooler Master V Series Platinum 1200 W @ techPowerUp

Cooler Master decided to unleash a big beast onto the PSU market by again teaming up with Seasonic and releasing their V series flagship, the V1200. It not only comes with a high capacity, but also sports Platinum efficiency, a fully modular design, and a hybrid fan mode option that turns this unit into a silent beast at low loads."

Corsair AX1500i Titanium Power Supply review

1.html,We review the 80Plus Titanium certified AX1500i Titanium Power Supply from Corsair. Its 100% modular, offers 1500 Watts, heck even 10 PCIe PEG Graphics power connectors, can be controlled by software and pretty much has to be the best darn power supply we ever had out hands on."


Corsair AX1500i Digital ATX 1500W Power Supply Review

Corsair continues to be recognized as an industry leader for bringing a full line of high quality power supplies, memory components, cases, cooling components, SSDs and accessories to market for the PC enthusiast and professional alike. The Corsair AX1500i Digital ATX power supply delivers very clean DC outputs, with outstanding voltage regulation and efficiency. Under light loads the AX1500i runs in silent, fanless mode (up to ~30% load) and continues to be relatively quiet under normal operating conditions. The AX1500i Digital comes with an excellent assortment of all-modular cables that can support the latest CPUs and multiple, high-end video cards. And lets not forget the built-in self-diagnostic test feature, active PFC, universal AC input and Corsairs 7-year warranty!"


Bitfenix Fury Gold 750 W @ techPowerUp

Bitfenix decided to enter the PSU market, and today, we have the chance to look at the flagship of their Fury series. It has a capacity of 750 W, is 80 Plus Gold certified, and features individually sleeved cables of high quality and stunning looks."

Antec TruePower Classic 650W Power Supply

Just like virtually every single thing in the PC industry the technology behind power supply units never stays the same and so the fast rates of advancement help lower costs so models which just a couple of years ago were aimed mainly at professionals and enthusiasts are now part of the mainstream market. Perhaps the best example we can give currently is to look at 80 Plus Gold certified PSUs which although just three years ago were at the top of the pyramid and cost an arm and a leg (short of speak) to purchase today have fallen third behind 80 Plus Titanium and Platinum certified PSUs. Well it goes without saying that enthusiasts, professionals and even some of the more demanding gamers will choose one of the new Titanium or Platinum certified PSUs for their systems but for the majority of consumers out there 80 Plus Gold is an excellent choice and so because of that today we will be taking a thorough look at the TruePower Classic 650W (TP-650C) model by Antec.