[>>]

[>>]

[>>]

[>>]

More>>

Search...

| | |
| --- | --- |
| Power Supply | |

... 1 news stories awaiting approval
Gelid Zentree USB Charging Station Review

As our lives increasingly revolve around portable and mobile devices – smartphones, tablets, wearables, and handheld gaming – so our homes become invaded by a tangle of accompanying cables. Thankfully, most devices – even with a proprietary connector on one end – are USB compatible, encouraging the rise of USB charging stations that can centralise the power needs of your many devices.

Seasonic Easter Comp – win 3 PSU's and 10 mystery prizes!

If you are enjoying some time off work at Easter while filling your face with chocolate eggs, perhaps it is a good time to get off your butt to build that new system? Do you want to replace that aging, loud, inefficient supply? Seasonic are working with KitGuru over Easter to give away a selection of their power supplies, alongside 10x mystery Goody Bags. Chocolate and power supplies, what more do you want?

be quiet! Pure Power 9 700W Power Supply Review

be quiet! are one of the biggest names in the PC component market, winning countless awards for their premium grade performance and design, and we're hoping for a repeat performance today, as we'll be taking a look at their new Pure Power 9 700W power supply. As the 9 would suggest, this is the latest iteration of their Pure Power series and comes with a few notable upgrades on the previous generation.

4 Year Anniversary USA Giveaway With Antec

Less than 24 hours before we celebrate our 4th year online and what better way to do that than to throw yet another great giveaway with our good friends from Antec? So up for grabs today we have a Signature S10 Premium Tower, one High Current Pro Platinum 1000W Power Supply Unit and one Performance One P380 Full Tower (more in the link bellow and good luck to all!).

FSP Hydro G 850W Power Supply

"The FSP Hydro G 850W Power Supply has a lot going for it. For the reasonable price of $140US you're getting a unit that's Gold certified, has Japanese capacitors, comes with a 5 year warranty, is completely modular, looks sharp and is virtually silent. " ~3dGameMan.com

Cooler Master V Series 650 W

The Cooler Master V650 is a high-grade PSU with ultra compact dimensions and a fully modular cabling design. It uses nothing but Japanese caps and a quality fan, and CM backs it with a pretty long warranty. The only downside so far looks to be its price.

OMBAR Toucher3 11000mAh External Battery Power Bank Review

"Today I've got a quick review for you of another external battery pack from a company called Ombar called the Toucher3 which has an 1100mAh capacity battery inside of it. The name is the Toucher3 and it has a small metal touch sensitive square to activate the battery and check the capacity. The pack is simple, it's well made and it's easy to use. Read on to learn more… "

Corsair Vengeance 650W PSU Review

The Corsair Vengance 650W PSU arrived Technic3D. See you in the following Review from Technic3D the next PSU with four +12V rails (25 A), a 120mm Fan, up to 5x SATA hard disk connectors and 4x PCI-e 6+2-Pin."

XFX XTS 1000W Platinum PSU Review

If you are shopping for a new high grade power supply then there are many options available on the market this year. We were recently sent the XFX XTS 1000W to review – currently one of the least expensive Platinum grade power supplies available on the market today, available at only £150 inc vat.

Corsair Shrinks PSUs with New SFX SF600 and SF450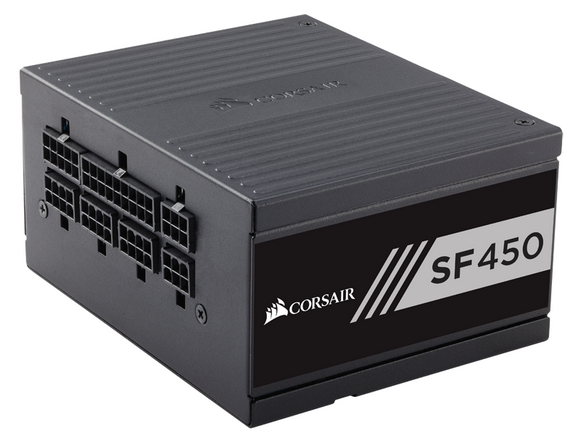 Corsair®, the most awarded and recommended PC power supply brand in the world1, today announced the release of its first ever SFX form factor PSUs, the new Corsair SF600 and SF450. Fully Modular, 80 Plus Gold Certified and built with 100 per cent Japanese capacitors, the SF series brings Corsair's legendary PSU reputation to a new form factor, producing the SFX PSU to match PC enthusiast's big ideas.
First unveiled as part of Corsair's upcoming Bulldog project, the new 600W SF600 and 450W SF450 are a no-compromise approach to SFX PSUs, bringing the high-end features of Corsair's award winning PSUs to a new compact form factor. 80 plus Gold-certified efficiency with tight voltage regulation delivers ATX performance in an SFX form factor, with 100% 105°C rated Japanese capacitors ensuring unwavering power and reliability.
Fully modular to make builds and upgrades in even the smallest ITX cases easier, the SF600 and SF450 use a full-size 90mm cooling fan, the only consumer SFX PSUs to do so. The result is a PSU optimised not just for efficiency, but low-noise too, with Corsair's Zero RPM Fan Mode only switching the fan on when the PSU is under load, providing virtually silent operation at low and medium loads, another first for SFX PSUs.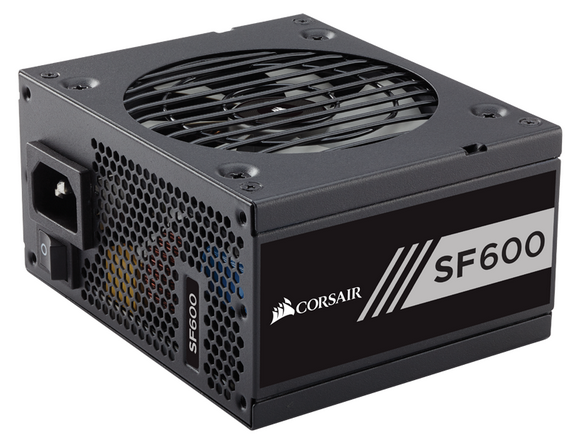 Backed by Corsair's comprehensive seven year warranty and world-wide customer support network, the SF600 and SF450 offer the peace of mind and reliability to last across multiple system builds or upgrades. If you have big ideas for your next small form factor system, the SF Series has the reliable power delivery and quiet, efficient operation you need.
SFX Form Factor: Designed for high performance small form factor systems.
80 PLUS Gold certified: High-efficiency operation for less excess heat and lower operating costs.
Fully modular cable set: Detachable DC cables make builds and upgrades easy, with clean, great-looking results.
100% All Japanese 105°C capacitors: Premium internal components ensure solid power delivery and long term reliability.
Zero RPM Fan Mode: Virtually silent operation at low and medium loads.
Seven year warranty: Your guarantee of reliable operation that will last across multiple system builds.
MSRP: SF600 $119.99 Exc. Tax - SF450 $89.99 Exc. Tax

SilverStone Strider Platinum ST55F-PT 550W Power Supply Review

Silverstone is one of the biggest PC component manufacturers in the world. Every year they launch a colossal amount of products that span a huge range of hardware and usage scenarios. They've got an ever-growing range of connectors, cables, fans, filters, I/O devices, chassis, coolers and more. Of course, the one that's most important to us today is that they also make some of the industries best PSU hardware. Their new Strider Platinum ST55F-PT 550W really caught our interest, as not only does it pack 550W of power, it also has 80 Plus Platinum efficiency, fully module cables, high-quality components, and a hybrid/passive cooling feature, but it's also incredibly compact for a PSU with these hardware specifications, making it a promising solution for compact system builds.

Corsair RM750x psu

HardwareOverclock.com has just posted another review. Last week we have taken a look at the Corsair RM750x psu.

be quiet! Dark Power Pro 11 1000W

The Dark Power Pro 11 line is be quiet!'s high-end PSU line with six Platinum-certified members that offer great, silent performance. Today we will test the second-strongest member of the line with a capacity of 1 kW.



EVGA SuperNOVA 1600 T2

We have on our test bench today EVGA's flagship PSU with an enormous capacity and Titanium efficiency. We expect it to preform incredibly well because it uses Super Flower's high-end Leadex platform and comes with some formidable specs.



The best Guides by the best writers on the internet; PCSTATS Beginners Guides explain computers, software, and all those other wonderful things that cause you frustration.

Learn how to use your computer better, master the internet while protecting yourself, and know what to do when your hard drive kicks the bucket.



"Get the 'Stats and Stay Informed!"