| | |
| --- | --- |
| Power Supply | |

... 4 news stories awaiting approval

XCELLON AC & USB Power Bank (PB-1200AC) Review

" Today I review the XCELLON 12,000mAh Rechargeable Power Bank with AC & USB Outlet. The model I'm testing today is PB-1200AC and is capable of powering up electronics up to 65W in power, meaning technically you can power a 13-inch MacBook Pro which consumes 60W. Not only does it have an AC outlet, it also comes with a USB port so this power bank should be able to handle just about anything you throw at it making it extremely versatile."

550W G3 PSU incorporates EVGA's ECO Thermal Control System

2016 has been another busy year for EVGA as they continue to expand their product offerings. EVGA recently introduced five power supplies in the new Supernova G3 Series. Compared to the original G2 Series, these new power supplies offer improved performance, a smaller chassis, and incorporate a hydraulic dynamic bearing fan. We will be taking a detailed look at the entry level 550 G3 in this review.

Corsair RM1000i Special Edition unboxing

This Special Edition of the Corsair RM1000i power supply is extremely limited as only 100 will ever be made. Corsair is giving away 30 (to whom we have no idea), 20 will be given away to key members of the Press such as KitGuru and 50 will be sold from the Corsair web shop.

Thermaltake Toughpower DPS G RGB 850 W Titanium @ LanOC Reviews

It's starting to become a meme at this point, but in the PC market almost everything now is available with RGB lighting. This is partially due to companies finally locking down the control they wanted for crazy lighting effects and also because it finally lets everyone bring out just one product that will work with any theme. No other company has taken this as far as Thermaltake as they have RGB lighting with their water cooling and RGB power supplies. As someone who prefers to make sure everything in my build matches I'm all for RGB and with that I wanted to take a look at Thermaltake's Toughpower DPS G RGB to use in a build, specifically their 850-watt model with the crazy 80 Plus rating of Titanium!

Japanese made 105°C capacitors

The TS Series Gold Full Wired power supplies are based on Seasonic's very successful S12G platform, which delivers great performance using high quality components without a lot of frills. All the TS Series power supplies feature a single +12V rail (XFX EasyRail Plus Technology), Japanese made 105°C capacitors, quiet 120mm ball bearing fan, and they come backed by XFX's 5-year warranty. The power supplies feature a compact chassis that measures only 140mm (5.5") deep and carry over a few of XFX's premium brand designs like their iconic fan grill and bold labeling

Super Flower Platinum King 650W PSU Review

We have reviewed many high end, wallet sapping Super Flower power supplies in recent years, but today we look at a lower cost model – the Platinum King 650W. With 80 Plus Platinum efficiency and a 120mm low noise fan the price point is set at £87.95 inc VAT from Overclockers UK. By today's Brexit hit rates, it is competitively priced.

Kolink Continuum 1200w PSU Review

Kolink may be a new name to KitGuru labs – however their products are created by Hungarian 'Caseking Kellytech', a sister company of European Caseking … who unsurprisingly have exclusive distribution rights. As such they are sold in the United Kingdom by Overclockers UK. The primary focus of Kolink is to offer quality products while keeping the price point as low as possible.

Corsair HX850i @ LanOC Reviews

When it comes to building a new PC most of your focus is going to be on things like your video card, your CPU, SSDs, and maybe your case. That is because those are the components that affect the performance of your PC and with your case, it is the most visible component. So I completely understand why your power supply isn't at the top of your list. You do have to remember though that a poor quality power supply can take out all of those other expensive components in an instant. I recently started looking at components for a new build for my main rig to replace the monster Fridge build. For the power supply, I wanted to go with a lower wattage because I had only planned on having two video cards, but I wanted to stick with Corsair and I needed fully modular to change out the cables later. So the Corsair HX850i came to mind. With its Platinum 80 Plus certification and a few cool features. The build it is going in is coming along, so today I'm going to take a look at the HX850i and see what it is all about.

Both SFX power supplies

SilverStone has been busy this year expanding their power supply lineup. With a continued focus on smaller physical size and support for enthusiasts in the small form factor arena, SilverStone now offers seven power supplies in the SFX Series, ranging in output capacity from 300W to 700W. Earlier this year we looked at the SX700-LPT, which sits at high end of the SFX Series. In this review we are going to look at the two entry level models, the new ST30SF (V2.0) and the ST45SF (V3.0).


Cooler Master MasterWatt Maker 1200 PSU review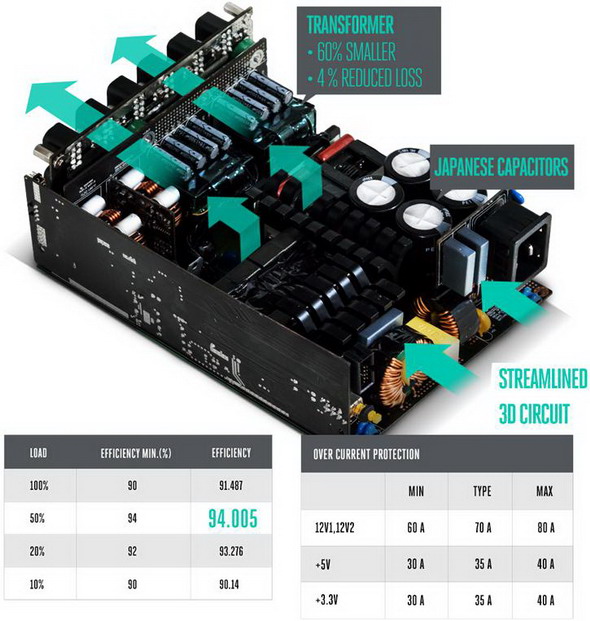 This summer Cooler Master launched the new MasterWatt Maker PSU series. These power supplies are not just intensely efficient with good build quality, Cooler Master wanted to take things a step further and made them completely digital with options to monitor and configure right from your PC or mobile phone through new proprietary Connect Software. The end result as such is impressive alright, a very nice power supply rates 80+ Titanium that comes with a modular design 12V rails and even configurable fan control.


Seasonic PRIME Series 750 W

We evaluate Seasonic's Prime 750 unit, which boasts amazing performance, including 80 PLUS Titanium efficiency, a set of interesting features, and a unique look. Seasonic has an impressive Titanium entry on their hands that will make other OEMs feel uncomfortable because it raises the performance bar incredibly high.


Supernova G2L Series

The EVGA 750W Supernova G2L power supply exhibited excellent voltage regulation on all of the DC outputs along with excellent AC ripple and noise suppression. The power supply features a good assortment of modular cables and delivers great efficiency, easily meeting the 80Plus Gold criteria."