| | |
| --- | --- |
| Servers | |

... 0 news stories awaiting approval
QNAP TVS-871U-RP-i3-4G NAS Server Review

Roughly 5 months ago i had the opportunity to visit one of the largest data centers in the world (located inside the EU) and needless to say the moment i stepped in their quite massive installation i was overwhelmed not only by their amount of servers and drive arrays (actually they use HDDs, SSDs and flash drives) but also by their local data transfer speeds (40GbE anyone?) and extreme cooling methods (did you know that they even use warm water for cooling?). Anyways when i got back to our "lab" (can hardly even call it that after experiencing what i did) i decided to perform several upgrades the first of which had to do with our NAS testing methodology since 1GbE has been maxed out for years now. Well the next "obvious" step was for us to implement 10GbE testing (40GbE is the next step, don't know the when however) and a couple of weeks ago we finished "gathering" all the necessary components. Having the hardware however is not enough so the very first NAS server to make use of that is the brand new TVS-871U-RP-i3-4G by our very good friends over at QNAP.

Synology DS415+ review: quad-core NAS

With the DS415+, Synology has brought a new NAS onto the market based on Intel's Avoton quad-core processor. The device's performance is great, and the included DSM firmware offers a great deal of functionality. All this makes the DS415+ a very interesting NAS for the truly demanding user. This product truly comes into its own when used in an enterprise environment. For the average consumer, a less powerful and expensive model will often times be more interesting. However, if you want the very best 4-bay NAS that Synology currently has on offer, then this is the device you're looking for. As far as we're concerned, the DS415+ more than deserves a Gold Award!"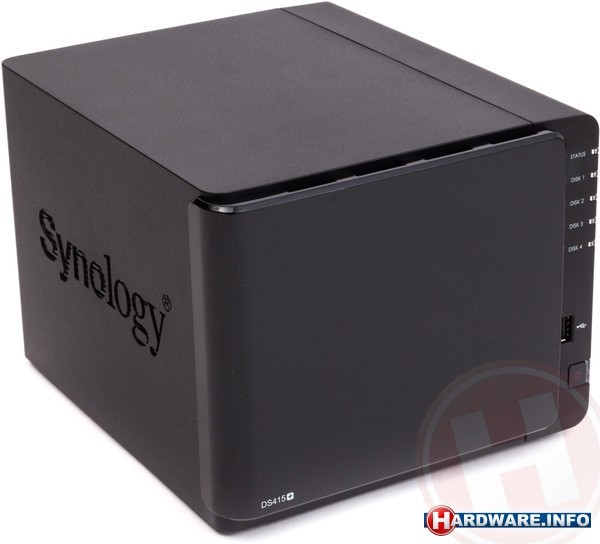 QNAP TurboNAS TS-451 NAS Server Review

Where i live the public sector is technologically outdated to say the least (many computers still run on Windows 98, how about that?) so you can imagine how surprised i was when i visited the local town hall and saw a NAS server standing tall right next to several old systems with CRT screens. Well it turns out that this NAS server is used solely for local backup and already counts 3 years but still it was nice to see that things are progressing, even here. That being said a couple of weeks ago i mentioned that the leading NAS manufacturers like QNAP, Thecus and Synology have released several new models so it was really just a matter of time before some of them landed at our doorstep. Last time we thoroughly checked the TurboNAS TS-470 Pro by QNAP and although it's quite an expensive piece of technology it did turn out to be the fastest ever in our charts and earned the 1st place. Today we will be taking a thoroughly look at the TurboNAS TS-451 (-4G) NAS Server by QNAP which is aimed at people who just aren't interested in 10GbE compatibility and the extra firepower of the TS-470 Pro.

Thecus N2310

From a performance vs. price perspective the Thecus N2310 is a real winner. Its primary competitor is still the Synology DS214se which costs a little over 20% more at $160. The DS214se also comes loaded with an 800MHz SoC, the tried and true Marvell Armada 370. However the DS214se features half as much memory with just 256MB to play with, and USB 3.0 support is missing entirely.

Synology DiskStation DS415+

Performance wise the DS415+ is a beast, providing the strongest upload performance we have seen to-date from a sub $1500 NAS. In terms of performance the DS415+ showed no weaknesses and we aren't just talking about throughput either. The power consumption was first rate, as the DS415+ consumed just 37 watts under full load when armed with four 3TB hard drives.

QNAP TS-653 Pro

QNAP has hit the ground running with their TS-x53 Pro series offering 2, 4, 6 and 8-bay models. The 6-bay TS-653 Pro that we looked at costs $1150 (8GB model) while a cheaper $1000 2GB model also exists. Given the specifications and more importantly the performance we have just seen, the 8GB model at $1150 is a great buy.

Synology DiskStaion DS115j

Perhaps the best thing about the DS115j is that it is backed by the latest DSM 5.0 software, providing it with many of the powerful features found on the much more expensive 4, 5 and 8-bay models. Overall the Synology DS115j is an impressive device that should help convince home users on the fence about investing in a NAS server take the plunge. Finally we have found a $100 NAS you actually want...


Asustor AS-7004T Review

With the AS-7004T, Asustor presents a NAS which aims at demanding home users or small businesses. By using an Intel i3-4330 3.5GHz Dual Core, the AS-7004T promises to be very fast and the use of a Linux kernel grants enormous flexibility regarding the configuration options. Furthermore Asustor implemented their own App store, which lets you install additional apps with a simple click.

QNAP TurboNAS TS-453S Pro NAS Server Review

If everyone here had to choose one specific type of product where we've seen the biggest changes/advancements over the past 3-4 years or so the most popular answer would definitely be network attached storage devices (NAS) since from very basic single-core SoC CPUs and 256/512MB of RAM in just three years we've moved to Dual and Quad core Intel Celeron and i3 CPUs with up to 8GB of RAM pre-installed. Granted such hardware specifications may sound as a bit over the top to some people and if NAS devices were only aimed for home use I'd tend to agree with them but what many fail to realize is that the largest percentage of NAS sales belongs to small businesses and enterprises so both performance and reliability are of the utmost importance to those users. Now as many of you know the most "popular" NAS models in the market can accommodate both 3.5" and 2.5" drives but for people who want something even smaller manufacturers also make models that can only be outfitted with 2.5" drives and the latest TurboNAS TS-453S Pro by QNAP is one such model.

Thecus N4310 Review

The Thecus N4310 appears to offer extraordinary value to the 4-bay NAS segment, but have corners been cut to offer this device at such a low price?


Thecus N4310 NAS Server Review @ NikKTech

With the "arrival" of Raspberry Pi based systems many people are wondering if it's worth turning towards NAS servers for their needs and although i do have to admit that prices for Raspberry Pi products are extremely appealing my personal opinion is that NAS servers are still way ahead primarily due to their straight out of the box functionality and in many cases nowadays a lot better hardware specifications. Once again it all always comes down to what your needs are and how much you're willing to spend in order to cover them so although obviously the really good NAS models cost quite a bit there are many excellent choices out there priced just right with plenty of features and good performance levels (there's always something available for every need). Well according to our good friends from Thecus their latest N4310 is amongst those models and today we will be taking a very thorough look.

QNAP TVS-463 8G AMD Powered NAS

QNAP has for the first time used an AMD CPU with one of their NAS offerings. The new series is codenamed TVS-x63, and today, we will evaluate the TVS-463, which, as its model number implies, can take up to four HDDs. It is also 10GbE ready through an optional expansion card.

QNAP Turbo Station TS-431 4-Bay SOHO NAS Review

I loved what the QNAPs TS-x31 series sports right from the first time that I heard of it. It just sounded like the perfect SOHO device for people who want a lot of features, easy setup, simple maintenance and a reasonable price. Today I'm taking a closer look at the QNAP TurboNAS TS-431 4-bay Personal Cloud Storage for Home and SOHO users. It features an ARM Cortex A9 1.2GHz dual-core processor that delivers performance enough for multitasking, creating your personal cloud for digital notes, and multimedia streaming via DLNA & AirPlay.

Thecus N4310 1Gb 4 Bay Review

The N4310 is a very well priced 4 bay NAS from Thecus. On the inside there is a dual core SoC, which has been combined with 1 Gigabyte of RAM. Apart from that the N4310 features a gigabit Ethernet interface. With this NAS Thecus is mainly addressing home users but under certain circumstances this could also be an interesting product for small and medium businesses.