[>>]

[>>]

[>>]

[>>]

More>>

Search...

| | |
| --- | --- |
| Printers | |

... 0 news stories awaiting approval
Prusa i3 MK2S Kit @ LanOC Reviews

So I started down the 3d printing hole over a year ago and in that time I have in some ways reached my original goal of being able to learn how to design 3d parts and later use them around the office and house. In that time I spent a lot of time with Delta style printers, having the chance to check out both the SeeMeCNC Eris and their Rostock MAX v3 as they launched. This only made me more curious about other printers, especially Cartesian style printers. Cartesian printers are by far the most popular style and are more what you expect to see what you think of a 3d printer. Well, earlier this year I had the chance to meet and talk with Josef Prusa and later through email, we arranged for a printer to come our way. For the last few months, I have had the Prusa i3 MK2 here in the office as I worked on projects (a few that you guys have seen me post about) getting a feel for the printer. Well, it's about time that I sit down and gather my thoughts on the printer and run through my experience building, troubleshooting, and making with the i3 MK2.

HP Sprocket Photo Printer Review

HP's sprocket is the newest novelty photo printer to enter the market, aiming to make portable social image printing as fun as possible."

HP Sprocket Photo Printer Review

HP's sprocket is the newest novelty photo printer to enter the market, aiming to make portable social image printing as fun as possible."

HP DeskJet 3630 Wireless All-in-One Printer

"It has both wired and wireless printing capabilities, and an option to print directly from your phone or iPad using Wifi Direct. This means that you can print directly even if there are no wireless routers available to connect your phone/tablet to. The printer has a very attractive, modern white design with light blue accents, however the plastics used do feel rather thin and slightly flimsy. This isn't a particularly negative point though, as printers like this aren't designed to be constantly transported around. For the price paid, I'm not sure I would have expected anything more."

Fuji Xerox Smart Work Gateway Debuts With 14 New MFDs.

Fuji Xerox kicked off the new year with a brand new concept they call Smart Work Gateway. Powering this new Smart Work Gateway concept are 14 new multi-function devices (MFDs) under the ApeosPort-VI and DocuCentre-VI C series.

M3D Micro 3D Printer Review

If you are in the market for a turnkey solution to 3D printing, M3D may have a solution for you in the Micro. Let's take a close look."


New Matter MOD-t 3D Printer Review

3D printers have come a long way since our first round-up review in 2012. This exciting technology has created everything from toys to running shoes, to prostheses for amputees. Is 3D printing, however, practical in a home office or in a classroom use case? The New Matter MOD-t 3D printer claims to be the most user-friendly printer ever and is supposedly "designed for 3D printing beginners and enthusiasts alike." Is this device, however, something that truly belongs in your home office or a teacher's classroom? Naturally, that's what we're here to find out.

SeeMeCNC visit and 3d printing rundown

It's a combination of the kid in me and the maker in me but getting a 3D Printer has been on my short list of things I want to get for years now. I've spent a lot of time with things like my plotter designing and making my own stickers as needed. Frankly though 3d printer always felt a little unobtainable both because of the cost and because it seemed like you might need an engineering degree to build and maintain one. Well a few months ago my interest was renewed and I decided that I was going to get one and from then on I spent day and night learning as much as I can, reading anything and everything. I had a few printers in mind but couldn't decide. One of the companies I was keeping a close eye on was SeeMeCNC, they had been involved with printers for custom PC builds with Darth Beavis, on the Vanilla Ice Project, and even involved with PDXLAN. The problem was for my first printer at least; I wasn't really looking for a build it yourself kit. I feel capable of doing that, but I just really wanted to dive into it quickly rather than a long build time prior. The other problem was even in the kit form their printers were a bit higher than I was budgeting. Well when looking at them I found out that they are actually within a drive away and I reached out about visiting. It just so happened that they were also introducing their long awaited Eris, a smaller, cheaper, and more portable model that comes factory build. I went and visited their factory and picked up the first Eris and have been getting a feel for it all. Today I'm going to give a quick run through on what 3d printing is all about, go over my visit with SeeMeCNC, then tomorrow I will dive into the Eris and my overall experience with it.

SeeMeCNC Eris @ LanOC Reviews

So yesterday I did a relatively short rundown on what is 3d printing and I also spoke about my visit with SeeMeCNC. Well today I'm actually going to dive into the SeeMeCNC Eris 3d printer that I picked up when I was visiting them. The Eris is their brand new portable delta printer. Not only is easy to carry, but they set out to make the Eris their first truly out of the box and printing experience. Generally, with most 3d printers you have a lot of build and setup time, but with the Eris shipping completely built and with their new Auto Leveling system they are hoping it will be a great printer for new 3d printing users. Well it just so happens, I'm that 3d printing noob, so I'm going to run you guys/girls through my experience from start to finish to help you decide if the Eris is the printer for you.

3D printers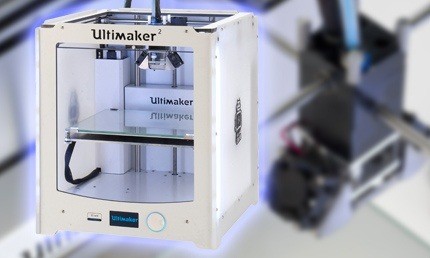 "If you compare the specifications of these 3D printers, you'll find more technical differences. The minimum layer thickness varies per model, as does the printing speed. But it's important to not get confused by specifications like these. A smaller layer thickness doesn't necessarily mean a more detailed print. The amount of time that it takes to print an object depends more on the settings of the printer than on the maximum speed which the printer can move at."


Houdah ACTPrinter Virtual Printer App Review @ Bigbruin.com

The app we`re going to look at in this article will not only help you save time, but will help you save paper and printer toner, too. In short, ACTPrinter is a virtual printer that will let you `print` any document on your Windows or Mac computer and send it as a PDF to another Windows or Mac computer, Apple Device (iPhone, iPad, iPod), or Android device that is also running ACTPrinter."


TweakTowns Guide to 3D Printing: Part 1 - What makes up a 3D Printer?

Not all 3D printers are alike, and buying a 3D printer without any guidance can quickly amount to a lot of wasted money or wasted time trying to get everything adjusted. This series will help educate you on what a 3D printer is, and get you ready to purchase your first 3D printer."

Brother MFC-J4510DW: printing in landscape mode

Quote: We were duly impressed by the Brother MFC-J4510DW. It performs really well in many aspects. It looks good, has more than enough features and has a very nice control panel. The connectors are sufficient, and the presence of Wi-Fi Direct enables you to connect your mobile device to the printer without a router. The print quality is generally high. Especially photos look really great for a device that's sold as MFC and not as photo printer.



The best Guides by the best writers on the internet; PCSTATS Beginners Guides explain computers, software, and all those other wonderful things that cause you frustration.

Learn how to use your computer better, master the internet while protecting yourself, and know what to do when your hard drive kicks the bucket.



"Get the 'Stats and Stay Informed!"