| | |
| --- | --- |
| Printers | |

... 0 news stories awaiting approval
3D printers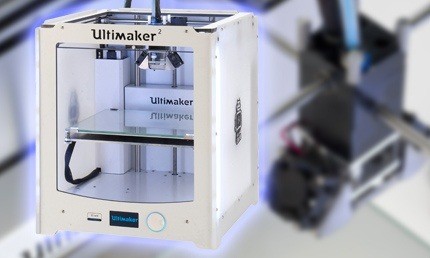 "If you compare the specifications of these 3D printers, you'll find more technical differences. The minimum layer thickness varies per model, as does the printing speed. But it's important to not get confused by specifications like these. A smaller layer thickness doesn't necessarily mean a more detailed print. The amount of time that it takes to print an object depends more on the settings of the printer than on the maximum speed which the printer can move at."


Houdah ACTPrinter Virtual Printer App Review @ Bigbruin.com

The app we`re going to look at in this article will not only help you save time, but will help you save paper and printer toner, too. In short, ACTPrinter is a virtual printer that will let you `print` any document on your Windows or Mac computer and send it as a PDF to another Windows or Mac computer, Apple Device (iPhone, iPad, iPod), or Android device that is also running ACTPrinter."


TweakTowns Guide to 3D Printing: Part 1 - What makes up a 3D Printer?

Not all 3D printers are alike, and buying a 3D printer without any guidance can quickly amount to a lot of wasted money or wasted time trying to get everything adjusted. This series will help educate you on what a 3D printer is, and get you ready to purchase your first 3D printer."

Brother MFC-J4510DW: printing in landscape mode

Quote: We were duly impressed by the Brother MFC-J4510DW. It performs really well in many aspects. It looks good, has more than enough features and has a very nice control panel. The connectors are sufficient, and the presence of Wi-Fi Direct enables you to connect your mobile device to the printer without a router. The print quality is generally high. Especially photos look really great for a device that's sold as MFC and not as photo printer.

HP Photosmart 5520 Review @ TechReviewSource.com

The HP Photosmart 5520 is an inexpensive multifunction printer that offers built-in duplexing, a touch panel and ePrint capabilities. It also provides reliable and good looking output but it lacks an automatic document feeder and the scanner lid hinge does not float to accomodate thicker items."

8 Tips to Save Printer Ink @ TechReviewSource.com

A chief complaint among printer users is the high cost of ink or toner. Here we offer some tips on reducing your printing costs. Some are slam-dunks, though others have downsides or upfront costs you should weigh before implementing them."

Video Perspective: Lantronix xPrintServer Home for iOS Review

By far the most impressive part about the xPrintServer is the ease of setup; we were literally up and printing on an iPhone 5 within 2 minutes of opening the box. If you are the kind of person that would like the capability to print from your iPad or iPhone but without having to buy a new printer with AirPrint built in, definitely check out this product."

TechwareLabs Reviews the Epson WorkForce WF-7520 all-in-one wide format inkjet Printer

Epson sends TechwareLabs their world`s fastest wide format inkjet WF-7520 all-in-one to review. This all-in-one wonder is easier on the budget to purchase and maintain than a color laser printer and is faster too. If your a growing company and have wide-format and color demands and can`t afford a laser printer, the WF-7520 is the printer to consider."

HP Deskjet 3070A review: simple, small yet effective

The HP Deskjet 3070A is a very good all-in-one for what you pay for it. There are not many all-in-ones that can equal this type of performance at this price level. Granted, it doesn't come with a lot of features, the display is very limited, and the build quality is perhaps not of the highest quality either. All-in-all the 3070A is not a bad buy, but there is room for improvement.

Epson WorkForce Pro WP-4590 Multifunction Printer Review

a post to your own news section would totally be appreciated. If we`re sending our news to the wrong place, we apologize. Just send us a message with the correct address to the address below. Don`t forget that, As much as wed like to move toward a completely digital lifestyle, physical paper still serves a very important role in our daily lives and this is particularly true when it comes to running a business. While the EPSON WorkForce Pro WP-4590 probably isnt suitable for a high-volume office in a downtown high-rise, it does appear to be a suitable multi-function solution for much smaller offices or home offices. But how does it stand up against daily use and abuse? What can we expect in terms of usability and bonus features? And what about print speed and quality? Lets dive straight into these questions and more with todays review. *"

EPSON WorkForce Pro WP-4540 All-in-One Printer Review

"It's been a while since I've had the pleasure of reviewing any all-in-one printers, or at least high end ones. For review today I have the latest WorkForce or I should say workhorse from Epson called the WP-4540 that is a beast of a machine in more ways than one. The WP-4540 is full of features like the ability to hold over 500 sheets of paper ready for all of your printing needs. This printer is fast and relatively inexpensive in terms of cost per print and it prints beautifully whether you're printing plain black and white for family photographs. "

Epson Stylus NX430 Small-in-One All-in-One Printer @ TestFreaks

Up for review today I?ve got another Epson printer that?s called the Stylus NX430 small-in-one, it?s a play on words of course as it?s an all-in-one printer that?s very small. It?s meant for those that are limited on space, but still want a decent printer. The NX430 is basic yes, but it does include wi-fi and USB connectivity along with a full-size flatbed scanner and even a built-in card reader along with a nice 2.5? LCD display and touch controls. "

News - Samsung SCX-4728FD Multifunctional Printer Review at Overclockers Online

The SCX-4728FD marketed itself as a green-inspired performance printer that delivered on quality without a large carbon footprint. I believe it achieved that goal of being an ECO printer with a power draw of 8W when sleeping and 391W (on average) when printing. The SCX-4728FD did manage to provide high quality printing when it comes to text documents, but I found it fell short on the image printing. It also wasn?t the quietest during duplex printing or when the automatic document feeder was operating, if noise pollution is a factor to consider the SCX-4728FD might not be the best fit for you."

Epson LabelWorks LW-400 Label Printer @ TestFreaks

"I've never reviewed a label maker before. I honestly never thought I'd need one. I never wanted one. I've since changed my mind on all of that, I've got a label maker now, a nice one actually and that's what I've got for you right now. Today for review I've got the Epson LabelWorks LW-400 Label Printer that will change the way you look and think of label makers, I know it did for me. The LabelWorks LW-400 is marvel truly, it comes complete with many fonts and styles built right in, but that's not all. The LW-400 has a very large set of graphics built in as well that can be used for borders or identification or whatever your mind can think up. With the LW-400 you're not limited to just plain labels either, you can purchase many different types, patterns and even colors of labels and you can even do iron-ons with it. "