[>>]

[>>]

[>>]

[>>]

More>>

Search...

| | |
| --- | --- |
| Business / Industry | |

... 0 news stories awaiting approval
Smart City Begins in Taipei

According to IDC estimation, the global market value of Internet of Things will reach $ 8.9 trillion in 2020, and then there will be more than 50 billion intelligent networking devices, so the Internet of Things is considered the biggest technological opportunity after the mobile device era. Based on energy, transportation, disaster prevention, environment, education, health, public security, medical and other factors have become a derivative issue of globalization, coupled with the development of smart cities as a key trend. 2017 Smart City Summit & Expo focused on the material networking field application, launched at Taipei Feb 21-23.

By teaming up with private enterprises, the Department of Information Technology (DoIT) and Taipei Smart City Project Management Office (PMO) of the Taipei City Government (TPCG) quickly implemented the smart innovative applications and services of private enterprises in suitable fields for field tests based on daily life problems and citizen needs. At the upcoming Smart City Summit & Expo, these new innovative applications will be exhibited. They include the "VR Laboratory Classroom" featuring VR/AR-assisted instructions, the "smart streetlamp" constructed over a backbone network, the mobile environmental monitoring system of micro environments using the LoRa technology (long range, low power wireless technology), and the unmanned aerial vehicle (UAV) for monitoring drinking water. All these IoT and VR/AR related innovative applications will surely make Taipei a better and smarter city.

By exploiting the features of virtual reality (VR) and augmented reality (AR), the "VR Laboratory Classroom" fuses the periodic table in games for students to remember the relevant knowledge. In practice, after students put on the head-mounted display (HMD), they must choose the correct element to challenge a level and even fight the monsters with the characteristics of an element. In addition, VR/AR brings a revolutionary change to multimedia assisted instructions. They enable teachers to design and produce interesting and lively classic lesson plans, re-interpret textbook knowledge, turn imagination into reality, and re-present and reproduce abstract course contents to improve teaching quality and enhance learning efficacy. Currently, relevant units are aggressively planning the application of VR/AR in demo courses for senior high schools.

The "smart streetlamp" not only lights up streets in the night but can become a base node of the Internet of Things (IoT). The overall system is a mesh backbone network formed by smart streetlamps equipped with wireless transmission functions. Data received by the sensors will be transmitted to the cloud platform via the backbone network. Each smart streetlamp is equipped with a webcam to provide images for different applications, such as traffic flow and crowd calculation, security control, lost and found, and facial recognition. A smart streetlamp is also equipped with digital signage for the government to promote policies and for private enterprises to advertise.

The mobile environmental monitoring system uses sensors on vehicles to capture driving condition and detect the environment where a vehicle is located. The range of detection includes air quality, temperature, humidity, and geographical information. After sending such information to the cloud for analysis, we can establish the model for disease spread, analyze air pollution and the urban heat island effect, and predict traffic congestion.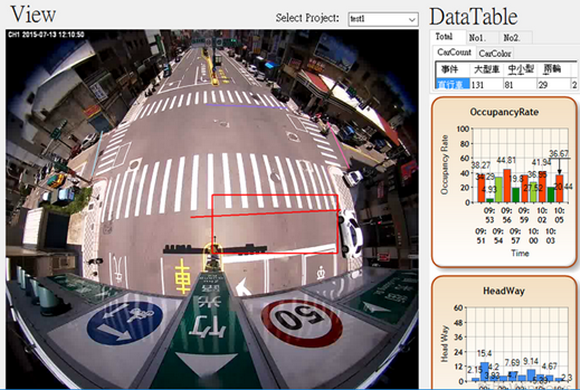 Taipei City Government's professional fixed wing UAV enables an aerial patrol of water resources and landform conditions. Empirical trials will be planned near reservoirs to help monitor the drinking water environment. A UAV can fly over two hours and 100km for watershed environment monitoring to reduce the human inspection cost. In addition, the information collected can be used for constructing a 3D models of landforms near a reservoir to enforce soil and water conservation.
Whether it is the innovative application of VR/AR in instruction or the data integration and monitoring of smart streetlamps, a smart city has begun, and innovation and integration of different technologies will unveil more testing fields in the city.


ECS revenues drop in February

Elitegroup Computer Systems (ECS) has reported consolidated revenues of NT$1.606 billion (US$52 million) for February 2017, representing a 38.19% drop on month and 4.06% drop on year.

Asustek expects sequential drop in 1Q17 revenues

Asustek Computer expects first-quarter 2017 revenues from the PC product line to decrease 15-20% on quarter, those from smartphones, tablets and other mobile devices to slip 10-15% and those from DIY motherboards, graphics cards and components to drop 0-5% due to off-season effects, said company CEO Jerry Shen at a February 15 investor conference.


PC industry expected to stabilize and see less than 5% shipment drop in 2017

With AMD ready to release Ryzen CPUs and Vega GPUs, sources from the upstream supply chain expect the PC industry to stabilize and see a less than 5% on-year shipment drop in 2017, while PC and related component sales in the first quarter are also expected to perform better than the same period a year ago, according to Taiwan-based supply chain makers.

ECS January revenues flat on year

Elitegroup Computer Systems (ECS) has reported consolidated revenues of NT$2.598 billion (US$83.58 million) for January 2017, representing a 13.09% drop on month and 0.32% increase on year.

Asustek, Gigabyte, MSI to hike motherboard, graphics card prices in China

Asustek Computer, Gigabyte Technology and Micro-Star International (MSI), due to continual increases in costs for processors, hard disk drives and PCBs as well as depreciation of the Chinese yuan, will hike retail prices for motherboards and graphics cards in China in early February after the 2017 Lunar New Year holidays, according to industry sources.


MSI pushing new gaming products in 2017, says paper

Micro-Star International (MSI) has released a total of 25 new VR-supported gaming motherboards targeting the mid-range to high-end sector and 21 new VR-ready mid-range to high-end gaming notebooks for early 2017, and is looking to expand its presence in the gaming industry by releasing multiple models to fill all the gaps in the market, according to a Chinese-language Commercial

CES 2017: Gigabyte pushes Aorus gaming product lines

Gigabyte Technology unveiled new product lines under its Aorus gaming brand including motherboards and graphics cards at CES 2017 and the new Aorus branded motherboards feature support for liquid cooling, RGD LED and the Smart Fan 5 temperature control function.

MSI reports revenues for December 2016

Micro-Star International has reported consolidated revenues of NT$8.419 billion (US$263.65 million) for December 2016, representing a 3.66% drop on month and 9.7% increase on year.

Gigabyte reports revenues for December 2016

Gigabyte Technology has reported consolidated revenues of NT$3.731 billion (US$116.84 million) for December 2016, representing a 18.5% drop on month and 3.04% drop on year.


Gigabyte revenues up in November

Gigabyte Technology has reported consolidated revenues of NT$4.578 billion (US$143.91 million) for November 2016, representing a 13.16% increase on month and 19.01% increase on year.

PC supply chain seeing replacement trend in DIY market in 2H16

The PC upstream supply chain has seen increasing demand for gaming-level hardware components from the PC DIY market since the early second half thanks to a PC replacement trend created by Blizzard Entertainment's game Overwatch, which already has over 20 million regular players worldwide. Since Blizzard is planning to host several gaming events in the fourth quarter, while AMD and Intel are both preparing to mass shipping their new CPUs in the first quarter of 2017, sources from the channel retailers expect their sales to continue rising for both quarters.



The best Guides by the best writers on the internet; PCSTATS Beginners Guides explain computers, software, and all those other wonderful things that cause you frustration.

Learn how to use your computer better, master the internet while protecting yourself, and know what to do when your hard drive kicks the bucket.



"Get the 'Stats and Stay Informed!"