[>>]

[>>]

[>>]

[>>]

More>>

Search...

| | |
| --- | --- |
| Tradeshows / Events | |

... 1 news stories awaiting approval
CES Unveiled 2016 Coverage

"We kick off our CES 2016 coverage with CES Unveiled which is the official press event of CES. While many of the products here are more focused on mobile, we were able to check out some pretty cool products from Synology, Hercules, Plantronics, and Urbanears!"

CES 2016 - OCZ Showcases Next-Generation SSDs

OCZ Storage Solutions, a Toshiba Group Company and provider of high-performance solid-state drives (SSDs) for high-end systems and gaming PCs, today announced plans to showcase the highly anticipated NVM Express™ RevoDrive 400 series and the all-new Trion 150 series at this year's Consumer Electronics Show (CES) in Las Vegas, Nevada to be held January 6 - 9, 2016. Early-adopting enthusiasts that feel held back by commodity SATA storage can't wait to get their hands on the impending RevoDrive 400 series which was designed and engineered for ultimate next generation storage performance. The NVMe™ PCI Express Gen. 3 x4 SSD series redefines the boundaries of speed and the limitations of storage capacity with up to 2.4GB/s of bandwidth and up to 1TB on a single M.2 module. Being unveiled for the first time this CES is the Trion 150, a follow-up to the Advanced 19nm TLC-based Trion 100 series. Trion 150 SSDs will feature 15nm Toshiba TLC NAND flash and sports a great combination of quality features and excellent value that consumers have become fond of with the popular Trion 100 series. As the next iteration of this series, expect improved sustained performance and enhanced file transfer rates. In addition to its new consumer product offerings, OCZ's Toshiba NAND powered enterprise solid state drives will also be on display, including the award-winning Z-Drive 6000 U.2 series. For more information, please contact our public relations manager.

CES 2016 is just beginning!

CES is just beginning. Join us for announcements from Lenovo, NVIDIA Press Conference, new AMD GPUs and more!

CES 2016 - Corsair Carbide SPEC-ALPHA Mid-Tower Case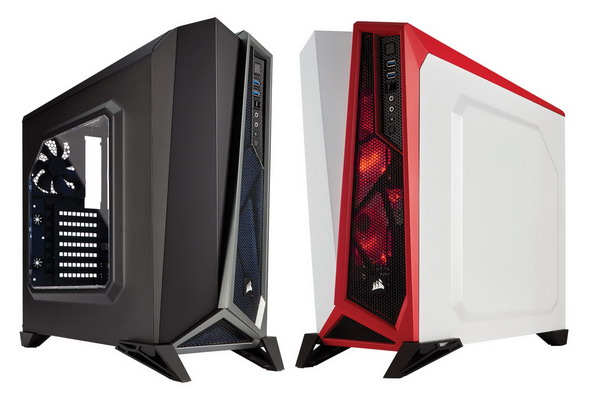 Corsair®, a world leader in enthusiast PC hardware and components, today announced the new Corsair Carbide Series SPEC-ALPHA mid-tower gaming case. With a striking angular design and an oversized window to show off its roomy interior, the SPEC-ALPHA offers a sleek look in either black or red to complement its efficient cooling features. Perfect for PC gamers' next rig, the SPEC-ALPHA is equipped with three 120mm fans for Direct Airflow Path cooling, controlled by a three-speed switch on the case's front panel.
Uniquely styled with a sharp, stand-out design and LED fans, the SPEC-ALPHA gives gamers a stunning tower that looks as great as it performs. Featuring native USB 3.0 support and room for up to four SSDs, the SPEC-ALPHA is able to handle and hold the best performance PC hardware. With a large side window that perfectly frames the interior space, the case's cable routing cutouts and tie downs ensure your system maintains a clean look inside and out. The case also allows for tool-free installation and side panel removal for easy building and access.
The neat interior combines with a Direct Airflow Path layout for optimal cooling and airflow. With no bulky 5.25" drive cage, the SPEC-ALPHA creates a clear path from the front intake straight to the CPU and GPU. The three-speed 120mm fans adapt to user needs, from near-silent operation to high-performance GPU cooling. The SPEC-ALPHA is also front 240mm radiator compatible, allowing for additional liquid-cooling upgrades.
The SPEC-ALPHA case comes in two distinct color options - black and red. The black build offers gamers a strong, sophisticated look with grey accents, while the striking red build features a contrasting red and white design that highlights the case's angles.
The Carbide Series SPEC-ALPHA will be available in early March 2016 for $79.99 MSRP from Corsair's worldwide network of retailers and distributors and is backed by a comprehensive two-year warranty and Corsair's worldwide customer support network.
Specifications
Bold Exterior Design with front intake LED fans: The asymmetrical, hard-edged design of the SPEC-ALPHA gives it a bold, unique look.
Direct airflow path to keep CPUs and GPUs running cooler: Modern systems don't need bulky drive cages obstructing the airflow. By removing the 5.25" drive cage, the SPEC-ALPHA has a direct path from the front intake fan to the CPU and GPU.
Large side panel window to show off your hardware: Why hide it? All that performance hardware looks great, so why not look at it through the huge side panel window?
Three included 120mm fans and built-in three-speed fan controller: Watching a movie?  Flip the switch for nearly silent operation. Throwing on the headset for some online gaming? Flip it to high and keep the GPU cool for better framerates.
Cable routing cutouts and tie downs: Nobody wants to see a rat's nest of cables, so hide them behind the motherboard tray to keep cable routing neat, tidy, and out of the airflow path for better cooling.
Easy to build: Tool-free drive installation and side panel removal means less time spent building and more time gaming.
Front 240mm radiator compatibility: Upgrade to the power of liquid cooling for CPUs or GPUs with up to a 240mm Hydro Series cooler.
Native USB 3.0 and SSD support for modern builds: Whether it's a new external drive for storage or a new SSD for the user's preferred OS or games, the SPEC-ALPHA is ready for anything.

AMD's recent RTG (Radeon Technologies Group) Summit

"I'm going to be very honest with my readers here – this GPUOpen initiative is something that AMD has been promising us for years and was jokingly called "Open Works" by Richard Huddy during an interview with PC Perspective back in June of 2014. I have, and continue to, love the idea that AMD is presenting. A community-driven software stack that includes robust tools and effects that work in multiple APIs that is compatible on all hardware (consoles, AMD, NVIDIA) and that all game developers can utilize and improve upon is the holy grail of an open and shared ecosystem. But can it actually exist?"


CyberPower Trinity Xtreme gaming PC

It's been a while since we gave away a full-fledged gaming PC. And since Fall is finally here, we thought what better way to say good-bye to the warm weather and usher in the fall season than to give away an awesome gaming rig? We have teamed up with our friends at CyberPower PC and have put together one heck of an amazing gaming system giveaway for you all!


With Intel at Shoreditch Studios, London

KitGuru were invited to spend some time with Intel on 21st October at Shoreditch Studios, London. Intel used a photographic studio in a converted railway arch in Shoreditch to display a show case of new laptops from a selection of its partners. KitGuru saw models from Acer, Asus, Dell, HP, Lenovo and MSI that were all powered by 6th Gen Skylake chips.

PNY GTX 950 2GB Review

So far we have looked at GTX950 partner cards from Gigabyte and ASUS and today we continue our coverage with an analysis of the new PNY GTX950. While other GTX950 solutions so far have incorporated dual fans inside the cooling shroud, PNY have opted for just a single fan. The big question we need to answer – can it possibly compete?

The Intel Channel Symposium 2015.

On the 7th of October 2015, we were invited to the invitation-only Intel Channel Symposium 2015. This was where and when Intel Malaysia officially launched the new Intel 6th Generation Core Processor, previously codenamed Skylake. The event started with an incredible sand art presentation, a symbolic nod to the raw material used to produce the silicon at the heart of every processor that Intel has ever made. Check it out!


AMD A10 7870K CPU Review - Welcoming Competition!

The A10-7870K is not any version of Carrizo. It relies on the same Steamroller cores as Kaveri, hence the title 'Kaveri Refresh', and is the same architecture as Kaveri. This is the "big daddy" of Kaveri, nicknamed Godvari by enthusiasts, since this is the highest clocked and best binned APU available on the market today.

Touring CDW: An Inside Look At A Tech Products

A couple of months back (Yes, I'm tardy in reporting. Life gets in the way sometimes.), I was invited to CDW's headquarters in Vernon Hills, IL for a "red carpet tour" of their facilities to get a firsthand look inside the computer and tech products distributor and reseller giant. The facility is located about 40 minutes outside of downtown Chicago and is a big mainstay business in the area, employing over 7,000 people worldwide with 26 facilities across North America and Canada.Formerly known as Computer Discount Warehouse, but now just CDW, the company is publicly traded on the NASDAQ under the same ticker symbol. As you might expect, their HQ facility is massive at roughly 450,000 square-feet... Think multiple stories of inventory racks, conveyors, robots, scanning and labeling systems, all stretching on for many football fields long. Tom Brady could throw slant and flat combinations to Edleman and Gronkowski in this place till they were all gassed and still not hit the end zone. Simply put – impressive.

A Tour Of The New Phoronix Office For Linux Benchmarking

"As most Phoronix readers know, earlier this summer I relocated from the high-tax, corrupted, crime-ridden Chicago to Indiana and with that Phoronix Media migrated. While my office configuration is slowly coming along and evolving, here's a look at things with most of the day-to-day setup now established. It's quite a different setup from the last Phoronix office tour two years ago. Like the last tour, this article is also to serve as some other recommendations I have about various products that otherwise wouldn't get (any or much) coverage on Phoronix but are worthy of a shout-out to Linux users and computer enthusiasts."

Touring Logitech's Audio HQ

Logitech recently reached out to us for a tour of their audio headquarters in Camas, Washington, where it spent the last 18 months designing what it believes to be the best sounding, most well-featured headset on the market, gaming or otherwise. In fact, they're so confident in the Artemis Spectrum, it bravely threw its creation to a small pack of skeptical tech journalists in hopes they'd go home impressed. Here are our thoughts.



The best Guides by the best writers on the internet; PCSTATS Beginners Guides explain computers, software, and all those other wonderful things that cause you frustration.

Learn how to use your computer better, master the internet while protecting yourself, and know what to do when your hard drive kicks the bucket.



"Get the 'Stats and Stay Informed!"