[>>]

[>>]

[>>]

[>>]

More>>

Search...

| | |
| --- | --- |
| Tradeshows / Events | |

... 2 news stories awaiting approval

Philips 28-inch 4K Ultra HD Monitor - CES2014

The PhilipsUltraClear Display debuts today, combining 4K UHD high resolution with a color depth of 1.07 billion colors to deliver brilliant performance, screen clarity and detail with four times the resolution of Full HD. Whether you require extremely detailed information for CAD-CAM solutions, use 3D graphic applications or are a financial wizard working on huge spreadsheets, this Philips display will provide UltraClear 3840x2160 pixel images to meet the visual demands of the most sophisticated power user. The 28-inch monitor (model 288P6) is also ideal for those seeking superb onscreen clarity and color accuracy for personal applications, and includes built-in stereo speakers for multimedia and MHL technology for easy mobile device connectivity.

Designed with the user in mind, the PhilipsUltraClear Display provides a plethora of connectivity options and comes equipped with HDMI, DisplayPort, Dual-link DVI and VGA SmartConnect ports, enabling the enjoyment of high resolution uncompressed video and audio content. USB 3.0 ensures super speed data transfers and smartphone charging while having global connectivity. Additionally, an integrated MHL port allows users to connect compatible phones and tablets directly to the monitor to mirror content to the widescreen display while charging the mobile device at the same time.

The Philips UltraClear Display also features MultiView functionality. This technology enables active dual connect and view so that users can work with multiple devices like PC and laptop side-by-side simultaneously, making complex multi-tasking work a breeze. With the Ultra HD Philips MultiView display, you can now experience a world of connectivity in a comfortable way whether at office or at home.

Another people-friendly feature is the advanced SmartErgoBase, which allows the monitor to be lowered down almost to desk level for a comfortable viewing angle. Low bezel-to-table height is the perfect solution for those who use bifocals, trifocals or progressive lens glasses for computing work. Additionally, the adjustable base allows for users of greatly different heights to use the monitor in their preferred angle and height settings, helping them reduce fatigue and strain. The SmartErgoBase's height, swivel, tilt and rotation angle adjustments position the monitor for maximum comfort, while its cable management function reduces cable clutter and keeps the workspace neat and professional.
SPECIFICATIONS

LCD panel type

TN

Backlight type

W-LED system

Panel size

28-inch

Aspect ratio

16:9

Optimum resolution

3840 x 2160

Brightness

300

Color

10-bit

Viewing angle

170º (H) / 160º (V) @ C/R > 10

Signal input

VGA (Analog )x1; DVI-D dual link x1; MHL-HDMI x1; DPx1

USB

USB2.0 x2; USB3.0 x2; + fast charger

Audio

3W x2

Power supply

Internal

Cabinet color

Black
The Philips UltraClear Display will be available in spring 2014 for $1,199.99 MSRP.

Philips 27" Monitor with NVIDIA G-SYNC - CES2014

The Philips 27" Gaming Monitor with G-SYNC debuts today bringing a stunning visual experience and ultra-smooth play to gamers looking for a serious competitive edge. This advanced Philips gaming display (model 272G5DYEB) delivers revolutionary performance through NVIDIA G-SYNC, a new technology that synchronizes display refresh rates to the PC's GPU, eliminating screen tearing and minimizing display stutter and input lag. With G-SYNC, images display the moment they are rendered, scenes appear instantly, objects are sharper, and game play is smoother.

The Philips 27" Gaming Monitor with G-SYNC will be showcased at the 2014 International CES in Las Vegas at both Pepcom's Digital Experience! event and the NVIDIA booth, which is located at LVCC, South Hall 3 - 30207. The display will be available for purchase in spring 2014 for $649 MSRP.

In addition to delivering consistently smooth frame rates and ultrafast response through G-SYNC display technology, the Philips 27" Gaming Monitor offers 144Hz refresh rate with 1ms response time for fast action, 300cd/cm2 brightness and a 1000:1 typical contrast ratio, and displays up to 16.7M colors. The slim black monitor is both wall mountable and height adjustable.

"This 27-inch Philips monitor is a perfect gaming partner, with G-SYNC technology bringing breakthrough display performance and giving major competitive edge," said Chris Brown, TPV Global Product Marketing. "We believe anyone who really cares about their gaming experience is going to want a G-SYNC-enabled display."

win a Zotac GeForce GTX 780 AMP! Edition

We're proud to announce the annual Hardware.Info Awards. People can vote for their favourite products and brands of the past year and one lucky participant will win a Zotac GeForce GTX 780 AMP! Edition graphics card.

BlizzCon 2013 Coverage @ Legit Reviews

After almost two years away in hibernation, BlizzCon returned to the Anaheim Convention Center with a bang as more than 20,000 fans poured in.  With so many fans, gamers, and CosPlayer itching to see what Blizzard had in store for their three main franchises - World of Warcraft, StarCraft, and Diablo, many felt that there was little chance that the event could once again live up to it`s hype..."

MSI's Master Overclocking Arena 2013

We're doing live coverage of MSI's Master Overclocking Arena 2013 overclocking event today. 16 overclockers from all over the world compete in three benchmarks; SuperPi 32M, Cinebench 11.5 and 3DMark Fire Strike. We'll updating the link below all day long with new pictures.

Team Madshrimps at FoM 15.1 2013 @ Madshrimps

On regular basis the Madshrimps OC team tries to expose our die-hard overclocking passion with the grand public. Either these events are vendor supported or on initiative of the ama"


News: Move over Atom; Intels Quark is one-fifth the size

IDF Intel CEO Brian Krzanich dropped a surprise announcement on the attendees of his opening keynote at the Intel Developer Forum today: a new family of processors from Intel, known as Quark. Quark SoCs are intended to be integrated into very small computing devices and the Internet of things, including wearable devices and possibly smart watches."

A Futurelooks News Flash - Futurelooks PAX Prime 2013 Video Coverage in Glorious 1080p HD Part One and Part Two

Its hard to believe that last week, gamers from all over North America flocked to Seattle for this event. And now were home editing video and photos and I think weve got some great stuff here to show you. There were definitely some real firsts for PC hardware and gaming at this years PAX Prime 2013 including the unveiling of the highly anticipated HAF Stacker by Cooler Master and the first public performance of INTELs SSD overclocking technology. And lets not forget about how stupid wrong anyone is when they say that PC gaming is dead. At PAX Prime, PC gaming is stronger and healthier than ever. *"

PAX Prime 2013 with NVIDIA

PAX Prime is an entirely different event from shows like CES and E3, because they are completely open to the public and they are geared toward being a more public event for fans of all kinds of gaming. Whether you're a console gamer, a PC gamer, a card gamer, a tabletop gamer, a handheld gamer or you're just really into cosplay, there is definitely something here for you. Just as we did with last year's event, we've put together a little video compilation of our journeys through PAX in Seattle this year."

gamescom 2013

The gamescom 2013 took place in Cologne, Germany and is one of the most important gaming fairs in Europe. Of course also the OCinside.de online magazine visited gamescom and shows new games, hardware, consoles and casemods on 6 pages with more than 170 pictures. It is only available in German language, but it is worth watching the pictures with or without a translation tool to discover the latest gaming trends.

MOA 2013 Semi Final Results, EVGA 780 Classified

Ninjalane Podcast - In this episode Darren wants to know the results of the MOA 2013 Semi Finals. Dennis talks about the amazing EVGA GTX 780 Classified and the Duo exchange views about the latest Slate/Tablet devices.

GIGABYTE Overclocking Contest at HWBOT.org

$5,000 Dollars Cash, Plus Hardware Prizes Up for Grabs Benching SuperPi on AMD FM2 and AM3+
City of Industry, California, August 16, 2013 – GIGABYTE TECHNOLOGY Co. Ltd., a leading manufacturer of motherboards and graphics cards, today announced the launch of its latest overclocking contest at HWBOT.org, 'Pi is Returned'. From August 16th until September 16th 2013, all HWBOT members are invited to pit their overclocking skills against each other competing for $5,000 in cash prizes on SuperPi, the original and classic CPU and memory benchmark.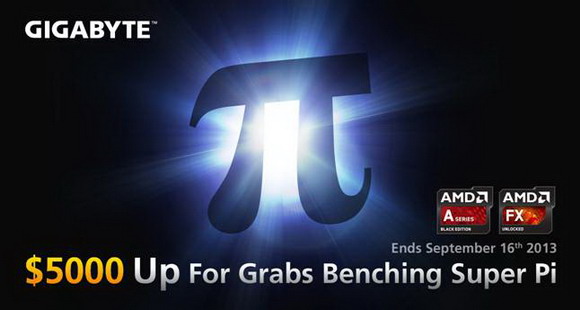 The 'Pi is Returned' contest consists of both AMD FM2 and AM3+ platform groups, each with stages centered around SuperPi 1M and SuperPi 32M benchmarks. $5,000 US Dollars in cash is offered as prize money to both 1st and 2nd place finishers, with GIGABYTE F2A85XN-WIFI and GIGABYTE 990FXA-UD3 motherboards plus CPUs and APUs offered for 3rd place. An additional cash prize is also offered for the highest world records achieved at each stage.
'Pi is Returned' - Groups and Stages
Group A - FM1/2 (Llano/Trinity/Richland)
· Stage1: Super Pi 1M
o 1st place $500
o 2nd place $250
o 3rd place F2A85XN-WIFI & AMD A10-6800K
o World Record - $500
· Stage2: Super Pi 32M
o 1st place $500
o 2nd place $250
o 3rd place F2A85XN-WIFI & AMD A10-6800K
o World Record - $500
Group B – AM3+ (Bulldozer/Piledriver)
· Stage1: Super Pi 1M
o 1st place $500
o 2nd place $250
o 3rd place 990FXA-UD3 & AMD FX-8350
o World Record - $500
· Stage2: Super Pi 32M
o 1st place $500
o 2nd place $250
o 3rd place 990FXA-UD3 & AMD FX-8350
o World Record - $500

Limitations:
Entrants must use the official competition background. Verification screenshots are required and must include; SuperPI 1M or 32M scores, plus CPU-Z CPU/MEM/Mainboard tab. Entrants must include a picture of the rig used. Usual HWBOT submission and verification rules apply.
The GIGABYTE Pi is Returned contest is open to all HWBOT members until September 16th, 2013. For more details, competition rules and standings, please visit the Pi is Returned competition page on HWBOT.org

Gorgeous Women of Computex 2013 - Video and Extensive Gallery

One of our most popular features post any tech event has always been a `whirlwind` tour of the event, highlighting the beauty within. Computex 2013 is no different except for the characteristic of us spending just a bit more time getting these shots for your viewing pleasure. Between the pictures posted here at TSSDR, and also, those posted at our sister site technology X, we have a collection of about a hundred pictures. This would easily make our collection the largest found anywhere on the web for any single tech event! Let`s start things off with a video from Computex 2013 with the gallery following below:"




The best Guides by the best writers on the internet; PCstats Beginners Guides explain computers, software, and all those other wonderful things that cause you frustration.

Learn how to use your computer better, master the internet while protecting yourself, and know what to do when your hard drive kicks the bucket.



"Get the 'Stats and Stay Informed!"