[>>]

[>>]

[>>]

[>>]

More>>

Search...

| | |
| --- | --- |
| Tradeshows / Events | |

... 0 news stories awaiting approval
2016 ROG Champions Cup

1,500 ROG and League of Legends fans gathered to cheer on the two final teams – "Missing in Action" and "Raiding Squad", as they took on each other in a best-of-5 challenge. Find out who won, and what AWESOME ROG gear they won!"

Cosplay, Booth Babe and Booth Dude Photos From E3 2016

As E3 2016 comes to a close, it's that time again for our annual E3 Cosplay/Booth Babe/Booth Dude! This year's edition had all sorts of cute, cool, and sexy things signifying a shift away from just sexy people. We definitely took pictures of booth babes, models, cosplayers, fast cars, modded computers, and Naughty America's VR adult entertainment booth, but we also saw and heard some live music performances and found a good number of set pieces for photo opportunities. The ubiquity of selfies and social media has driven this shift towards inclusiveness, where E3 attendees have more ways of expressing their own flavor...

Gigabyte, Intel and Corsair Summer Press Event Highlights

For those of us that were not fortunate enough to attend Computex 2016, Gigabyte, Intel and Corsair held a private press event. At this event, they went over many of the items that were shown at Computex, but also provided us a few new pieces of information. Read on to see what we learned!

n a Sapphire RX 480 Nitro

The Sapphire RX 480 Nitro is the world's first custom RX 480 graphics card to be listed at retail and to celebrate its launch, we are teaming up with Overclockers UK to give one away! Sapphire's Nitro cooler is one of the best around and that additional cooling efficiency allows for higher out of the box overclocks on the GPU. Sapphire's RX 480 Nitro comes with enhanced Core and Boost clocks, alongside 8GB of 8000MHz GDDR5 memory running with a 175W TDP, so it will pack more of a punch while still being power efficient.

AORUS Computex 2016 Tech Overview

The GIGABYTE case mod showcase featured incredible case mods by top case modders from around the world, including Maciel Barreto from Brazil and Suchao Prowphong from Thailand."

AORUS Computex 2016 Tech Overview

On the third day of Computex 2016, we were invited to the GIGABYTE VIP Showroom up on the 36th floor of Taipei 101. Part of their VIP Showroom was dedicated to AORUS, their premium, gaming brand. Let's check out what's new from AORUS!"

Computex 2016

A couple weeks ago, we trekked all over Taipei to take in everything that Computex 2016 had to offer. Come with us and see the state of the PC in 2016, as interpreted by dozens of companies both small and large.


Alienware 13 OLED & More @ Computex 2016

After Dell launched the world's largest 2-in-1 laptop, the Dell Inspiron 17 7000, we had the opportunity to check out some of their latest Alienware products. Some of them, we have seen earlier. Some of them are brand new. We didn't have much time, but we recorded three videos for you to check out.

HotHardware And Lenovo Go Mobile Giveaway

What better way to usher in the summer season than to give away a trio of awesome mobile devices, that let you get outside and soak up the sun, while enjoying some HOT new technology?

To that end, our friends at Lenovo have offered up three different devices for you lucky HotHardware readers, the Yoga Tab 3 Pro tablet, the slick Yoga 710 (14') laptop, and the powerful Ideapad Y700 Touch (15') notebook!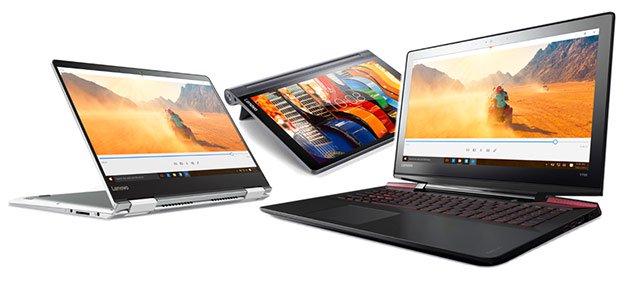 1st Prize: Lenovo Ideapad Y700 Touch (15') Gaming Notebook
2nd Prize: Lenovo Yoga 710 (14') Premium 2-in-1 Laptop
3rd Prize: Lenovo Yoga Tab 3 Pro Entertainment Tablet w/ Projector

To be entered to win one of these systems, please follow the quick and easy guidelines listed below. If you're brand new here, there might be a few more steps necessary, but otherwise it's very simple.
1) Make sure you're a registered member at HotHardware.com. You can also login with your Facebook or Twitter accounts if you prefer.
2) Important: Be active in news and article discussions and in the forum here at HotHardware.com to get noticed. But don't spam! One word posts or short, spammy posts won't count.
3) 'Like' these Facebook pages if you haven't already done so: HotHardware, Lenovo 4) Extra credit: Sign-up for our once-daily HotHardware Feedblitz news email blasts.
Your comments are your entries! The giveaway will run through July 1, 2016, and we'll announce the lucky winners shortly after the holiday weekend. Get in early, make some friends, and post often!
This is a great chance for to you to win some awesome mobile devices from Lenovo! Good Luck everyone and thanks Lenovo!
** Please note, this give-away is for U.S. or Canadian residents only. The winner, if selected and located at a Canadian ship-to address, will assume all duties / taxes associated with delivery. All winners are responsible for any applicable taxes associated with contest prizes. **

.SKILL Achieved DDR4 5189.2MHz and 12 Overclocking Records at Computex 2016

GSKILL have let it be know that 12 overclocking records in 8 different benchmarks were broken during Computex week this year! The world's fastest memory frequency world record is now DDR4 5189.2MHz.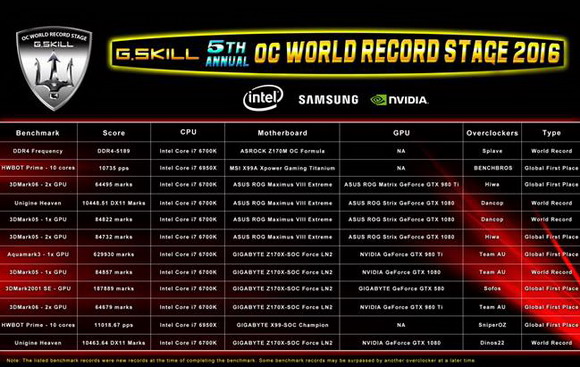 "G.SKILL International Enterprise Co., Ltd., the world's leading manufacturer of extreme performance memory and gaming peripherals, is proud to announce that 12 overclocking records in 8 different benchmarks were broken during Computex week this year, including the world's fastest memory frequency world record at DDR4 5189.2MHz.
Special thanks to the event sponsors Samsung, Intel, and NVIDIA, as well as the industry's leading performance motherboard vendors, including MSI, ASUS, EVGA, GIGABYTE, and ASRock, the G.SKILL 5th Annual OC World Record Stage brought together the world's most powerful PC hardware in one venue to demonstrate the bleeding edge limits of current technology. Over the course of the 5 days at Computex, multiple benchmarks records were pushed to the new extreme levels, using G.SKILL DDR4 memory built with Samsung ICs, Intel Core i7 processors, the latest NVIDIA GPU, and the newest Z170/X99 motherboards designed for extreme performance.
In addition to the most powerful computer hardware, G.SKILL 5th Annual OC World Record Stage featured the world's most skilled and reputable overclocking legends. Only with their sophisticated professional skills of BIOS tweaking, hardware modding, and temperature controlling via liquid nitrogen, the performance of each piece of hardware was able to unleash its maximum potential and achieved numerous world records within such a short period of time."

Computex 2016 Live Coverage Day 4

Team ARP is on the ground at Taipei to cover Computex 2016 LIVE on the Tech ARP Facebook page and this article. Computex 2016 begins today, May 31, 2016 and will run for five full days. So join us for our live coverage every day, until June 4!

Computex 2016 Live Coverage Day 5.

Team ARP is on the ground at Taipei to cover Computex 2016 LIVE on the Tech ARP Facebook page and this article. Computex 2016 begins today, May 31, 2016 and will run for five full days. So join us for our live coverage every day, until June 4!

AMD Technologies Revealed at Computex 2016.

On the second day of Computex 2016, AMD held a press conference at the Westin Taipei. In that hour-long press conference, they announced multiple updates on their latest and upcoming processor and graphics technologies.

Megacon 2016 Mega Photo Gallery

Megacon 2016 is here and brings with it a huge turnout of cosplay, celebrity appearances, and some of the coolest merchandise you can get your hands on. From rare collectibles to clothing and that perfect accessory for your costume, Megacon has it all. This show is one not to be missed and there were attendees from all over the USA and other countries.

First AMD Polaris Radeon RX 480 Unveil Targets Mainstream

It's not quite time to disclose AMD's full line-up of Polaris-based GPUs, but today AMD is ready to talk a bit about its upcoming Radeon RX 480, which targets the sub-$200 "sweet spot" of the GPU market. The Radeon RX 480's specifications read like a more expensive product, however, and according to AMD the card is targeting not only gamers, but enabling virtual reality (VR) experiences for the masses as well.



The best Guides by the best writers on the internet; PCSTATS Beginners Guides explain computers, software, and all those other wonderful things that cause you frustration.

Learn how to use your computer better, master the internet while protecting yourself, and know what to do when your hard drive kicks the bucket.



"Get the 'Stats and Stay Informed!"