[>>]

[>>]

[>>]

[>>]

More>>

Search...

| | |
| --- | --- |
| Tradeshows / Events | |

... 0 news stories awaiting approval

Power Of Participation At Red Hat Forum 2016

At an exclusive media event, Chris Wright and Damien Wong from Red Hat, as well as Frederic Giron of Forrester, gave us an overview of what was covered during Red Hat Forum 2016. Check it out!

Win a Sumo Air Lounge Chair!

"We are back with another contest! This time we are teaming up with our friends from Sumo Lounge to give away one of their Sumo Air inflatable lounge chairs! These inflatable lounge chairs are just awesome and perfect for the beach or park! Don't believe us? Check out our full review here! We have one (1) Sumo Air (black) to give away to one lucky person! We will be running this contest on Facebook and it really is quite simple to enter! See the instructions below on how you can enter! A big thanks to Sumo Lounge for providing the Sumo Air for us to give away!"

Wise Pad W7 Phablet Giveaway Contest

We have an awesome giveaway for you guys this time. We are going to give away a 4G LTE phablet that runs on Windows 10! We present to you – the Wise Pad W7 phablet giveaway contest!



Nvidia to host GTC Taipei starting September 21

Nvidia's GPU Technology Conference (GTC) in Taipei will begin on September 21 and company CEO Jen-Hsun Huang is expected to make a keynote about the company's development progresses on artificial intelligence (AI), deep learning and its automatic driving platform. Nvidia will showcase its latest GPU technology and products and is also planning to unveil several partnerships with Taiwan's Industrial Technology Research Institute (ITRI).

SAP Ariba Live 2016 @ Singapore.

You must be wondering - what is SAP Ariba? You probably never heard of them, even though they help make the devices we use possible. If you are a consumer, this article will tell you what SAP Ariba is all about, and why they matter... A LOT. If you are an SAP Ariba user / practitioner, be sure to check out the new features of the Ariba Network.

TechSpot Best of IFA 2016

After several long days seeking out the best products on show at IFA's 1.6 million square foot display area, I returned home from Berlin both impressed and excited about the future of technology.

GIGABYTE Partners with Wargaming in Pan America

"GIGABYTE TECHNOLOGY Co. Ltd., a leading manufacturer of motherboards and graphics cards is proud to announce today, a promotion with Wargaming, creators of award winning free to play titles such as; World of Tanks and World of Warships, in connection to its recent launch of its new X99 and Z170 Motherboards. This promotion will qualify for all purchases made after May 30th, 2016.

GIGABYTE is bundling, with select Motherboards, bonus items, in-game currency, and in-game bonuses for World of Warships, valued at up to $30 USD. This promotion will be widely available to all GIGABYTE users in the Pan America Region, from North America, to Latin America, and also Brazil. Players can participate and obtain these free bonus items simply by purchasing, select GIGABYTE Motherboards. To promote this promotion even further GIGABYTE has created special retail boxes to signify and differentiate these select motherboards.

" Wargaming is proud to have the best naval combat game, World of Warships, supported by the finest PC hardware from GIGABYTE", stated Scott A. Steinberg, Senior Director of Business Development, Wargaming America.

New players will have an invite code available to them which they can use to obtain a premium warship, Aurora Cruiser; offered in GIGABYTE's Promotion bundle. In addition, players will have access to being a premium account for seven (7) days this includes an +50% XP, Commander XP, Credit earnings, and access to a premium port. Not only that these new players will also be given 750,000 Credits in in-game currency. Existing players will use a bonus code and will be offered a premium warship Smith, with its debut release with GIGABYTE's bundle promotion, as well as 100 Flags, an in-game consumable item.

This Promotion is available to the following GIGABYTE motherboards: X99-Phoenix SLI, X99-Ultra Gaming, X99P-SLI, Z170XP-SLI, H170-Gaming 3 and the H110M-S2H. Users can choose between a X99 Chipset Motherboard, that supports the newly launched 10-Core CPU from Intel, or the Z170, H170, or H110 Chipset Motherboards."


SnapPower Charger Duplex Outlet Coverplate

A few months ago we took at look at the SnapPower Guidelight, an electrical outlet coverplate that includes an LED nightlight that does not interfere with the use of either outlet. In this review we have another clever product from SnapPower, this time in the form of their Charger Duplex Outlet Coverplate, a device that replaces your outlet coverplate and adds a single USB outlet suitable for charging your mobile devices.

GIGABYTE Extends 30th Anniversary PC Mod Challenge Win a Free Trip to CES 2017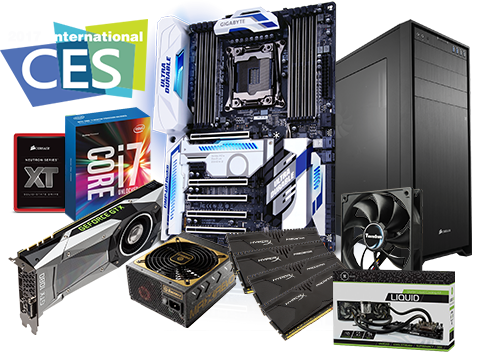 GIGABYTE TECHNOLOGY Co. Ltd, a leading manufacturer of motherboards and graphics cards, has extended its 30th Anniversary PC Mod Challenge to the end of the year for bigger and better rewards worth $10,000 and more in cash and prizes. In partnership with our sponsors from Intel, Nvidia, Kingston, Enermax, Corsair, EKWB, PCPartPicker, and Modders-Inc. GIGABYTE invites modders all across North America to enter and Mod2Win. Contest begins May 20th. To get more information or to participate, please visit: GIGABYTE 30th Anniversary Mod Challenge.
Bring your best ideas to reality by drafting a concept of your mod. Participants who submit their concepts ideas before June 27th are entered to win a build kit. Winners will be selected by our representative judges from each of our sponsors. Each concept kit winner will receive a package of hardware components to jump start their Mod Build for a final showdown in November. From our expert judges' panel, one Grand Prize winner will receive a free trip for two to CES 2017 along with their winning mod to be displayed at GIGABYTE's showcase.
For more details on the GIGABYTE 30th Anniversary Mod Challenge:


annual TR BBQ

Asus sent us some of its best wireless networking gear to help us boost internet coverage at the annual TR BBQ. Join us as we put our own spin on Wi-Fi testing and push the limits of these devices.

2016 ROG Champions Cup

1,500 ROG and League of Legends fans gathered to cheer on the two final teams – "Missing in Action" and "Raiding Squad", as they took on each other in a best-of-5 challenge. Find out who won, and what AWESOME ROG gear they won!"



The best Guides by the best writers on the internet; PCSTATS Beginners Guides explain computers, software, and all those other wonderful things that cause you frustration.

Learn how to use your computer better, master the internet while protecting yourself, and know what to do when your hard drive kicks the bucket.



"Get the 'Stats and Stay Informed!"