[>>]

[>>]

[>>]

[>>]

More>>

Search...

| | |
| --- | --- |
| Tradeshows / Events | |

... 0 news stories awaiting approval
CES Trends for 2016

CES, the Consumer Electronic Show is the biggest trade show in the world. With over 2.4 million square feet of floor space and more than 150,000 expected attendees, 2016 will be the largest CES ever. Every year I trek to Las Vegas to join more than 170,000 other attendees to see the latest and greatest products and developments in the tech …

HotHardware's Ten Best Of CES 2016

We covered a lot of miles at CES 2016 this year, our fitness trackers often chirping "success" rather early in the day, but we saw a lot of people and a lot of tech gear in our travels. Some of it was hot - damn hot - some of it, not so much. There were some recurring themes this year, as with every year at CES it seems. The hot topics and trends this year were autonomous cars, virtual reality, more thin and light computing and of course more powerful gaming gear. Every Tech Web publication has its own short list of the best products showcased at CES 2016. We're going to run down our top 10 products we saw on display at the show, in no order of importance or preference. However, we will group them together in terms of product type, just so your head isn't spinning like ours was, after the better part of a week in the sensorial overload that is Las Vegas...

TechSpot Best of CES 2016

Here's our selection of the most innovative, promising, or downright cool products we saw during this year's massive show. So without further ado here's the best of CES 2016

CES Day 5 Roundup

As we come to near the end of the show, APH Networks zeroed in on three well-known audio companies.

Maiden voyage to BlizzCon @ LanOC Reviews

I've always heard great things about BlizzCon and after participating in the virtual ticket last year we decided it was something we wanted to experience in person. The announcement of Overwatch, Blizzard's first new IP in almost two decades, certainly contributed to the experience and I was blown away by the overall excitement witnessed through panels, contests, and of course e-sports. I wouldn't consider myself a Blizzard mega-fan, but the influence many of their franchises have had in my gaming career is monumental. Diablo was one of my gateway titles into PC gaming and decades later you can often find me running through greater rifts with my wife, Misty. With tickets in hand, we patiently waited and prepared for our departing flight to Anaheim, California.

CES 2016

We wrap up CES 2016 by talking about new ROG monitors from ASUS, Plenty of M.2 PCIe Drives, a giant case from EVGA and more!

CES 2016 Day 4 Roundup

Four days into the one of the largest technology trade shows in the world, Aaron and Preston met with QNAP, Cooler Master, LG, Phanteks, and SanDisk with to see what they are up to.

MSI Showcases Future of PC Gaming at CES 2016

MSI Computer Corp, a leading manufacturer of computer hardware products and solutions, showcases the future of PC gaming technology with an award-winning selection of ultra-portable and desktop-replacement laptops, gaming AIOs, compact desktops, and more; including CES Innovation Honorees GS40 Phantom, Gaming 27XT, and Vortex Gaming Tower.
"Gamers demand reliable, versatile and powerful products that address their gaming needs, and our newest selection of gaming warriors address those demands," says Andy Tung, president of MSI Pan America. "PC gaming is constantly evolving and our award-winning selection rises to any challenge."
GS40 Phantom – MSI's GS40 Phantom is an ultra-portable 14" gaming laptop with the power of full-sized desktops. Armed with the latest Intel Skylake processor and NVIDIA GTX 970M graphics, the GS40 Phantom weighs only 3.75 lbs., measures less than 0.87 inches thick, and is designed for mobile gamers who refuse to compromise on performance. The GS40 Phantom is available now.
GT72S Tobii – The MSI GT72 is the world's most advanced gaming notebook and the world's first PC with integrated eye tracking from Tobii.
Enter a world of unparalleled immersion when both game characters and environments react to your gaze, focus and attention. Yet to be fully realized, eye tracking gaming is the next evolution in PC gaming, influencing not only the game, but also the components of your notebook as well.
Together, both MSI and Tobii are driving the growth of eye tracking gaming - supporting thousands of forward-thinking developers creating entirely new experiences for gaming, streaming and even general computing.
The GT72S Tobii will also be the only notebook to provide both eye-tracking and facial recognition support for Windows Hello, enabling Windows 10-ready biometric authentication and eye-tracking functionality.
The new GT72S Tobii will be available later this month supporting major game titles and will be bundled with the highly anticipated Tom Clancy's The Division which will also support Tobii Eye-Tracking technology. For a complete list of Tobii supported games, go to http://www.tobii.com/apps/.
GS72 Stealth Pro – Thinner, lighter and more powerful. The GS70 Stealth gets an upgrade to design and performance with the latest addition to MSI's thin and light GS Series gaming notebooks with the new GS72 Stealth Pro. Measuring in at 0.78" thin, the GS72 is MSI's slimmest and lightest 17" gaming notebook and sports an ultra-high resolution 4K display packing unbelievably powerful hardware in a form factor chassis. The GS72 Stealth will also have a non-4K option and both will be available early January 2016.
WS72 Workstation – MSI is more than just gaming, they also develop systems for the professionals in the field of animation, game development and architecture with the workstations notebooks product lines. MSI will be introducing their newest addition to their workstation family, the WS72. Focusing on power and portability, the 17" workstation includes the latest Intel Xeon Processors with Windows 10 Professional packed into a sleek and slim design. MSI's workstations are also certified by professional software developers like Autodesk, Adobe, PTC Creo, AutoCAD, SolidWorks, Maya, and Revit. The WS72 Workstation is available now.
Vortex Gaming Tower – MSI's Vortex is a powerful compact gaming PC designed to fit anywhere. Potent yet small, the Vortex is only about 6.5L and comes packed with power utilizing a desktop Intel processor, dual NVIDIA® GeForce® GTX 980 SLI graphics for blistering fast performance, and a 360° Silent Storm Cooling design for superior performance under the most intense gaming sessions. It will also support multiple 4K video outputs simultaneously for intense multi-tasking and allow for expandability with an easy-to-upgrade design for DIY users. The Vortex will be available in 2016.
Gaming 27XT – MSI's Gaming 27XT is the world's first All-in-One PC to support an external desktop graphics card. Armed with a variety of high-tech components and technologies, including Nahimic Audio Enhancer, Killer Lan networking, and a stunning 144 Hz Full HD display, the Gaming 27XT delivers the best out of box gameplay experience for gaming enthusiasts
Nightblade X2/MI2- MSI's Nightblade Gaming PC's are made specifically with the enthusiast in mind. The Nightblade X2 and MI2 platform comes equipped with Military Class 4 components allowing gamers to build out a high-performance gaming pc without sacrificing precious space in the battlestation. Equipped with an Intel Skylake chipset motherboard and support of up to Nvidia GeForce GTX 980ti/970 graphics card respectively, the MSI Nightblade Series carries the horsepower gamers need without the size or weight to hold them back.
Cubi 2 Plus – The MSI Cubi 2 Plus is one of the latest and smallest mini-PC desktops equipped with Intel's 6th Gen Skylake-S processor. With support for an M.2 SSD, a 2.5" SSD slot, and enough ports for almost any application, the Cubi 2 Plus is well suited to serve as an HTPC at home, all-round media PC in the office, or commercial project PC.
Z170A GAMING PRO CARBON Edition - Sporting the latest Intel® Z170 chipset and the latest version of Mystic Light, the Z170A GAMING PRO CARBON Edition motherboard is sure to offer outstanding performance and customization of your system. Enjoy crystal-clear immersive in game sounds from the premium quality components of Audio Boost 3. Steel Armor ensures the most heavyweight graphics card setups are solid and stable. Engineered to provide both a stunning gaming and visual experience, the Z170A GAMING PRO CARBON Edition gives you plenty of reasons to show off.
X99A GODLIKE GAMING CARBON Edition - The world's most powerful gaming motherboard solution just got better. The X99A GODLIKE GAMING CARBON Edition motherboard features the improved Mystic Light RGB LED feature, supporting up to 16.8Million colors and 16 LED effects to style your rig in any way possible. Featuring the patented Turbo Socket, the X99A GODLIKE GAMING CARBON Edition removes all limits by providing extra pins (2036 in total) for better overlocking of the Intel® extreme processors. Dominate the world of gaming and overclocking while looking awesome with the new X99A GODLIKE GAMING CARBON Edition motherboard.
B150M GAMING 3X - MSI celebrates its 30th Anniversary with the B150M GAMING 3X, with a golden PCB and red color scheme – which represents fortune and bliss in traditional Chinese culture. The B150M GAMING 3X inherits MSI's GAMING DNA, with a powerful GAMING LAN to experience ultrafast online gaming, and Audio Boost 3 for a crystal clear immersive gaming experience. This special 30th Anniversary model will include a MSI GAMING mouse as a bundle deal!
Graphics Card and Accessories
MSI's award winning Graphics Card line up will be on display at CES 2016. Notable MSI gaming graphic heavyweights include the GTX 980Ti Sea Hawk, GTX 980Ti Lighting, and most popular GTX 980Ti GAMING graphics card. 2016 also brings the unveiling of MSI's new line up of gaming accessories, including the new Interceptor DS4200 GAMING keyboard, Interceptor DS300 GAMING mouse, IE60 In-Ear GAMING headset, Thunderstorm Pro GAMING mousepad, and Focus GAMING Eye Tracker. MSI is excited to unveil brand new 4-WAY and 3-WAY SLI Bridges in the famous MSI GAMING style, which form the perfect link for any 4 or 3-way MSI GAMING SLI setup. These bridges are forged out of high quality materials and feature a premium LED illuminated GAMING logo that can be controlled by the exclusive MSI Gaming App. To ensure a cool & quiet GAMING experience, a silent Cooler Master system fan is included which can be mounted on the SLI bridge.

CES 2016 DAY 3 ROUNDUP

ay 3 has been an exciting day for us here at APH Networks, as we got to meet with more people from companies well known to us. We also got to see some cool new stuff going on. Here are the highlights.

S 2016 DAY 1 AND DAY 2 ROUNDUP

Reporting from CES 2016, APH Networks has been covering what is going on on the show floor and more for the last couple of days. Here is a quick roundup of some of the latest buzz in the tech world we covered.

Hands-On Lenovo ThinkPad X1 Yoga With OLED Display, X1 Carbon And X1 Tablets At

Touching down early in scenic Las Vegas, today we bring you highlight pre-show unveils from the private OEM meeting suites and early press conferences of CES 2016... The new 14-inch ThinkPad X1 Carbon is now both thinner and lighter at just 2.6 pounds, with Intel Skylake on board and an NVMe PCI Express SSD offering up gobs of bandwidth. However, what could be apple of our eye, no pun intended, is the ThinkPad X1 Yoga we saw. This beauty has a 360 degree Yoga-style hinge (non-watch band type), a 2.8 pound total welterweight and rechargeable holstered stylus pen.
However, the stand-out feature has to be its optional 14-inch OLED display, the first of its kind in a notebook.

CES Unveiled 2016 Coverage

"We kick off our CES 2016 coverage with CES Unveiled which is the official press event of CES. While many of the products here are more focused on mobile, we were able to check out some pretty cool products from Synology, Hercules, Plantronics, and Urbanears!"

CES 2016 - OCZ Showcases Next-Generation SSDs

OCZ Storage Solutions, a Toshiba Group Company and provider of high-performance solid-state drives (SSDs) for high-end systems and gaming PCs, today announced plans to showcase the highly anticipated NVM Express™ RevoDrive 400 series and the all-new Trion 150 series at this year's Consumer Electronics Show (CES) in Las Vegas, Nevada to be held January 6 - 9, 2016. Early-adopting enthusiasts that feel held back by commodity SATA storage can't wait to get their hands on the impending RevoDrive 400 series which was designed and engineered for ultimate next generation storage performance. The NVMe™ PCI Express Gen. 3 x4 SSD series redefines the boundaries of speed and the limitations of storage capacity with up to 2.4GB/s of bandwidth and up to 1TB on a single M.2 module. Being unveiled for the first time this CES is the Trion 150, a follow-up to the Advanced 19nm TLC-based Trion 100 series. Trion 150 SSDs will feature 15nm Toshiba TLC NAND flash and sports a great combination of quality features and excellent value that consumers have become fond of with the popular Trion 100 series. As the next iteration of this series, expect improved sustained performance and enhanced file transfer rates. In addition to its new consumer product offerings, OCZ's Toshiba NAND powered enterprise solid state drives will also be on display, including the award-winning Z-Drive 6000 U.2 series. For more information, please contact our public relations manager.

CES 2016 is just beginning!

CES is just beginning. Join us for announcements from Lenovo, NVIDIA Press Conference, new AMD GPUs and more!

CES 2016 - Corsair Carbide SPEC-ALPHA Mid-Tower Case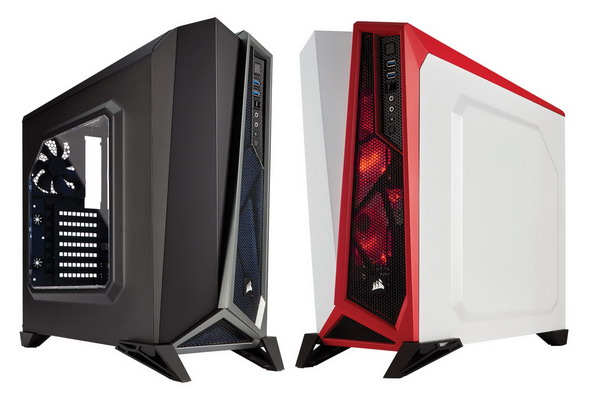 Corsair®, a world leader in enthusiast PC hardware and components, today announced the new Corsair Carbide Series SPEC-ALPHA mid-tower gaming case. With a striking angular design and an oversized window to show off its roomy interior, the SPEC-ALPHA offers a sleek look in either black or red to complement its efficient cooling features. Perfect for PC gamers' next rig, the SPEC-ALPHA is equipped with three 120mm fans for Direct Airflow Path cooling, controlled by a three-speed switch on the case's front panel.
Uniquely styled with a sharp, stand-out design and LED fans, the SPEC-ALPHA gives gamers a stunning tower that looks as great as it performs. Featuring native USB 3.0 support and room for up to four SSDs, the SPEC-ALPHA is able to handle and hold the best performance PC hardware. With a large side window that perfectly frames the interior space, the case's cable routing cutouts and tie downs ensure your system maintains a clean look inside and out. The case also allows for tool-free installation and side panel removal for easy building and access.
The neat interior combines with a Direct Airflow Path layout for optimal cooling and airflow. With no bulky 5.25" drive cage, the SPEC-ALPHA creates a clear path from the front intake straight to the CPU and GPU. The three-speed 120mm fans adapt to user needs, from near-silent operation to high-performance GPU cooling. The SPEC-ALPHA is also front 240mm radiator compatible, allowing for additional liquid-cooling upgrades.
The SPEC-ALPHA case comes in two distinct color options - black and red. The black build offers gamers a strong, sophisticated look with grey accents, while the striking red build features a contrasting red and white design that highlights the case's angles.
The Carbide Series SPEC-ALPHA will be available in early March 2016 for $79.99 MSRP from Corsair's worldwide network of retailers and distributors and is backed by a comprehensive two-year warranty and Corsair's worldwide customer support network.
Specifications
Bold Exterior Design with front intake LED fans: The asymmetrical, hard-edged design of the SPEC-ALPHA gives it a bold, unique look.
Direct airflow path to keep CPUs and GPUs running cooler: Modern systems don't need bulky drive cages obstructing the airflow. By removing the 5.25" drive cage, the SPEC-ALPHA has a direct path from the front intake fan to the CPU and GPU.
Large side panel window to show off your hardware: Why hide it? All that performance hardware looks great, so why not look at it through the huge side panel window?
Three included 120mm fans and built-in three-speed fan controller: Watching a movie?  Flip the switch for nearly silent operation. Throwing on the headset for some online gaming? Flip it to high and keep the GPU cool for better framerates.
Cable routing cutouts and tie downs: Nobody wants to see a rat's nest of cables, so hide them behind the motherboard tray to keep cable routing neat, tidy, and out of the airflow path for better cooling.
Easy to build: Tool-free drive installation and side panel removal means less time spent building and more time gaming.
Front 240mm radiator compatibility: Upgrade to the power of liquid cooling for CPUs or GPUs with up to a 240mm Hydro Series cooler.
Native USB 3.0 and SSD support for modern builds: Whether it's a new external drive for storage or a new SSD for the user's preferred OS or games, the SPEC-ALPHA is ready for anything.

AMD's recent RTG (Radeon Technologies Group) Summit

"I'm going to be very honest with my readers here – this GPUOpen initiative is something that AMD has been promising us for years and was jokingly called "Open Works" by Richard Huddy during an interview with PC Perspective back in June of 2014. I have, and continue to, love the idea that AMD is presenting. A community-driven software stack that includes robust tools and effects that work in multiple APIs that is compatible on all hardware (consoles, AMD, NVIDIA) and that all game developers can utilize and improve upon is the holy grail of an open and shared ecosystem. But can it actually exist?"



The best Guides by the best writers on the internet; PCSTATS Beginners Guides explain computers, software, and all those other wonderful things that cause you frustration.

Learn how to use your computer better, master the internet while protecting yourself, and know what to do when your hard drive kicks the bucket.



"Get the 'Stats and Stay Informed!"