[>>]

[>>]

[>>]

[>>]

More>>

Search...

| | |
| --- | --- |
| Tradeshows / Events | |

... 1 news stories awaiting approval
CeBIT 2014: A Quick Tour

The Hannover Messe is getting less and less interesting for hardware enthusiasts as myself. Almost all the interesting vendors were located this edition at the Planet Resellers booth; selling is the name of the game, not just show your brand new lineup to the masses. Some big names didn't even bother to prepare a booth for the CeBIT 2014 tradeshow: Gigabyte was not present at all. Neither was ASUS, besides a small stand with professional Laptops. The Media usually got invited into small press meeting rooms to get an insight in upcoming products; definitely not the way to go, but the current outcome is the result of a small and steady decline in interest from the hardware manufacturers. Main focus remains at CES in Las Vegas and Computex in Taipei. In this last article we are looking at some great products from eVGA, Enermax and Bloody Inc; for MSI and Fractal we direct you to the two CeBIT specials.


A Futurelooks News Flash - Episode #1 COMPUTEX 2014 Coverage Featuring be quiet! GIGABYTE Thermaltake Rosewill and Corsair (Video)

Team Futurelooks had an extremely hectic week in Taipei, Taiwan last week, as we covered one of the biggest computer shows on the planet: COMPUTEX 2014. First, we went on a tour of In Wins factory, where we had a chance to give you an exclusive sneak peek at their new D-Frame Mini, then our news team at home, went nuts, pumping out all the news leading up to the show. Now, weve returned with FIVE full episodes of coverage, and were rolling out our first episode featuring be quiet!, GIGABYTE, Thermaltake, Rosewill and CORSAIR."


TechwareLabs Event Coverage: Computex 2014 International Press Conference and New Product Preview

This year`s Computex has not even officially opened its doors yet and already we have some previews for you of award winning products that will be on display over the next 5 days. Starting the fanfare was Mr. Walter Yeh the Executive Vice President of TAITRA with a speech about the upcoming conference and its growth from last years conference as well as the overall impact of the conference in Taiwan."

Ocaholic Modding-Contest: 10 years Cooling by Enermax @ ocaholic

10 years cooling by Enermax: that`s something worth celebrating. To do so properly ocaholic is going to bring you our first Ocaholic Modding Contest and the five most awesome looking modding projects will win great prizes! The contest is taking place in our forums. If you happen to not have an account yet, you can get one by hitting the Register button further on top of the page. As soon as you`re done registering, you have to post your project/mod in our Projects / Modding forum in a separate thread of yours. To join the contest simply post in the name of your project in the corresponding thread in the Ocaholic Modding-Contest 2014 forum. Once you`ve done this, your participating. Should you be looking for the links, you can find them all listed further below. During the next three weeks, until June 18th 2014, you guys have time to post up your worklogs/mods/projects and participate in the contest. After these three weeks there will be a voting on ocaholics Facebook page making sure we find the worthy winners. The voting will be open for 7 days. The contest will end on June 25th 2014 at 20:00"



Corbell – MSI Intel Z97 Launch Event

Corbell – MSI Intel Z97 Launch Event @ LaSalle College of the Arts Bt 20 May 2014 [ 5 pages ] Corbell, the Singapore distributor with Taiwanese manufacturer Microstar launched the Intel Z97 series of motherboards last Friday at...

Massive $110,000 up for grabs during MSI Beat IT 2014 Global


"MSI Beat IT since 2010, a global e-Sports tournament hosted by the leading gaming brand MSI, is kicking off. Registrations for the regional qualifier tournaments in Europe will be active on May 8th, other regions will be announced later on MSI's official website. The grand finals will be held in November in Taipei, where the best gamers from seven regions will fight over the course of two days for a grand prize total of over US$110,000.
StarCraft II and DOTA2 will be this year's premier titles for world's best players to show their skills. With tremendous streaming capabilities, powered by XSplit Gamecaster, MSI is ready to serve the expected 500,000 online viewers from over 100 countries with the smoothest gaming streams.
During the grand finals in Taipei, MSI will showcase its cutting-edge GAMING products powered by partners Intel, NVIDIA and Kingston, including the latest graphics cards, notebooks, motherboards, All-in-One PCs and gaming peripherals, that let the attendees experience the top players' top choice.
To be part of the next best thing in gaming, register at http://beatit.msi.com/ and join MSI Beat IT 2014 for tickets for the world champion in Taipei. During 5/8 to 5/20, fans who visit the MSI Facebook at https://www.facebook.com/MSIHQFANCLUB, give a Like, share event video and leave "MSI Leading the Game" on the wall will have chance to get the exclusive MSI W8 GAMING mouses."

Imagination Technologies at CES

When we visited Imagination Technologies at CES, they were showing off some intriguing hardware that augments their GPUs in order to accelerate ray-traced rendering. Ray tracing is a well-known and high-quality form of rendering that relies on the physical simulation of light rays bouncing around in a scene. Although it's been used in movies and in static scene creation, ray tracing has generally been too computationally intensive to be practical for real-time graphics and gaming. However, Imagination Tech is looking to bring ray-tracing to real-time graphics—in the mobile GPU space, no less—with its new family of Wizard GPUs.

IMFT flash memory plant at Lehi, Utah

"Going into this event, I had a rough idea of what goes into the testing and evaluation of a computer component. That said, I was literally blown away by the sheer scope and scale of Intel's testing and validation efforts. While many of these efforts are geared towards their enterprise and data center parts, those gains have repeatedly trickled down into their consumer products, as evidenced by the recent SSD 730 being a consumer product based almost exactly on their DC 3500 part. This trickle-down effect is not limited to recent products either. The SSD 710 and 320 launched as an enterprise / consumer pair and were constructed identically. You can even go back to the very start, where Intel's X25-E and X25-M were an enterprise and 'mainstream' / consumer edition launched in tandem and were physically identical save the type of flash memory used in each."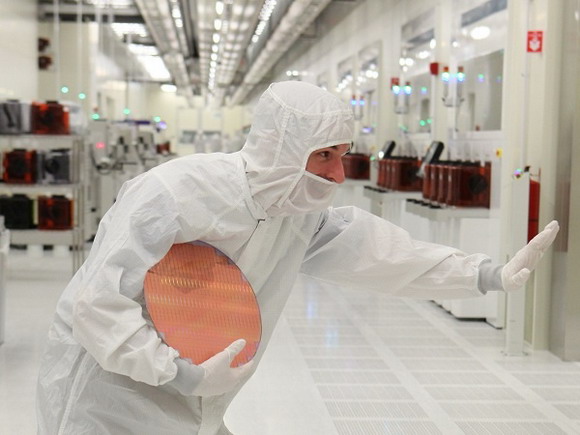 Win a Powerful ASUS R9 290 Graphics Card!

If you have been looking at all the 4K testing that KitGuru Labs has completed recently, then your desire for next-gen resolution gaming must be strong. With this competition, you have a chance to turn your gaming dreams into serious 4K reality!

CeBit 2014: MSI Press Conference @ Madshrimps

Even though the Hannover Messe only officially starts tomorrow, MSI already wanted to highlight some of their brand new products to the present media. Apparently this is just a part"

Antec USA & EU Joint Giveaway

Our two year anniversary is in just 15 days from now so although still too soon to celebrate we decided to go ahead with a giveaway we`ve been planning with our friends from Antec for quite a while now. Now since many of you have asked quite a few times if we can giveaway some of the newest AIO (All In One) Liquid CPU Coolers we chose to do that with the entire brand new Kuhler H2O line by Antec and so today up for grabs we have the 1250, 950 and 650 models (one of each). "



The best Guides by the best writers on the internet; PCSTATS Beginners Guides explain computers, software, and all those other wonderful things that cause you frustration.

Learn how to use your computer better, master the internet while protecting yourself, and know what to do when your hard drive kicks the bucket.



"Get the 'Stats and Stay Informed!"