Component Installation:
Normally we would just drop the components into a case and tidy the cables as best possible. Since airflow and blocked fans is a real concern inside the Shuttle SS50 things are not quite that cut and dry, and we have to follow installation instructions. Built into the chassis at several places are clips or openings to hold IDE cables out of the way. The pictures in the instruction booklet makes things pretty clear cut, but it important to ensure that things like memory and IDE cables are installed in the correct order or you will have to go back and redo things - there isn't much room to gain access without undoing some screws.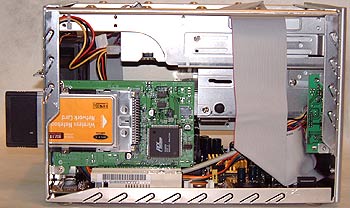 Working from the bottom up the first two things which go into the SS50's FS50 motherboard are the Pentium 4 processor and the PC2400 DDR. The motherboard officially supports up to 2GB of PC1600/2100/2700 DDR. Next up we installed the hard drive and IDE cables and screwed the 3.5" bay back into place.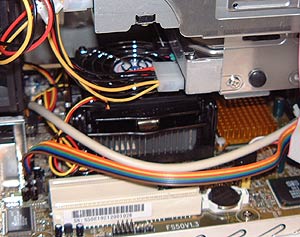 One short IDE cable connects to the lower IDE device and it is important to not only connect it before dropping the bay back in, but also check to see the cable does not block the intake fan for Arkua heatsink. The second IDE cable is longer than most because it is designed to fold around to the side of the enclosure, up and over the CDROM before it connects. The end result looks good, and keeps the IDE cables from completely suffocating the interior of the case, or blocking off the PCI expansion ports.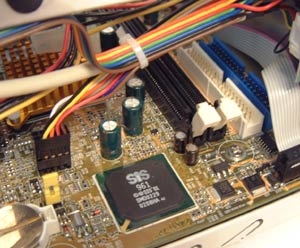 The floppy drive is a really tight fit with the header located directly below the small 1U power supply but as long as your fingers are not too large it is not impossible. The PCI expansion cards are limited in the length they can be, but for most modern cards this shouldn't be much of an issue. To install the cards a small metal tab is first removed. After that, the card simply pops into the standard slot, the card secured to the case and the metal tab reinserted. That is basically all there is to installing the SS50 and with everything installed the unit weighs about 15 pounds.