3DMark2001SE and conclusions
3DMark2001 SE is the latest installment in the 3DMark series by MadOnion. By combining DirectX8 support with completely new graphics, it continues to provide good overall system benchmarks. 3DMark2001 SE has been created in cooperation with the major 3D accelerator and processor manufacturers to provide a reliable set of diagnostic tools. The suite demonstrates 3D gaming performance by using real-world gaming technology to test a system's true performance abilities. Tests include: DirectX8 Vertex Shaders, Pixel Shaders and Point Sprites, DOT3 and Environment Mapped Bump Mapping, support for Full Scene Anti-aliasing and Texture Compression and two game tests using Ipion real-time physics. Higher 3DMark scores denote better performance.
3DMark 2001 SE Benchmark Results
System
3DMarks
Ranking
1.
Shuttle SS50
952
Well we certainly didn't expect the Shuttle SS50 to be a speed demon and it's obvious that the Shuttle SS50 is not a gaming system. Those numbers are the lowest we've ever seen and I must say it was very painful to watch the slide show!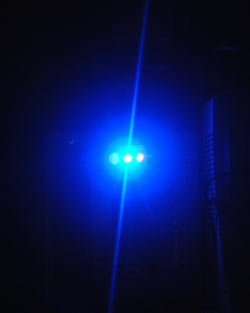 Conclusion:
Shuttle has an interesting dilemma with the SS50. The system does have it's obvious appeal with such a small size, it can fit everywhere however the overall performance of the SS50 is quite poor, like notebooks something has to be sacrificed for such small space.
Someone on a budget wouldn't consider this bare bones system. Even with it's relative low price because Pentium 4 processors (even the cheapest ones) are more expensive then a relatively lowly Duron or even their own Celeron's! From the benchmarks above the Shuttle SS50 does mediocre in the office based benchmarks even with a Pentium 4 2 GHz, the hard drive and graphics subsystem are quite weak which is not surprising since it's using the intergrated SiS 315 with shared system memory.The SS50 does have it's appealing factors, and number one is going to be its small size. Integrated LAN is nice, and there are many uses such as an MP3 server which the SS50 could perform quite well.
We were pleasantly surprised to find two integrated Firewire ports which would come in really handy if someone wanted to attach a digital camera to the computer and transfer some home movies. The TV-Output capabilities on the SS50 could also come in quite handy for watching DVD's on a larger screen or in a mini-home theatre setup.
We like the idea of computers getting smaller, and without a doubt Shuttle have done a very admirable job assembling some good components to go with their highly integrated motherboard, but the performance of the SS50 compared to full size systems just isn't living up to the expectations we have.
Is this simply a matter of expecting too much out of a little computer? Probably. With a 2 GHz Pentium 4 backing it up we were genuinely surprised at the relative low performance it was able to muster. It is almost as if we are seeing the limitation of integrating so many components on the PCB, and most especially the integrated graphics.
That being said we're also not sure what appeal this system would have on mainstream consumers. Someone on a budget would be inclined to shop around for a less expensive white box, based on one of Shuttles full size motherboards for example. Someone with money to burn would love to get such a cool looking and tiny computer but would they really be satisfied with the overall performance of the SS50?
I suppose users looking to acquire the SS50 need to first figure out what they would be using it for. As a gaming system is doesn't not have a powerful enough graphics component, and as a business system the performance is satisfactory, but not outstanding. I suppose the small size of this computer comes with its own set of limitations, but if you want a cube, that is something you will have to accept. While we really like the all aluminum case, the funky blue LED's and the whole host of integrated peripherals (firewire, sound, networking) we would have to pass on the Shuttle SS50 as a main system. If you have the cash to spend, the SS50 could be one heck of a cool MP3 server, or DVD player for example... but in compared to a standard full size computer it falls short.