MSI G4Ti4600-VTD GeForce 4 Ti4600 Review
---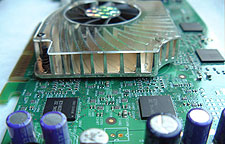 We've always found good comfort in MSI's videocards because they never come decked out with cheap gimmicks in an effort to lure customers - rather MSI's videocards tend to compete on reliability, overclockability, and competitive prices. MSI's highest-end card right now is the G4ti4600-VTD which is based on nVidia's GeForce 4 Ti4600 GPU.
This is a huge card as any GeForce 4 owner can attest to, so be sure to check your motherboard for known conflicts first before turning on the power with a $500 card half-way in the AGP slot!
Based on nVidia's chip we already know that the G4Ti4600-VTD is going to be damn fast, but how does MSI separate itself from the rest? The MSI's claim to fame has always been their value, and for as little as $500 CDN ($325 US) you can pick up a MSI G4Ti4600-VTD and all the GeForce 4 Ti4600 goodness it comes with.
As with many other manufacturer's, MSI has chosen to use nVidia's reference design. This doesn't really personalize the card by any degree, but on the same token the design is well used, and undoubtedly well tested. Using this design also saves the manufacturer, MSI, a lot of time and money on R&D development.
The only minor difference here is that the GPU cooler has been modified slightly from the reference version so that the top shield is clear. Even though the memory on the Ti4600 runs very fast the BGA chips handle the heat a little bit better than their TSOP-II cousins do, and that is probably why there is no ramsink requirement (I would add on aftermarket coolers personally).
The MSI G4Ti4600-VTD has one DVI and analog video connector; and while I would have liked to have seen the card come stock with two DVI connectors like the Gainward GeForce 4 GS Ultra/750 XP, that is not the case. Twin DVI connector just give the user that many more options for what type of dual monitor configuration they can use.

MSI has one of the better software bundles out there with their Ti4600, they include three full game titles; No One Lives Forever, Aquanox and Sacrifice, a seven game demo CD, WinProducer & WinCoder, MSIDVD and MSI's 3D!Turbo software.
It's quite amazing that they can bundle so much software while keeping a low price. Also included in the package is a five prong splitter cable which takes care of the VIVO option the G4Ti4600-VTD has. If MSI had just included a DVI to analog converter for a second VGA monitor the card would have been near perfect! Speaking of which, let's take a closer look at this extra-long GeForce 4 Ti4600 and some of the things which make it a killer!
Update:
MSI has just informed us that they have been shipping a DVI to Analog converter since April 2002.