Abstract: Hard drives, being the dynamic storage devices that they are, are extremely easy to erase in any number of amusing and simple to achieve ways. This Guide also deals with recovering deleted formatted information. UPDATED - How to fix a 1TB hard drive that suddenly changes to 0.0GB, or 32MB in size.

Home > Reviews > Beginners Guides > PCSTATS
Commercial Data Recovery Utilities
Restoring deleted files with Restoration. Restoration is a really simple and effective way to recover deleted files This incredibly simple tool will search any NTFS or FAT32 drive and recover a list of deleted files that can be restored. Let's look at how to use it:
Start Restoration.

Choose the drive you wish to scan in the 'drives' drop down box, and click 'search by deleted files.'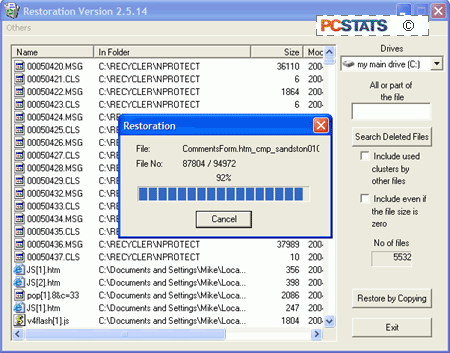 A list of deleted files is created. To restore one or more files, highlight them and click 'restore by copying' then choose a target directory.
Note that unlike PC inspector, restore does not sort the deleted files by folder, it simply dumps them all into a single list, which can make it harder to find what you are looking for.
If the file you want is not in the list, try searching again with the 'include used clusters by other files' option checked. This will include files which have been partially overwritten in the list. Note that this may well mean that your file will be corrupted or unreadable.
There are many excellent commercial recovery packages out there, and to help you get started I've listed about a dozen software data recovery applications on the last page of this Guide with links to where you can download and try the programs yourself.
Commercial Data Recovery Utilities
There are many excellent commercial recovery packages out there. The majority of these are designed to access the disk through an operating system, in which case you will need to have your affected drive transferred to another computer, or at least have a separate drive with a new OS on your original system.
Commercial recovery programs generally use the 'virtual recovery technique, which involves creating an 'image' of the disk to be restored in memory and then transferring files from that image to an alternate hard disk. Two good examples of this type of program are 'Active File Recovery' and R-TT.com's R-Studio.
I did not comprehensively test any of the listed programs, but when I first lost my data, I used several demo and preview versions of the following software to ascertain that my data was actually still there. One standout was R-Studio, whose demo version allows the recovery of files up to 64K in size, allowing me to move my articles safely off the drive before commencing the recovery in earnest. Highly recommended.
From previous work experience, I can also recommend 'Winternals Disk Commander', though they do not provide a preview of the software. Following is a partial list of commercially available partition/file recovery and undeletion software we suggest you check out if the freeware we have already mentioned hasn't done the trick.
restoring hard drive capacity - when a 1tb hard drive thinks it's 32MB
There is one other relatively new hard drive problem that can cause (apparent) data loss - the so-called "1TB hard drive showing up as 32MB" error. Many people have experienced this issue with hard drives over 750GB in capacity, but unlike a lot of data recovery situations discussed in this Beginners Guides, it's usually easy to fix...
< Previous Page
© 2022 PCSTATS.com

Please respect the time and effort that went into creating each PCSTATS Beginners Guide, do not illegally copy. Thank you.

Next Page >