Abstract: Hard drives, being the dynamic storage devices that they are, are extremely easy to erase in any number of amusing and simple to achieve ways. This Guide also deals with recovering deleted formatted information. UPDATED - How to fix a 1TB hard drive that suddenly changes to 0.0GB, or 32MB in size.

Home > Reviews > Beginners Guides > PCSTATS
NTFS reader for DOS
To recover files using FINDNTFS, you need to use the 'copy' command. A limitation of the program is that it will only save recovered files into the directory where the FINDNTFS executable is located, so make sure you have enough space available to hold your restored files.
Type 'FINDNTFS # (replace "#" with thr drive you are recovering from, as before) 1 1 1 copy #'. This is the directory number holding the files you wish to restore. You may enter up to 10 directory numbers. If you do not enter a number, the program will attempt to restore and copy all NTFS files on the selected disk.

FINDNTFS will copy the selected directories and files to the directory containing the FINDNTFS.exe file. Check the recovered files to make sure they are not corrupted.
Sadly, FINDNTFS has one major limitation. It cannot copy NTFS files onto DOS readable (FAT) partitions, and therefore is not able to recover files without an NTFS supporting operating system running (Windows NT/2K/XP). Thus it is not possible to recover files directly with this program using a DOS boot disk.
NTFS reader for DOS Freeware
NTFS reader for DOS (available here ) can copy NTFS files onto DOS (FAT) partitions. In fact, that is the only thing it does, but what a useful thing... If your NTFS disk is unbootable, you can put this program on a floppy and copy files from the disk onto the floppy. Very good for rescuing essential documents that need to be completed.
The limitation of this program is that it cannot read from partitions that have damaged boot sectors, or from drives with damaged partition tables, as it needs to be able to see the NTFS partition before it copies data from it. The company that made this software, 'Active@ Data Recovery Service' (www.ntfs.com), offers a commercial version, 'Active@ Partition Recovery', which adds the ability to search the drive for lost partitions as well as copy data, making it a complete recovery tool.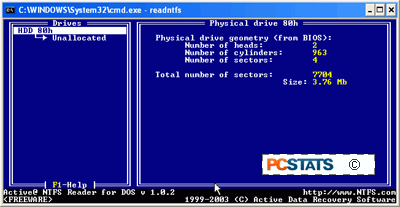 Note that NTFS reader will also work under Windows 9x/ME but not on 2K or XP, due to restrictions these Operating systems place on accessing drives directly.
< Previous Page
© 2022 PCSTATS.com

Please respect the time and effort that went into creating each PCSTATS Beginners Guide, do not illegally copy. Thank you.

Next Page >