Once this search is complete, hit enter again. It's a good idea to run the 'search!' option to do a more comprehensive search of the drive.
If you initially had no partitions shown, because of a damaged or wiped partition table, Testdisk will now hopefully have rediscovered the partitions.
Verify the information and select 'write' to save the new information onto the disk. If removing your partitions was the only damage you did, you should now be up and running again.
If you damaged the partition boot sector on your partition, (as I did) you should select the 'advanced' option, then 'boot.'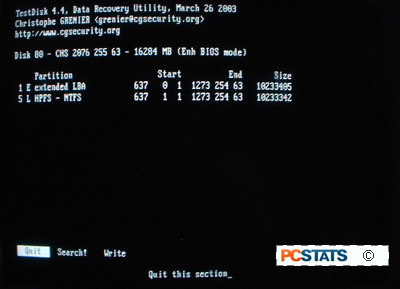 Testdisk will compare the boot sector to the backup boot sector. If they are identical, it can do nothing more, but if they are different it will ask you if you wish to overwrite the boot sector with the information from the backup.
This operation made my 'lost' partition with the articles on it accessible again. Testdisk is an extremely useful tool for partition recovery. Though it lacks a graphical interface and can only be run from DOS, it is capable of restoring lost information in minutes.