The lower right hand corner of the motherboard is quite busy, there are a lot of headers and the main IDE channels are down there as well. If this were the MCP2-T things would be even worse with Serial ATA and an additional IDE connector. You definitely will not be able to use longer PCI cards like the SB Audigy in PCI slots 3-5.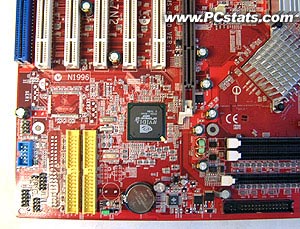 With the placement of the ATX and P4 power connector just left of the CPU socket means the cables will have to run in front of the CPU fan which would disrupt airflow to the processor. I wish MSI would turn the P4 power connector 180 degrees, when I remove the connector, my finger always nudges the brown capacitor and I have small hands.
pcstats heatsink clearance measurements
top clearance:
7 mm
bottom (cam) clearance:
11 mm
left side (arm) clearance:
31 mm
right side clearance
15 mm
socket mounting holes:
n/a
max. heatsink base dimensions:
~97x80 mm

Note: Approx. measurements are made from the edge of the socket (not the clips) to the closest obstacle taller than the ZIF socket itself.
The socket is 51mm across, and 62mm from top to bottom.
MSI did a fair job in clearing the CPU socket area of any extremities and you shouldn't have many problems fitting larger heatsinks like the Thermalright SLK-800. The four surrounding mounting holes around the socket area are no longer included because they're no longer required by AMD so heatsinks like the Swiftech MCX462 are useless here.
What everybody wants, overclocking...
Having not played with a nForce2 based system before, I really didn't know what to expect. Unfortunately I'm totally out of rear window defogger repair kit (conductive paint) so I couldn't unlock the AthlonXP via connecting the last L5 bridge so I was stuck with a 13x multiplier. Starting from 166 MHz (default FSB for the AthlonXP 2700+) I began to raise the FSB slowly.
We didn't go very far before we hit our wall at 175 MHz FSB; no matter what CPU voltage I gave it the system would not run stable.
At first I was a bit disappointed, I was hoping to reach at least 185-190 MHz since that's where the CPU usually maxes out at. After a bit of trouble shooting I found that the Northbridge heatsink was extremely hot. After pointing a 36 CFM Sunon fan in its direction I was able to overclock the FSB 3 MHz higher (discussed briefly in a thread in the PCStats forums). So if you're an nForce2 owner, perhaps it's time to invest in some better Northbridge cooling!