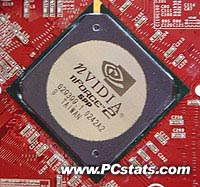 The K7N2-L performed very well in the whole battery of test that we threw at it. Not once did it lose to the DFI AD77 Infinity (VIA KT400) in any of the benchmarks!
Stability of the motherboard was excellent. We didn't have a single problem and when it did give us a bit of trouble, it was my fault (impatient overclocker).
The nForce2 is the real deal unlike the original nForce which promised a lot and failed to deliver, the nForce2 is probably the best performing AMD chipset at the moment. Not only does the nForce2 have performance, but it's quite obvious that nVIDIA are trying to be more innovative with their Dual DDR memory controller and such.
MSI have produced a solid motherboard; if you're looking for a no frills nForce2 motherboard that is. Found for a mere $175 CDN ($105 US) here,the K7N2-L is one of the least expensive nForce2 motherboards out there. It doesn't have much in terms of onboard devices - just 5.1 audio and 10/100 LAN but then again it's not supposed to.
The K7N2-L is not as well laid out as other MSI motherboards we tested. You'll have a hard time installing longer PCI cards in PCI slots 3-5. The ATX and P4 power connectors are in a bad location to the left of the CPU socket. Those cables are sure to disrupt the CPU HSF's airflow. Lastly, my biggest pet peeve with the board is that my finger is always knocking against the large brown capacitors near the P4 power connector. If only MSI could turn it 180 degrees... If you're looking for an inexpensive upgrade to nForce2, or you have all the devices you need in PCI format you should check out the MSI K7N2-L. It's one of the more affordable motherboards out there, and it should serve you very well!
Related Articles:
Here are a few other articles that you might enjoy as well...