MSI K7N2-L nForce2 Motherboard Review
---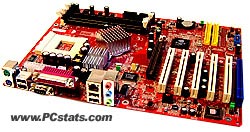 nVIDIA's original nForce chipset had lots of potential and made a lot of promises, but in the end it fizzled out big time. When nForce was announced the AMD chipset performance leader at the time was the SiS 735 chipset. The nForce was faster and more advanced, however after long delay the nForce eventually reached a market where the main competitor had now changed.
Faced against the VIA KT266A chipset, the hype brought on by dual channel DDR was just that, hype. Performance was good, but it just couldn't compete with VIA's chipsets at the time. The question this time around is whether or not nVIDIA have learned from their mistakes.
When the nForce2 was originally announced back in July of 2002, nVIDIA was hoping to steal a bit of ATI's thunder for the release of the 9700 Pro videocard which was announced a few days later. Consequently, the nForce chipset was delayed yet again, and eventually reached the markets in October, albeit in limited quantities. Now a days, you can get an nForce2 board from any of the large motherboard manufacturers easily.
msi k7n2-l motherboard

Ships with the following:

IDE ATA66/100 Cable
FDD Cable
Driver CD
User Manual
USB2.0 Bracket
5.1 channel Audio Bracket
Rear I/O Back Panel

Brackets:



We'll be checking out MSI's K7N2-L nForce2 motherboard today. The board is a no frills version, and does not feature integrated graphics. The K7N2-L is based on the nForce2 SPP (System Platform Processor) and is teamed up the MCP2 southbridge.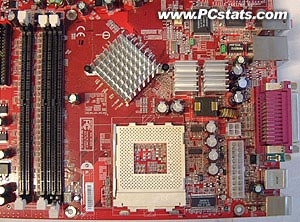 The K7N2-L's standard equipment are Realtek AC'97 5.1 audio, 10/100 LAN and USB 2.0. For those who need more in terms of expansion there are five PCI, one 8x AGP port and a pretty (but useless) blue ACR slot. There are three DIMM slots which support up to 3 GB of PC1600/2100/2700/3200 memory.
To take advantage of the nForce2's dual channel memory you can only have two DIMM's installed in the first two DIMM slots. There is no on board video with the K7N2-L since the board uses the nForce2 SPP, and it does not have an integrated GeForce4 MX GPU.
In typical MSI fashion, the K7N2-L is based upon a bright red PCB which should appeal to the case modders out there vying for some style. The K7N2-L is smaller then most other AMD motherboards out there, so you shouldn't have any problems installing this board into a mni tower case.
MOSFETs generate quite a bit of heat so it's nice to see MSI added heatsinks for extra cooling, rather than just leave them naked. Little things like this show how dedicated a company is to quality.
All the headers on the motherboard are clearly labelled so you'll know what is what, and MSI uses a good amount of thermal material between the nForce2 SPP Northbridge and heatsink. That's often something most other manufacturers neglect. We were happy to see that MSI places a fan header just above the AGP slot, users of third party videocard cooling like the Thermaltake Crystal Orb can surely appreciate this.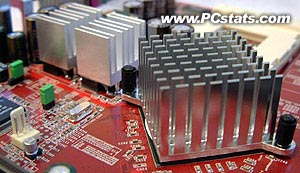 The cooler the better and you can see MSI using thermal paste