Tell me how it overclocks!
With such an impressive cooling solution I had some pretty high hopes in terms of overclocking. Unfortunately the test sample had other ideas. Clocked at 300 MHz core and 650 MHz memory, I began to raise the core speed slowly, 5 MHz at a time. 305MHz, 310MHz, 315MHz and no problems. At around 321 MHz core speed the system would become unstable though.
We were hoping that the memory would be more up to the overclocking game, but it certainly was not cooperating. At first the card would only do about 701 MHz without artifacts, but as time went by artifacts started to appear. We first lowered the memory speed to 696 MHz then finally 691 MHz. Was it possible that the extra cooling was in fact acting more like an insulator?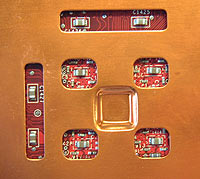 After removing the stock "TOP Tech cooler" (both front and back plates) I replaced it with the GPU cooler found on the Albatron GeForce4 Ti cards, and left the BGA memory naked. No dice - this change did not allow us to overclock any higher, but it my just be that the card we tested was not up to the game when it came to overclocking.
pcstats test system specs:

computer hardware:

processor:
intel pentium 4 2.8 ghz
clock speed:

21 x 133 mhz

motherboards:

msi gnb max-fisr*

chipset:

intel e7205

videocard:

ati radeon 9700 pro (325/620)
msi g4ti4600-td (300/650)
albatron ti4800se (275/550)
msi g4ti4600-vt2d8x (300/650)

msi g4ti4600-vt2d8x (321/691)

memory:

2x 256mb corsair xms3500 cas2

hard drive:
20gb maxtor diamondmax+
cdrom:
nec 52x cd-rom
floppy:

panasonic 1.44mb floppy drive

heatsink:
avc sunflower
powersupply:
vantec 470w psu
software setup:

windowsxp
intel inf's 4.10.1012
Catalyst 2.5
Detonator 41.09

Benchmarks:

3DMark2001SE
AquaMark
CodeCreatures
Commanche 4
Quake III Arena Ver 1.17
UT2003
SPECviewperf

AA Test, AF and AA+AF Test
3DMark2001SE
Quake III Arena
* - 8x AGP was enabled and functioning properly during testing.
3DMark2001SE is the latest installment in the 3DMark series by MadOnion. By combining DirectX8 support with completely new graphics, it continues to provide good overall system benchmarks. 3DMark2001SE has been created in cooperation with the major 3D accelerator and processor manufacturers to provide a reliable set of diagnostic tools. The suite demonstrates 3D gaming performance by using real-world gaming technology to test a system's true performance abilities. Tests include: DirectX8 Vertex Shaders, Pixel Shaders and Point Sprites, DOT3 and Environment Mapped Bump Mapping, support for Full Scene Anti-aliasing and Texture Compression and two game tests using Ipion real-time physics.
Higher numbers denote better performance.
3DMark2001SE Benchmark Results
Video Card
3DMarks
Ranking
1.

ATi Radeon 9700 Pro

15502
2.
MSI G4Ti4600-TD
13779
3.
Albatron GF4 Ti4800SE
13124
4.
MSI G4Ti4600-VT2D8X
13824
5.
MSI G4Ti4600-VT2D8X (321/691)
14247
We see the original MSI G4Ti4600-TD and G4Ti4600-VT2D8X are separated by less then 50 points at stock speeds.