MSI G4Ti4600-VT2D8X Videocard Review
---
Today we're going to be looking at MSI's last dance with the extremely successful GeForce4 Ti line of videocards; specifically we'll be checking out the G4Ti4600-VT2D8X. Even though nVIDIA and company have been calling the GeForce Ti4600 GPU with 8x AGP technology a Ti4800 GPU (which can be misleading), MSI are not about to try to fool you with a larger number. MSI call their videocard exactly what it is, a Ti4600 with 8x AGP technology.
The MSI G4Ti4600-VT2D8X is probably one of the better looking, and more importantly, better equipped videocards out there. With a bright red PCB and large aluminum & copper fin GPU/memory cooler on the front and another large aluminum heat spreader on the back. There are dual DVI connectors, and the box comes with a DVI to analog converter.
In addition to the twin DVI headers there are VIVO capabilities and the usual awesome MSI software bundle (they include three full game titles; Morrowind, Duke Nukem Manhattan Project and Ghost Recon, a seven game demo CD, WinProducer & WinCoder, MSIDVD and MSI's 3D!Turbo software). There isn't much more you could ask from a manufacturer.
msi g4ti4600-vt2d8x

The GPU cooler MSI are using with the G4Ti4600-VT2D8X is quite unique; in fact MSI is touting that their "TOP Tech GPU cooler" not only keeps the card cooler then the average GeForce4 Ti4600/4800, but that it also runs quieter. While we didn't conduct any side-by-side temperature measurements, I can tell you that the MSI G4Ti4600-VT2D8X is the quietest GeForce4 Ti we have ever tested.
There are 34 copper folded fins soldered to the aluminum heatspreader plate on the top of the card which also help cool the BGA memory modules. On the back, MSI have used yet another large aluminum heat spreader to cool the BGA memory there, and also draw heat from the PCB directly behind the GPU which is a great idea!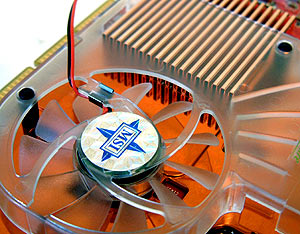 Any modern videocard user will certainly tell you that the PCB right behind the GPU gets extremely hot. In the case of a Ti4600/4800 it can be hot enough to burn your finger! During out tests it was obvious that the heatspreader on the back of the card was working - it reached some pretty high temperatures (a la the finger test), so perhaps MSI may wish to revise the design and add some small fins to increase the surface area.
Last but not least, MSI used silicon thermal paste for the GPU and memory instead of relying on lousy thermal pads. It's nice to see MSI has not forgotten to do the little things right. =)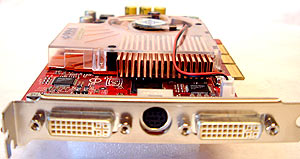 Another thing that pleasantly surprised us was the fact that the G4Ti4600-VT2D8X was dual DVI. Only dual DVI connectors allow the end user to use dual LCD monitors. It's a shame MSI does not include a second DVI to analog converter so users can use dual analog/CRT monitors as well...